I'm a Doctor and Here's How to Get Your COVID Vaccine Faster
To speed up vaccination, Task Force efforts need to be surgical.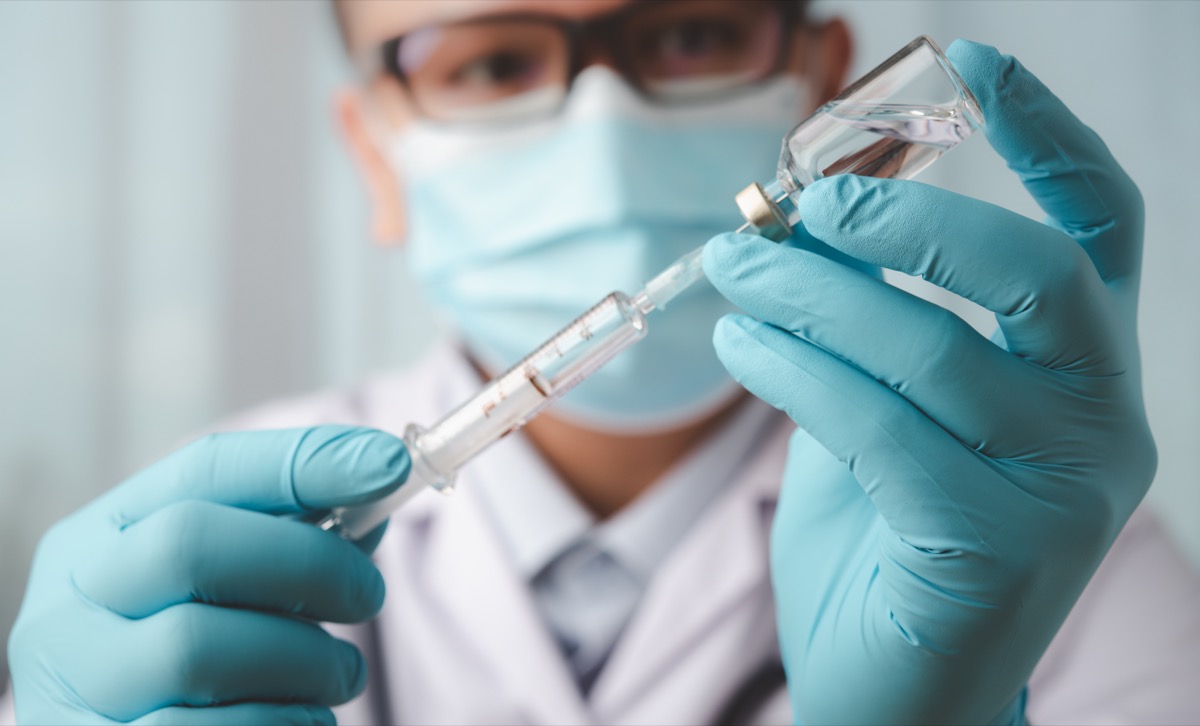 To no surprise, Biden's COVID Task Force found that Trump's Operation Warp Speed had no vaccine distribution plan besides dumping them to the states. While now multiple COVID-19 vaccines are approved it's time to stop safekeeping the vaccines while targeting efforts to hard to reach and vulnerable populations. Read on for my thoughts, as a doctor, and to ensure your health and the health of others, don't miss these Sure Signs You've Already Had Coronavirus.
I Propose We Leverage the Tech Network to Distribute the Vaccine
As the virus gains momentum, we lack execution in protecting our communities. Now that we have safe and effective vaccines, we need to vaccinate as many people as speedily as possible.
If J&J and AstraZeneca's vaccine's data prove to be safe and effective, there's no reason to believe that it won't receive FDA's Emergency Use Authorization. And then, supply will no longer be a problem. But are we ready to mass vaccinate almost three hundred million people? At this time we are not.6254a4d1642c605c54bf1cab17d50f1e
Biden's Task force should leverage the tech industry network, and gig economy service providers to assist in getting COVID vaccines into people's arms.
The phasing of distribution with tiered approach was doomed to fail, and we must change that. The virus doesn't spread through tiers 1a, 1b, 1c. SARS-CoV-2 spreads quickly, and as we recently learned, it mutates just as fast. Some new variants are more infectious, and some others may escape life-saving monoclonal antibody treatments. In the race to contain this ongoing health crisis, with a botched vaccination plan, the time require us to act in parallel. Instead of prioritizing the elderly, and expecting them to sign up on online forms, and wait for their appointment, we should release the red tape around the vaccines and allow for every adult over 16 to get the vaccine now. 
Uber could drive health care providers to nursing homes, and long term living facilities for surgical measures. Allocating the upcoming single dose vaccine from J&J to those targeted communities, we could have a broader scale vaccination program as soon as March. 
One of the hurdles Biden's team will face is reaching remote and rural communities, and mobile teams sponsored by innovation service providers like Uber could help with access. Still, people need to be educated about vaccine benefits, and have access to up-to-date information on the safety profile of those immunotherapy drugs. DoorDash has a massive platform for education, while vaccine hesitancy is a virtual plague, we could certainly benefit from partnering with online campaigns, and further, delivering meals to those health care workers and volunteers doing the vaccinating.
It is too early to assert that a COVID vaccine prevents the spread of the vaccine, but the science behind it allows us to postulate that this is likely to become true as new data rolls in. To end this crisis, nearly every American must produce immunoglobulins against this virus, and the sooner we get there, the better for us to rebuild our society and Re-start our future.
The tiered approach slows the inoculations, by making the vaccine available for everyone now, and letting states execute the targeted vaccination efforts on nursing homes will help us recover quickly.
There Are Ways to Speed This Up
To improve speed, Biden's Task Force should create digital vaccine passports, vaccinate adults in local pharmacies, and get the private sector to help with targeted measures. While we won't for sure if COVID immunity prevents the spread of the virus, and we research studies will take a long time to prove that concept, one thing is sure. We will relive 2020 again if those vaccines keep sitting in warehouses.
Pretty soon, we'll be at a run rate where 50% of vaccines administered daily are 1st doses and 50% are 2nd doses. So to actually vaccinate 1 million NEW people each day, we'll have to be able to deliver 2 million vaccines a day — 1 million FIRST doses and 1 million SECOND doses. Get your vaccine as soon as it's available to you, and to get through this pandemic at your healthiest, don't miss these 35 Places You're Most Likely to Catch COVID.
Dr. Leo Nissola is a medical doctor, and immunotherapy scientist focused on immunodeficiencies, late-stage cancers, and COVID. Follow him on Twitter @LeoNissolaMD.
Leo Nissola, MD
Leo Nissola, M.D. is an award-winning immunologist and scientist. Follow him on Instagram @DoctorLeo and on Twitter @LeoNissolaMD.
Read more
More content from
ETNT Health