These 4 Pet Foods May Pose Threat to Animals and Humans, FDA Says
If you have a four-legged friend at home, you may want to double-check the label on their food.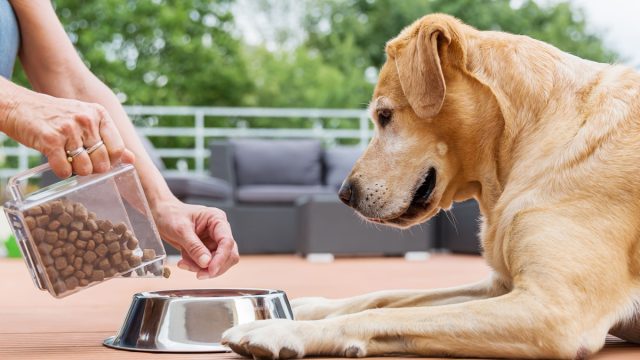 If you have a four-legged friend at home, you may want to double-check the label on their food. That's right: A top pet food manufacturer just recalled four dog food products because of potential Salmonella contamination.
According to the U.S. Food and Drug Administration (FDA), Sunshine Mills, Inc. issued the alert after a routine inspection by the Minnesota Department of Agriculture discovered Salmonella in a sample of 5-pound Sprout Sporting Dog Food product.
RELATED: This Is the Best Supermarket in America, New Survey Says
The four products were subsequently recalled in the following states, as indicated:
FRM Gold Select High Performance Dog Food (50-pound containers): Florida and Georgia
Intimidator Chicken & Rice Formula Dog Food 30/20 (16-pound and 40-pound containers): Alabama, Florida, Mississippi,  and Texas
Sportsman's Pride Sportsman's Pride Professional Formula 30/20 Dog Food (40-pound containers): Florida, Louisiana, Mississippi, North Carolina, Tennessee, Texas, and Virginia
Sprout Sporting Dog Food (5-pound and 40-pound containers): Iowa, Minnesota, North Dakota, South Dakota, and Wisconsin
It's important to know that humans could also be at risk from handling any contaminated dog food. Thankfully, no injuries or illnesses have been reported. Per the FDA:
"Salmonella can affect animals eating the products, and there is risk to humans from handling contaminated products, especially if they have not thoroughly washed their hands after having contact with the products or any surfaces exposed to these products."
Sunshine Mills asked all brick-and-mortar and online retailers that carry the brands to pull the impacted products from their shelves. You can return the food to the point of sale for a refund.
To learn more ways to feed your family safely, sign up for our newsletter. Plus, don't miss The 5 Most Alarming Grocery Store Food Poisoning Risks, Warns FDA.
Read more:
Krissy is a senior news editor at <em>Eat This, Not That!</em>, managing morning and weekend news related to nutrition, wellness, restaurants and groceries (with a focus on beverages), and more.
Read more