Dr. Fauci Says When We'll Return to Normal
This is when you can expect to cheer on your favorite team from the bleachers.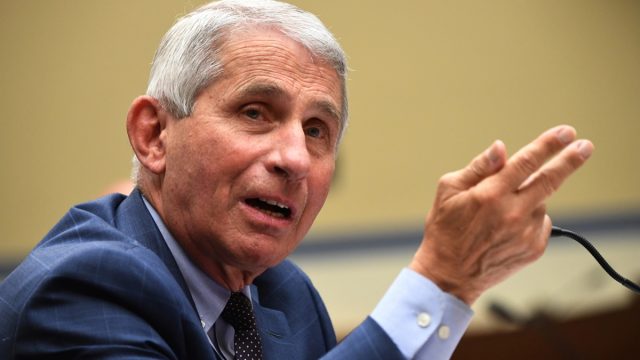 Due to the coronavirus, it has been nearly a year since Broadway shut its doors, movie theaters were packed on a Friday night, and mask-free children frolicked on the playground at recess. Now that a vaccine is here and slowly being administered, Americans are becoming increasingly more curious as to when life will return to a pre-pandemic normal. Dr. Anthony Fauci, the chief medical advisor to the President and the director of the National Institute of Allergy and Infectious Diseases, appeared last night on CNN's The Situation Room with Wolf Blitzer and discussed when we will be able to return to our favorite activities, like baseball games. Read on—and to ensure your health and the health of others, don't miss these Sure Signs You've Already Had Coronavirus. 
Fauci Says We May Get Back to Normal By the End of Summer
Blitzer rehashed one of Fauci's theories, that we will know life is back to normal when sports stadiums are full again. "In December you said, we might get there by the end of the summer with the current pace of vaccinations, would you push back that timeline or is that realistic?" he asked him.
"I think that's realistic," Fauci answered. "And the reason I say that is that depending upon the level of virus in the community, as I had mentioned, if we can get past vaccine hesitancy and we efficiently and effectively get people vaccinated to the tune of maybe 70 to 85% of the population, by the end of the summer or the beginning of the fall, then we will have gotten herd immunity I believe, namely getting that blanket of protection over the community on the way there, things will get better and better."
Fauci continued to explain that once vaccinations are widespread and the rate of infection and test positivity are low, people can return to the stands. However, don't expect to see fans sitting side-by-side. 
"If we get a fairly good proportion of the population vaccinated and the level of virus in the community is low so when you look at the numbers, you see a very low number of people getting infected each day, very low test positivity, as we get into the summer, I believe you're going to be able to see that you'll have spectators at the game," he continued. "They may not be crowded next to each other seat by seat. It may be separated by a few seats, but I feel confident that if we do it right, we will be able to get spectators to some degree at sports events that are outdoor."
RELATED: 7 Tips You Must Follow to Avoid COVID, Say Doctors
How to Get Back to Normal Quicker—and Stay Healthy
Follow Fauci's fundamentals and help end this surge, no matter where you live—wear a face mask, social distance, avoid large crowds, don't go indoors with people you're not sheltering with (especially in bars), practice good hand hygiene, get vaccinated when it becomes available to you, and to protect your life and the lives of others, don't visit any of these 35 Places You're Most Likely to Catch COVID.