Dr. Fauci Just Said "Avoid" These Places
Here's 7 essential ways to stay safe.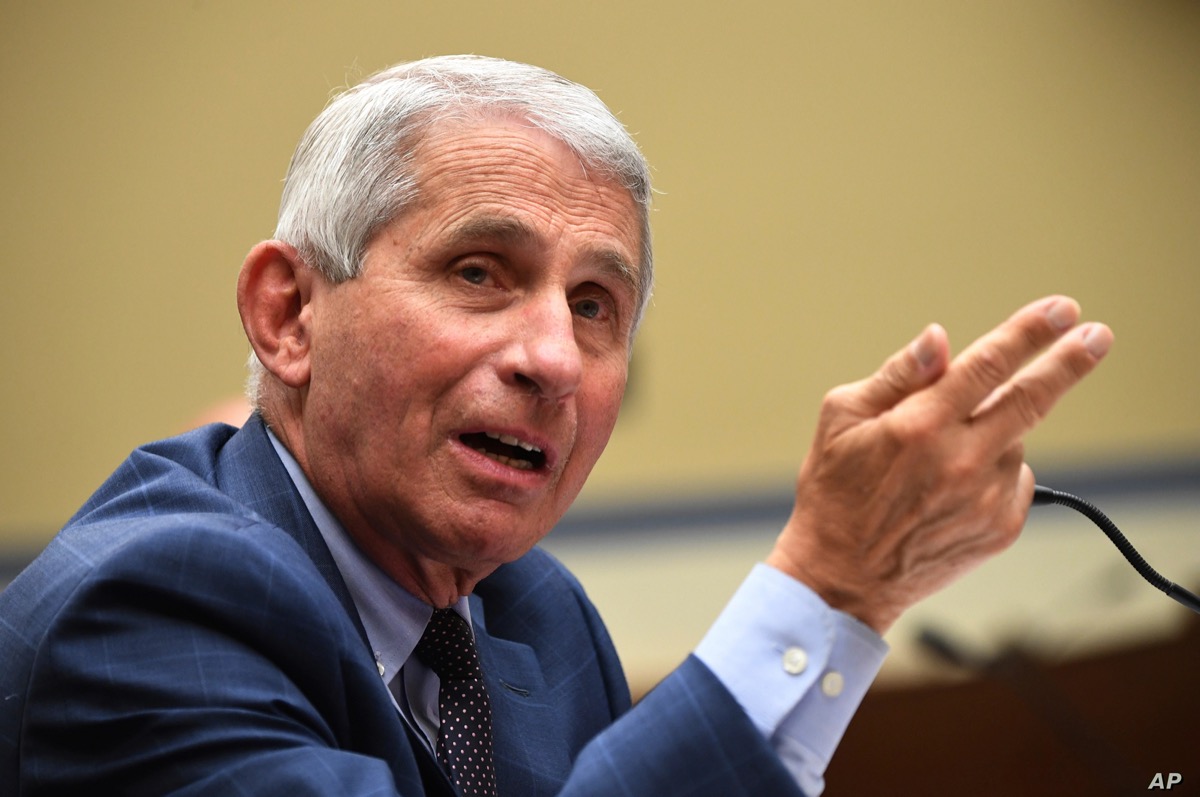 The coronavirus surge is out of control, with cases at an all-time high, and although many cases are less severe than previous strains (especially if you're vaccinated), you do not want to get infected. You just don't know how badly it will affect you. So how can you stay safe? Dr. Anthony Fauci, the chief medical advisor to the President and the director of the National Institute of Allergy and Infectious Diseases, appeared on CNN's New Day. Read on for 7 essential life-saving pieces of advice—and to ensure your health and the health of others, don't miss these Sure Signs You've Already Had COVID.
Dr. Fauci Warns of Major Surge That Could Overwhelm Hospitals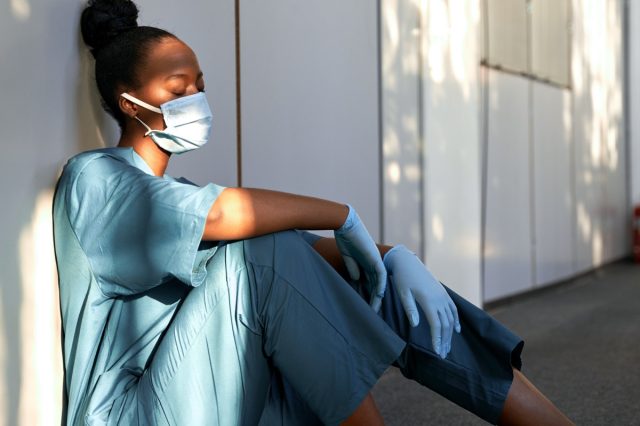 "There's certainly gonna be a lot more cases, because this is a much, much more transmissible virus than Delta is," said Dr. Fauci. "So quantatively alone, even if you have a virus that it looks in fact, like it might be less severe at least from data that we've gathered from South Africa and from the UK and even some from preliminary data from here in the United States, the only difficulty is, is that when you have so many, many cases, even if the eight of hospitalization is lower with Omicron than it is with Delta, there's still the danger that you're gonna have a surging of hospitalizations that might stress the healthcare system. So it's kind of like a very interesting, somewhat complicated issue where you have a virus that might actually be less severe in it's pathogenicity. But so many people are getting infected that the net amount, the total amount of people that will require hospitalization might be up…We're still gonna get a lot of hospitalization."
Dr. Fauci Said There are 90,000 People in the Hospital Per Day, and 1,2000 Deaths Per Day
Dr. Fauci said going back to work after 5 days of infection, if asymptomatic and wearing a mask, is one way we can keep society going. But that doesn't mean COVId is just, as one Senator put it, a "scratchy throat" for everyone. The idea that if a person gets infected and is without symptoms, that that has no impact on society, those are the people that might spread it to other people who might be vulnerable, who might be elderly, who might have an underlying condition who then wind up in the hospital," said Dr. Fauci. "Of course you don't want to get people panicking over asymptomatic infections, but asymptomatic infections are part of the process that spreads it around to the community. And many members of the community are vulnerable. That's the reason why you have so many people in the hospital. The last count, there have been 90,000 people that are in the hospital right now. And 1,200 deaths per day. That is not a trivial situation."
Dr. Fauci Warns of Major Disruptions
"When I say major disruptions, you see stresses on the system and the system being people with any kind of jobs," said Dr. Fauci, "but particularly with critical jobs to keep society functioning normally. We already know that there are reports from fire departments, police departments in different cities that they're—10, 20, 25, and sometimes 30% of the people are ill. That's something that we're gonna need to be concerned about because we want to make sure that we don't have such an impact on society, that there really is a disruption. I hope that doesn't happen. What the CDC is trying to do is trying to get a position where in fact, when people are without symptoms who are infected, that you can get them back to work a little bit earlier than the 10 day, perhaps at five days, if they remain symptoms, symptomatic remain without symptoms, that is, that can go back into society."
Dr. Fauci Said This About Quarantine Times After Catching COVID
"There's no doubt that you do want to get people out into the workplace if they are without symptoms. And in the second half of a 10 day period, which would normally be a 10 day isolation period, the likelihood of transmissibility is considerably lower in that second half of a five of a 10 day period. And for that reason, the CDC made the judgment that it would be relatively low risk to get people out." He added: "People are getting concerned about why not test people at that time. I myself feel that that's a reasonable thing to do. I believe that the CDC soon will be coming out with more clarification, since it obviously has generated a number of questions about at that five day period, should you, or should you not be testing people?" Dr. Fauci has been in favor of testing in the past.
Dr. Fauci Said This About Your Cotton Mask
Cotton masks? Are they effective? "When the CDC says they are effective, in fact, they are," said Dr. Fauci. "Are they as effective as an N 95? No, but what was being said is rather wear a cotton or a surgical mask than not wear any mask at all. And that's the point that was made. I think it was a consideration that people were saying, if they're not well, then don't wear them. They have a degree of effectiveness. And if that's the mask that's available to you use it. If you want a higher degree of protection, go to a higher quality of mask. But the masks that are being used, the surgical mask do give you a degree of protection. Maybe not as the ultimate that a surgical that a N95 would, but you'd do get protection."6254a4d1642c605c54bf1cab17d50f1e
Dr. Fauci Said This About Your At-Home COVID Test Detecting Omicron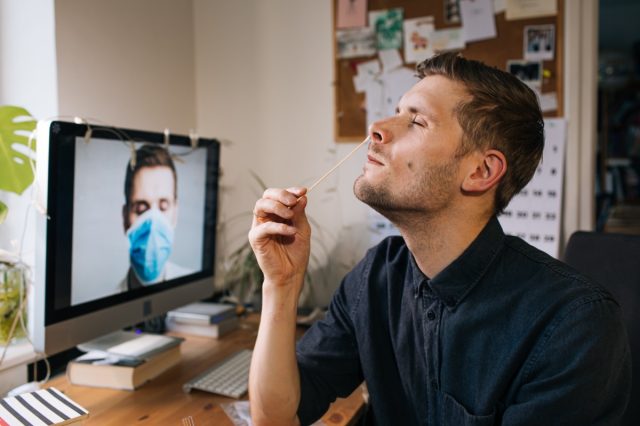 "The answer is they do," said Dr. Fauci, although "rapid antigen tests have never been as sensitive as the PCR test. They're very good when they're given sequentially. So if you do them like maybe two or three times over a few day period, at the end of the day, they are as good as the PCR, but as a single test, they are as not as sensitive. And when the FDA came out and looked at what they did in stacking up against Omicron, they said their sensitivity was diminished somewhat against Omicron, but people should not get the impression that those tests are not valuable. They are very valuable. They're valuable for screening. They're valuable if you do them more than once in a sequential way to tell you whether not you're infected."
Dr. Fauci Said "Avoid" These Places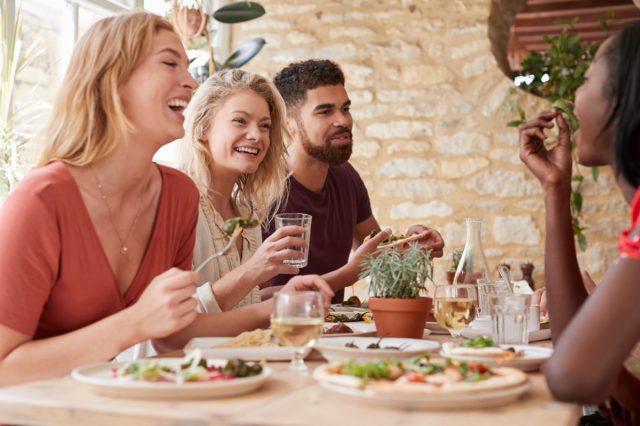 Can vaccinated and boosted people go to an indoor restaurant right now, asked Bash? "When you're having such a, I call it a tsunami of infections, then we are seeing people who are vaccinated and boosted who are getting breakthrough infections," warned Dr. Fauci. "So when you're in a situation where you have so many infections going out, the thing that you want to say is that if you want to do things like that, better do them in a setting where you know, the people around you are vaccinated and boosted. And that's the reason why I've been saying, when asked about the holiday season"—and it applies to now, January: "The safest thing to do is to be in a home setting, friends, relatives, who you know are vaccinated and boosted. If you want to go the extra step of safety, then get a quick antigen test, which will give you an extra degree of safety. What you wanna avoid are places where you have 20, 30, 40, 50 people, many of whom you have no idea of whether or not they're vaccinated or boosted. That's more risky than the home settings." So to be your safest, party at home, and to protect your life and the lives of others, don't visit any of these 35 Places You're Most Likely to Catch COVID.
Alek Korab
Alek Korab is a Co-Founder and Managing Editor of the ETNT Health channel on Eat This, Not That!
Read more about Alek