Dr. Fauci Just Issued This Omicron Warning
Omicron may be in the USA already. Here's how to stay safe.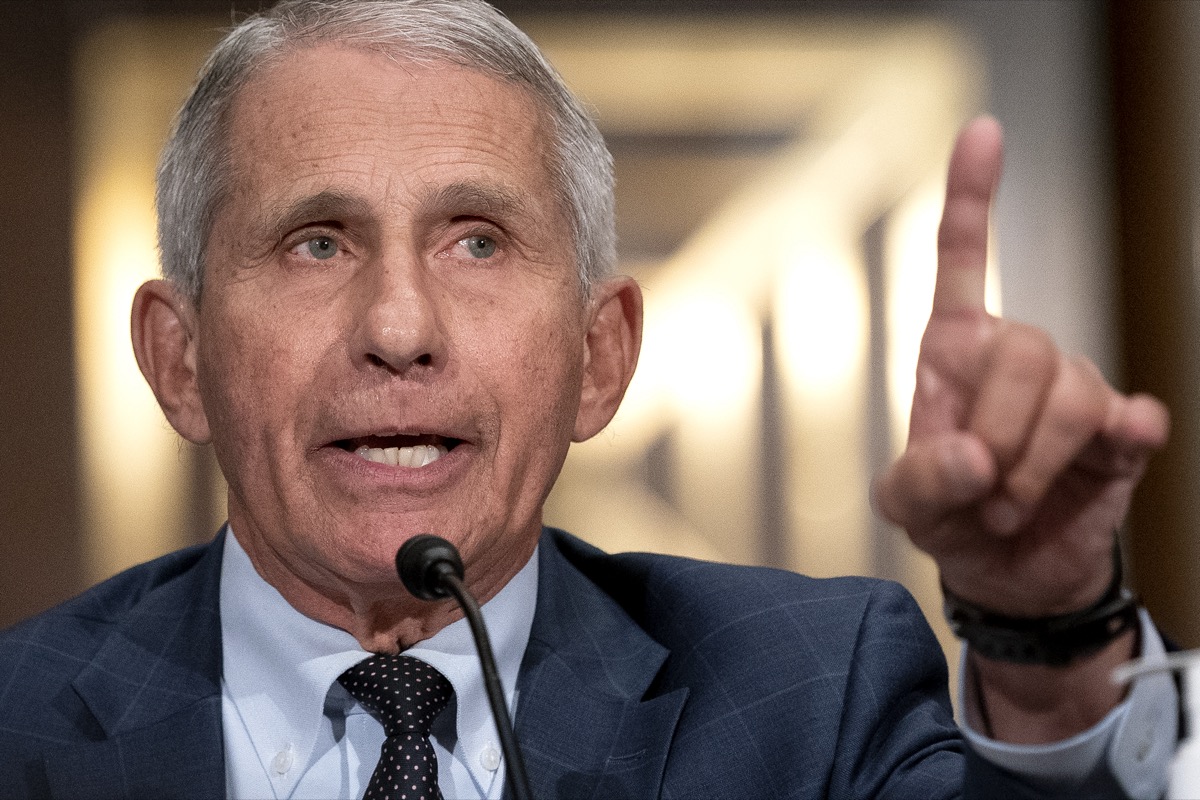 Travel from certain African countries has been banned. Virus experts are sounding alarms. Why? A new coronavirus mutation—Omicron—may transmit more rapidly and may evade immunity—all we know for sure is that it is "troublesome," says Dr. Anthony Fauci, the chief medical advisor to the President and the director of the National Institute of Allergy and Infectious Diseases. He appeared on Meet the Press this morning. Read on for six life-saving pieces of advice he shared about Omicron—and to ensure your health and the health of others, don't miss these Sure Signs You've Already Had COVID.
Dr. Fauci Warned the New Mutation Transmits "Rapidly"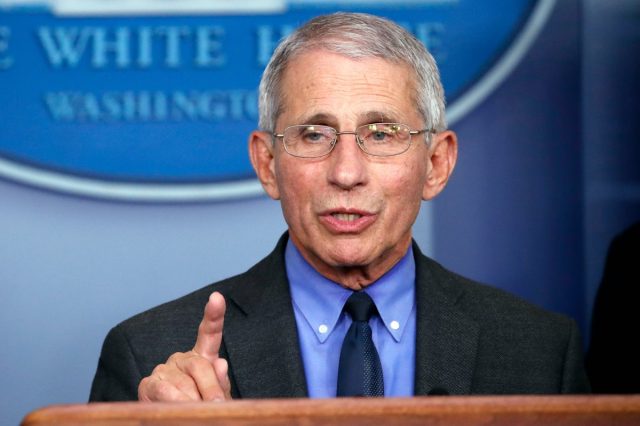 "Right now what we have is we have the window into the mutations that are in this new variant, and they are troublesome in the fact that there are about 32 or more variants in that very important spike protein of the virus, which is the business end of the virus," warned Dr. Fauci. "And there's about 10 or more of these mutations that are on that part of the virus. We call it the receptor binding domain that actually binds to the cells in your nasopharynx and in your lung. In other words, the profile of the mutations strongly suggest that it's going to have an advantage in transmissibility and that it might evade immune protection that you would get, for example, from a monoclonal antibody or from the convalescent serum, after a person's been infected and possibly even against some of the vaccine induced antibodies. So it's not necessarily that that's going to happen, but it's a strong indication that we really need to be prepared for that, that together with the fact that it just kind of exploded in the sense that when you look in South Africa, you were having a low level of infection. And then all of a sudden there was this big spike. And when the South Africans looked at it, they said, oh my goodness, this is a different virus than we've been dealing with. So it clearly is giving indication that it has the capability of transmitting rapidly. That's the thing that's causing us now to be concerned, but also to put the pressure on ourselves now to do something about our preparation for this."
Dr. Fauci Said This Mutation is a "Clarion Call" for Everyone to Get Vaccinated
"A lot of whether or not we're headed into a bleak or bleaker winter is really going to depend upon what we do," said Dr. Fauci. "And I think what you're seeing is just the manifestation of what we've been talking about, why it is so important for people to get vaccinated. And for those who are fully vaccinated to get boosted, because even when you have variants like this, and there's a lot of unknowns about this variant, we know from experience that when you get a level of protection with vaccine, and particularly now with the extraordinary increase in protection, you get with the booster. Even when you have variants of concern, you do well against them. It may not be as good in protecting against initial infection, but it has a very important impact on diminishing the likelihood that you're going to get a severe outcome from it."
He added: "So this is a clarion call, as far as I'm concerned of saying let's put aside all of these differences that we have and say, if you're not vaccinated, get vaccinated, if you're fully vaccinated, get boosted and get the children vaccinated."
Dr. Fauci Said They Have a Bit of a Head Start in Studying Omnicron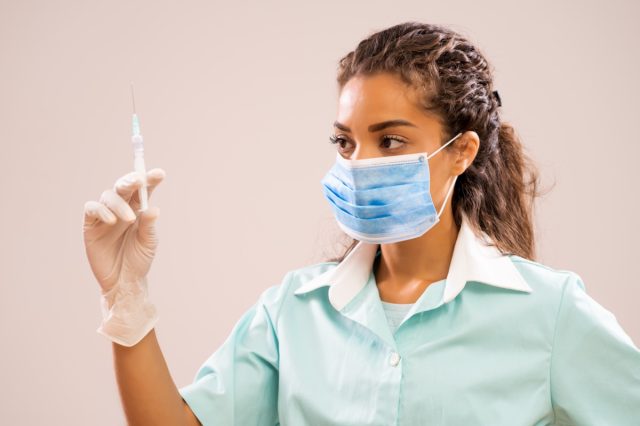 "Thank goodness that the South Africans were really extraordinarily good in what they did," said Dr. Fauci. "They were completely transparent, right? From the beginning we were on the phone getting real-time information for them on Friday. We're going to be talking to them again today. So we have an advantage of this. We have an up on it. We know what's going on, we're getting more and more information in real time. W when you, when you diminish your stop or block travel from a particular country, there's a reason for that. It's to give you time to do things. So don't let this decision that was made about blocking the travel from certain countries, you know, go without a positive effect. And the positive effect is to get us better, prepared to rev up on the vaccination, to be, to be really ready for something that may not actually be a big deal, but we want to make sure that we're prepared for the worst. And that's what we should be doing."
Dr. Fauci Said This About Traveling Safely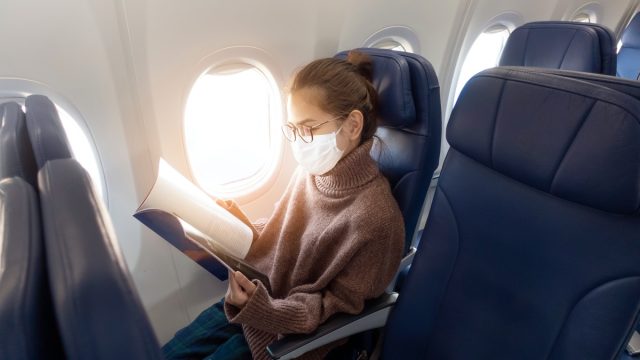 "If people follow the recommendations of the CDC and all of us about what to do in traveling, in getting vaccinated and getting boosted, we could have a situation where you do continue to veer towards getting to some degree of normality," said Dr. Fauci. "I say so many times, it's within our own capability to do that. And that's the thing we've got to put aside. All of these things that are getting in the way of good public health practices. This is not rocket science. We know exactly what we can do and what we should be doing." He added: "When you say travel in general causes a risk of increase transmission. It's the whole process of traveling, going to the airport, being in an airport in congregate, setting people, taking their masks off. That's the issue that we've got to make sure that we adhere to more closely."
Dr. Fauci Said This About When to Get Your Boosted, Given This New Mutation News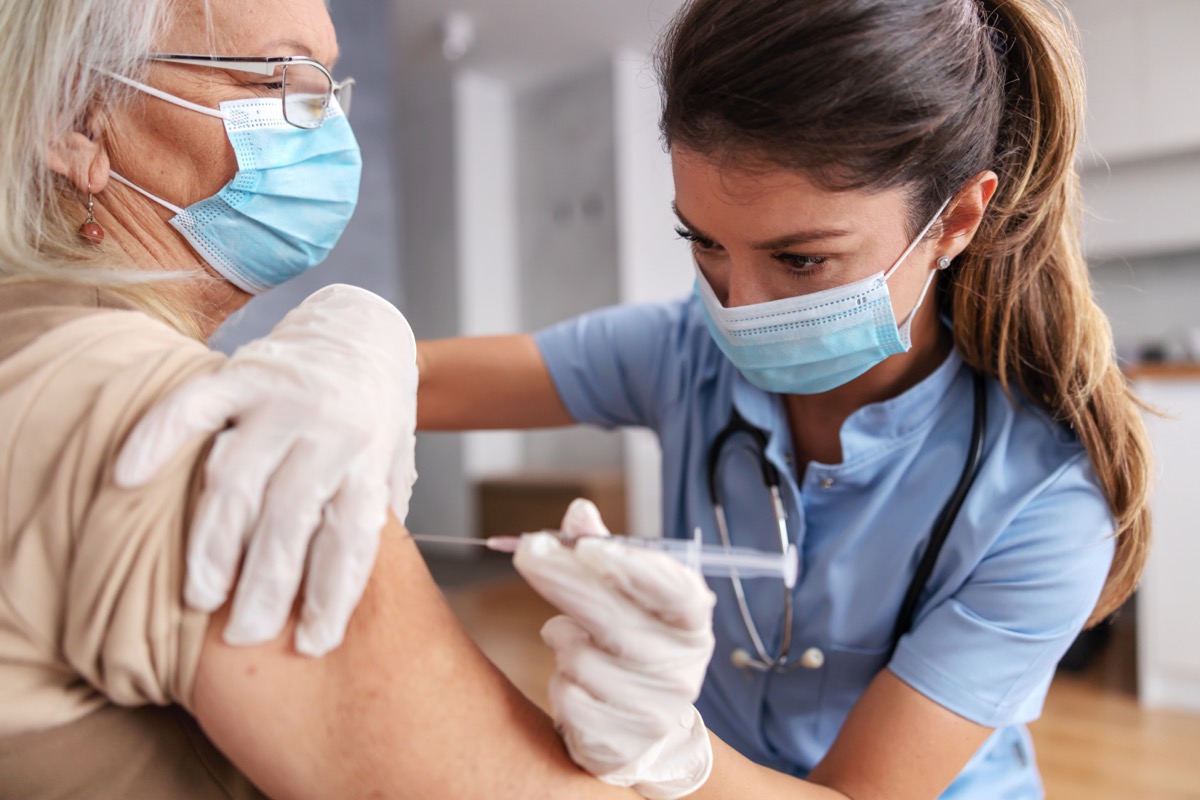 Don't wait to get your booster, thinking the formulation might change due to the new mutation. There might be some changes—"we are preparing to what, but we might not have to do that," said Dr. Fauci, who added "If you are six months or more from the second dose of an mRNA, either the Pfizer or Moderna, get boosted; if you're two months or more following the single dose of J&J get boosted. Don't try to play mind games of saying, maybe I should wait a little bit longer, get boosted. Now, the one thing we do know, that's really good news, is that when you get boosted, the level of your antibody goes way, way above what the level at its peak was after the second dose. So the boost that not only gets you back up to where you were, it gets you way, way, way up. And that's the reason why we feel even with variants, you get boosted, you're going to get a level of antibody that's high enough that it is likely you'll be able to get at least some degree and maybe a lot of protection against this….If ever there was a reason for the people who were vaccinated to get boosted. And for those who were unvaccinated to get vaccinated, it's now."
Dr. Fauci Said This About When We Can Return to Normal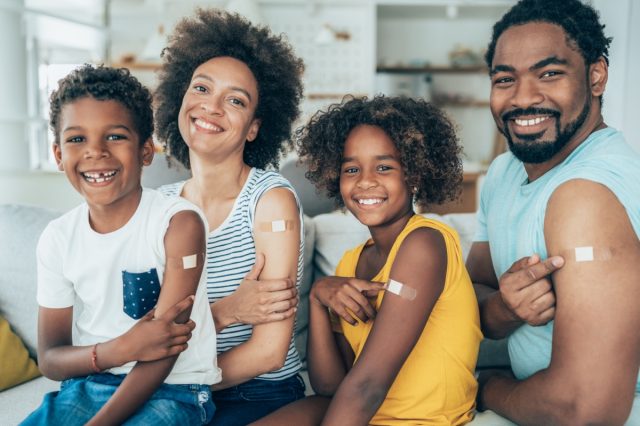 "We certainly are not going to eradicate it," Fauci said of COVID. "We've only eradicated one virus and that's smallpox elimination means there's none of it in the country. Like we have now with polio and with measles. I don't think we're going to be there with this. But what I do think we will be able to do is get a level of control. That's low enough that it doesn't interfere with our function. It doesn't have a major impact on society and what we do. It's not going to go away the low, we get it, the better off we'll be. And you get it that low when you get the overwhelming majority of the population, vaccinated and boosted. So like I've said, multiple times truck is in with our own grasp of how we're going to be able to live with the virus, the level we get it, the lower, the dynamics of virus in the community, the lower, the risk to everyone, including vaccinated people." So get vaccinated, and to protect your life and the lives of others, don't visit any of these 35 Places You're Most Likely to Catch COVID.6254a4d1642c605c54bf1cab17d50f1e
Alek Korab
Alek Korab is a Co-Founder and Managing Editor of the ETNT Health channel on Eat This, Not That!
Read more
More content from
ETNT Health