Virus Expert Just Warned of Coming COVID "Hurricane"
According to Dr. Michael Osterholm, we could be headed to total lockdown.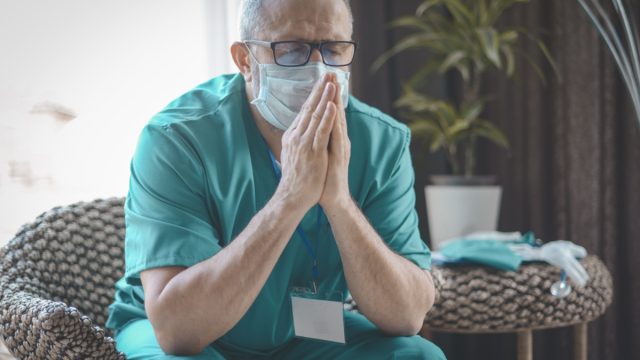 While many Americans are celebrating the recent drop in COVID-19 cases, experts continue to warn that things will very likely take a turn for the worse very soon. Why? The new, more transmissible variants are quickly spreading across the country and will soon become the dominant strains of the virus. In a new interview with MSNBC, infectious disease expert Michael Osterholm, Ph.D., MPH makes a startling prediction of what to expect in the next few weeks. Read on to hear what he has to say—and to ensure your health and the health of others, don't miss these Sure Signs You've Already Had Coronavirus. 
The Expert Warned That the Variants May Result in a New Surge
Dr. Osterholm started by explaining why it is so crucial for anyone who can get the COVID-19 vaccine to do so. "We need to vaccinate the world and remember that the variants that we're so concerned about these mutated viruses, even if we vaccinate all of high-income country people, there's still going to be billions of people left in the low and middle income countries that won't be vaccinated," he pointed out. 
"And when they're infected, that's where we're going to see the development of these new variants, which could in fact seriously alter the impact that our vaccines have. So we have a strategic as well as humanitarian need to vaccinate the world. And so every time we see new additional capacity to make vaccines, that's really good news."
He continued to explain why the new variants are so concerning to him, specifically B117, as it was "at 1 or 2 percent of all the isolates are the viruses found in early January" and "today it's in a number of areas, 20 to 30% of all the viruses found in people," he revealed. "When you look at what happened in Europe, in the Middle East, once that number crossed about 50%, the case surge began."
He predicts this will occur domestically sooner rather than later. "I think we're about two, two and a half weeks away from seeing that happen here in the United States," he stated. 
And, while many people believe things are headed in the right direction, "we are actually going exactly the opposite way of what we should be," he maintains, likening the current situation to "getting really good at pumping the brakes after we wrapped the car around the tree." 
"What we're doing is we're giving us a new virus or expansion or spread all the opportunities that it needs to actually spread to many, many more people in this country," he continued. "We're opening up everything—and I understand why—people see the case numbers coming down. But this is like a hurricane that has been coming at us for the past weeks. Now it's still 150 miles off shore, but it's going to make shore and soon."
RELATED: Dr. Fauci Just Said When We'd Get Back to Normal
How to Stay Safe Now, According to the Expert
The challenge at this point is, "getting people to take the measures now, before the virus gets here," he said. "If you look at what happened in Europe, those countries have been in lockdown, complete lockdown, for almost a month and a half, just to try to control this particular virus variant. We're going to find ourselves in a very similar situation in the weeks ahead."
So follow Dr. Anthony Fauci's fundamentals and help end this pandemic, no matter where you live—wear a face mask that fits snugly and is double layered, don't travel, social distance, avoid large crowds, don't go indoors with people you're not sheltering with (especially in bars), practice good hand hygiene, get vaccinated when it becomes available to you, and to protect your life and the lives of others, don't visit any of these 35 Places You're Most Likely to Catch COVID.