Dr. Fauci Shares "Best Way" to Stay Safe From COVID
"The best thing you can do about that is to continue to uniformly adhere to the public health recommendations."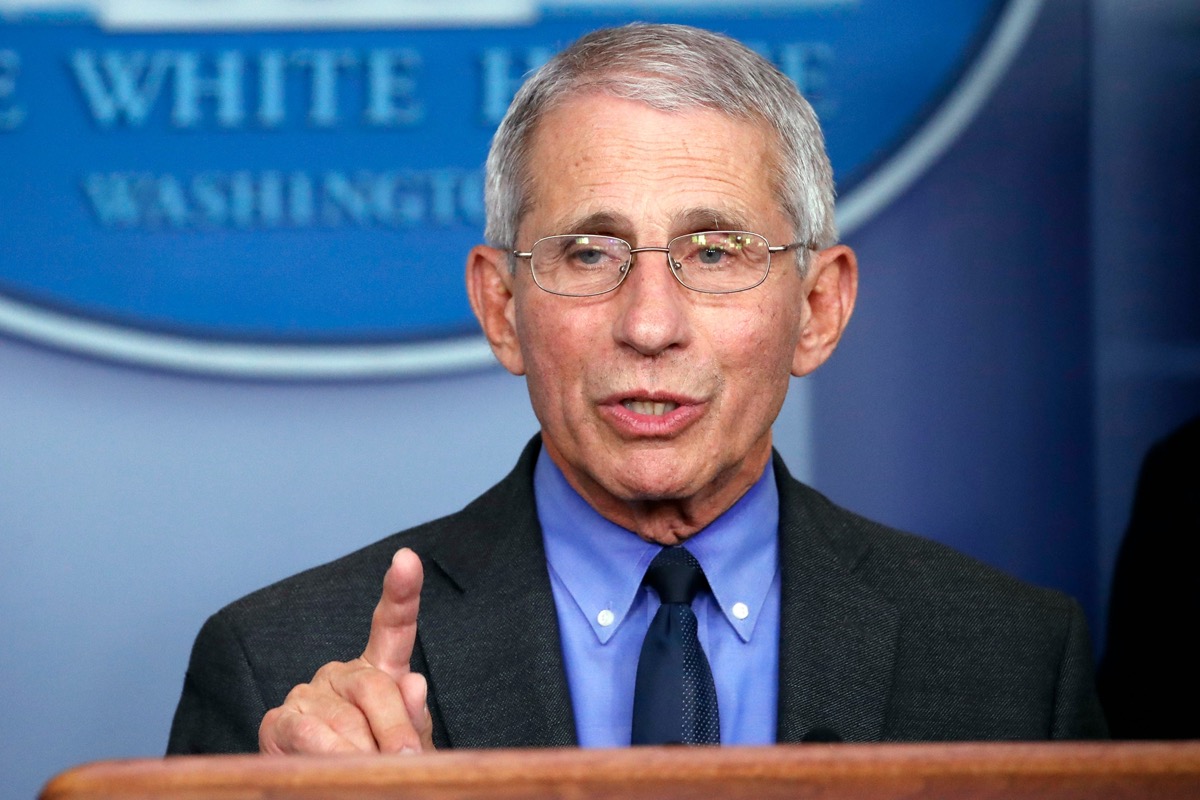 With American coronavirus deaths now past 410,000, Dr. Anthony Fauci, the nation's top infectious disease expert and President's Chief Medical Advisor, is here with a warning: it could get worse. Why? There are new strains of COVID-19 that are more transmissible. How to stay safe? He revealed "the best thing you can do" on CNN's New Day this morning. Read on—and to ensure your health and the health of others, don't miss these Sure Signs You've Already Had Coronavirus.   
Dr. Fauci Warned the New Variants "Transmit More Efficiently"
"We are seeing a plateau in the number of cases," Fauci said, raising hopes before laying down a sobering reality. But "we're still going to have a lot of hospitalizations, even though they tend to be plateauing and coming down. What we're hoping is that as we come to the end of January, we'll start to see that plateau and things will go down. But as we all realize, there's a possibility that with the variance here, we may have a dominance of those strains that tend to transmit more efficiently."
"These variants are something we certainly have to pay attention to, and there's a couple of them out there," said CNN's Dr. Sanjay Gupta, after Fauci's appearance. "One way to think about it, and I was speaking to some people who really studied viral dynamics even last night: This UK variant, for example, much more transmissible. So what does that mean? There's several things that you have to sort of pay attention to. One is that if something's more transmissible, it can become the dominant strain. In fact, we saw that before the Italian strain, for example, in the spring of last year was the dominant strain that started to actually become our transmissible strain. That started to become the dominant strain. According to some projections, this UK strain, for example, could double in terms of its overall proportion every week. So if it's a 1% this week, 2% next week, 4% the week after, and by March, it could become the dominant strain in this country."6254a4d1642c605c54bf1cab17d50f1e
"The second thing," he continued, "is, what does it mean for overall the virus in this country? I mean, the numbers of overall new cases have been coming down a little bit. As we know, these tragic deaths typically follow four weeks after the number of cases. So they're still going up, but if cases continue to go down, deaths by sort of end of February should start to come down as well. We will see." 
"And then the final point is, do these variants, are they going to continue to respond to the current vaccines? And so far, the answer seems to be yes, but we're not tracking these variants nearly enough in this country."
RELATED: If You Feel This, You May Have Already Had COVID, Says Dr. Fauci
Dr. Fauci Shares the "Best Thing" You Can Do
"The best thing you can do about that is to continue to uniformly adhere to the public health recommendations that we spoken about time and again, from the wearing of masks to the washing of hands, to avoiding congregate settings. That's the kind of thing that prevents surges, regardless of what the type of virus, the mutant virus, or what have you, is there that together with an increase in the rollout of vaccines is the thing that we should be concentrating on."
So follow Fauci's fundamentals and help end this surge, no matter where you live—wear a face mask, social distance, avoid large crowds, don't go indoors with people you're not sheltering with (especially in bars), practice good hand hygiene, get vaccinated when it becomes available to you, and to protect your life and the lives of others, don't visit any of these 35 Places You're Most Likely to Catch COVID.
Alek Korab
Alek Korab is a Co-Founder and Managing Editor of the ETNT Health channel on Eat This, Not That!
Read more about Alek