Dr. Fauci Said Here's When You Can Stop Worrying About Every Little Sniffle
"The best case scenario is that in a matter of several weeks to a month or so…."
The coronavirus numbers going in the right direction, but not quickly enough for anyone to let down their guard: America is averaging more than 700,000 cases a day, and hospitalizations are a far cry from where they should be. How can you stay safe? Dr. Anthony Fauci, the chief medical advisor to the President and the director of the National Institute of Allergy and Infectious Diseases, appeared on CNN just yesterday. Read on for 7 life-saving pieces of advice—and to ensure your health and the health of others, don't miss these Sure Signs You've Already Had COVID.
1
Dr. Fauci Said Here's Where Omicron is Still Raging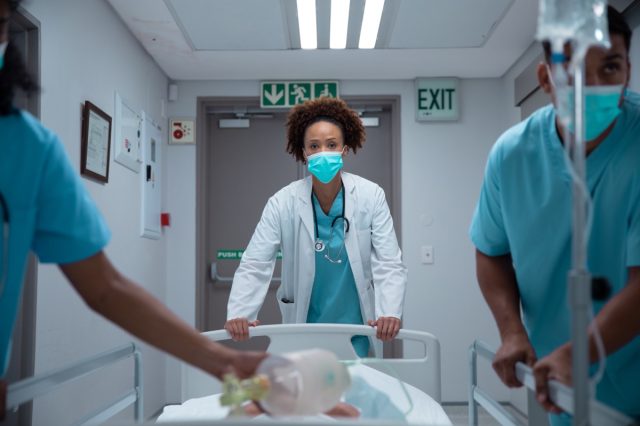 When will we be in the clear? "I'm not so sure," said Dr. Fauci. He said things are going "in the right direction. It's a trend that we've seen in other countries with Omicron, South Africa being weeks, if not a month or so, ahead of us had a sharp peak and came back down, the UK is doing the same thing, and we're seeing it in those areas of the country that had the first surge to begin with—the Northeastern cities, the Upper Midwest. We still have a considerable amount of it in Southern states and Western states, but we project that in the next week or two or more, we're gonna start seeing the same peak and coming down. How long that takes to get down to the baseline that you would feel comfortable with, that we're in an arena that we can actually live with that type of an activity, it's very difficult to predict."
2
Dr. Fauci Said Here's the Best Case Scenario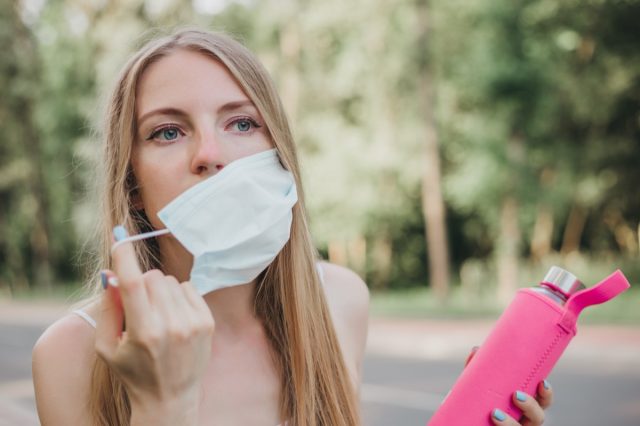 "The best case scenario is that in a matter of several weeks to a month or so, we'll continue to come down and down. And then with all the things that we have, all the tools, vaccine, booster, testing, masking will be able to keep it down there. That's the best case scenario, the worst case scenario would be that when we do that, we get another variant that might be difficult that would elude some of the protection from vaccination. I hope that doesn't happen."
3
Dr. Fauci Said This is the Best Way to End This Pandemic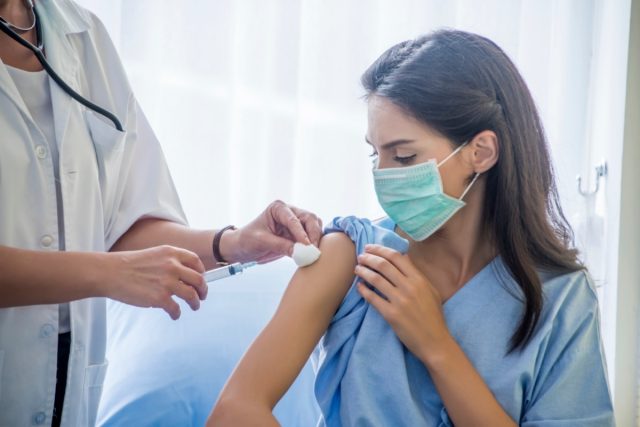 The best way to mitigate against that is to get as many people vaccinated and boosted as you possibly can. Because as we know from the CDC" which relseased a few studies that showed that " boosting makes a major difference with it, brings back the protection against hospitalization well up to 90%. So we have the tools to keep it down. When we get it down, we just need to implement those tools."
4
Dr. Fauci Said Don't Worry as Much About Cases as Hospitalizations
"I think it's important for people to understand that when you get to a situation we're in on right now, it's less relevant as to the number of cases, particularly when you have a degree of asymptomatic and mildly symptomatic disease. The real key parameter is serious disease. If we could keep the level of hospitalizations and deaths down in many respects, the number of cases, although they can be predictive of what's gonna happen with hospitalization—when you deal with a relatively minor pathogenic virus, namely one that doesn't give as severe disease, and you have a good degree vaccination and boosting in the community, you may get breakthrough infections, but they may either be asymptomatic or mild. When that happens, it becomes much less relevant what the case count is—10,000, 20, 40 50, that becomes much less relevant than whether or not you have a lot of hospitalizations. If you can get the hospitalizations around the level of other respiratory diseases that we've been accepting year after year as not disruptive of our society, if you could get to that low level, then it really doesn't matter that much what the number of cases are." Unfortunately, we aren't there yet.6254a4d1642c605c54bf1cab17d50f1e
5
Dr. Fauci Said Here's When We Can Finally Not Worry About Every Little Sniffle
"We hope that when we get the level of protection in the community, high enough, either through vaccination and boosting and or people who've been infected and have recovered and have a degree of protection, hopefully they will also get vaccinated to optimize their protection," said Dr. Fauci. "I think that things will change. You will not have to be concerned every time you get a sniffle. I mean, we don't want to be living under those circumstances, but we will have a lot more testing available. And importantly, and I think this is critical, which we don't emphasize enough as we get more and more of these effective antivirals available when people who do get infected, who are vulnerable, like the elderly or those with medical conditions, that if you treat them within the first few days, you dramatically diminish the likelihood that they will go out to an severe outcome like hospitalization."
6
Dr. Fauci Said This to Anyone Who Has Not Gotten Boosted Yet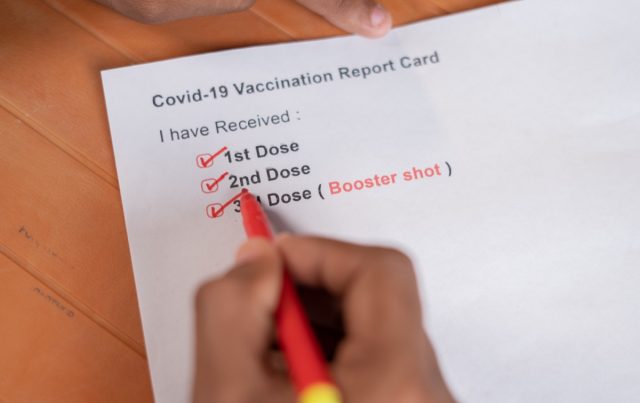 Dr. Fauci said the challenge is "getting those people who have been adamant about not getting vaccinated" vaccinated—"that is very difficult. We're gonna continue to try to convince them why it's important to get vaccinated, but for those who made the step to get vaccinated, I think getting the data available to them, show them how profoundly important it is to get boosted and the data the truth speaks for itself. If you look at the data of the difference between two doses of a vaccine of the mRNA and a third dose, and take a look at what it does with Omicron, it makes the protection of Omicron go from rather low to way up to 90% for hospitalization. I think if people realize that data, they will be much more enthusiastic about getting their booster shot." So get vaccinated and boosted, and to protect your life and the lives of others, don't visit any of these 35 Places You're Most Likely to Catch COVID.
Alek Korab
Alek Korab is a Co-Founder and Managing Editor of the ETNT Health channel on Eat This, Not That!
Read more about Alek