Dr. Fauci Issues Dire Warning Over COVID
Things will worsen in the next month, says the infectious disease expert.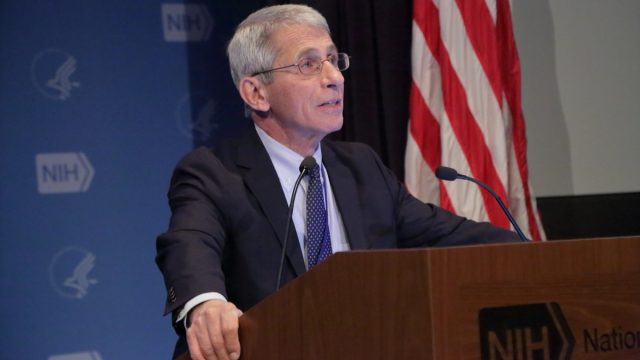 For months, health experts have been warning about the worst-case-scenarios in the COVID-19 pandemic, primarily that if people opted not to follow the suggested fundamentals—social distancing, mask wearing, avoiding crowds and group gatherings included—that this winter could be unimaginably devastating. Now, just days into 2021 we are in the worst surge of the virus thus far. And, during a Wednesday interview with BNN Bloomberg, Dr. Anthony Fauci, the nation's top infectious disease expert and the director of the National Institute of Allergy and Infectious Diseases, reveals that it is going to worsen. Read on to hear his full warning—and to ensure your health and the health of others, don't miss these Sure Signs You've Already Had Coronavirus. 
Dr. Fauci Warns the Numbers Will Go Up. And Up.
As Fauci predicted, the holidays are going to result in a huge surge of infections, hospitalizations, and deaths. 
"I think we're going to have a pretty difficult January superimposed upon the very difficult past month and a half that we've had since Thanksgiving," Fauci admitted. "The numbers here in the United States are really stunning. We have now over 350,000 deaths, we're averaging between 200 and 300,000 new infections a day, hospitalizations are breaking records every day. We have over 138,000 people in the hospital right now. It's really a very difficult situation." 
He also explained that despite the staggeringly high numbers, they do not yet represent the inevitable surge of infection that occurred over the holidays. 
"The reason we're concerned that it could even get worse than it is, is we still have not yet seen the impact of the travel and the congregating that you would expect to see during the holiday season of Christmas and New Year's," he said. "The effect of that generally lags by a couple of weeks after the end of the event, which was just last week with New Year's. So we expect as we get into January and maybe the second or third week in January, that we may see these numbers even go up more."
RELATED: 7 Tips You Must Follow to Avoid COVID, Say Doctors
Dr. Fauci Says Our Behavior is the Reason For the Surge
The day before, Dr. Fauci explained why the virus was spreading so rapidly. "There are a number of reasons for that," he told David Rubenstein yesterday during a talk with The Economic Club of Washington, D.C. 
"First of all, I think people in many parts of the country are so fatigued. We call it COVID fatigue with abiding by the public health measures that they're not doing the simple things to protect themselves, the wearing of masks, the physical separation and the avoiding congregate settings." 

"You take that and superposed upon that, that we are now in the winter months, the late fall, early winter, which in fact has people do things indoors much more preferentially than outdoors, which is always really bad for a respiratory borne illness."

"Third, we've had sequential holiday seasons where people have traveled, got into crowded airports and train stations, got on planes and trains went to different parts of the country to visit their loved ones, which is totally understandable, but not really good for public health."

"And then they get into settings where you have dinners and social gatherings, which are very characteristic of the holiday season. All those, these things are wonderful. Again, they're bad for transmissible infections that are respiratory born. So I think all of those three factors together, other reason why we're seeing this surge."
RELATED: Dr. Fauci Just Said When We'd Be Back to "Normal"
Keep Following Fauci's Fundamentals to Stay Alive
"It's been a very difficult situation, which is the reason why we continue to emphasize to people about the importance of maintaining the public health measures that we should universally be doing—wearing of masks, avoiding congregate settings, particularly indoor settings of gatherings of people indoors and keeping physical distance and washing your hands regularly," Fauci reminded listeners. "Those seem simple given the enormity of the problem, but they do work." So follow those, and to protect your life and the lives of others, don't visit any of these 35 Places You're Most Likely to Catch COVID.