Dr. Fauci Just Predicted What Will Happen Next
We may have a surge—it depends on you.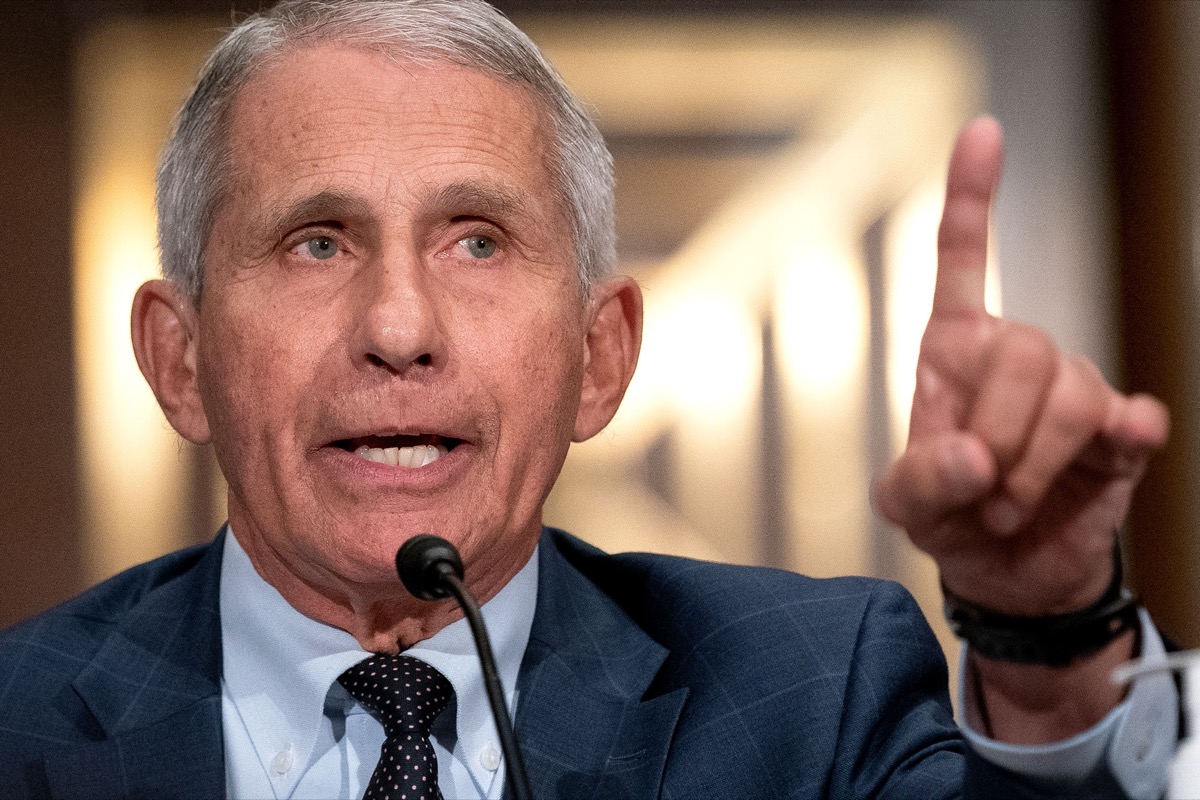 The coronavirus pandemic is nowhere near over, despite us all wanting to get "back to normal": Only around 56% of the population is fully vaccinated. That may change soon as Pfizer has applied for emergency use authorization for its vaccine for 5 to 11 year olds. With the nation's 700,000+ COVID deaths top of mind, Dr. Anthony Fauci, the chief medical advisor to the President and the director of the National Institute of Allergy and Infectious Diseases, appeared on Grey TV's Full Court Press with Greta Van Sustern to issue a warning. Read on for five essential slides—and to ensure your health and the health of others, don't miss these Sure Signs You've Already Had COVID. 
1
Dr. Fauci Said This About the Next Surge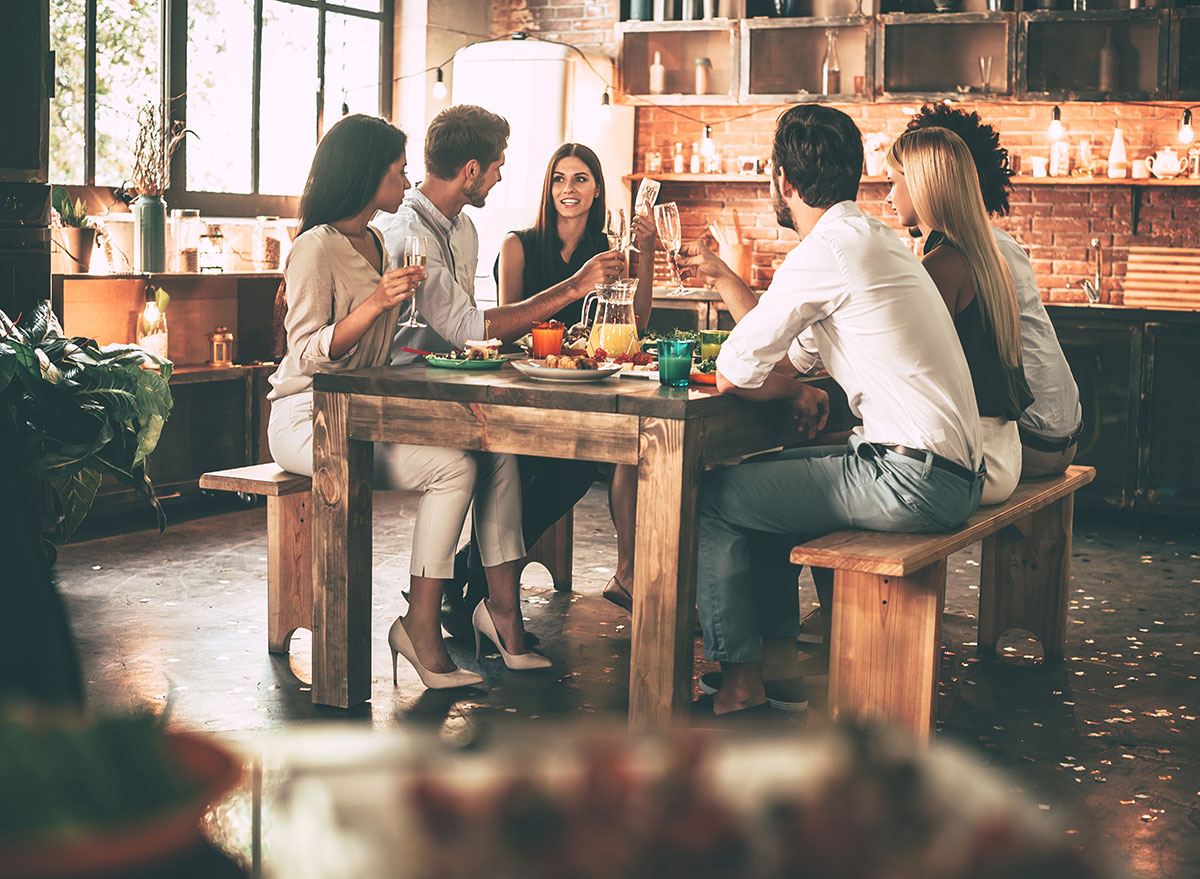 Dr. Fauci was asked if, given the cold weather ahead, pushing us more indoors, we should expect another punishing surge. "A lot of that answer to your question is going to depend on how successful we are in getting the approximately 68 million people in this country who are eligible to be vaccinated, how successful we are in getting them vaccinated," said Dr. Fauci. "Fortunately right now, over the last few weeks, we've seen a turnaround in the slope and going down in both cases in hospitalizations, deaths are still up, but it's…a lagging indicator. I strongly suspect that you're going to start seeing the deaths go down similar to the hospitalizations. How quickly they go down and how thoroughly they down is going to depend a lot on a number of circumstances, which will be influenced by things like the colder weather, people doing things indoors, how well they go by the CDC guidelines of when you have a lot of infection in the community—even though you're vaccinated, when you are in not home, but outside, congregate settings in the public, wearing masks, I think would be very prudent. So there's a lot of factors that go in difficult to predict slopes and rebounds. Unless you have a situation where you can really get the overwhelming majority of people vaccinated."
2
Dr. Fauci said the Vaccine for Younger Kids Would be Safe and Effective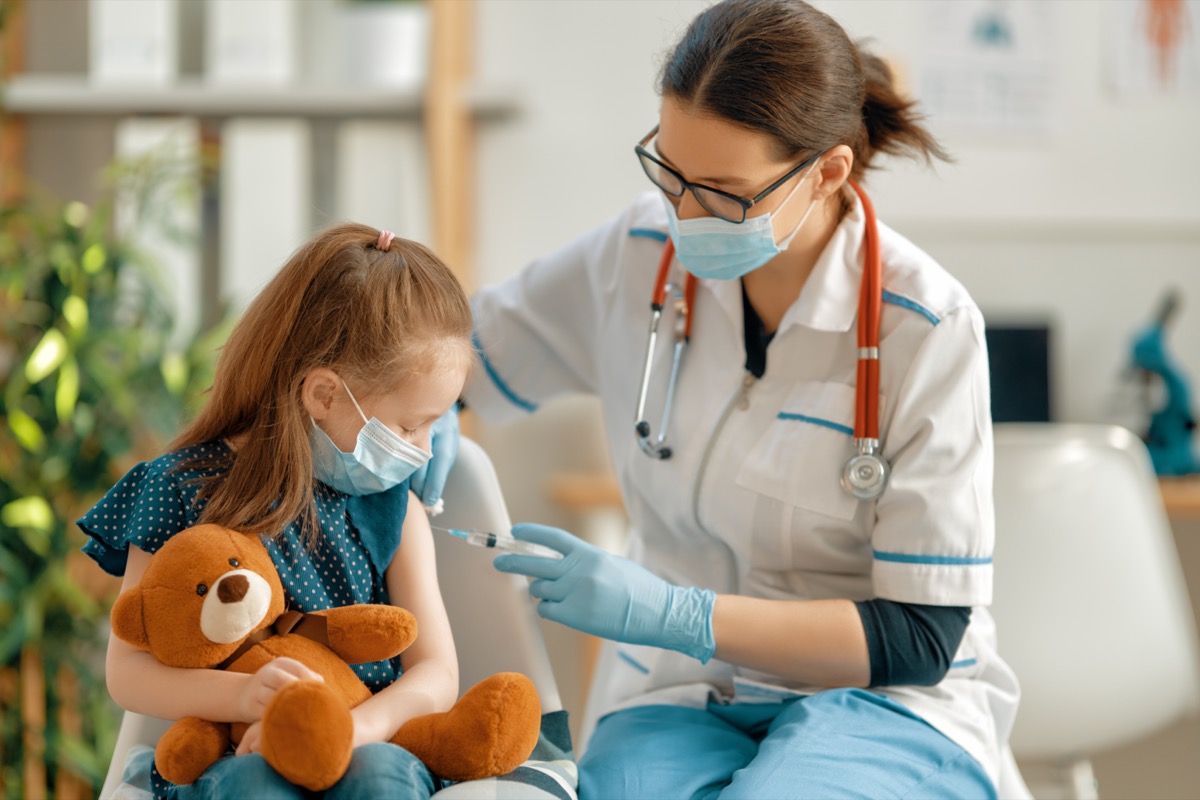 Dr. Fauci said if approved, the Pfizer vaccine for younger kids will be safe and effective. "They've done the studies to examine the safety and the immunogenicity, which means the ability of this vaccine to induce an appropriate response," said Dr. Fauci. "Those data will go before the FDA who will examine it very carefully, looking for the safety and immunogenicity. And it's the natural process. You do a clinical trial, you get information, you submit it to the FDA and they will make a determination. If in fact, they do decide that this is something appropriate to do with regard to safety and immunogenicity. I think it would be an important step forward because you do want to protect children virtually of any age, as well as obviously the adult population."6254a4d1642c605c54bf1cab17d50f1e
3
Dr. Fauci was Asked if a Recent Infection Should Exempt You From a Vaccine Mandate
Dr. Fauci was asked if someone got COVID recently—might they be exempt from a company's vaccine mandate? "The jury is still out on that," said Dr. Fauci. "I mean obviously when someone does get infected, they have a considerable amount of immunity, but that varies from person to person. It varies with the age of the person. We're not sure of the durability of it. We're not sure of how well it does against various variants compared to the typical vaccination. However, there's no doubt that may not. I think that's where people have some disagreement. There's no doubt that if you get infected for the most part, you have a considerable degree of immunity against reinfection, not complete it all, but a considerable amount. All of the other questions that I just mentioned need to be answered, I believe before one has a policy issue regarding how that could substitute for vaccination. I believe in something that's eminently worthy of discussion."
4
Dr. Fauci Weighed in on COVID Tests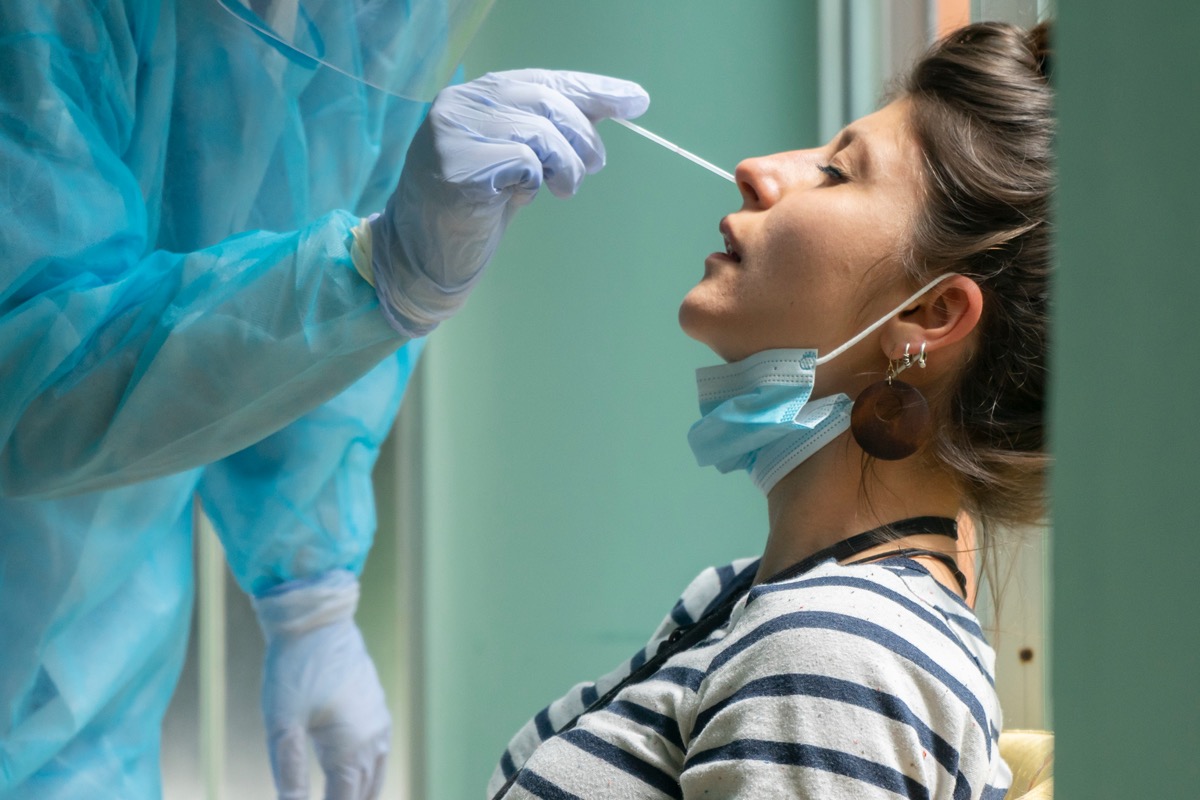 The host said: "All right, we have tests to see whether you have the virus—PCR. We have some home tesst to test whether you have the virus. Is there a test that you are satisfied with that determines whether you have antibodies, how much you have antibodies, whether there are enough antibodies and is there going to be a home test for that?"
"Well, you know, you've asked about five questions there that might have different answers to each of the questions granted. Yes, there aren't tests that will give you an estimate of the antibody level that you have. That is not a test that is yet in the home kit, because that's a quantitative test. So you could say in an experimental way, either I've gotten vaccinated or I'm infected, what is the level of antibody that I have against the certain part of the virus? Those tests clearly can be done in a qualified lab. The home test that you're referring to is generally an antigen test to determine if in fact you are infected—it isn't as sensitive as the PCR test, but it's getting better and better. And if you can get one that's a 10 minute test that people can readily use. That would be a very good thing. And in fact, the government is investing about $2 billion to make hundreds of millions of those tests available that people can actually be able to do themselves at home. And many of them were planning to make free in thousands and thousands of pharmacies."

5
How to Stay Safe Out There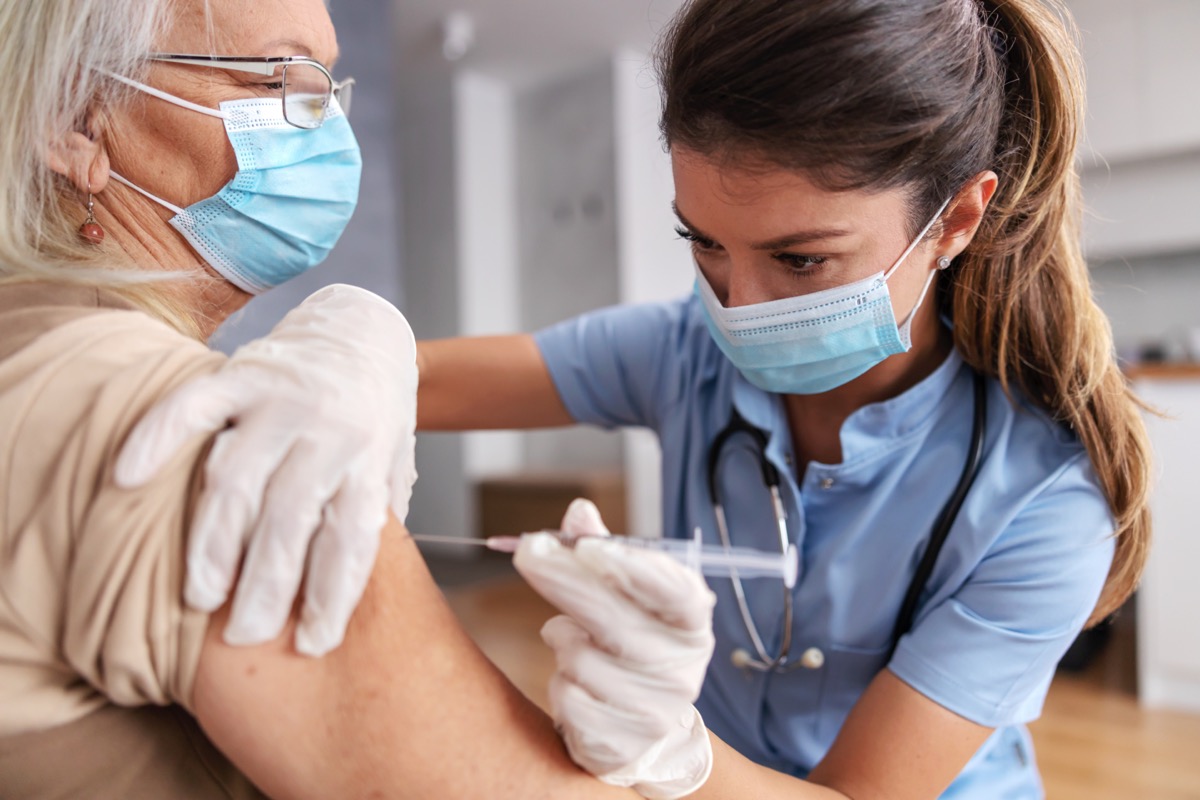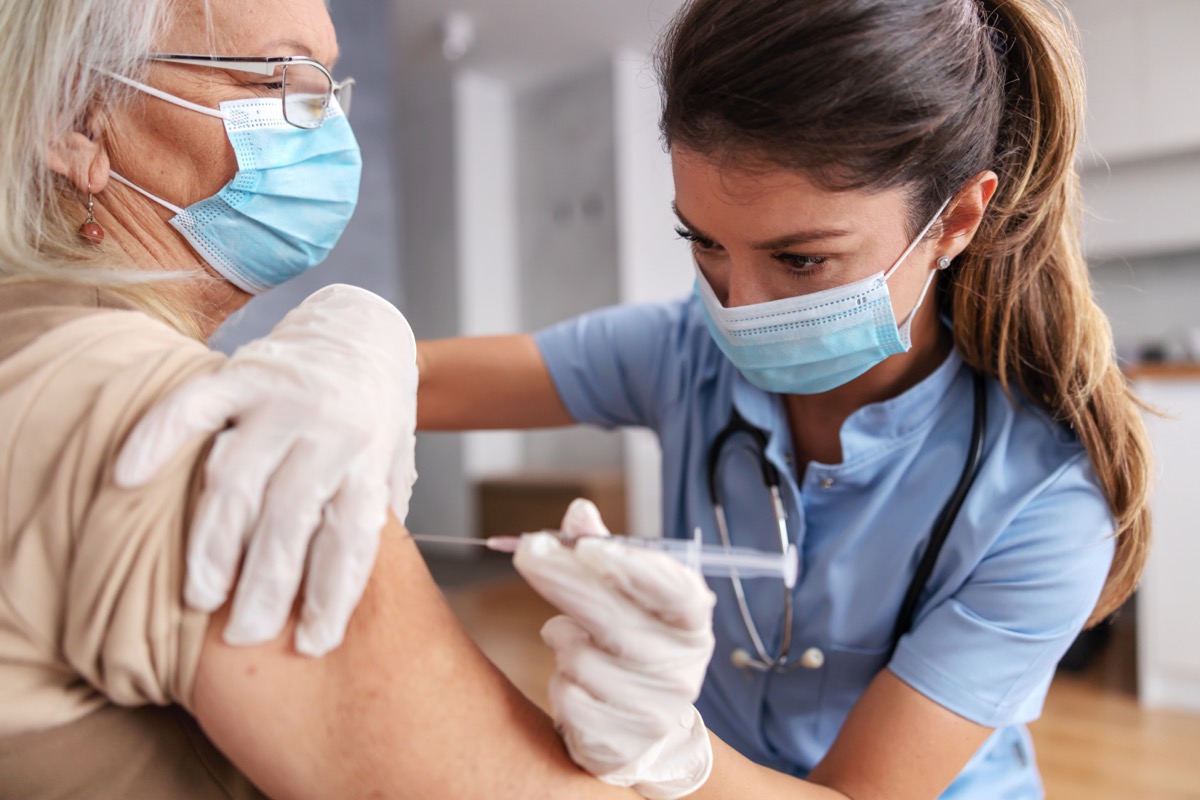 Follow the public health fundamentals and help end this pandemic, no matter where you live—get vaccinated ASAP; if you live in an area with low vaccination rates, wear an N95 face mask, don't travel, social distance, avoid large crowds, don't go indoors with people you're not sheltering with (especially in bars), practice good hand hygiene, and to protect your life and the lives of others, don't visit any of these 35 Places You're Most Likely to Catch COVID.
Alek Korab
Alek Korab is a Co-Founder and Managing Editor of the ETNT Health channel on Eat This, Not That!
Read more about Alek
More content from
ETNT Health