Dr. Fauci Has This Message If You're Scared of the COVID Vaccine
Don't be afraid of the vaccine, despite the latest developments.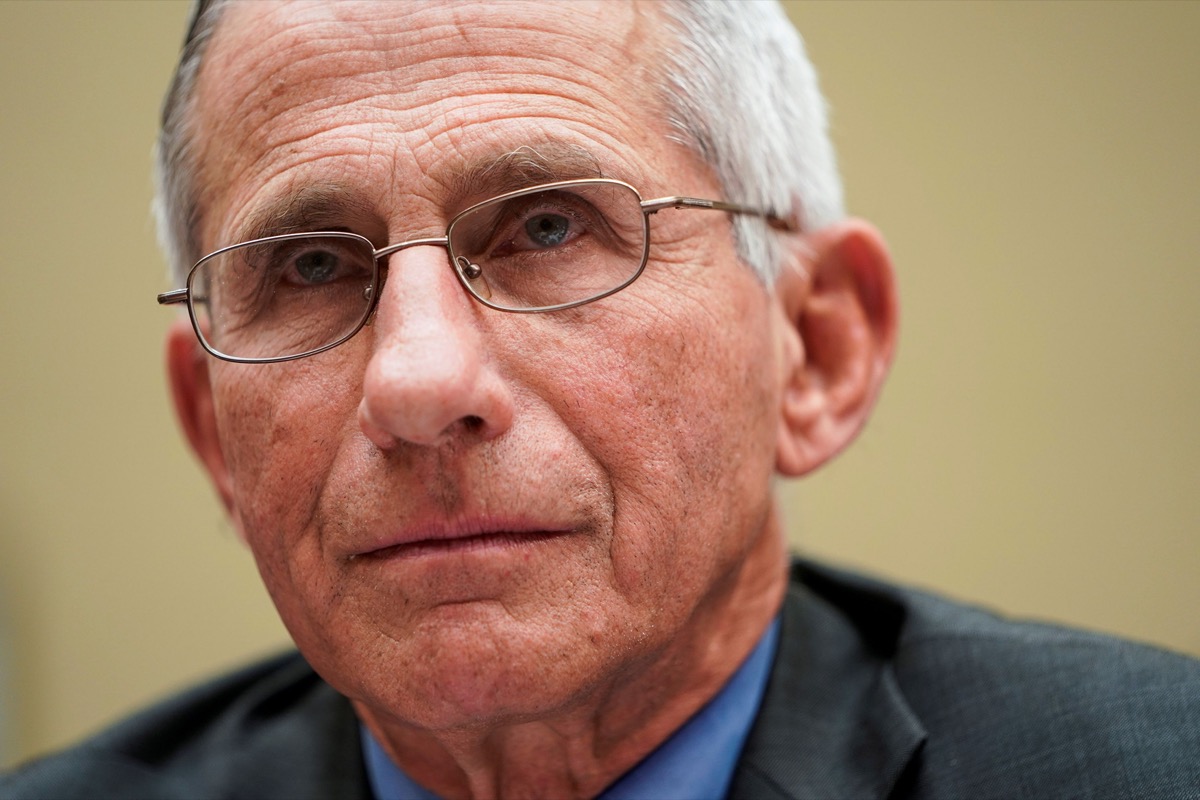 This week, the Centers for Disease Control and Prevention and the U.S. Food and Drug Administration released a joint statement addressing reports that the Johnson & Johnson vaccine can provoke cerebral venous sinus thrombosis. While they point out that the chances of having an adverse reaction is "very low," they did confirm that at least six women between the ages of 18 and 48 did experience an adverse reaction. However, Dr. Anthony Fauci, the chief medical advisor to the President and the director of the National Institute of Allergy and Infectious Diseases wants to clarify that the vaccines are still extremely safe and you should not be scared of them. During Wednesday's White House COVID-19 Response Team Briefing he explained why this latest news actually confirms the safety and efficacy of the vaccine. Read on to hear what he had to say—and to ensure your health and the health of others, don't miss these Signs Your Illness is Actually Coronavirus in Disguise.
The Pausing of the J&J Vaccine Was Done Out of an "Abundance of Caution"
Dr. Fauci pointed out the CDC and FDA's new suggestions to pause the Johnson & Johnson vaccine should not make the issue of vaccine hesitancy "even a more difficult problem." He explained that this was done "in an abundance of caution to be able to take a look at the issues."
"Importantly, when I go out and try to counter the issues of hesitancy, a substantial proportion of the hesitancy is centered around concern that the vaccines might not be safe. I've addressed this many times on this briefing. For example, the question 'You did this so quickly in 11 months, it usually takes years. Is there a real problem here? Did you cut corners and did you not pay enough attention to safety?'"6254a4d1642c605c54bf1cab17d50f1e
He pointed out that these latest actions should quell the nerves of these people, as the groups promptly responded to any possibility of adverse reaction. "The fact that following the EUA, we have continued to follow very carefully any possibility of adverse events, I believe is the other side of the coin of hesitancy. It should reinforce in those individuals how we take safety so seriously," he said. 
Look at the Pause as a "Positive Issue," Says Dr. Fauci
"So as opposed to looking at this as a negative safety issue, it could be looked at as a positive issue where they know that when we let a vaccine be available and give it a go ahead to be put into the arms of the American people, we do it with a considerable degree of confidence as to its safety. So when I get asked questions about whether or not this has set us back from a hesitancy standpoint, I give the opposite of it, namely what I've just explained."
So follow Fauci's fundamentals and help end this pandemic, no matter where you live—wear a face mask that fits snugly and is double layered, don't travel, social distance, avoid large crowds, don't go indoors with people you're not sheltering with (especially in bars), practice good hand hygiene, get vaccinated when it becomes available to you, and to protect your life and the lives of others, don't visit any of these 35 Places You're Most Likely to Catch COVID.
Leah Groth
Leah Groth has decades of experience covering all things health, wellness and fitness related.
Read more about Leah