Dr. Fauci Says When We'll Get Back to Normal
"Hopefully by the fall of 2021, we could start approaching some degree of normality," he says.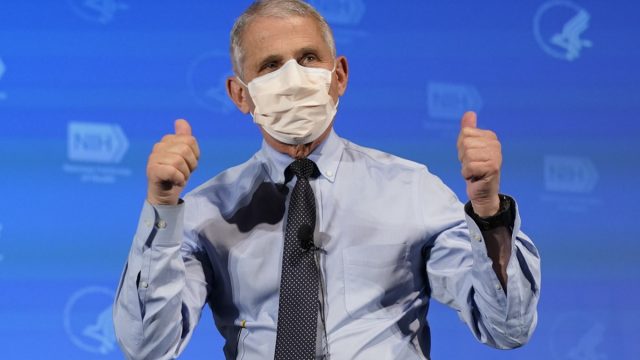 With COVID-19 not letting up, you probably want protection. You want your vaccine. But reports across the nation indicate that some people are having a hard time getting theirs. At this rate, when will enough people be vaccinated so that we can have herd immunity and get back to some level of "normality?" Dr. Anthony Fauci, the nation's top infectious disease expert and the director of the National Institute of Allergy and Infectious Diseases, spoke about just that with WGN Radio. Read on to hear when he thinks we'll get our lives back—and to ensure your health and the health of others, don't miss these Sure Signs You've Already Had Coronavirus. 
Dr. Fauci Said the Vaccine Distribution Has Faced Some "Stumbling Blocks"
The WGN interviewer mentioned Mayor Lori Lightfoot of Chicago and Chicago public health officials—they "have said they're hugely concerned because at the rate we're going, we're talking about all the people who want to be vaccinated will be in a year and a half, which if that were true, I would, I would assume you'd agree is way too long."
"Oh, absolutely," said Fauci. "I think also that you're going to see an acceleration of vaccines. What happened is that the original projection was to get 20 million doses delivered in distributed and 20 million doses into the arms of people by the end of December, clearly, that has not happened. And they need to do much better than that. But remember, this was a brand new program of a magnitude to which we've never had to deal before. And it was initiated right in the middle of the holiday season between Christmas and New Year's. So there were some stumbling blocks…some hiccups as it were, if you want to call it that." 
"I would give it another week or so to see if we can get back on the pace that was originated, which would mean we could get this done in several months and not more than a year, because we really do want to get this done," he said.
RELATED: COVID Symptoms Usually Appear in This Order, Study Finds
Dr. Fauci Said He Hoped We Could Return to "Some Degree of Normality" By Fall of This Year
Fauci continued by laying out a timeline: "We want to get the priority people vaccinated by priority—the ones that have been designated by the CDC: nursing homes, healthcare providers, people with essential jobs, the elderly, etc.—if we can get them done in the next few months. So that by the time we get to April, that we can essentially have what I would call open season and then anybody, even if you're not in a priority group, can get vaccinated."
Fauci feels if then we did "a full court press" and had people vaccinated "April, May, June, July, and August, we could get, and I use this as an estimate, which I think is a reasonably accurate estimate, that if we could be at 70 to 85% of the people in this country, vaccinated, that we could develop a degree of herd immunity that would have a major impact on slowing down this outbreak. And hopefully by the fall of 2021, we could start approaching some degree of normality."
Until then, follow Fauci's fundamentals and help end this surge, no matter where you live—wear a face mask, social distance, avoid large crowds, don't go indoors with people you're not sheltering with (especially in bars), practice good hand hygiene, get vaccinated when it becomes available to you, and to protect your life and the lives of others, don't visit any of these 35 Places You're Most Likely to Catch COVID.
Alek Korab is a Co-Founder and Managing Editor of the ETNT Health channel on
Eat This, Not That!
Read more