Dr. Fauci Just Said How Many Masks to Wear
"What would be a good start if everybody wears at least one mask, I think that would be important."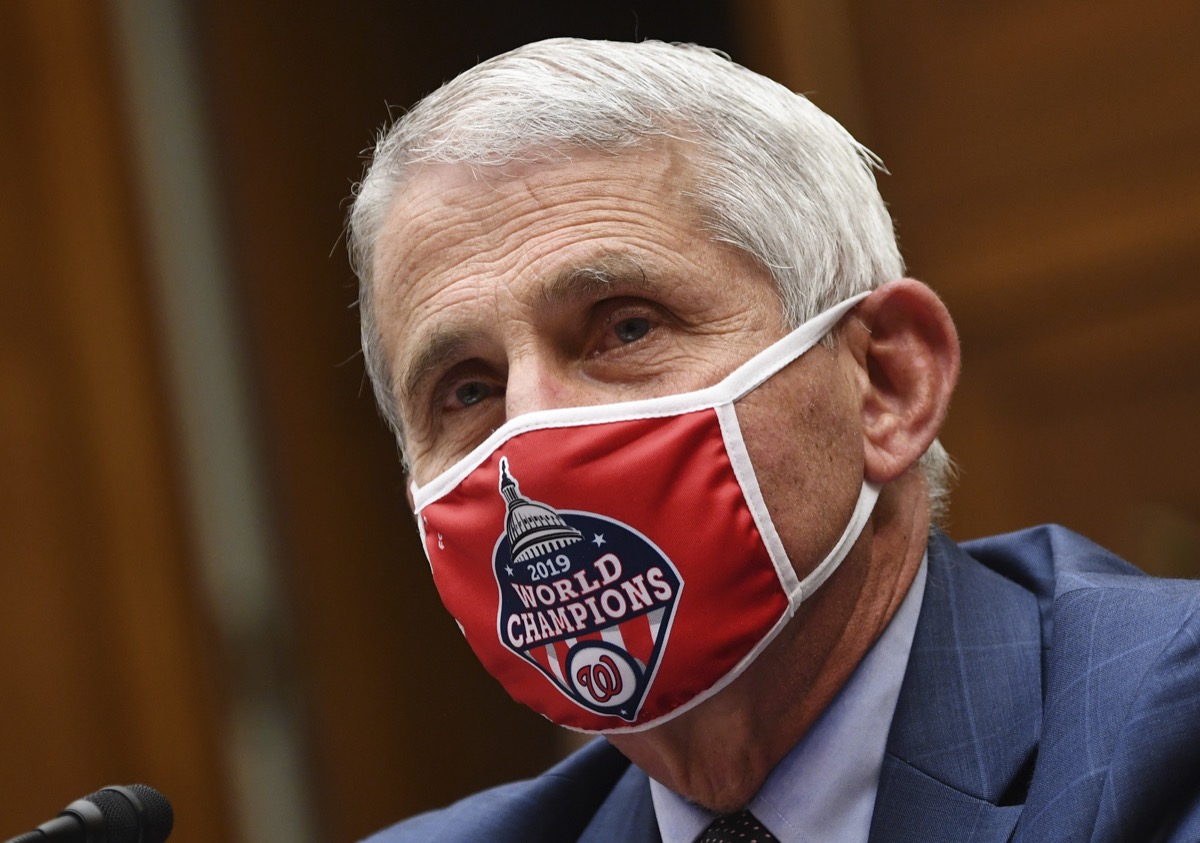 Four hundred twenty-five thousand Americans have lost their lives to the coronavirus, and new mutations—from the U.K., Brazil and South Africa—threaten to kill many more. That's why wearing a face mask is so important. This week, with the new variants a threat, talk started about wearing two. Could they stop a virus that is even more transmissible? "So if you have a physical covering with one layer, you put another layer on, it just makes common sense that it likely would be more effective," Dr. Anthony Fauci, the chief medical advisor to the President and the director of the National Institute of Allergy and Infectious Diseases, told TODAY, when discussing mutations. "That's the reason why you see people either double masking or doing a version of an N95." So: should you wear two masks? Fox News asked Fauci just that. Read on to see his answer—and to ensure your health and the health of others, don't miss these Sure Signs You've Already Had Coronavirus. 
1
Dr. Fauci Says Wear a Mask Please—One or Two!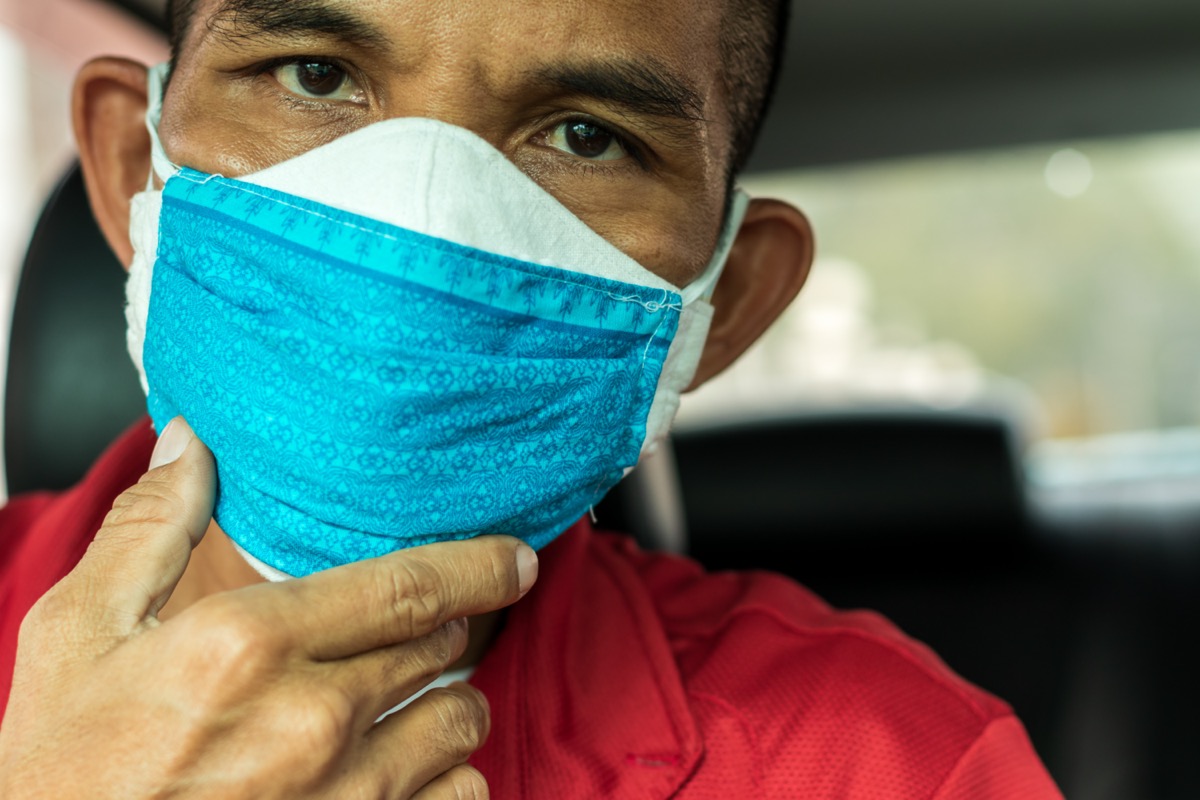 Because the new variants are "more transmissible," some experts are advising two masks are better than one. "Football coaches do it. Presidents-elect do it. Even science-savvy senators do it. As cases of the coronavirus continue to surge on a global scale, some of the nation's most prominent people have begun to double up on masks — a move that researchers say is increasingly being backed up by data," reported the New York Times.
Appearing on America Reports, Fauci was asked about whether or not you need to wear two masks, say, at the grocery store—"do I wear two? Do I wear three? Is it safer to wear eight? Where does it stop?" asked host Sandra Smith, who said the "goalposts keep changing."
"The discussion is changing, not the goalpost," answered Fauci. "So the CDC doesn't officially recommend wearing double masks. What they're saying is, you know, what would be a good start if everybody wears at least one mask, I think that would be important. So the CDC recommendations have not changed. What we're trying to do is to get individuals who are not wearing masks to wear masks."
2
The CDC Recommends One Mask (For Now)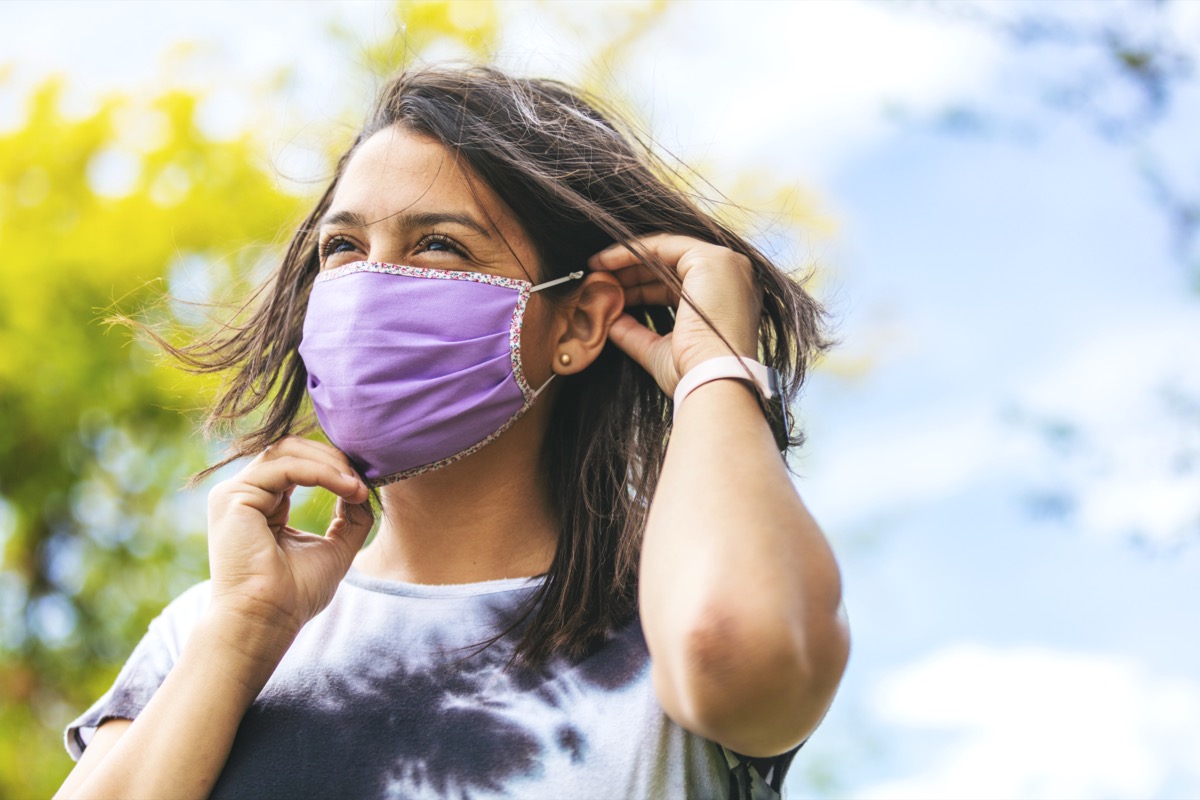 For their part, the CDC recommends you wear a masks that:
Have two or more layers of washable, breathable fabric

Completely cover your nose and mouth

Fit snugly against the sides of your face and don't have gaps
3
The CDC Says DO NOT Choose Masks That….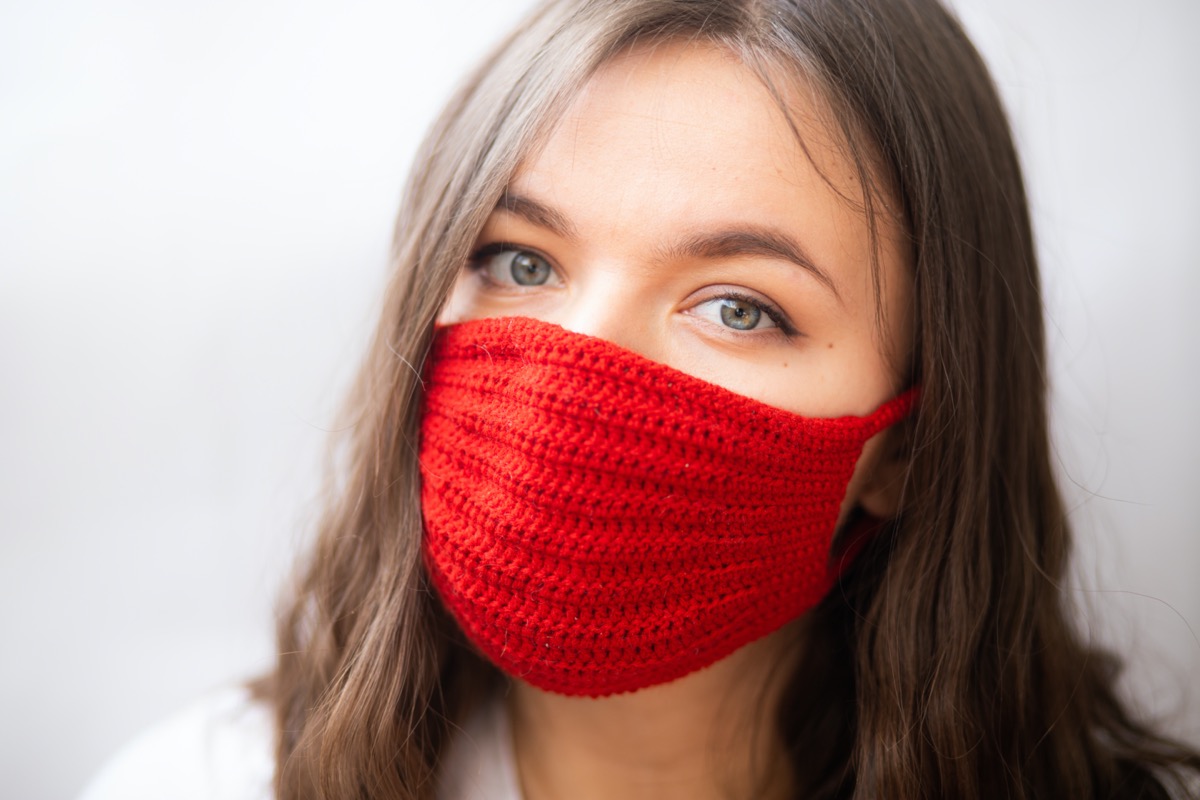 Are made of fabric that makes it hard to breathe, for example, vinyl

Have exhalation valves or vents which allow virus particles to escape

Are intended for healthcare workers, including N95 respirators or surgical masks
RELATED: If You Feel This, You May Have Already Had COVID, Says Dr. Fauci
4
In Other Countries, They are Mandating Different Masks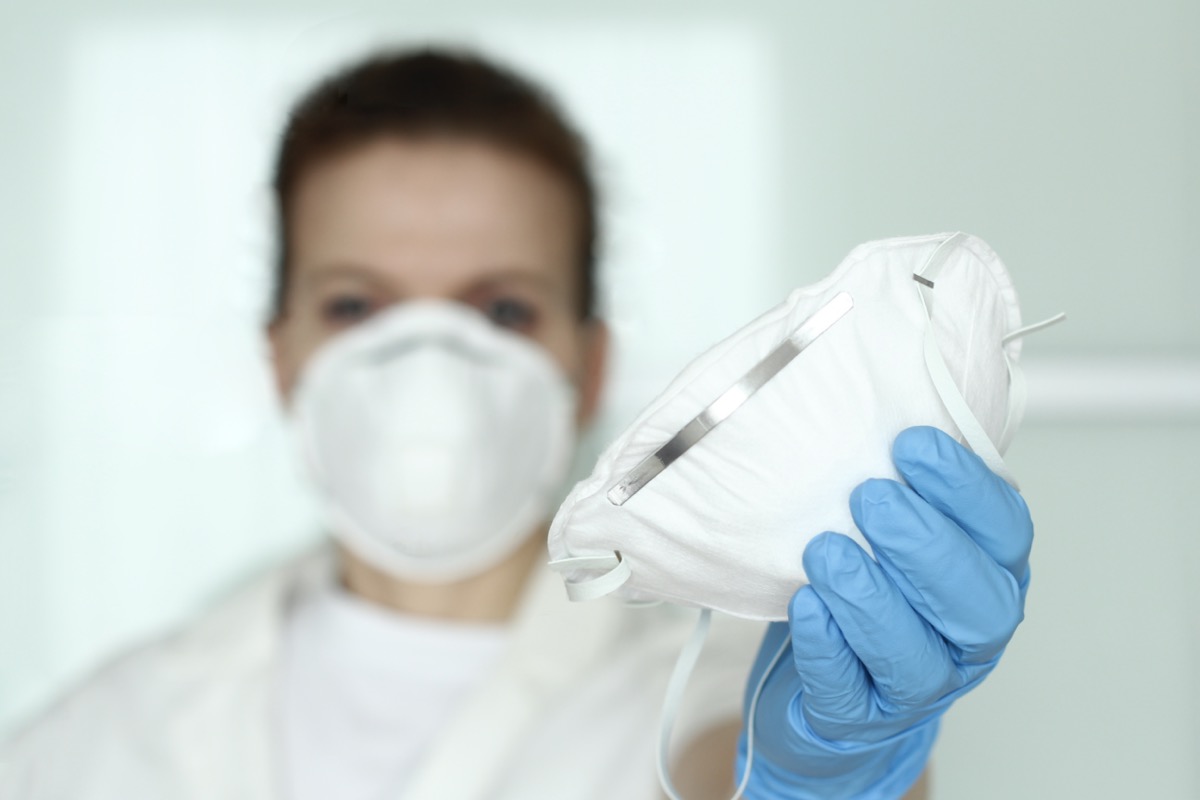 6254a4d1642c605c54bf1cab17d50f1e
The CDC's advice differs from advice in some other countries. "Faced with new, more contagious, strains of the coronavirus and a winter surge in cases, European nations have begun to tighten mask regulations in the hope that they can slow the spread of the virus," reports the Washington Post. "Germany on Tuesday night made it mandatory for people riding on public transport or in supermarkets to wear medical style masks: either N95s, the Chinese or European equivalent KN95 or FFP2s, or a surgical mask. Meanwhile in France, the country's health advisory council on Monday discouraged the wearing of inefficient cloth and homemade masks, also arguing they may not offer sufficient protection against the more highly transmissible coronavirus variants."
"A surgical mask is better than a cloth mask, a tight-fitting surgical mask is better than a loose-fitting mask, and an N95 is better than a surgical mask," Dr. Tom Frieden, the former director of the Centers for Disease Control and Prevention, told Vox. 
5
How to Stay Healthy During This Pandemic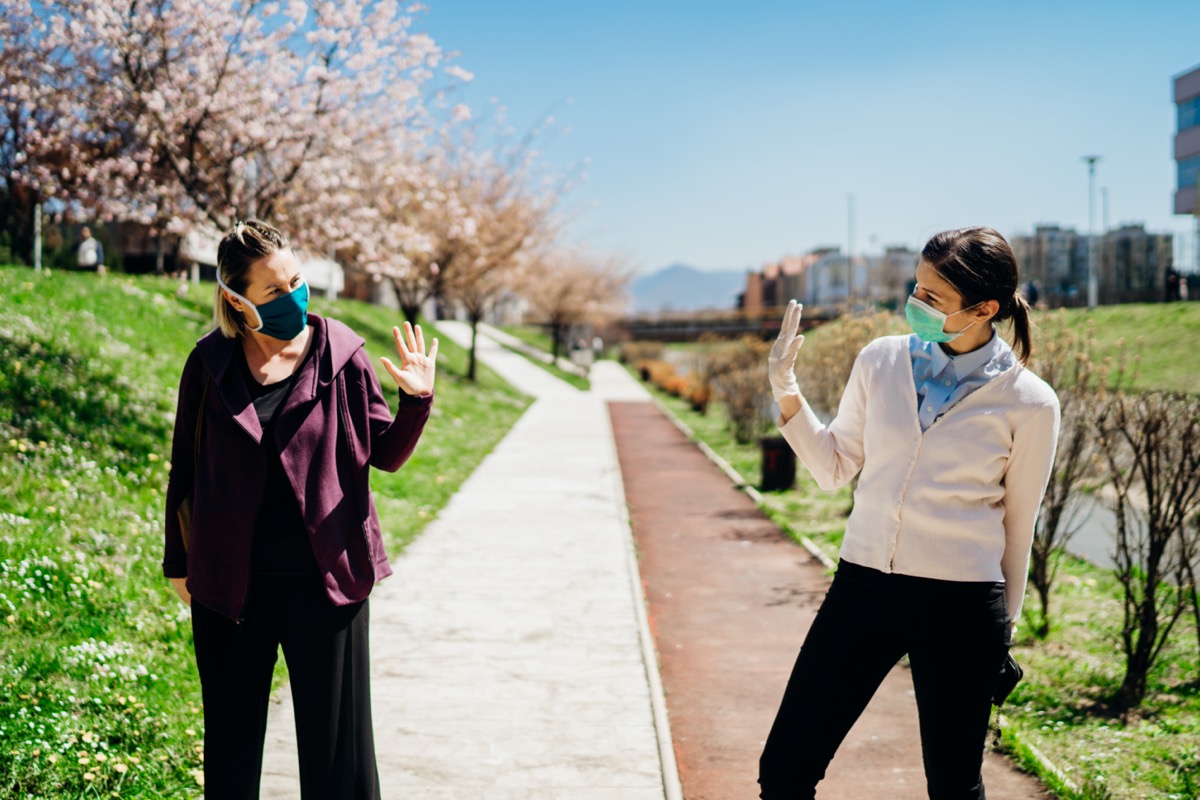 Follow Fauci's fundamentals and help end this surge, no matter where you live—wear a face mask (or two if you prefer), social distance, avoid large crowds, don't go indoors with people you're not sheltering with (especially in bars), practice good hand hygiene, get vaccinated when it becomes available to you, and to protect your life and the lives of others, don't visit any of these 35 Places You're Most Likely to Catch COVID.
Alek Korab
Alek Korab is a Co-Founder and Managing Editor of the ETNT Health channel on Eat This, Not That!
Read more about Alek