The One Place You Really Shouldn't Go Now, Says Dr. Fauci
"We're just asking people to just be prudent and to be careful," he says.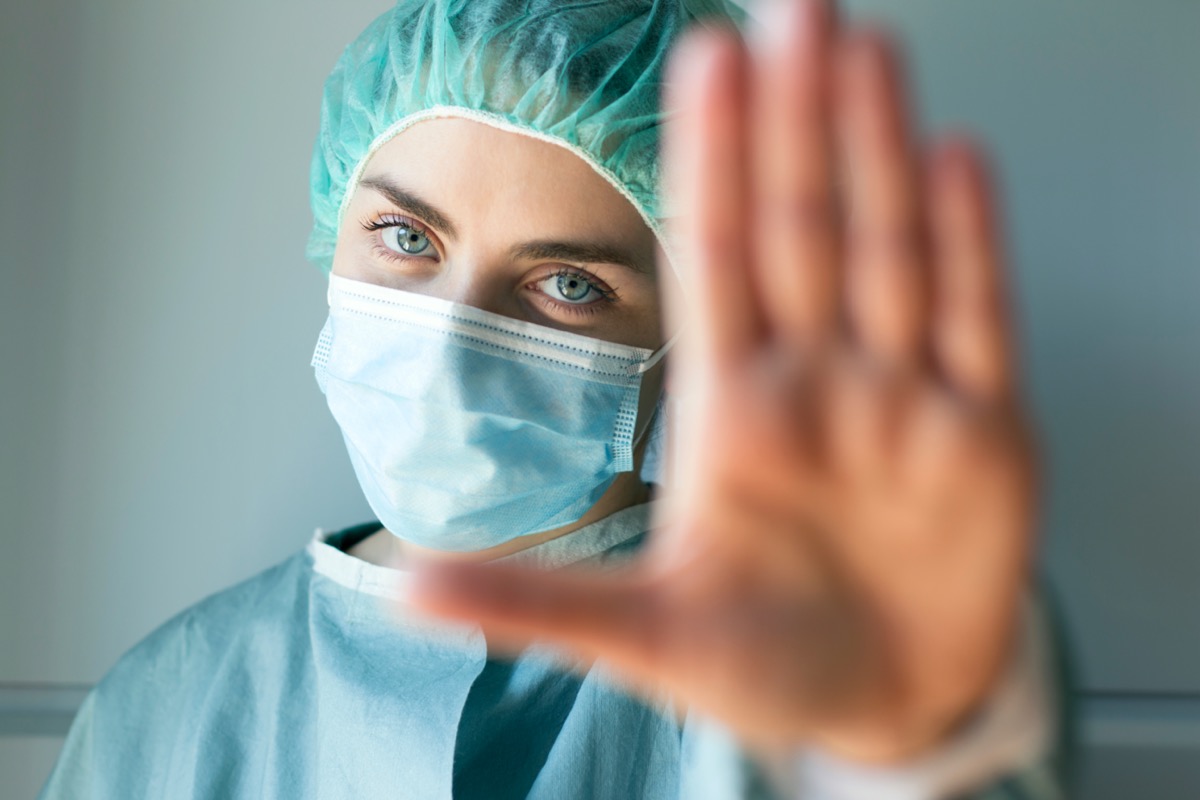 With more than 3,000 coronavirus-related deaths a day in America, the COVID surge is real and predicted to get worse. And now Christmas is here—and along with it, the possibility of another COVID surge on top of the surge. Dr. Anthony Fauci, the nation's leading infectious disease expert, doesn't want to be a "Grinch" and "cancel Christmas" but he begs you to face reality: The coronavirus spreads from person to person. Be around people—even Grandma—and someone can get sick and die, or be debilitated. Maybe someone you know.
Alternatively, you can prevent that. Read on to find out how—and to ensure your health and the health of others, don't miss these Sure Signs You've Already Had Coronavirus.
The One Place You Really Shouldn't Go Now
Dr. Fauci implores you to first follow some simple but effective public health measures, including the "uniform wearing of masks, avoiding the close contacts, keep distance, avoid congregate settings with a lot of people, particularly indoors, and wash your hands as frequently as you can," Fauci told Wolf Blitzer on CNN. "I know everyone wants to get back to the time when Christmas was a situation where you could have many, many guests, indoor congregating, having fun together—the situation is different."
He made clear what he's asking here. "Now we don't want to cancel Christmas. Whenever I talk about being careful, someone will say, 'Well, he wants to cancel Christmas.' I don't want to do that. I want people to be more careful. I want them to limit traveling to the extent possible. And when you congregate try to do it with a limited number of people, preferably people in the same household or a few close people who, you know, are also being very careful, avoid the 20, 25 people at a house, at a big setting." That's the one place you really shouldn't go now: Indoors, with a lot of people you don't shelter with.
Dr. Fauci Says "Be Careful" Now Because There's a "Light at the End of the Tunnel"
Fauci calls that behavior "quite risky" and if you can avoid it now "we can do that now and get through this season, enjoy it to the extent that you can, but it's not going to be the way a normal Christmas season is. As we get through that, the light at the end of the tunnel is the vaccine."
Fauci was administered the Moderna vaccine himself on Tuesday. The Pfizer vaccine is also available. The average Jane and Joe can get theirs starting in April, he promises.
"As we get into February, March, April, and into the summer, we will reach a point when we are really approaching normal. And as we do, we will be able to get back to some of the treasured types of sharing customs, the things that we love….However, it's a difficult and very different situation [now]. So we're just asking people to just be prudent and to be careful."
Stay Home—or If Not, At Least Do a Risk Assessment
Back in November, Fauci said to do a risk assessment before Thanksgiving and it can apply to Christmas. Fauci knows it's tempting to have Grandma or your BFF over. "It's a natural reaction to say, now, wait a minute. I know these people, you know, they're friends they're coming in," he said on CBS' Face the Nation. "You tend to almost intuitively and instinctively let you let your guard down. Now, you don't want to say that no one can come in, but you can have people that have their own pods of protection. People who might quarantine themselves, who might get a test, but in general, where I would recommend them. And I do this every day—is to tell families to just take a moment to do what I call a risk-benefit determination. If I have someone in my home, who's elderly, someone who has an underlying condition—do I really want to put that person at risk from someone who innocently or inadvertently could infect them? Because we know clearly that people who don't have symptoms are clearly capable and are transmitting the infection. So just think about it for a moment, the risk now, versus the long range of what you can do." So do that, and to protect your life and the lives of others, don't visit any of these 35 Places You're Most Likely to Catch COVID.6254a4d1642c605c54bf1cab17d50f1e
Alek Korab
Alek Korab is a Co-Founder and Managing Editor of the ETNT Health channel on Eat This, Not That!
Read more about Alek
More content from
ETNT Health