Dr. Fauci Says You Can Finally Do This After Getting Vaccinated
These types of social gatherings may be safe if everyone attending has been vaccinated.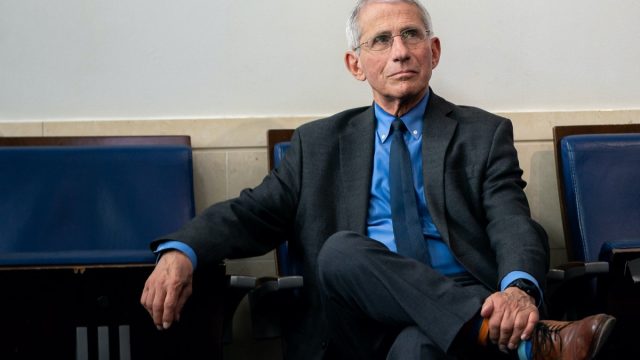 If you are one of the many thousands of Americans who have received both your first and second COVID-19 vaccine, you might be wondering if it is okay to resume your pre-pandemic life. On Monday during the White House COVID-19 Response Team Briefing, Dr. Anthony Fauci, the chief medical advisor to the President and the director of the National Institute of Allergy and Infectious Diseases and Dr. Rochelle Walensky, Director of the Centers for Disease Control and Prevention, discussed what you can now do safely if you are fully vaccinated. Read on—and to ensure your health and the health of others, don't miss these Sure Signs You've Already Had Coronavirus. 
Dr. Fauci Says You Can Start Fraternizing With Others if You Are All Doubly Vaccinated
Dr. Fauci revealed that the CDC will soon be releasing guidance about what activities are safe to do once you are vaccinated, but also gave his input. "I have been asked and I've said publicly that, as we get more and more people vaccinated, the logical question that was just asked…is an important question. And that is, 'What happens if you get doubly vaccinated people with the Pfizer and Moderna?'" he started. "For example, members of family, people coming in— like I use the example of a daughter coming in from out of town who is doubly vaccinated and a husband and wife doubly vaccinated, and maybe a next door neighbor who, you know, doubly vaccinated."
He proceeded to reveal that he believes that "small gatherings in the home of people," will be a safe activity. "I think you can clearly feel that the risk, the relative risk is so low that you would not have to wear a mask that you can have a good social gathering within the home," he said. 
However, "beyond that is going to be based on a combination of data, a combination of modeling and a combination of good clinical common sense and the CDC is working on that right now," he said.  
RELATED: Dr. Fauci Just Said When We'd Get Back to Normal
The CDC Chief Warned That Cases Are Still High—"We Are Not Out of the Woods"
Dr. Walensky confirmed that the CDC is actively working on the guidance. And while she agrees with Fauci, she reminded that overall, risk of infection is still very high. "I want to really keep our eye on the fact that our cases are increasing right now, slightly, but they are," she said. "And so the goal is not to sort of open up travel, open up things because we're scaling up vaccination. The goal in those first hundred days has always been to sort of make sure that we are in a place to be out of this pandemic and 70,000 cases per day. We're not in that place right now. So while we may have guidance at the individual level as Dr. Fauci has suggested. I think we all need to keep our eye on the fact that we're not out of the woods here yet."
And, Fauci reiterated that the scenario he explained above, "the setting in a home of a small group of people having dinner together, all of whom have vaccinated is very different when you step out the door and go into a society that has 70,000 new infections per day."
So follow Fauci's fundamentals and help end this pandemic, no matter where you live—wear a face mask that fits snugly and is double layered, don't travel, social distance, avoid large crowds, don't go indoors with people you're not sheltering with (especially in bars), practice good hand hygiene, get vaccinated when it becomes available to you, and to protect your life and the lives of others, don't visit any of these 35 Places You're Most Likely to Catch COVID.