Watch Olivia Rodrigo Meet Dr. Fauci to Read Tweets
The Driver's License singer urged Americans to get vaccinated.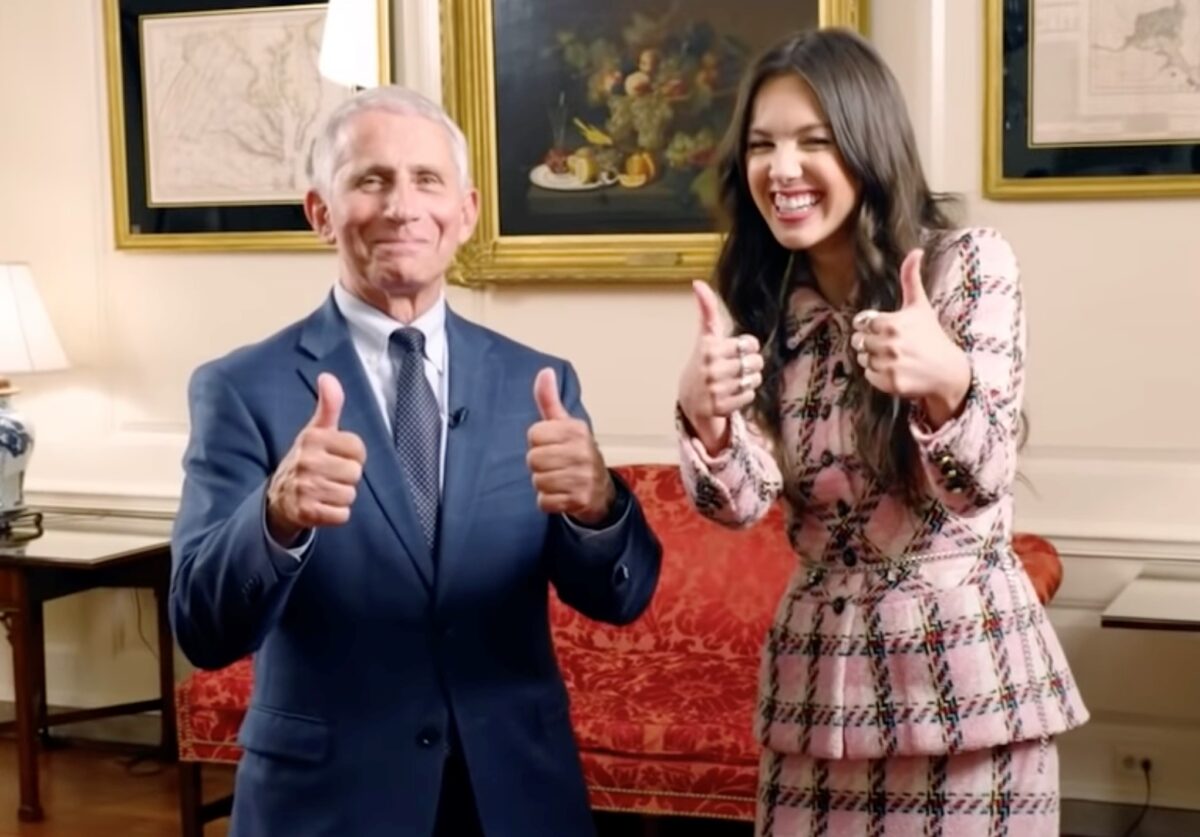 In order to get more people vaccinated against the coronavirus, Dr. Anthony Fauci, the chief medical advisor to the President and the director of the National Institute of Allergy and Infectious Diseases, has talked about enlisting people the community trusts. Enter Olivia Rodrigo. The 18-year-old High School Musical: The Musical: The Series star, who's album Sour was released in May, went to the White House this week to film a PSA with the doctor to urge people to get vaccinated. Watch it below—and to ensure your health and the health of others, don't miss these Sure Signs You Have "Long" COVID and May Not Even Know It.
Olivia Rodrigo and Dr. Fauci Read Humorous Tweets to One Another
In the video, the duo read tweets about themselves, mostly humorous, relating to the vaccine.
"Somebody said Olivia Rodri-Go to the vaccine clinic," read the singer. "Very true. All of the funny puns, as long as you're getting vaccinated, but that's great. Whatever it takes."
"I had a dream that I got the COVID-19 vaccine and met Dr. Fauci afterwards. I told him that I bought his bobblehead and he was super cool about," read the doctor.
"Did anyone else spend their Friday afternoon driving to their second vaccination and crying to Olivia Rodrigo. And was that just me?" read Rodrigo. "Hey, I love that. I'm so happy that I'm soundtracking your vaccine appointment. That's great. That makes me very happy."
"People made fun of these Dr. Fauci prayer candles, but we got my dad one for his birthday in November. So he lit it every night and everyone in my immediate family was fully vaccinated. So maybe there's something there," read Fauci.
"I need to see Olivia go live in concert in the first row. Get your vaccines," read Rodrigo. "I'm just so excited to go to a concert, right?" asked Rodrigo. "I agree," said Fauci. "I want to go to a concert for sure. For sure. If I tell you the greatest concert that I haven't been to, you're going to faint. The reason is I'm so old. It goes back to the late 1950s at the Paramount Theater in New York City, which was a Motown concert with the Temptations, the Four Tops—I'm a really old guy."
"That's incredible," said Rodrigo.
"Happy Man Crush Monday to this hero," read Fauci. "Thank you, Dr. Fauci for all your hard work. We appreciate your intelligence, bravery and compassion. We love you." 
"Well, that's very nice," said Fauci, who admitted he had no idea what "Man Crush Monday" was. Rodrigo explained: "People would post a picture of their boyfriends and they'll be like, oh Man Crush Monday, this is why I love you. So it's a big deal."6254a4d1642c605c54bf1cab17d50f1e
"Whatever it takes," said Fauci. "If Man Crush Monday makes you get vaccinated, go for it."
Dr. Fauci Said Chills Was a Good Sign After Your Vaccine
"Are these chills from my second dose of the vaccine or from listening to Deja Vu by Olivia Rodrigo for 'big number' of times a day," read Rodrigo. 
"That person brings up a good point that I think we should let people know when you get vaccinated," said Dr. Fauci. "If you get particularly the two dose vaccine, after the second dose, you can sometimes feel fatigued, maybe a little chilly. That's a good thing because when your body has that reaction, that means your immune system is revving up and making a really good response against the virus."
"I had the same thing after my second shot," said Rodrigo, "I just took, took a little nap and I was like fine." So get vaccinated when it becomes available to you, and to protect your life and the lives of others, don't visit any of these 35 Places You're Most Likely to Catch COVID.
Alek Korab
Alek Korab is a Co-Founder and Managing Editor of the ETNT Health channel on Eat This, Not That!
Read more about Alek
More content from
ETNT Health