One Sure Sign You've Already Had COVID, Says Dr. Fauci
This common symptom tends to stick around.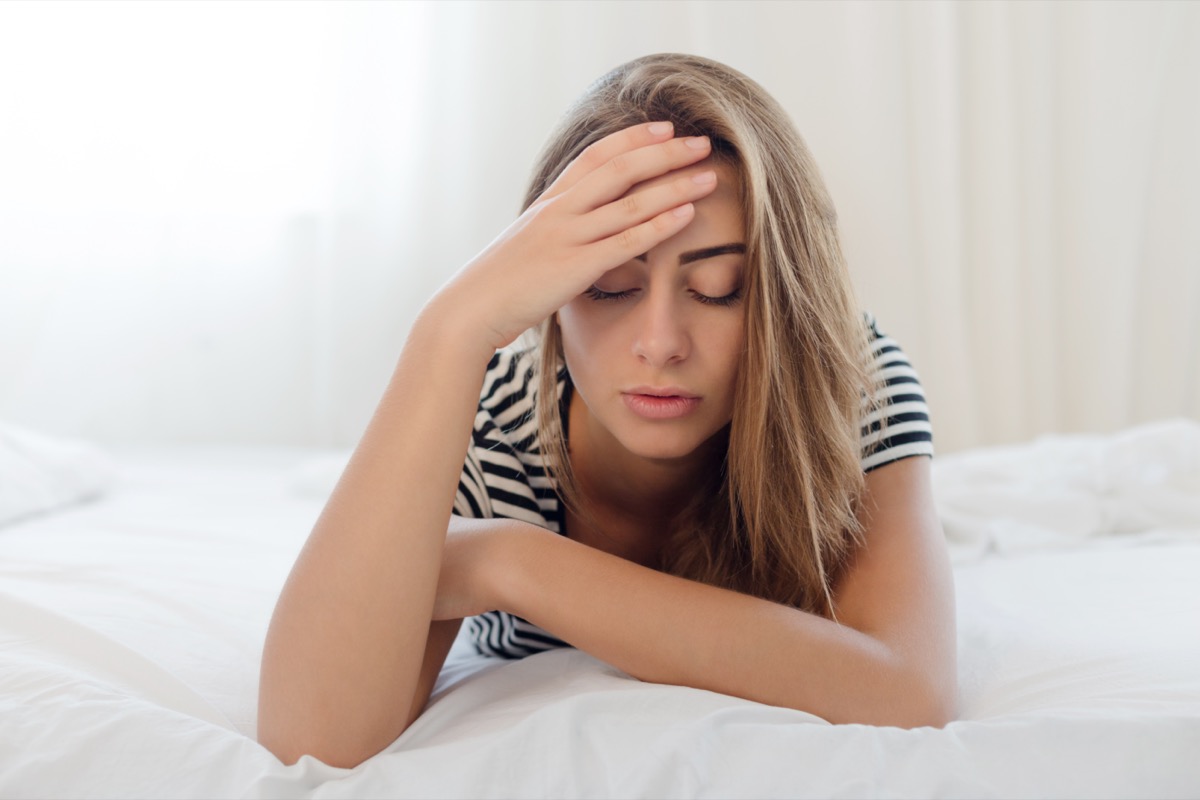 If you find yourself bone-tired and dragging through the day—day after day—it may not just be the winter doldrums. You may have been infected with COVID-19. Severe fatigue is one of the most common initial symptoms of COVID, and in some people, it's one of the last to resolve—lasting weeks or months. In the past week, two celebrities have spotlighted the condition: Jayson Tatum of the Boston Celtics said he was experiencing fatigue on the court after his bout with COVID-19, and actress Gwyneth Paltrow said she had been fatigued ever since contracting the virus last spring. Sufferers have Post-Acute Sequelae of SARS-CoV-2 infection, or PASC, or Long COVID. Read on—and to ensure your health and the health of others, don't miss these Sure Signs You've Already Had Coronavirus. 
Some COVID Sufferers "Do Not Get Back to Normal," Says Fauci
"There is no question that there are a considerable number of individuals who have a post-viral syndrome that really in many respects can incapacitate them for weeks and weeks following the so-called recovery and clearing of the virus," said Dr. Anthony Fauci, the nation's top infectious disease expert, during an International AIDS Society COVID-19 press conference last year. Just this week, he said PASC is a "very important issue" that the CDC and government are taking "very seriously," per Dr. Fauci. "The first thing we can say, this is real. This is not imaginary. These are people whose symptoms are real." He also pointed out that the symptoms and condition itself are "really variable" affecting no two people the same. "Different studies say anywhere from 25 to over then 35, 40% of individuals have prolongation of symptoms that measure not only in weeks, but in months," he said, describing some as "completely incapacitating." 6254a4d1642c605c54bf1cab17d50f1e
He added last year: "You can see people who've recovered who really do not get back to normal, that they have things that are highly suggestive of myalgic encephalomyelitis and chronic fatigue syndrome—brain fog, fatigue and difficulty in concentrating. So this is something we really need to seriously look at, because it very well might be a post-viral syndrome associated with COVID-19."
RELATED: 7 Tips You Must Follow to Avoid COVID, Say Doctors
Fatigue Caused by Body's Reaction to Virus
One study done by Trinity College Dublin found that 53% of people with COVID felt fatigue 10 weeks after their initial infection. Dr. Fauci says up to 30% of all COVID patients may be long haulers. And according to the Long Hauler Symptom Survey, 100% of COVID patients reported fatigue that lasted after their illness should have resolved. 
Fatigue is caused by the immune system's reaction to a virus. "About 75 to 80% of chronic fatigue syndrome cases are post-viral in nature," Dr. Mark VanNess, department chair of Health and Exercise Science at the University of the Pacific, told ABC News. "The viral infection and following immune response are precipitating causes for long-term symptoms."
If you're experiencing post-COVID fatigue, it's important to rest and recognize your limitations. "Eliminate physical stress, learn pacing and energy-management methods, educate family members about the illness and intervene in a systematic way," said VanNess.
How to Survive This Pandemic
As for yourself, do everything you can to prevent getting—and spreading—COVID-19 in the first place: Wear a face mask, get tested if you think you have coronavirus, avoid crowds (and bars, and house parties), practice social distancing, only run essential errands, wash your hands regularly, disinfect frequently touched surfaces, and to get through this pandemic at your healthiest, don't miss these 35 Places You're Most Likely to Catch COVID.