Dr. Fauci Says "It's Still Surging" For These States
Watch out for the surge here.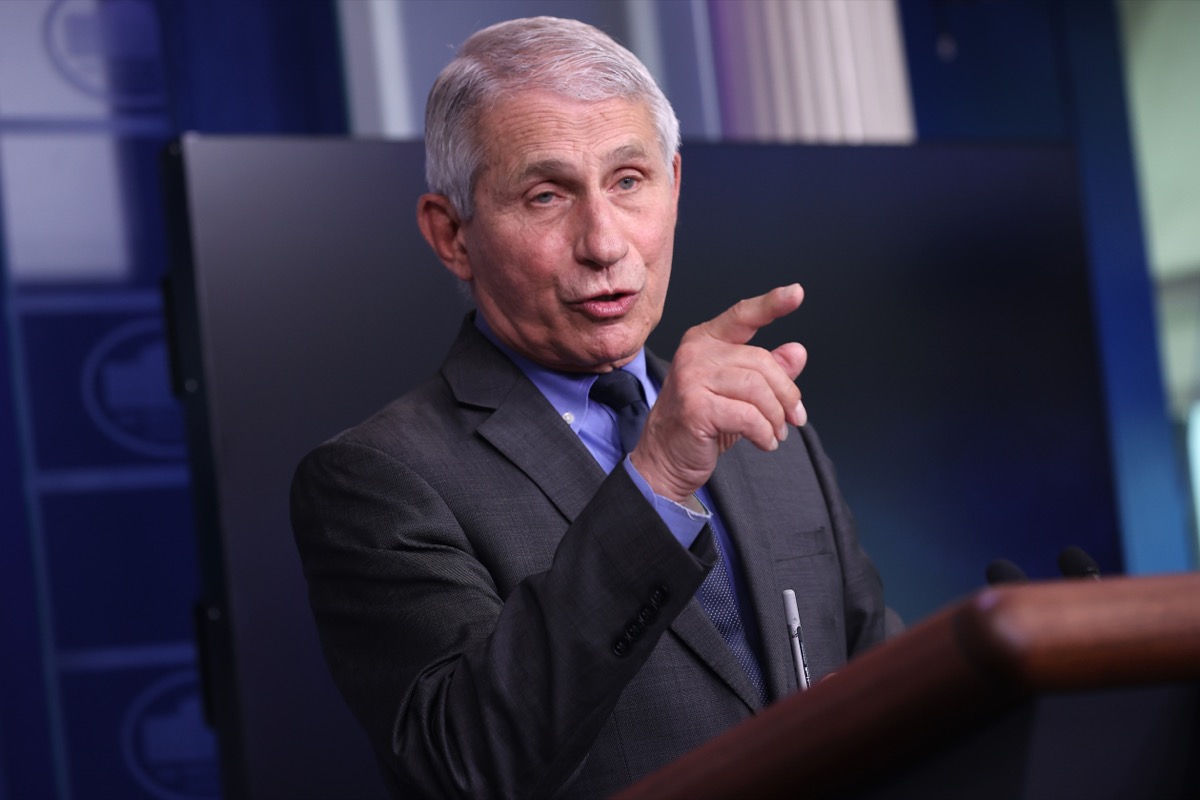 As the Omicron surge recedes in certain parts of America, it is ongoing elsewhere, as certain states remain in the deep, dark red of high alert. Which ones? And how can you stay safe? Dr. Anthony Fauci, the chief medical advisor to the President and the director of the National Institute of Allergy and Infectious Diseases, spoke with White House Correspondent Anita Powell, for Voices of America. Read on for his life-saving information—and to ensure your health and the health of others, don't miss these Sure Signs You've Already Had COVID.
1
Dr. Fauci Says Some States are Still Surging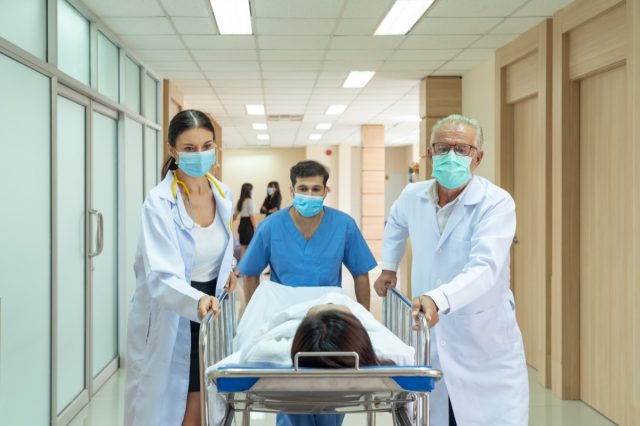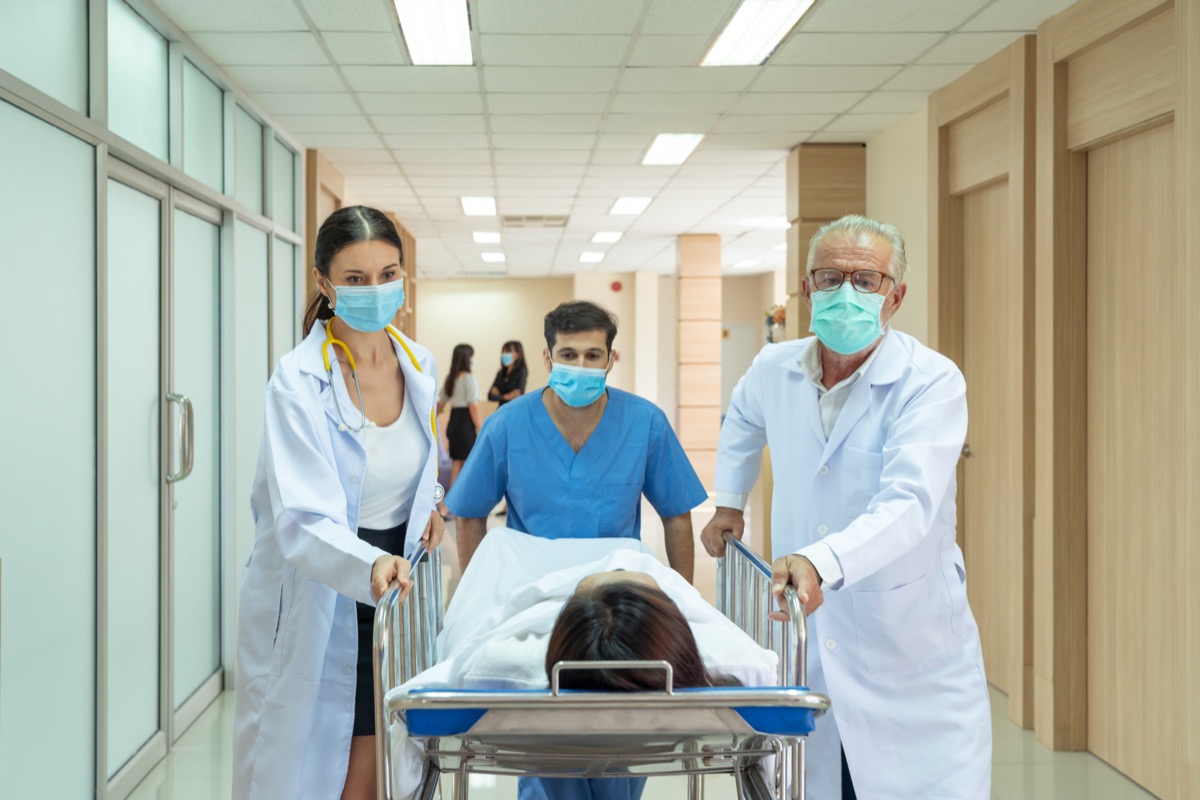 Although things are different than a year ago—"a year ago we did not have vaccinations implemented in very many people. Right now, we have vaccinations and boosters available to people"—"we are quite clearly, and we have to admit it, being challenged by various surges of different variants," said Dr. Fauci. "We've recently got through the Delta surge and now have faced with Omicron surge in the United States, the numbers are really concerning. We are averaging over 2,000 deaths per day. We have about 156,000 people in the hospital. And the cases are averaging between 600,000 and 700,000 a day. That's the tough news, the bad news. The somewhat encouraging news is that in many regions of the country, the outbreak has peaked and is turning around. We're seeing that explicitly and specifically in the Northeastern part of the country as exemplified by New York City and in the Upper Midwest in Chicago, also as far south as was DC. However, there are some states—Southern states and Western states—which are still surging and some of them are starting to level off. I think the net effect is that you're gonna see a peak and then an ultimate demotion of number of cases, and ultimately as a later indicator, numbers of hospitalization. But we can't be over-confident that, because this looks like it's turning around that we're out of the woods." For the list of exact states that are in deep red, keep reading.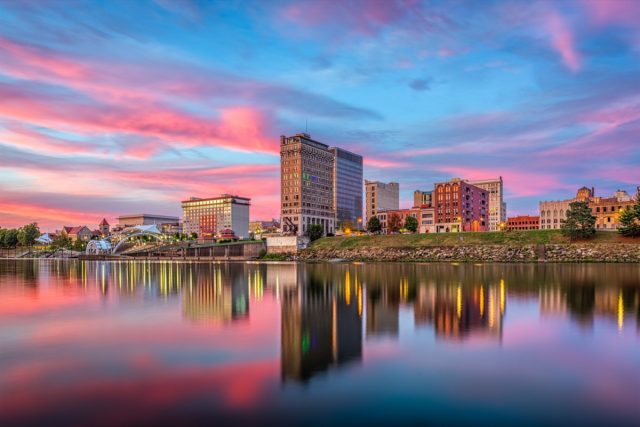 "The number of hospitalized COVID patients(1,088) in West Virginia has reached another all-time high, up from 1,043 in Wednesday's report, West Virginia Gov. Jim Justice said during Friday's virtual COVID-19 briefing," according to WBOY. "We're absolutely flooding our hospitals, we're overrunning our hospitals. If we don't watch out, we're going to have real, real problems there," Justice said.6254a4d1642c605c54bf1cab17d50f1e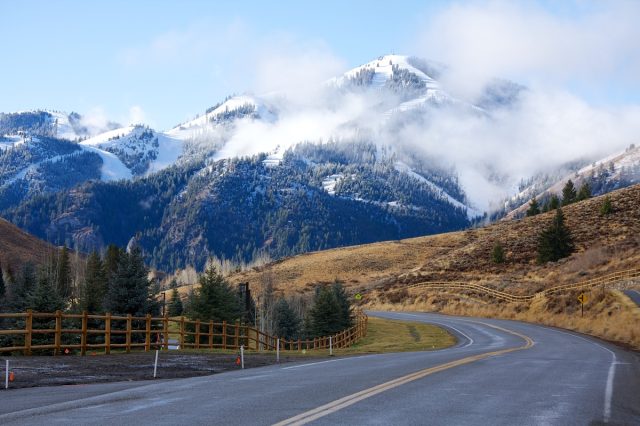 "Governor Brad Little activated the Idaho National Guard today for the fourth time during the pandemic to alleviate the impacts of COVID-19 in Idaho," reports Bonners Ferry Herald. "Governor Little activated 75 Idaho National Guardsmen to assist Primary Health and the Idaho Department of Correction, which are experiencing staffing shortages because too many employees are absent from work due to COVID-19. In addition, Governor Little said he secured 503 additional personnel through a state contract to assist Idaho hospitals overwhelmed by COVID-19."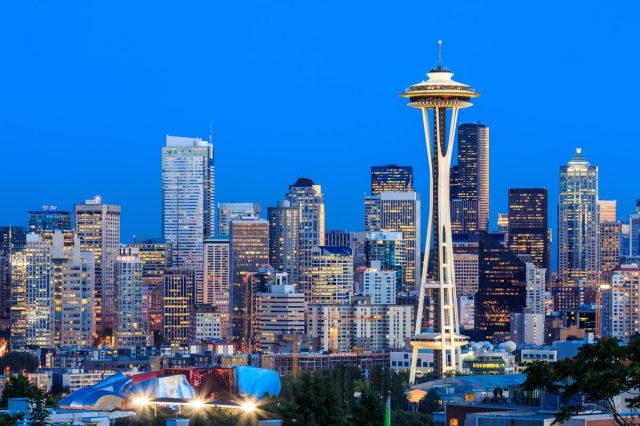 "On average, Washington health care facilities are reporting an average of 800 to 850 new COVID-19 cases among staff per day," reports King 5. "The stat was shared during the Washington State Hospital Association's (WSHA) Tuesday briefing along with word that despite a slowdown in western Washington case rates, the omicron wave is nowhere close to being finished with the state. Plus, even with shortened quarantine periods for COVID positive staff, the high levels of virus among hospital workers is only stretching facilities even further. In the last week, hospitals have had a daily average occupancy of 2,286 COVID-19 patients, which hit a high of 2,300 at one point."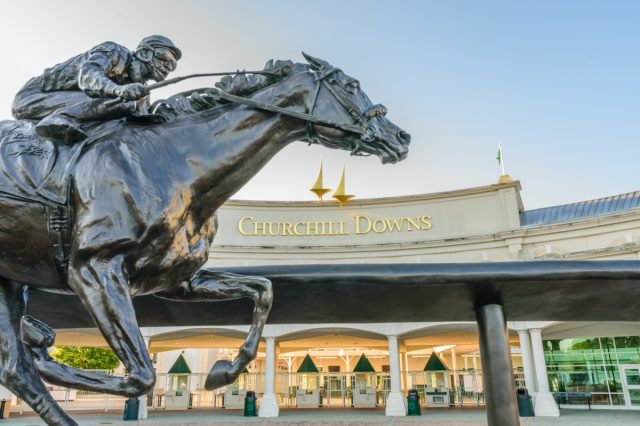 "The Lexington-Fayette County Health Department announced 1,345 new COVID-19 cases Friday, once again breaking the record for most COVID-19 cases reported in one day," reports Kentucky.com. "The seven-day rolling average has reached at least 878 new cases a day, per the health department. As of Monday, 152 Fayette County residents were hospitalized with COVID-19, 80 percent of which were unvaccinated, according to the health department. Twenty-four of those patients were in the intensive care unit, 10 of which required a ventilator."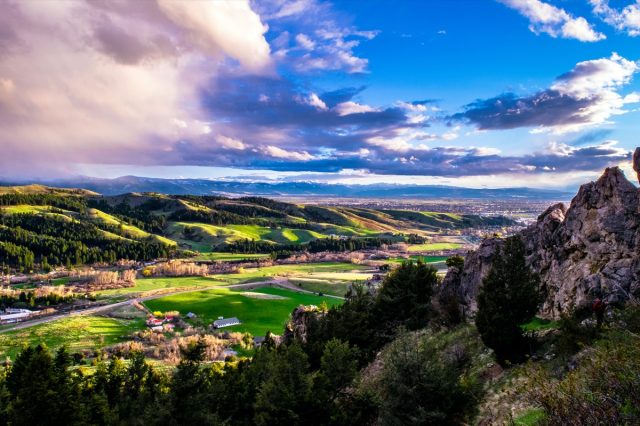 "The state health department reported seven new COVID-19 related deaths in their Monday update, bringing the death toll since the start of the pandemic to 3,000. Monday's update was the first since Friday morning, and the state reported  3,426 new COVID-19 cases across Montana during that time," reports Hi-Line Today. "Six counties reported at least 100 new cases of the virus, led by Cascade with 623, Missoula with 500, Yellowstone with 496, and Lewis and Clark with 422. The active COVID case count remains above 18,600, with 310 active COVID-related hospitalizations."
7
Dr. Fauci Says Here's How We're Better Off Than We Were a Year Ago
"One of the things that we've gotta continue to try and do is to get people vaccinated because the data are extraordinarily clear," said Dr. Fauci. "When you look at number of hospitalizations and the severity of disease and compare unvaccinated people with vaccinated people, the difference is striking. I mean, very, very, profoundly evident the difference between vaccinated and unvaccinated. So it's a mixed—we do well if we're vaccinated and boosted, but we only have about 63% of the population is fully vaccinated, which means that 37% are not."
Last year, he continued, "We didn't have the vaccine implementation plan. We didn't have antivirals that were effective and we have at least five now. We didn't have a lot of masks available. We now have hundreds of millions of masks, and we are now implementing about a half a billion rapid tests in the next month or so followed by yet again, another half a billion tests. So if you look across the terrain of what's available for the American public, in the form of vaccines, booster, masks, tests, antiviral therapy, we're much, much better off than we were a year ago."
8
Dr. Fauci Says African-Americans and Hispanics are Being Hit Hard, and it Shouldn't Be This Way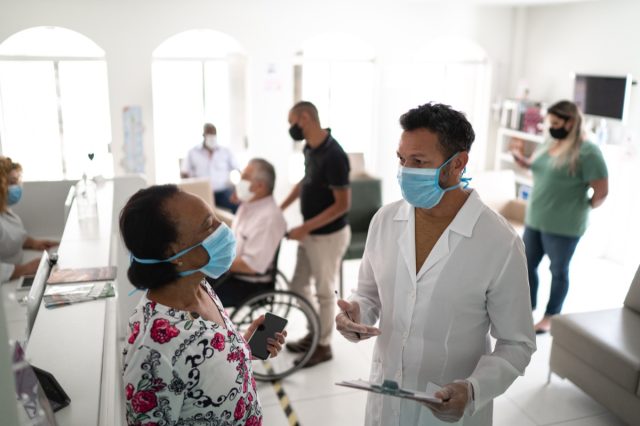 "One of the things that have been really problematic in our own country is that African Americans and Hispanics have a higher degree of likelihood of getting infected when they do get infected, they have a higher likelihood of a severe outcome. And that is because of some of the underlying comorbidities that are much more prevalent in the African American and Hispanic population, such as diabetes, obesity, hypertension, kidney disease, chronic lung disease. So the lessons we've learned from both HIV in which there have clearly been health disparities, and COVID 19 is that maybe we should use this to remind us why we have a responsibility to address the social determinants of health that allow a black and brown person to be much more likely to get a severe outcome from an infection that should essentially impact people equally. And it doesn't, it's always something that's more severe for brown and black people. And that has to do with a very complicated issue of social determinants of health that go back decade, if not centuries, in this country, dating back to the inherent racism that we see in so many elements of our society."
9
How to Stay Safe Out There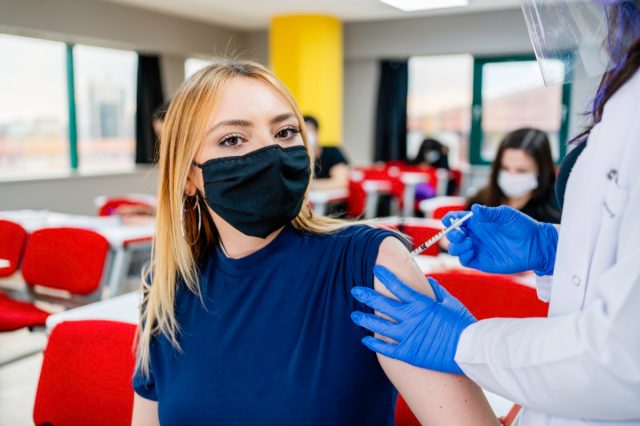 Follow the public health fundamentals and help end this pandemic, no matter where you live—get vaccinated or boosted ASAP; if you live in an area with low vaccination rates, wear an N95 face mask, don't travel, social distance, avoid large crowds, don't go indoors with people you're not sheltering with (especially in bars), practice good hand hygiene, and to protect your life and the lives of others, don't visit any of these 35 Places You're Most Likely to Catch COVID.
Alek Korab
Alek Korab is a Co-Founder and Managing Editor of the ETNT Health channel on Eat This, Not That!
Read more about Alek