First Signs of Omicron Infection
What we know about Omicron, according to experts.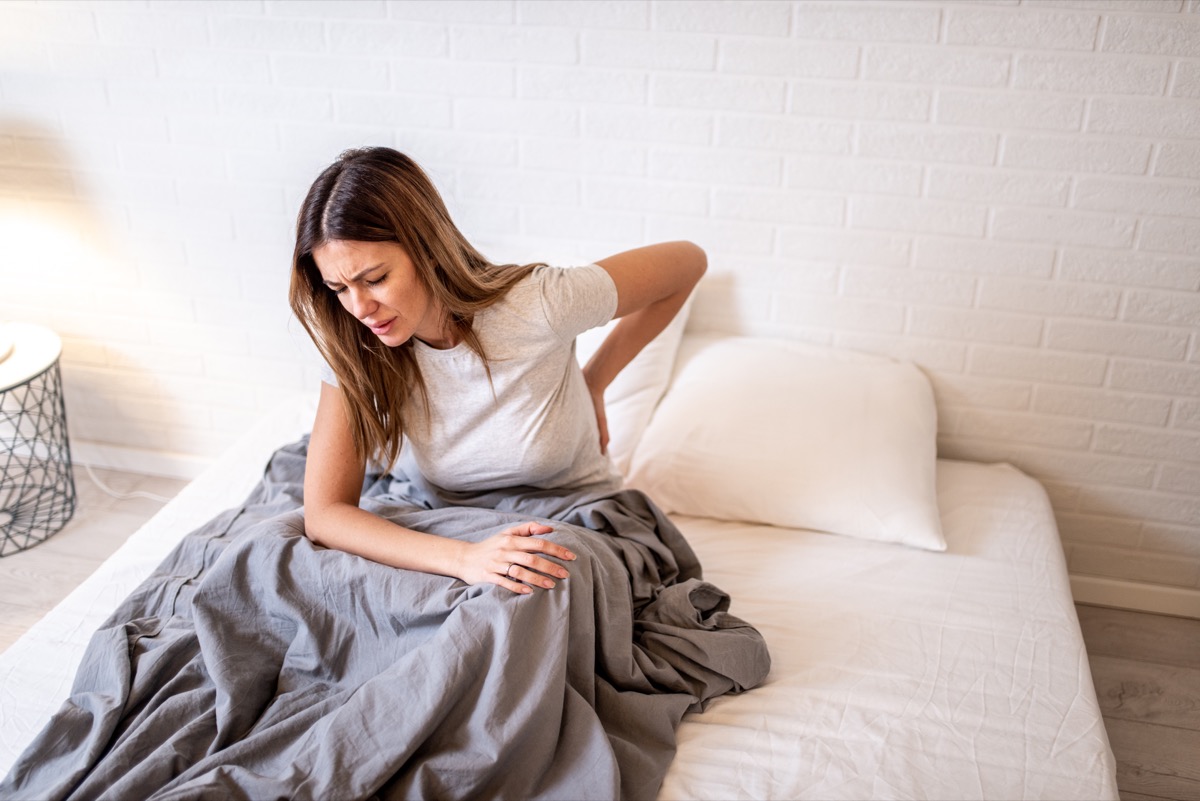 With a sharp increase in COVID cases still taking place, the winter surge continues to rage across the country. To date, the New York Times reports over 70 million cases in the U.S. and 865,687 deaths as a result of COVID have been reported. While experts are hopeful the surge will ease up soon, for now taking precautions and protecting yourself from catching COVID is essential. Eat This, Not That! Health talked with Dr. Katie Passaretti. MD, Vice President and Enterprise Chief Epidemiologist at Atrium Health, who explained what the first signs of Omicron usually are, what the testing process is like and when to seek medical treatment. Read on—and to ensure your health and the health of others, don't miss these Sure Signs You've Already Had COVID.
1
The First Signs that Could Indicate Someone has Omicron
Dr. Passaretti says, "Unfortunately, the symptoms of Omicron can vary from person to person and often mimic those of the common cold or flu. The most common early symptom I hear about is sore or scratchy throat, muscle aches and/or congestion. Often the symptoms vary throughout the course of the illness, coming in waves for some people. With testing being difficult to obtain right now, if you are having symptoms that appear to be Omicron, assume you have it and stay home and away from others until your symptoms have improved."
"People with COVID-19 have had a wide range of symptoms reported – ranging from mild symptoms to severe illness. Symptoms may appear 2-14 days after exposure to the virus. Anyone can have mild to severe symptoms. People with these symptoms may have COVID-19," says the CDC:
"Fever or chills

Cough

Shortness of breath or difficulty breathing

Fatigue

Muscle or body aches

Headache

New loss of taste or smell

Sore throat

Congestion or runny nose

Nausea or vomiting

Diarrhea

And these aren't all of the possible symptoms.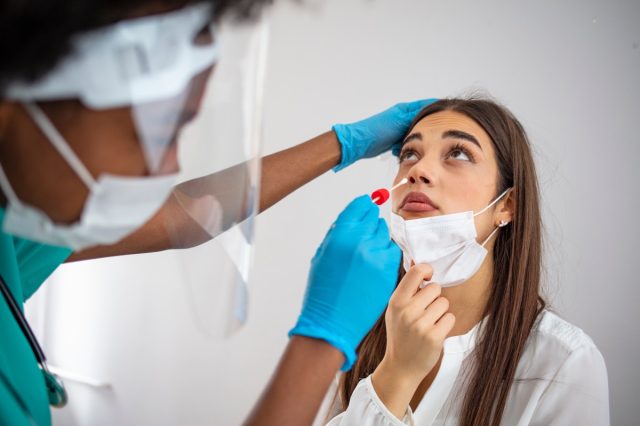 According to Dr. Passaretti, "The tests that are publicly available simply tell you if you have COVID or not—not which variant you have. To determine whether Omicron (or Delta or the next variant of concern) is present, a special type of test called 'genomic sequencing' is necessary. Genomic sequencing is only done in specialized labs on a subset of positive samples. You will not know at the individual level whether you had Omicron, in most instances, however looking at trends in variants identified in your area or state may be helpful. Right now, if you have recently been diagnosed with a COVID infection, it's extremely likely it is Omicron. Over 95% of the new isolates in the U.S. are currently predicted to be due to Omicron infections. 6254a4d1642c605c54bf1cab17d50f1e
As a side note on testing, if you need a test for any reason, please do not go to the emergency room to get one. Primary care physician offices, some urgent cares and drive thru testing centers are the more appropriate place to have this done. Hospital resources are stretched thin and having patients in the ER who are not facing an emergency or life-threatening situation makes it more difficult to care for the patients who need it the most and the fastest."
3
When to Seek Medical Attention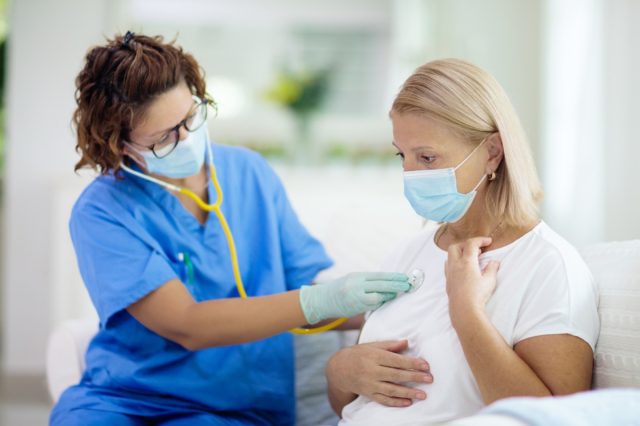 "In many people, COVID causes mild symptoms and can be treated with over-the-counter cold and fever medications," Dr. Passaretti states. "People at risk for more severe illness with COVID, such as those who are over age 65, should talk to their doctor about the availability of other treatments, such as monoclonal antibodies or new oral medications (paxlovid and molnupiravir). Those types of therapies are used for those that are at risk for more severe disease, specifically those who are unvaccinated, over the age of 65 or who are immunocompromised. Supply of these medications is limited, at this time, but hopefully will improve over the coming months. Seek emergency medical help immediately if you have trouble breathing, persistent chest pain or pressure, new confusion or inability to keep food or liquids down."
4
How Long Do Omicron Symptoms Last?
Dr. Passaretti explains, "We are still learning about Omicron – most people will feel better within five days of symptom onset, but those with multiple medical problems, weakened immune systems, older individuals and those who are unvaccinated may have symptoms that linger or progress. We do not know yet with Omicron if 'long COVID' will be an issue, like we have seen with past variants."
5
When You're No Longer Contagious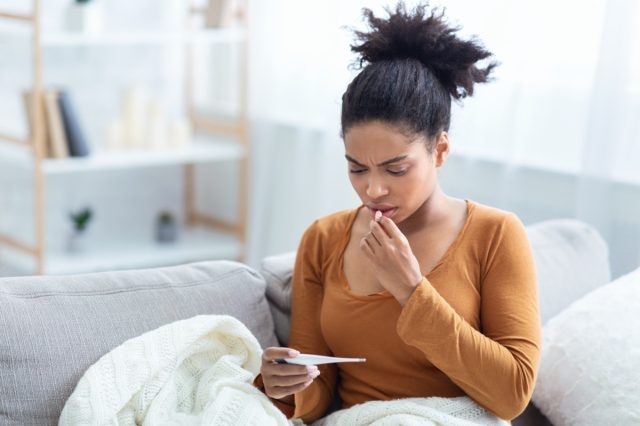 Dr. Passaretti says, "Most people are no longer contagious if they are (1) at least five days out from symptom onset AND (2) have been fever-free, off of medication, for at least 24 hours AND (3) other symptoms, like sore throat, achiness and congestion are improving. Cough and loss of taste and smell can persist after many viral infections, including COVID/Omicron, and do not necessarily mean you are still infectious to those around you. People with weakened immune systems, such as those on chemotherapy, who have had solid organ or bone marrow transplants or are on other immunosuppressive medications may be able to spread the virus for longer periods of time and should talk to their doctor about when they can safely come out of isolation."
6
How to Stay Safe Out There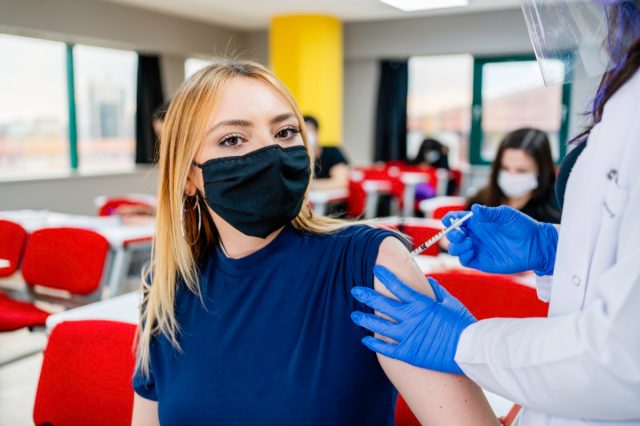 Follow the public health fundamentals and help end this pandemic, no matter where you live—get vaccinated or boosted ASAP; if you live in an area with low vaccination rates, wear an N95 face mask, don't travel, social distance, avoid large crowds, don't go indoors with people you're not sheltering with (especially in bars), practice good hand hygiene, and to protect your life and the lives of others, don't visit any of these 35 Places You're Most Likely to Catch COVID.
Heather Newgen
Heather Newgen has two decades of experience reporting and writing about health, fitness, entertainment and travel. Heather currently freelances for several publications.
Read more about Heather