These Dangerous Food Labels Need To Be Cleaned Up, New Study Says
It's hard for grocery store shoppers to identify which foods are safe for allergy sufferers, the research claims.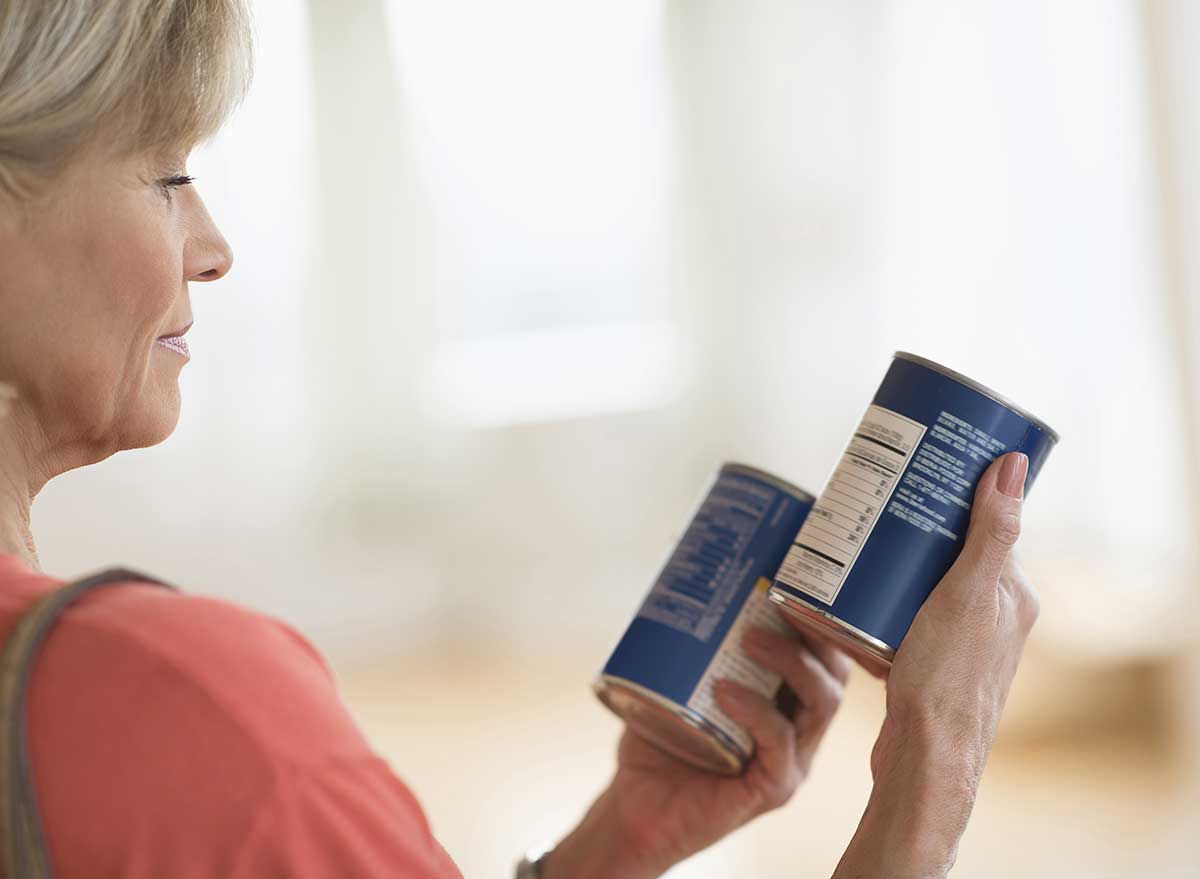 Around 32 million people in the U.S. have one or more food allergies, and 200,000 are hospitalized each year because of it, according to the Food Allergy Research & Education organization. A new study published in The Journal of Allergy and Clinical Immunology concludes that the current precautionary allergen labels on food products need to be updated since food shoppers are not fully aware of them and it could lead to the purchase of food they are sensitive to or allergic to.
One of the study's authors, Dr. Ruchi Gupta, director of the Center for Food Allergy & Asthma Research and a professor of pediatrics and medicine at the Northwestern Feinberg School of Medicine, says allergens used in ingredients are required by law to be listed on food packaging, but precautionary allergen labels like "may contain" or "manufactured on shared equipment" are completely voluntary.
"Because there are no clear requirements for how to communicate the potential presence of allergens in products, families are left making their own decisions about whether certain foods are safe to purchase based on the wording in the label," Dr. Gupta says.
Over 3,000 participants in the study were asked a series of questions related to food shopping and labeling. Only 24.4% answered questions about allergy labels correctly. What's more, the study participants ranked "Not suitable for people with 'blank' allergy" and "May contain" as the top two most helpful statements on food packaging. (Related: Stay safe with The 7 Healthiest Foods to Eat Right Now.)6254a4d1642c605c54bf1cab17d50f1e
"These results suggest that [food allergy] consumers are not aware of [precautionary allergen labeling] policies and make decisions based on the words in the [precautionary allergen labeling]," the study concludes. "They prefer having clearer, more specific, and consistent labeling on products, indicating that explicit [precautionary allergen labeling] policies are needed to allow customers to easily identify safe foods."
In other words, with better and more clear labeling, shoppers may be able to put more trust into the foods they buy, the study authors conclude.
Dr. Gupta says you should read a label every single time you buy a product because the ingredients or packaging could change. You also should be aware of the "may contain" and "processed in a facility with…" statements, since they aren't required.
For more on labels, read our helpful guide to understanding the difference between a food allergy, sensitivity, and intolerance. Then, check out 8 Food Recalls You Need to Know About Now to make sure the items in your kitchen are not on the list.
To get the latest health and food safety news delivered right to your email inbox every day, sign up for our newsletter!
Amanda McDonald
Amanda has a master's degree in journalism from Northwestern University and a bachelor's degree in digital journalism from Loyola University Chicago.
Read more about Amanda