This Section of the Grocery Store Is Exploding in Popularity
Turns out, you may be to thank for this major uptick in sales, experts say.
The bakery section at any grocery store is a fan-favorite. When a beloved item is discontinued (as Costco members will likely remember when sheet cakes were discontinued for good), it can cause a downright frenzy.
During the pandemic, however, fewer people were visiting the grocery store or shopping for freshly baked items—instead, opting to become expert bakers and make bread or other goodies at home.
But these days, the baked goods section of the grocery store is finally buzzing once more—and even growing in popularity, Supermarket News says, based on interviews conducted with grocery store officials.
Related: This Is the Best Supermarket in America, New Survey Says
With pandemic restrictions lifting and life getting back to normal, fewer Americans are baking at home. Plus, relaxed safety rules in grocery stores are encouraging more shoppers to return—and customers' attitudes about buying food prepared by someone else are improving.
As a result, sales in the bakery section of grocery stores grew 11% in March 2021 compared to March 2020, and experts predict that will only continue to grow.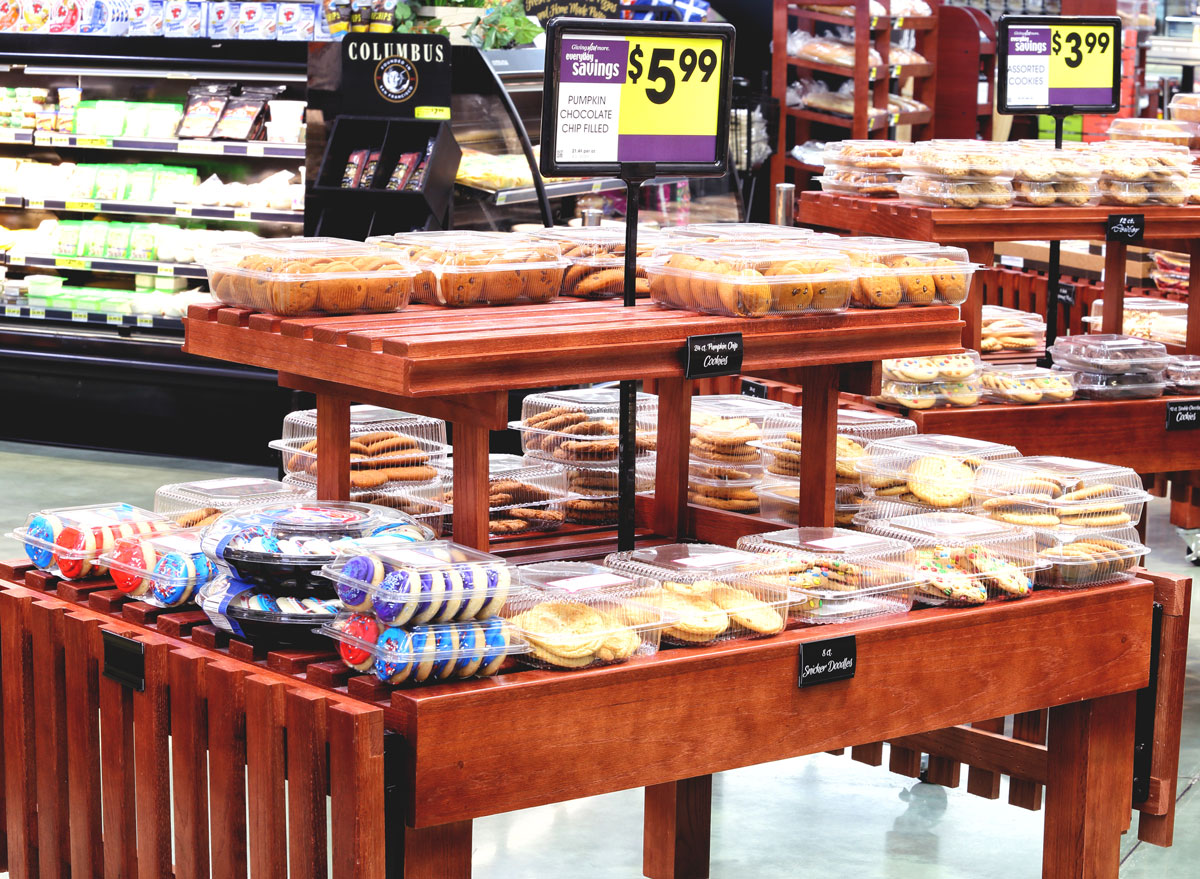 Eric Richard, the industry relations coordinator for the International Dairy Deli Bakery Association (IDDBA), told Supermarket News:
"There's a lot of optimism among the in-store bakery department as we return to normal. People are going to be celebrating this year, and many will be making up for lost time and have really big celebrations…It's reflective of people feeling safe and shopping more in person and not worrying as much about interactions…It's definitely trending in the right direction."
What's more, the director of operations for Rastelli Market Fresh in New Jersey told Supermarket News that they expect bakery sales to continue to rise once self-service areas for bagels, bread, and more open up at their location.
And John Buchanan, the bakery category manager for Publix, told the website that the grocery store is now shifting its focus from bread, rolls, and mini cakes (which were popular during the pandemic) to wedding cakes, decorated cakes, and platters since more people are out and about.
Interestingly, this trend is at complete odds with the sales of meal kits, which grew 70% in 2020, according to Supermarket News, but are now seeing a swift decline. This year, sales are only supposed to grow less than 20%.
To get all the latest grocery store news delivered right to your email inbox every day, sign up for our newsletter! And for more, read these next:
Amanda is a staff writer for
Eat This, Not That!
.
Read more