New Study Reveals This Puts Your Heart in Surprising Danger
A reversal of fortune might shorten your life.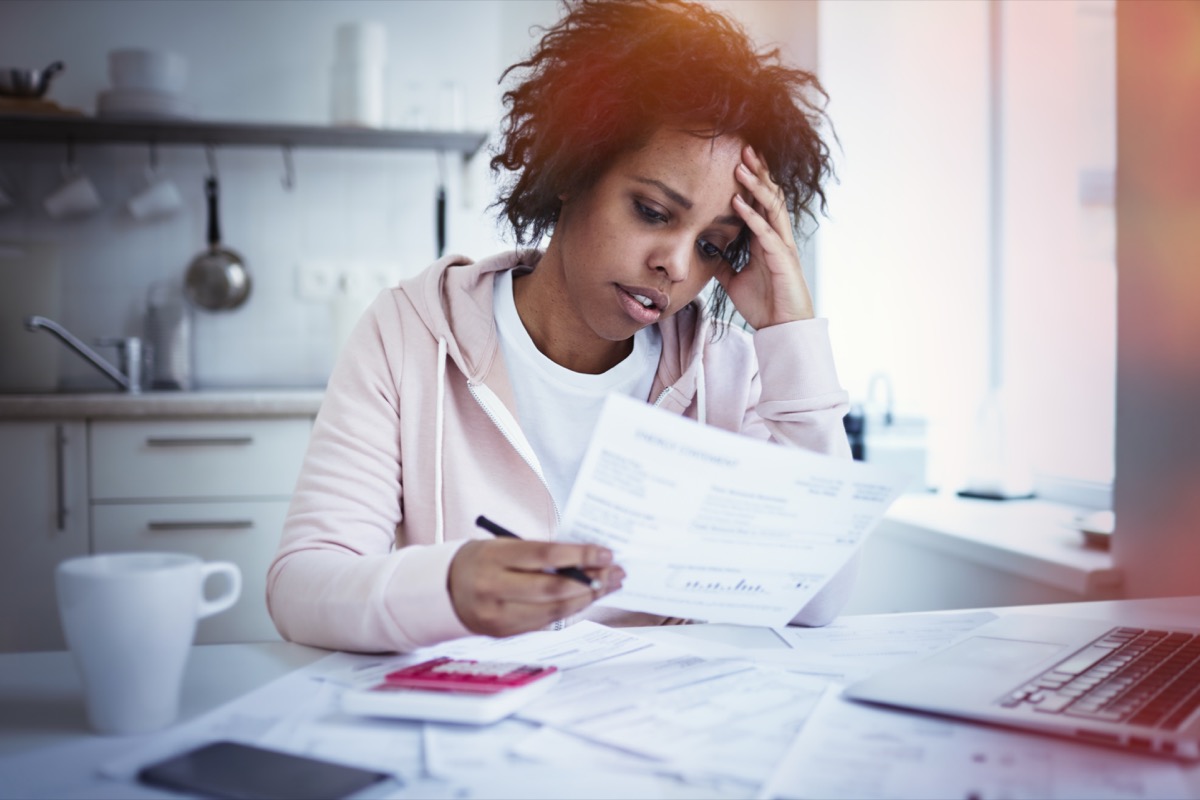 Socioeconomic status is a major risk factor for poor health—financially disadvantaged people are more likely to suffer chronic illnesses like cardiovascular disease and face worse outcomes. But a new study has found a potential new angle on how finances can affect our health, particularly the risk of a heart attack.
Your Heart and Your Money Are Connected
In the study published in JAMA Cardiology, researchers say that changes in wealth are associated with heart attack risk—an upswing in wealth correlates with a lower likelihood of heart attack, while a downturn in wealth is linked to a higher one. "Low wealth is a risk factor that can dynamically change over a person's life and can influence a person's cardiovascular health status," said study co-author Muthiah Vaduganathan, MD, MPH, from Brigham and Women's Hospital Division of Cardiovascular Medicine. "So, it's a window of opportunity we have for an at-risk population. Buffering large changes in wealth should be an important focus for health policy moving ahead."
Using data from the RAND Health and Retirement Study (HRS)—which tracked detailed information about the participants' financial assets, including housing, savings, debt, and income—researchers looked at 5,579 adults 50 years or older who had no heart problems when the HRS began. Between January 1992 and December 2016, the participants reported any new health diagnoses they had received. Analyzing that information, the scientists found that study subjects whose wealth increased were less likely to develop cardiovascular disease, while a decrease in wealth aligned with cardiovascular risk.6254a4d1642c605c54bf1cab17d50f1e
Reversal of Fortune
"Decreases in wealth are associated with more stress, fewer healthy behaviors, and less leisure time, all of which are associated with poorer cardiovascular health," said study co-author Andrew Sumarsono, MD, from University of Texas Southwestern's Division of Hospital Medicine. "It is possible that the inverse is true and may help to explain our study's findings."
While most research tends to focus on income, this study took a broader view of how a person's financial situation may affect their health—salary may be the primary financial stressor in life, but it's not the only one. "Income and wealth, while perhaps informally used interchangeably, actually provide different and complementary perspectives," said study co-author Sara Machado, PhD, an economist at the London School of Economics. "Income reflects money received on a regular basis, while wealth is more holistic, encompassing both assets and debts. Could paying off one's debt with a large relative wealth increase be important in promoting cardiovascular health, even without changes in income?"
The researchers called for more study along these lines. "Wealth and health are so closely integrated that we can no longer consider them apart," said Vaduganathan. "In future investigations, we need to make dedicated efforts to routinely measure wealth and consider it a key determinant of cardiovascular health." And to get through life at your healthiest, don't miss The #1 Cause of Diabetes, According to Doctors.
Michael Martin
Michael Martin is a New York City-based writer and editor whose health and lifestyle content has also been published on Beachbody and Openfit. A contributing writer for Eat This, Not That!, he has also been published in New York, Architectural Digest, Interview, and many others.
Read more
More content from
ETNT Health