This Popular Snack Found to Contain "Glass and Plastic," Says Report
Nestlé Prepared Foods recently recalled roughly 762,615 pounds of its pepperoni Hot Pockets.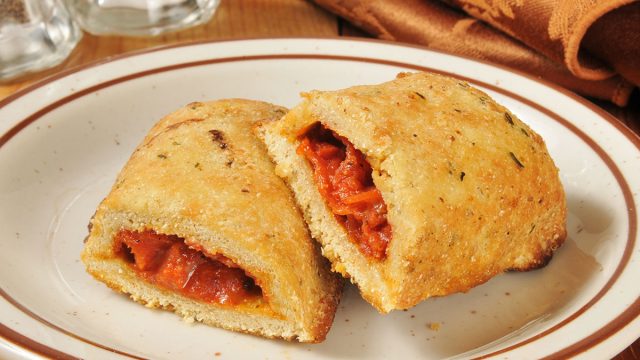 If you love nothing more than a frozen microwaveable treat, beware: According to a new release by the U.S. Department of Agriculture's Food Safety and Inspection Service (FSIS), Nestlé Prepared Foods recently recalled roughly 762,615 pounds of its pepperoni Hot Pockets, citing that the popular product "may be contaminated with extraneous materials, specifically pieces of glass and hard plastic." The agency notes that the Hot Pockets in question were assembled on the dates November 13th through November 16th of last year. Here, FSIS helpfully provides a photograph of the label for reference so you can see if you have this product in your own freezer. Note that all of the potentially contaminated Hot Pockets share an expiration date of February 2022.
The contamination came to light after four consumers complained to Nestlé. "The firm has received one report of a minor oral injury associated with the consumption of this product," the FSIS notes. "[We have] received no additional reports of injury or illness from consumption of this product."
The pepperoni hot pockets—labeled as "premium pepperoni made with pork, chicken & beef pizza garlic buttery crust"—are just the latest popular products facing a robust recall. In December, Publix Bakery initiated a recall of its popular Holiday Cookie Platters over concerns of packaging, and just last week the Food and Drug Administration (FDA) announced a new recall of Lavva Blueberry Dairy Free Pili Nut Yogurt due to concerns of mold contamination. According to the FDA, eating moldy food can cause nausea, vomiting, diarrhea, and other common food poisoning symptoms. It can also cause allergic reactions and respiratory problems.
If you fear that these items are in your own fridge, be sure to take a look (note: the lot number for the blueberry yogurt is #022121). And if think that you may have consumed one of the aforementioned Hot Pockets, contact your healthcare provider. If you have any further questions about the Hot Pocket recall, FSIS advises you to "contact Nestlé consumer services at (800) 350-5016." And for more food news you can use, make sure you're aware of the Dangerous Side Effects of Eating Too Many Apples, According to Science.
William Mayle is a UK-based writer who specializes in science, health, fitness, and other lifestyle topics.
Read more