​​I'm a Doctor and Here's the #1 Sign You Have "Dangerous Fat"
Three ways to tell if you have too much visceral fat.
Although it's not talked about enough, visceral fat is a hidden health issue that can cause serious problems like certain cancers, type 2 diabetes, stroke and more. Visceral fat isn't anything you can see or touch–it's deep in your belly and it wraps around your vital organs. Most people with visceral fat don't know they have it and Dr. Seema Bonney, the founder and medical director of the Anti-Aging & Longevity Center of Philadelphia explains to Eat This. Not That! Health what the signs of visceral fat are and why it's so dangerous. Read on—and to ensure your health and the health of others, don't miss these Sure Signs You've Already Had COVID.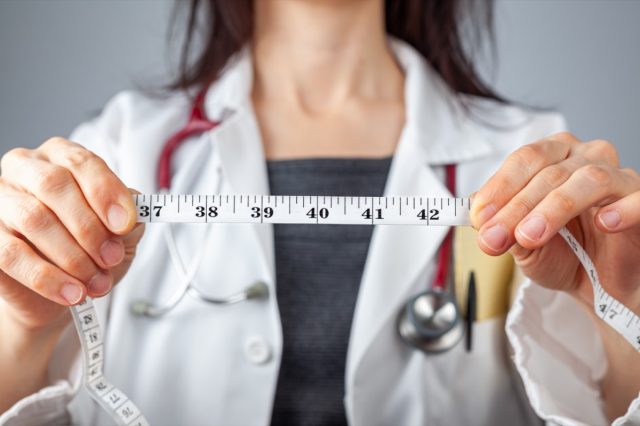 According to Dr. Bonney, "The simplest and most direct way to determine if you have visceral fat is to measure your waist circumference.  With a tape measure, measure your waistline at the level of the navel, the bottom of the tape measure should be level with the top of the right hip bone.  Be sure not to suck in your stomach or pull the measure taut. For women a waist circumference of 35 inches or larger is a sign of excess visceral fat. For men a waist circumference of 40 inches or larger is a sign of excess visceral fat. Waist circumference is greater than is considered healthy for most adults."
2
Your Waist to Hip Ratio/slidetitle]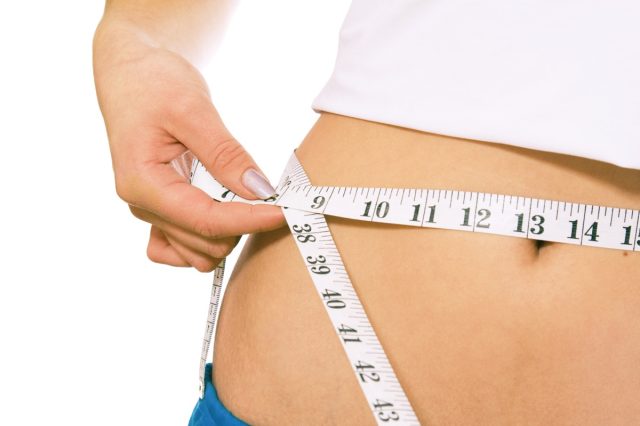 "This measurement can help you determine how much fat is stored on your waist, buttocks and hips," says Dr. Bonney. "To measure:  stand up straight and breathe out, measure your waist circumference, belly button level.  Record the number.  Then measure your hip circumference at the widest part.  Record the number.  Divide your waist size by your hip size.  This is your waist-to-hip ratio. For women, if the ratio is greater than .85 and for men if the ratio is greater than .90.  For either sex a ratio higher than 1.0 generally means a higher change of chronic health problems."
[slidetitle num="3"]Bioelectrical Impedance Analysis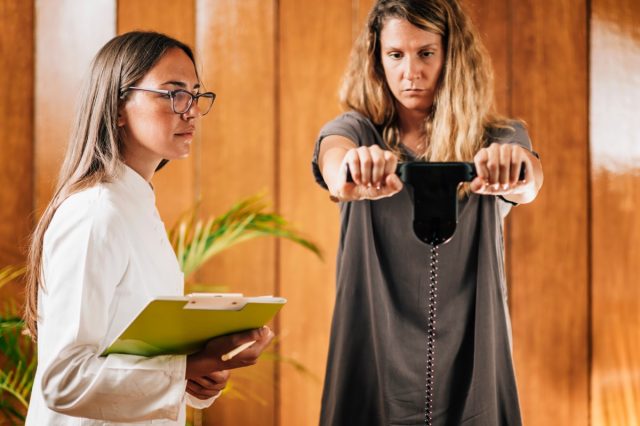 Dr. Bonney explains, "Outside of MRI's and other expensive diagnostic tools, you could also measure your total body fat using a bioelectrical impedance analysis.  Check to see if your doctor or fitness center has this technology on hand.  This technology measures your percent body fat. For men a healthy range of body fat is 10-20%. For women a healthy range of body fat is between 18 and 28%." 6254a4d1642c605c54bf1cab17d50f1e
4
Why is Visceral Fat so Dangerous?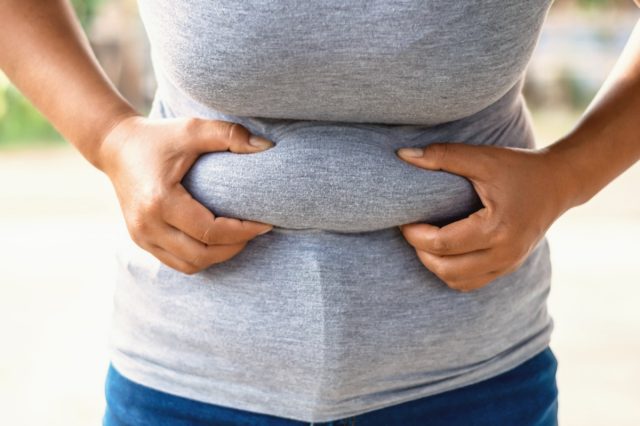 Dr. Bonney states, "Visceral fat is fat that wraps around vital abdominal organs, your liver, stomach, and intestines.  It can also build up in the arteries.  Visceral fat also increases the risk of serious and chronic health conditions such as Type 2 Diabetes, high blood pressure, cardiovascular disease, some cancers, and Alzheimer's disease.  In women it is associated with breast cancer and the need for gallbladder surgery.  Research indicates that fat cells, particularly abdominal fat cells are biologically active.  These fat cells act as an endocrine organ producing hormones and other substances that can profoundly impact our health.  Visceral fat also impacts cells' sensitivity to insulin, blood pressure and blood clotting.  It is also associated with high levels of LDL and triglycerides.  Those with the greatest amount of deep visceral fat are nearly three times as likely to develop dementia as compared to those with nominal visceral fat."
5
Why is Visceral Fat a Health Issue Not Talked About Often?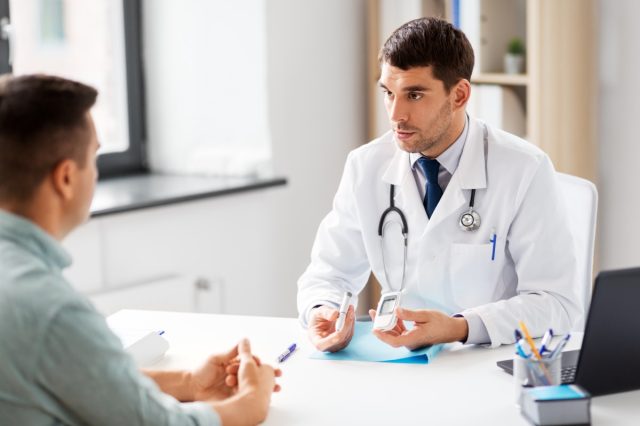 Dr. Bonney says, "The middle-age spread as it was once called was accepted as an inevitable change associated with aging.  Researchers first studied visceral fat in the 1950's but it didn't get a lot of attention until the obesity epidemic started picking up speed. There have since been a multitude of studies and research linking visceral fat to metabolic syndrome, Type 2 Diabetes and cardiovascular disease.  Finally, a healthy weight and most importantly healthy waistline is beginning to get more attention. However, we as physicians need to do a better job of educating our patients before these changes set in.  We should be explaining how metabolism slows down as we age meaning we need less calories.  We also need to guide our patients with healthy lifestyle factors helping them understand the importance of daily exercise, whole food nutrition, stress management, and sleep hygiene.  Helping patients navigate a healthy lifestyle in their 40's and 50's can pave the road for healthy aging and longevity."
Heather Newgen
Heather Newgen has two decades of experience reporting and writing about health, fitness, entertainment and travel. Heather currently freelances for several publications.
Read more about Heather