Khloe Kardashian Reveals Her Challenging Butt-Toning Workout
The results of the star's routine even received rave reviews from sister Kim.
The members of the Kardashian family have long been known not only for their integral contributions to the reality TV landscape, but their enviable figures as well. However, it's not just Kim Kardashian who's got a headline-making posterior—Khloe Kardashian has been working hard in the gym to stay toned and give her backside a boost.
In a video posted to her Instagram Stories, Khloe revealed her go-to butt workout for keeping her backside in great shape. In the clip, Khloe can be seen lying on her back on a Pilates reformer with a medicine ball between her knees. With her feet firmly planted shoulder-width apart on the reformer's foot bar, she slowly bends her knees, raising her backside off the reformer and performing a horizontal squat, then straightens her legs and brings her body back to a flat position on the reformer.
Kim, who joined Khloe for the workout, led by Pilates instructor Jesse O'Hara, was quick to point out just how effective Khloe's toning routine had been, commending her sister on the results of her hard work.
"I mean, I've never seen anything like this before. Your leggings are, like, baggy on you at your stomach," Kim laughed.
It seems the sisters are teaming up for exercise on a regular basis as of late; the following day, Khloe tagged both Kim and personal trainer Joel Bouraïma in an ab-bearing video posted to her Stories. "Let's get it!" Khloe captioned the clip, which she followed with a video of herself on a stair-stepper.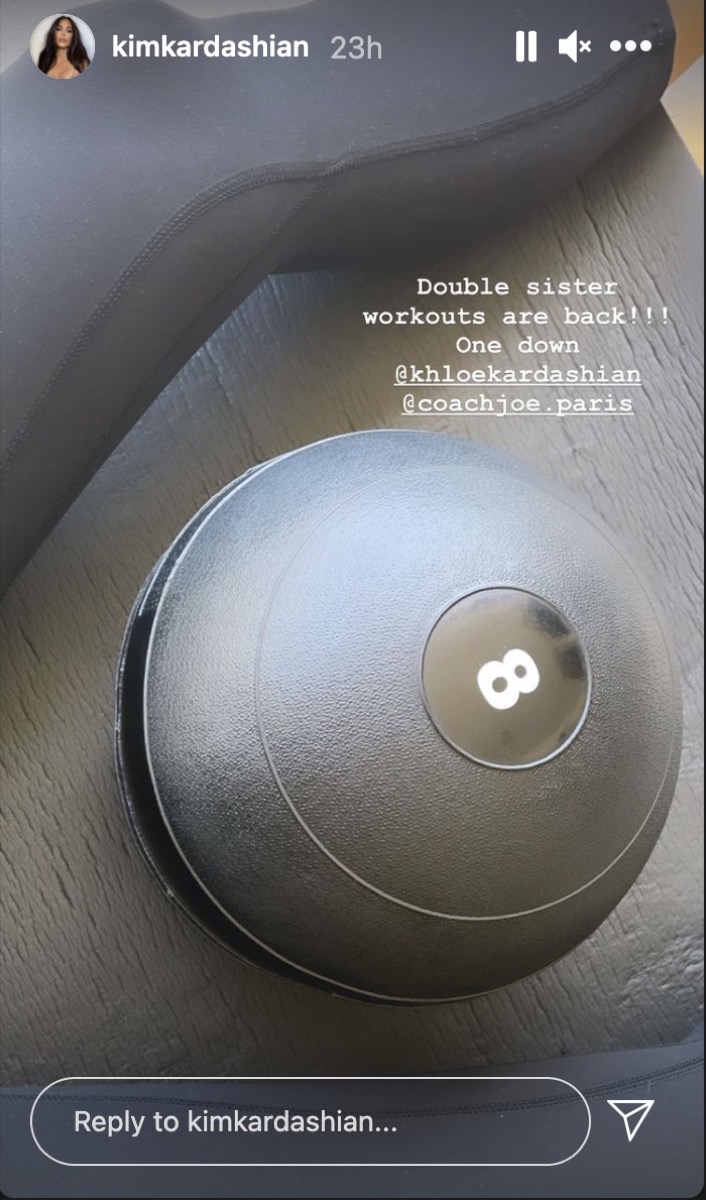 Kim also shared a workout shot of her own to Instagram, in which she celebrated the sisters' time spent together in the gym. "Double sister workouts are back!!! One down," Kim captioned a photo of her legs and a medicine ball.
This isn't the first time Khloe has been vocal about how much the support of her family has meant to her during her quest to lose weight and tone up.
"There is no better motivation than a workout buddy!" Khloe captioned a picture of herself and sister Kourtney bearing their abs in a mirror in 2016. "My sisters are def my swole-mates!!! My inspirations!!!!"
For more on how reality TV's first family stays fit, Kourtney Kardashian Reveals the Exact Keto Meals She Eats to Lose Weight, and for the latest celebrity health and fitness news delivered straight to your inbox, sign up for our newsletter!
Sarah Crow
Sarah Crow is a senior editor at Eat This, Not That!, where she focuses on celebrity news and health coverage.
Read more about Sarah