This Grocery Store May Sell COVID-19 Rapid Tests That You Take at Home Using Your Phone
Yes, all you need for this test is 15 minutes and an app!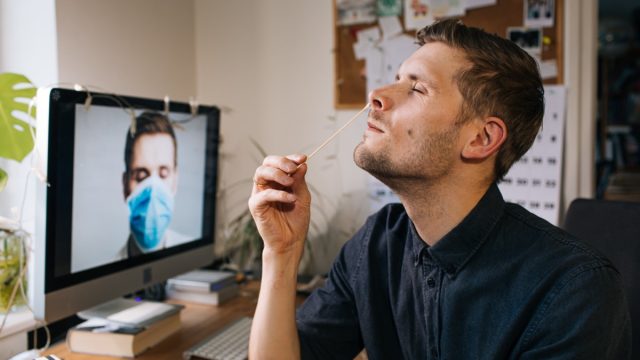 A rapid, at-home COVID-19 test kit that delivers results to your phone in 15 minutes is on the horizon. And it may soon be available to buy at 2,200 Kroger pharmacies in 35 states, the company just revealed.
Biotech company Gauss and Cellex, Inc. is creating the test, which is currently awaiting emergency use authorization by the U.S. Food and Drug Administration. The company has already created 1.5 million tests, and it expects to be able to produce as many as 30 million a month to sell through Kroger's pharmacies and website. The test has demonstrated a 93% positive agreement and a 99% negative agreement compared to other types of COVID-19 tests, according to the results of a clinical trial. (Related: The 7 Healthiest Foods to Eat Right Now.)
Video instructions in an app tell patients to swab their noses when it's time to take the test. The test then uses artificial-intelligence-based technology to analyze the sample. Fifteen minutes later, the app notifies patients that their results are ready.
"Since the start of the COVID-19 pandemic, Kroger Heath has remained committed to helping people live healthier lives by offering a variety of COVID-19 testing solutions supported by our multi-disciplinary team of licensed, trained and experienced healthcare providers," Colleen Lindholz, the president of Kroger Health, said in a statement. "We're proud to partner with Gauss to expand our COVIDCare+ suite with the forthcoming launch of this affordable, innovative solution."
Kroger isn't the only grocery store chain updating its COVID-19 strategy. Costco recently announced it would help distribute the vaccines in five states and Puerto Rico, but you should avoid doing this when scheduling your appointment.
To get all the latest grocery store and coronavirus news delivered right to your email inbox every day, sign up for our newsletter!
Amanda is a staff writer for
Eat This, Not That!
.
Read more