McDonald's Is Giving Away Free Fries Every Week
The giveaway will last through June.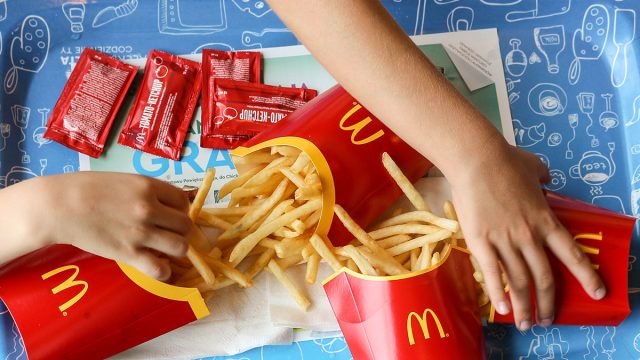 McDonald's is doubling-down on the perks of using their mobile app. Starting now and through the end of June, customers can score a free medium-sized order of the chain's iconic French Fries every Friday, if they place an order through their phones.
There really are no other requirements for getting the free fries except to download or open the McDonald's app, create an order totaling at least $1, add the deal to your order, and pay with a major credit or debit card or another contact-free payment method. (Related: McDonald's Is Making These 8 Major Upgrades.)
The Free Fries Friday deal has been available through the app since last year but is prompting renewed interest as a growing number of consumers use their phones for contactless ordering from McDonald's. Some other benefits of getting set up with the chain's app include getting a free large order of fries when you sign up, no matter the day of the week. You'll also be able to get every fifth McCafé beverage for free, which works like a virtual coffee shop punch card.
McDonald's added the mobile ordering and payment capabilities to its app in 2017 and has recently announced it will be using the platform to roll out its first-ever loyalty program. According to the chain's website, the app can also make the customer experience much more efficient as it "can automatically detect your proximity to any restaurant location," enabling you to pick up your meal from any participating restaurant you want.
For more on innovation at McDonald's, check out 5 New Menu Items McDonald's Is Releasing This Year, and don't forget to sign up for our newsletter to get the latest restaurant news delivered straight to your inbox.
Steven John is a freelancer writer for
Eat This, Not That!
based just outside New York City.
Read more