McDonald's Is Planning This For the Next Happy Meal Promotion
Let the "Gotta catch 'em all" craze begin!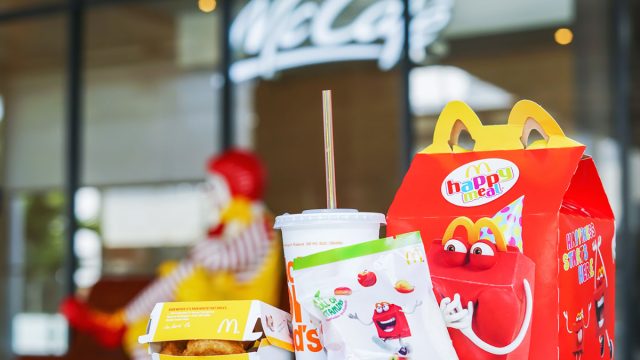 McDonald's Happy Meals are getting healthier and possibly more expensive this year, and they're also bringing back one of the biggest collectible toy crazes of the last two decades.
A leak on Twitter revealed that McDonald's is likely partnering with Pokémon to bring a line of cards and toys to Happy Meals in 2021. While this information is still unconfirmed by either company, the collaboration would make a lot of sense. McDonald's Happy Meals already featured a line of Pokemon toys in 2019, and this year marks a 25th anniversary for the beloved Pokémon franchise, which will bring favorite characters like Pikachu and Scorbunny back into our collective pop-culture consciousness via numerous promotions. (Related: The Saddest Restaurant Closures In Your State.)
According to Gamerant, the Tweet shows what looks like the full collection of toys, including a sticker sheet, poster, and trading cards, among other items. These are expected to be included in the next Happy Meal promotion, but the timing of the launch remains a mystery.
First created by a clever franchisee in Guatemala, the Happy Meal has been a staple fast-food item for young customers since 1979, and toys have been a part of it since its inception in the United States. The meals first included a burger, fries, cookies, and a soft drink along with a small toy like the "McDoodler" stencil or "McWrist" wallet.
Over the years, McDonald's has teamed up with several big-name movie and toy franchises, like Star Trek, Beanie Babies, and Power Rangers, to create one-of-kind Happy Meal toys for customers. For more about innovations at McDonald's, check out McDonald's Is Making These 8 Major Upgrades, and don't forget to sign up for our newsletter to get the latest restaurant news delivered straight to your inbox.
Mura is a Deputy Editor leading ETNT's coverage of America's favorite fast foods and restaurant chains.
Read more