This McDonald's Menu Item Is Selling for More Than $50,000
It's the most expensive morsel of chicken in recent memory.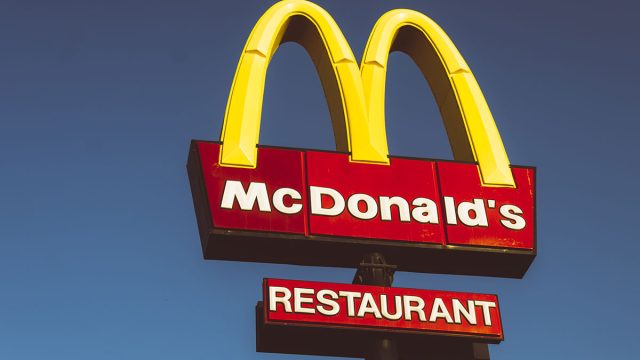 The McDonald's BTS meal, which recently launched in the United States, is causing a worldwide fan frenzy. So much so that one oddly shaped McNugget, which was allegedly part of that meal, is being sold on the internet for a whopping $50,000 (at the time of writing). You heard that right, a perishable food item whose actual value is negligible, is selling for thousands of dollars on Ebay.
The item was first listed for only $0.99 several days ago but has since received 156 bids which currently put its price tag at $50,900. The description of the "used" item says that the average shelf life of a McNugget is about 14 days, and this one will be delivered to the highest bidder before the expiration date.
RELATED: Here's What a Food Critic Said About McDonald's New BTS Meal
But what's so special about this McNugget, besides the fact that it comes from the hyped collaboration meal with the biggest pop band in the world? Well, its shape doesn't fall into one of the standard categories of McNugget shapes—the boot, the bell, the ball, and the bone—but is actually oddly reminiscent of humanoid characters from the popular video game Among Us. While having no relation to BTS, the game is another internet sensation just like the pop group. It takes place aboard a spaceship where a group of players has to identify an imposter.
The lucky winner of this auction will have the bite-sized piece of chicken shipped to them frozen and air-sealed from Utah via a secure shipping method.
But that's not all! The seller will throw in some McDonald's Szechuan sauce to sweeten (or spice up?) the deal—at no extra charge (lol). The popular sauce has a complicated history at McDonald's, but that didn't stop its superfans from signing petitions for its return in 2018. It looks like this mystery Ebay seller is a professional McDonald's collector who knows what memorabilia will be in high demand.
For more McDonald's stories, check out:
And don't forget to sign up for our newsletter to get the latest restaurant news delivered straight to your inbox.
Mura is a Deputy Editor leading ETNT's coverage of America's favorite fast foods and restaurant chains.
Read more