This Is Olympic Track Prodigy Sydney McLaughlin's Go-To Meal
We uncovered one of the track star's favorite post-workout lunch recipes.
Sydney McLaughlin snagged the 400-meter hurdle world record at the U.S. Olympic Trials in June. The esteemed 21-year-old track athlete became the first woman in history to run the event in under 52 seconds—51.9 seconds, to be exact.
McLaughlin is competing in the first round of the women's 400-meter hurdles this evening in Tokyo. To mark the occasion, we thought it would be the perfect opportunity to showcase the two-time Olympian's go-to post-workout meal.
In a 2018 interview with ESPN, McLaughlin said one of her favorite meals is a homemade buffalo chicken pizza. "It has carbs, veggies, and protein—perfect for lunch after a hard workout," she said.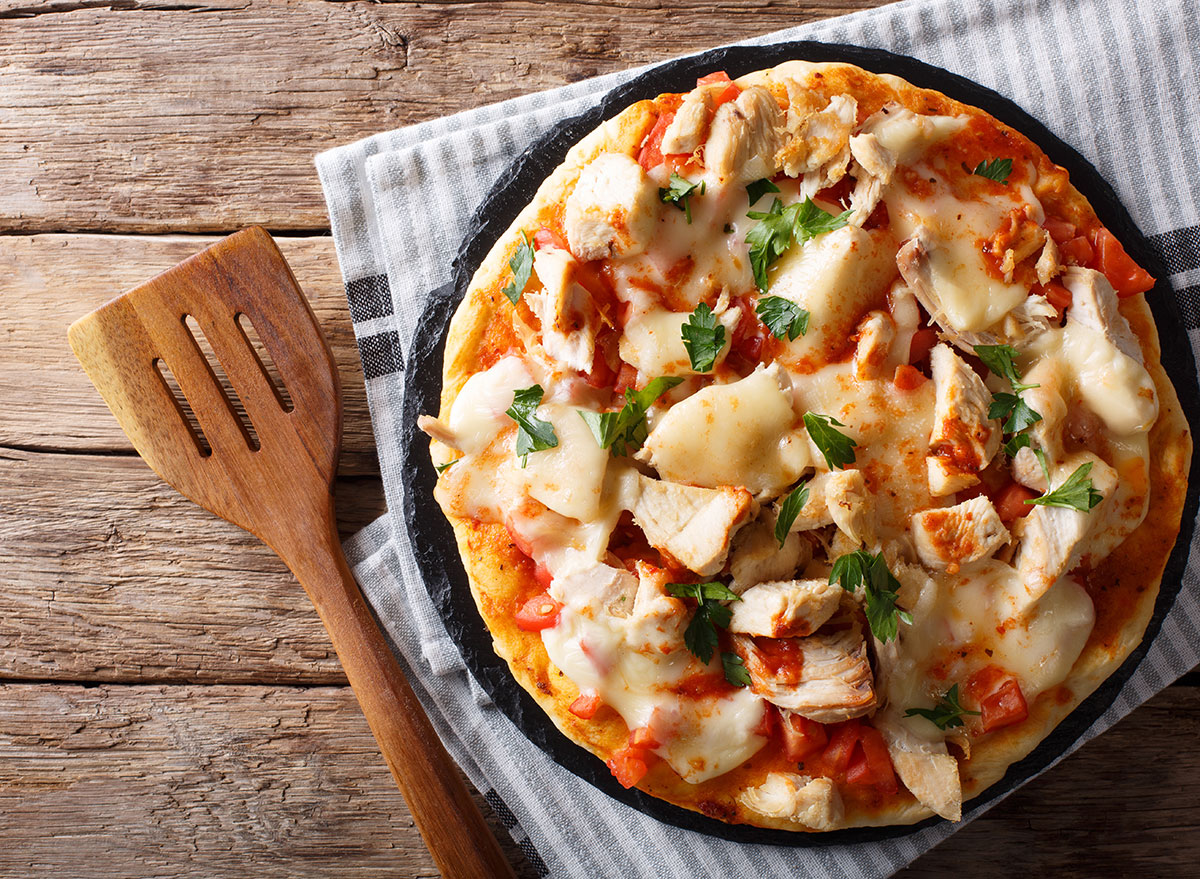 When asked whose recipe she uses, McLaughlin responded, "I actually don't know! I think it came from a huge binder of recipes that the U.K. athletic department sports nutritionists provide."
As McLaughlin was gearing up for her Olympic debut in Rio in 2016, the then 16-year-old admitted to Yahoo! News that she's not the healthiest eater on the field. In fact, she's quite the opposite.
"My parents tell me to eat healthy, but I don't. I'm the most unhealthy eater there is. I'll be eating junk food the night before a race, before a race, after a race. Of course, there are times that I need to change that. Before my Rio races, I'll probably be eating salads [laughs], but I love candy, so I'm never going to change that," she said.
It's likely that McLaughlin's diet has changed over the past five years, but it seems like the athlete isn't afraid to eat what she wants. On the flip side, here's The One Food That Olympians Refuse to Eat When Training.6254a4d1642c605c54bf1cab17d50f1e
***
If you would like to recreate McLaughlin's beloved post-workout lunch at home, here's the recipe she shared with ESPN.
Recipe: Buffalo Chicken Pizza 
Ingredients:
1 pita bread
3 mini bell peppers, chopped (red, orange, and yellow)
8 oz. of sautéed chicken, chopped
A handful of spinach
1/2 cup mozzarella cheese
Hot sauce
2 tablespoons cream cheese
Spread cream cheese onto the pita, and add hot sauce to your desired level of spiciness. Then add the chopped peppers, chicken, spinach, and cheese. Bake in oven or toaster oven anywhere from 250 to 400 degrees for 5 to 10 minutes. Keep checking, and cook to golden color.
Be sure to sign up for our newsletter.