These Omicron Symptoms are Ones to Watch For
Don't take Omicron lightly, says virus expert.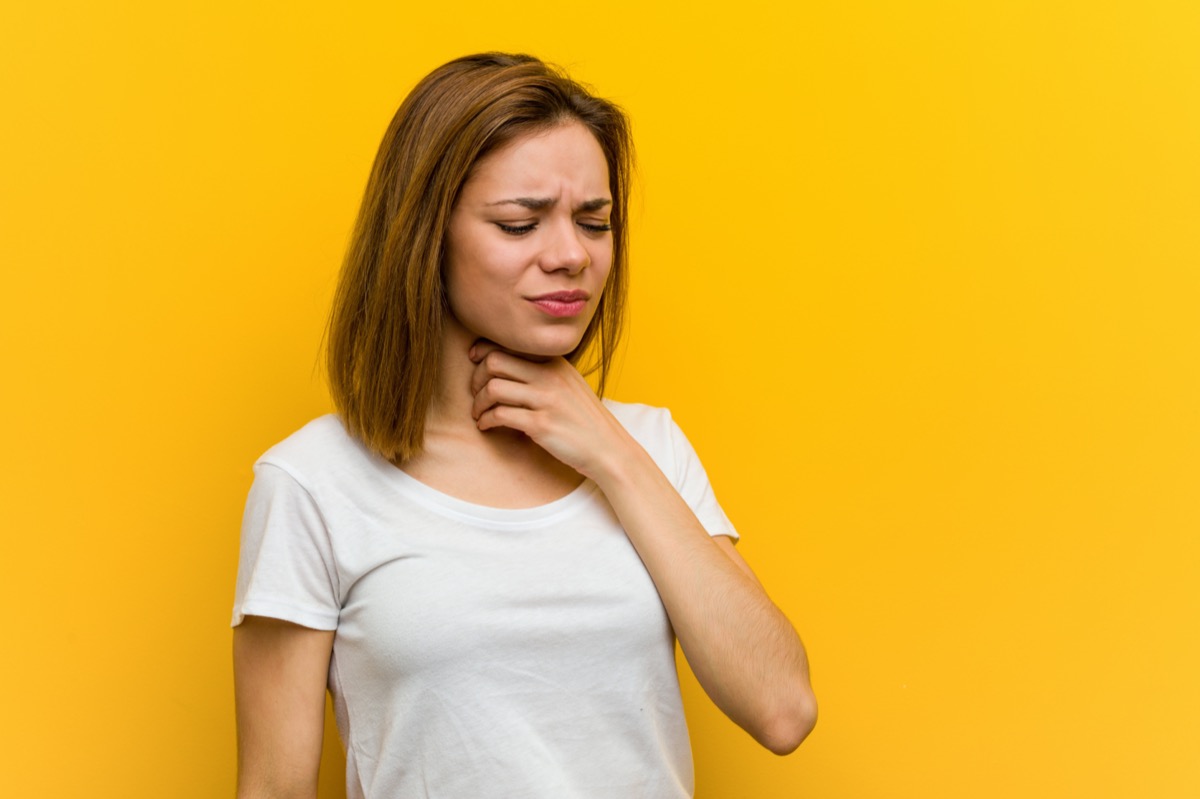 The Omicron variant of COVID is causing a recored level of cases. "​​It clearly is more contagious, more transmissible, and it looks like it's reaching levels that almost approximate measles, which is really the most common highly transmissible virus agent we know," virus expert Peter Hotez of the Baylor College of Medicine told CBSN. "What we'll see is this wave will ultimately be as serious and dangerous as previous waves." So far, the surge of cases is leading to more hospitalizations. Hospitalizations are at 100,000 nationwide, higher than ever during the pandemic, and hospitalizations for kids are rising as well. How can you stay safe and what are the symptoms to watch for? Dr. Hiral Tipirneni spoke with CBSN about the symptoms. Read on to learn about each one—and to ensure your health and the health of others, don't miss these Sure Signs You've Already Had COVID. 
1
Omicron Can Hospitalize and Kill You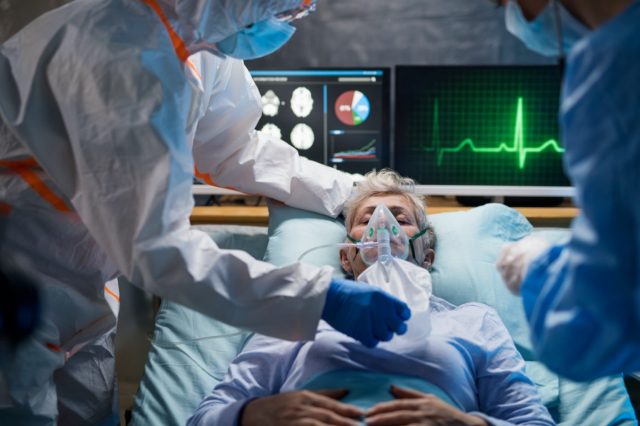 Remember that even though Omicron may be "less severe" than Delta—as some studies are finding, but not confirming—it can still harm you, especially if you are unvaccinated. "While Omicron does appear to be less severe compared to Delta, especially in those vaccinated, it does not mean it should be categorized as 'mild,'" said the World Health Organization's director-general, Tedros Adhanom Ghebreyesus. "Just like previous variants, Omicron is hospitalizing people and it is killing people." Keep reading to see what to watch out for.
2
You May Have These Respiratory Symptoms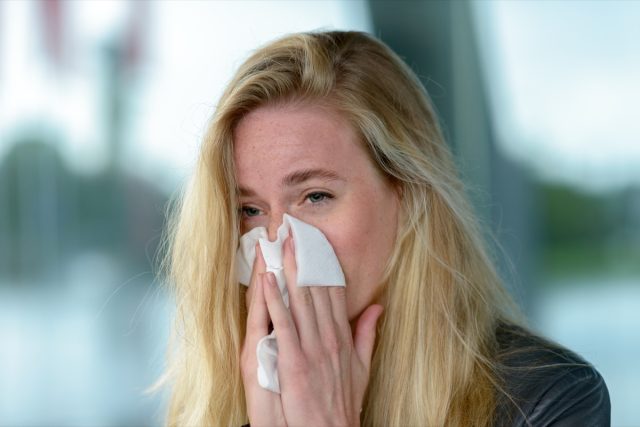 For many people, respiratory symptoms are the first sign of Omicron. "It's mostly that runny nose, sore throat and nasal congestion," Dr. John Vanchiere, the associate director of the Center for Emerging Viral Threats at LSU Health Shreveport, told NPR. "The cough is milder [than previous variants], if there's any cough at all, and fever seems to be a little less common."
3
You May Have These Symptoms, as Well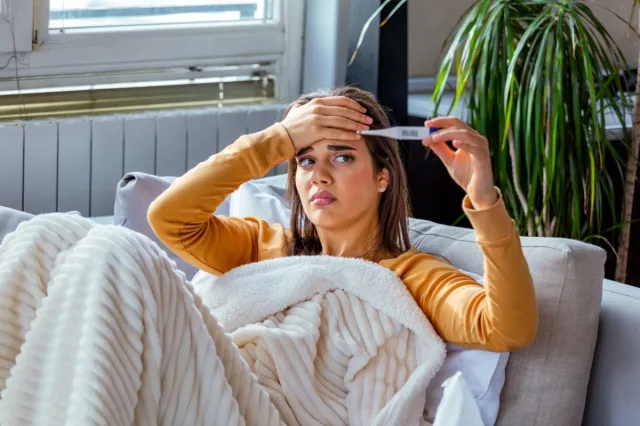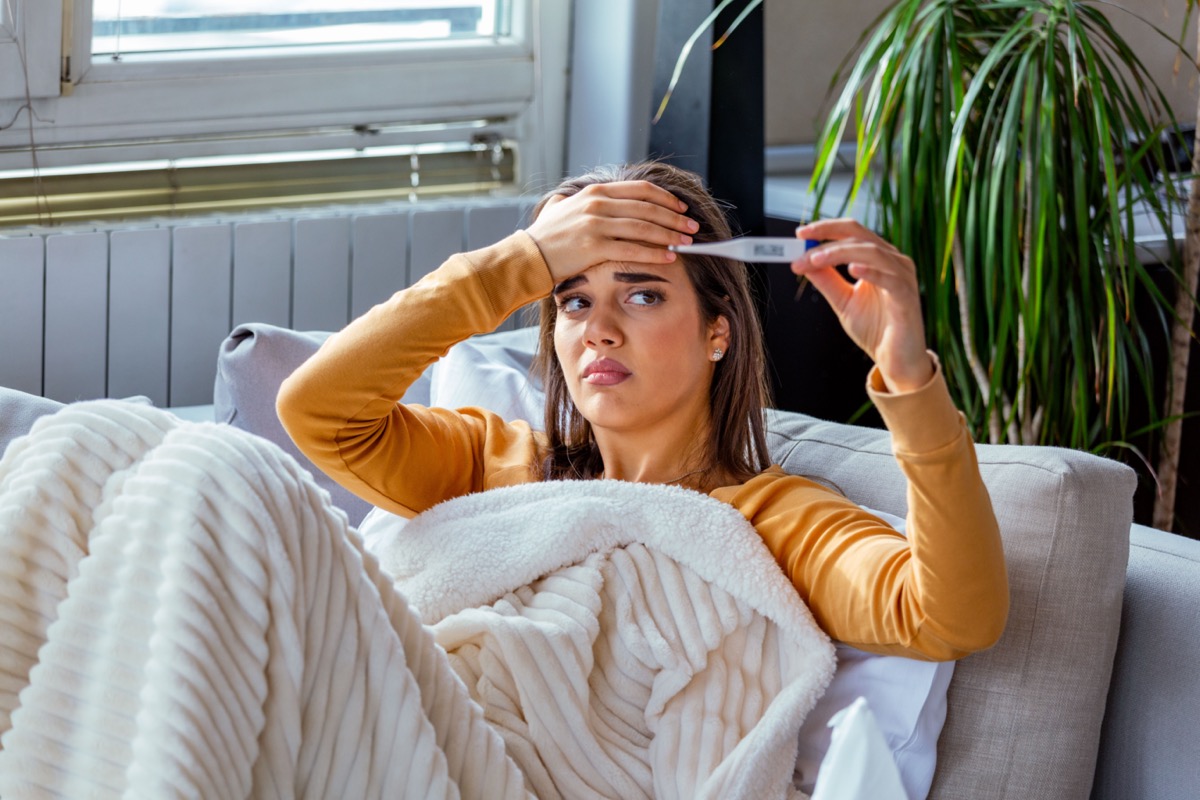 "Omicron can present in a myriad of different ways," Dr. Brendan Carr, chair of emergency medicine for the Mount Sinai Health System, told NPR. "People with COVID-19 have had a wide range of symptoms reported – ranging from mild symptoms to severe illness," says the CDC. "Symptoms may appear 2-14 days after exposure to the virus. Anyone can have mild to severe symptoms. People with these symptoms may have COVID-19:6254a4d1642c605c54bf1cab17d50f1e
Fever or chills

Cough

Shortness of breath or difficulty breathing

Fatigue

Muscle or body aches

Headache

New loss of taste or smell

Sore throat

Congestion or runny nose

Nausea or vomiting

Diarrhea
This list does not include all possible symptoms."
4
Doctor Says "Don't Take Omicron Infections Lightly" and Here's Why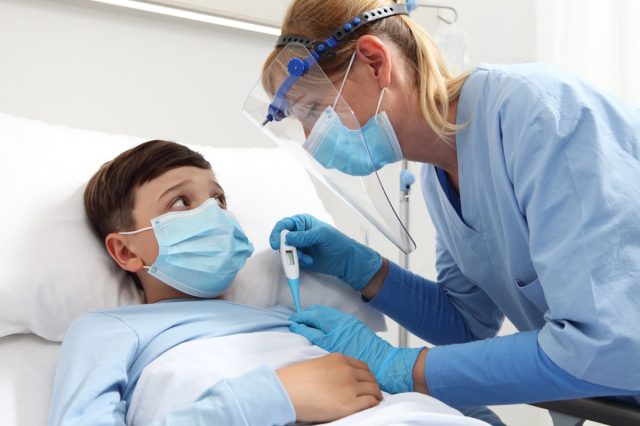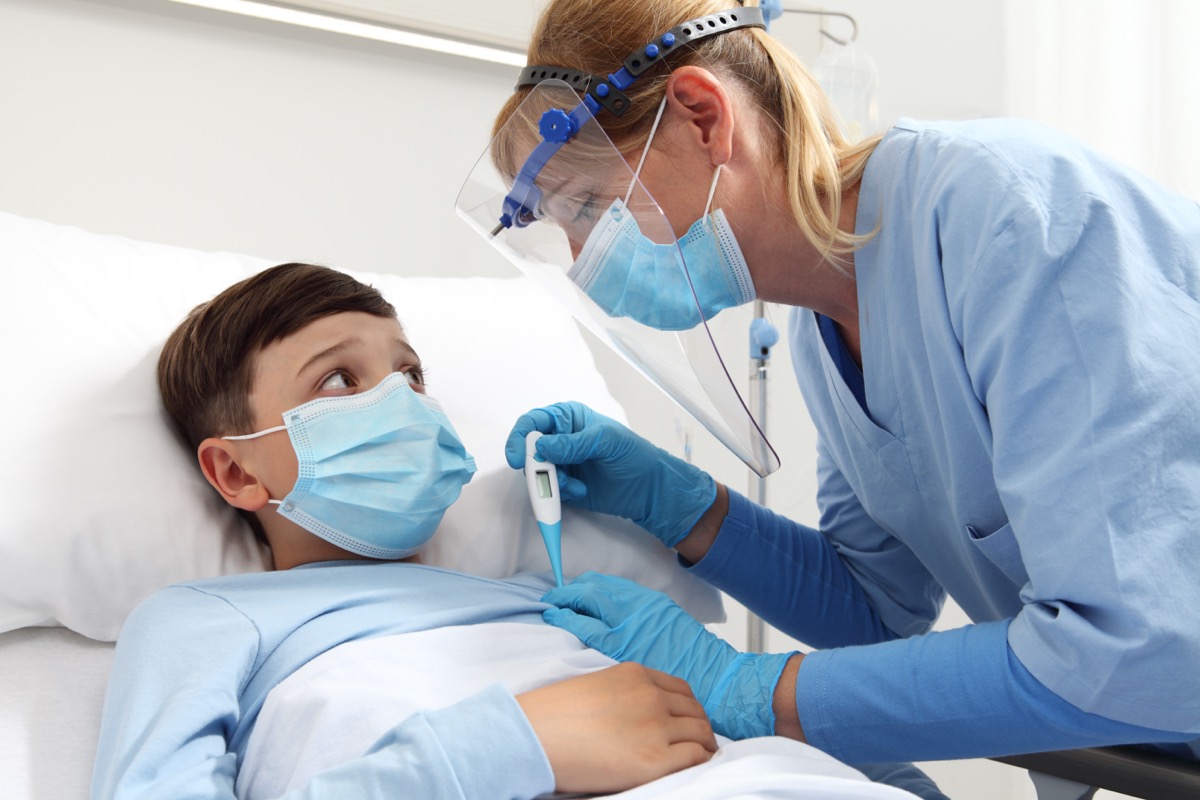 With Omicron, some studies are finding "the damage potentially to the lungs is less," said Dr. Tipirneni. "I don't think that jury is fully out though on that. And I certainly don't think anybody should be taking Omicron infections lightly. And remember those folks again, that are still most vulnerable remain, most vulnerable are elderly, are immunocompromised those folks with chronic illnesses, lung disease. And don't forget, we still have almost three quarters of our children that are still not fully vaccinated. And certainly every child under the age of five is vulnerable. So this is still very important. Still very concerning. Nobody should be taking this lightly. But it is good news that it is less severe, but remember because of the increased number of cases, we are still overall, still seeing a large number of folks going to the hospital, being critically ill requiring hospitalization, and that is still draining our resources. And it's still a big concern for all of our communities."
5
These Folks Have a "Very High Risk" of Serious Complications
Says Dr. Tipirneni: "Certainly this is a very worrisome time. The number of Omicron cases is skyrocketing everywhere….And although we are hearing that, for the most degree, for most healthy people and certainly the vaccinated people, they may not have as severe of a case of the symptoms related to this COVID infection, It is still very important because our community transmission rates are high. And we know that this means that all those folks who are very vulnerable, our elderly are immunocompromised—all those folks, they still have a very high risk of serious complications." In fact, for those who are unvaccinated, "what is really worrisome is the fact that our community transmission rates are so high. …So even if it's not causing more serious infections, necessarily, to vaccinated folks, it is still spreading more rapidly."
6
How to Stay Safe, Says Doctor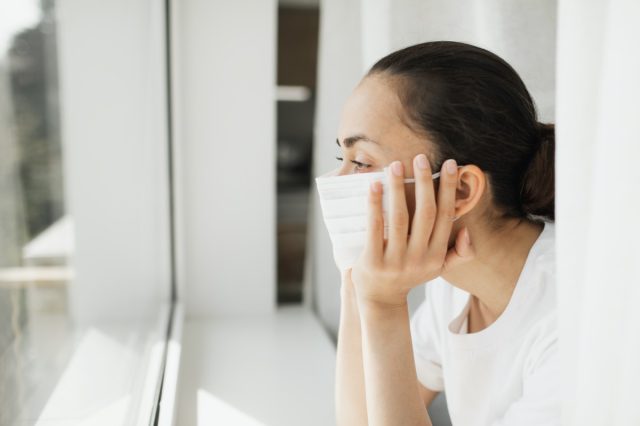 Quarantine and test yourself as soon as symptoms strike. And try not to expose yourself to Omicron in the first place. "We know that the regular measures still work. We know that masking works, we know that vaccines are still protecting us. We know that vaccines are still responsive to this variant," Tipirneni told CBSN. "So all the usual public health measures that we know about, we still have to continue to implement. And we know that there's a lot of fatigue out there and people are getting tired of it, but this is still very much the thick of things. And we are at a very serious point here where hospitals are incredibly overloaded with patients. They are understaffed. It is a critical point. And think about it: It's not just COVID cases. That means that you are impacting the care rendered to people coming in for car accidents or heart attacks or other infectious diseases, regular trauma cases. All of those people are being impacted by these high numbers of Omicron cases all across our nation."
So follow the public health fundamentals and help end this pandemic, no matter where you live—get vaccinated or boosted ASAP; if you live in an area with low vaccination rates, wear an N95 face mask, don't travel, social distance, avoid large crowds, don't go indoors with people you're not sheltering with (especially in bars), practice good hand hygiene, and to protect your life and the lives of others, don't visit any of these 35 Places You're Most Likely to Catch COVID.
Alek Korab
Alek Korab is a Co-Founder and Managing Editor of the ETNT Health channel on Eat This, Not That!
Read more about Alek