Virus Expert Just Issued This New COVID Warning
Will we have a COVID Winter? "We are there already," said Dr. Osterholm.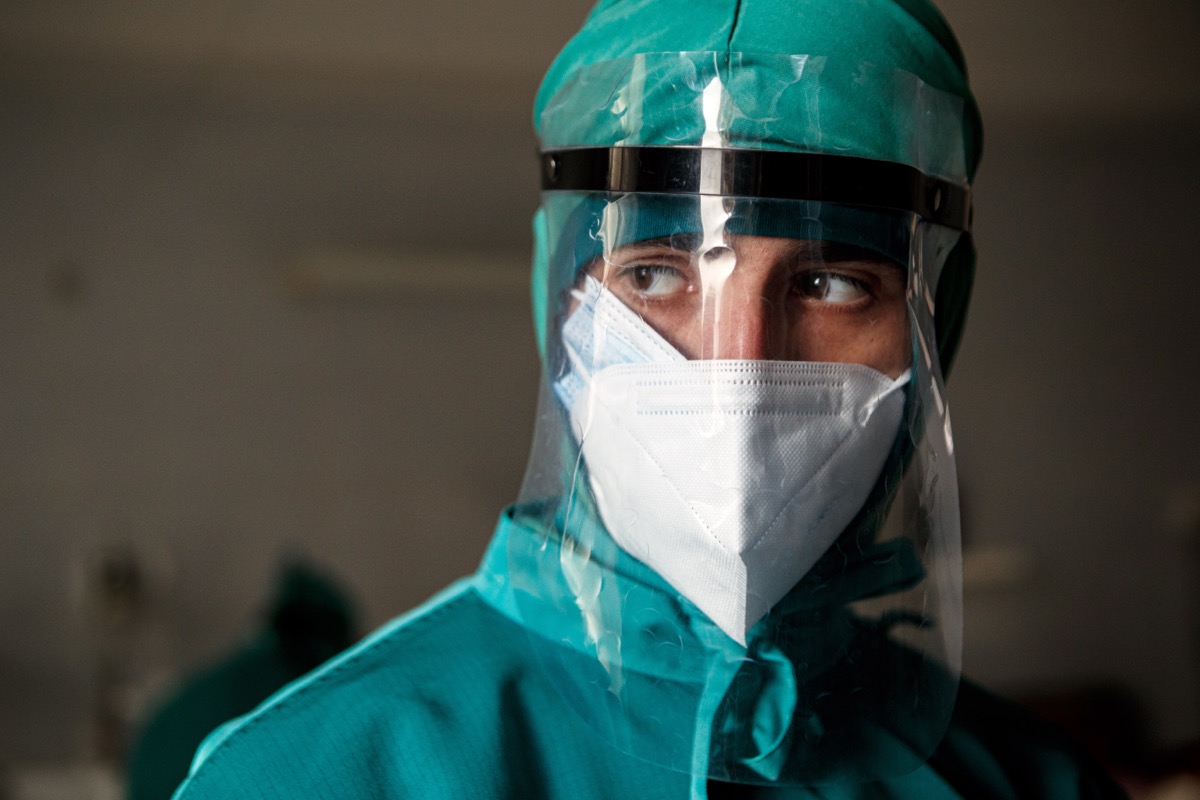 The new coronavirus variant Omicron may or may not be more severe than previous variants, but one thing is certain: COVID is spreading fast in the USA, with more than 100,000 average cases a day. That's up from previous weeks. And ICUs are filling up in certain states, like Wisconsin, Vermont and Illinois. How can you stay safe out there? Virus expert Dr. Michael Osterholm spoke with Minnesota Today on Minnesota Public Radio to tell you how to be careful, why we're already in a surge and when the pandemic might end. Read on for all 6 pieces of life-saving advice—and to ensure your health and the health of others, don't miss these Sure Signs You've Already Had COVID.
1
Virus Expert Warns We're Already in Our "COVID Winter"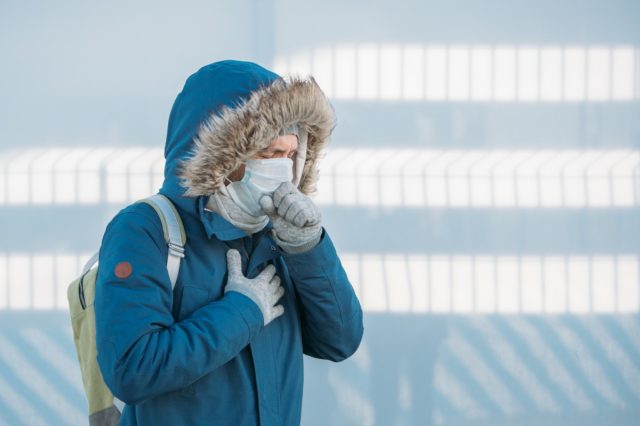 Will we have a COVID Winter? "We are there already," said Dr. Osterholm. "I don't even think we have to say we're heading into it. We're there. And I think the challenge we have right now, understand that this virus does things that we can't explain, at least from a Delta standpoint right now. Why is the Deep South basically largely free of transmission when the summer they were hot? Well, maybe that's changing—where we're getting some data right now out of Florida, suggesting that when we've monitored the wastewater for the virus, which is an indirect measure of how much virus is in a community, we're starting to see that pickup in Florida. We're surely beginning to see New York light up, that has been basically an area where for the last six to 12 months, limited activities occurred there. And many people assume that that means we're over the hump. 'We're fine here.' No, that's not true. I just look at the European countries, the Western European countries, 6 to 10 weeks ago, we're touting the fact they had now arrived at this sweet spot where they had enough people vaccinated in the high seventies, low 80% in the population that it wasn't going to be a problem. These are countries today that are in dire straits with regard to healthcare delivery, overwhelmed past spittles. And those are countries with vaccine percentages, 10 to 20% higher than we see her in the USA. Should we be surprised if we continue to see this through the winter? So again, just please get vaccinated that right now is going to be the biggest thing and most important thing you can do to protect yourself, your loved ones and help us get back to a new normal of life."
RELATED: Everyday Habits That Age Your Body Faster, Says Science6254a4d1642c605c54bf1cab17d50f1e
2
Virus Expert Said Omicron is Spreading Faster Than Delta
Of Omicron, Osterholm said: "Right now, I would say it's spreading quite a bit faster than Delta did. If you look at the data from South Africa, you look at the number of countries that have already documented transmission, you look at the number of situations where one person infected a number of people at a single event—this really points to even a much more infectious virus in Delta." As for "the early information that Omicron picked up genetic material from another virus that causes the common cold in humans. It's kind of interesting. What does that mean?" asked the host. Saying it was all still very preliminary, Osterholm said, "I think could mean two things….One is that can help account for some of its transmission characteristics we're seeing right now there's enough mutations on the virus that could enhance transmission anyway, but this surely could help. It also, however, it could be a good thing. Each season, we have a kind of a common cold virus picture with a type of coronavirus, a cousin to the COVID-related coronaviruses, and surely does not cause severe illness. And if this a new Omicron variant has picked up some of that, then that could actually explain if people in general are less ill. We do know that there are a lot of breakthrough infections right now with people who have been previously infected. We're still trying to find out how well the vaccines protect, but the real bottom line question is if a lot of people get this, but it's not causing on a whole severe illness across the population, this would be incredibly good news."
3
Virus Expert Said the Pandemic Becoming Milder is an "Ideal" Outcome but Purely Hypothetical at This Stage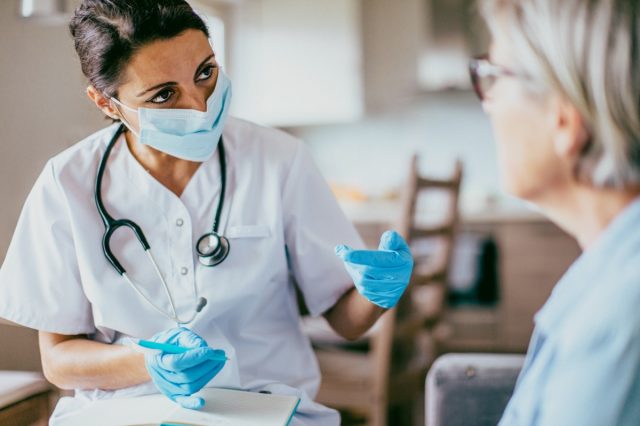 "In the ideal world, wouldn't it be great if in fact Omicron actually ended up out pacing Delta, replacing it and with more people getting infected with a milder illness that hopefully would give them some additional protection against any very impolite Delta, that could be mother nature's way of helping us out of this pandemic," said Osterholm. "But at this point again, that's all just a hypothetical, it'll be I think at least another seven to 14 days, if we're gonna have a better handle on disease severity, it's already there in terms of transmission. I have no doubt about it. This is a very highly transmissible virus."
4
Virus Expert Said Can Say One Thing for Sure: Get Vaccinated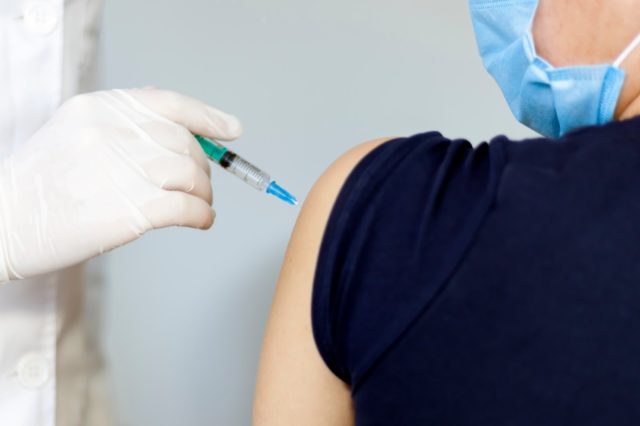 "It seems to have easily reinfected those who've already had COVID," said the host. "Apparently natural immunity might not hold up as well with this barrier. What does that bode for those who've gotten sick, but are still not vaccinating?"
"This may actually greatly lessen the likelihood you would have severe illness," said Dr. Osterholm. "So one of the challenges we're having right now in South Africa, interpreting the data, there is so many people who had previously been infected with the previous surges, particularly with Delta, that we're seeing a number of breakthroughs where people who are being reinfected with the virus have milder illness. Now, is that just because they had a reinfection situation, whereas if somebody's getting infected for the first time may actually have severe illness. So that's what we're trying to get at. So the most important message any of the listeners can take away from today's discussion: Please get vaccinated. If you haven't been as soon as possible. And for those who are eligible for boosters, get them, whatever is going to happen with Alma crime. I can promise you that there's a much, much greater likelihood. You'll have a milder illness with that variant, if you already are vaccinated now."
5
Virus Expert Said This About At-Home Tests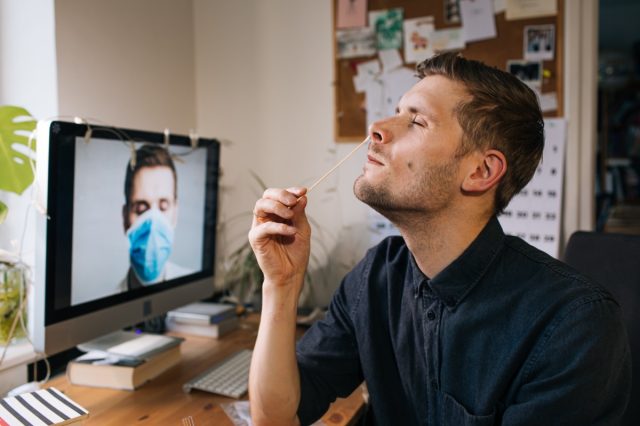 Regarding at-home tests, Dr. Osterholm said, "The test itself is fairly accurate. I would say that we do have false negatives, meaning that people who are infected and potentially infectious sometimes will report negative on the test. And of course you've heard, in particular, the sports world where people have false positives, they get an initial test positive and then a repeat they're not, and they were not infected. You know, those are largely the exceptions to the rule. Most people who are infected will test positive. Most people who are not infected won't. So I always urge people who have an initial test that is positive. Please get that confirmed with a PCR test so that you really know second of all, if you're sick and you are not feeling well, but you may feel like you have to go somewhere to a family event or whatever, and you test negative trust your illness symptoms, not to test and make sure that, in fact, again, you go get a PCR test. Maybe what you have is COVID, maybe it's not. But the last thing you want to do is go to a family event or a public event of some kind and be the person that transmits the virus to a whole lot of other people."
6
Virus Expert Said This About the Pandemic Going On "Forever"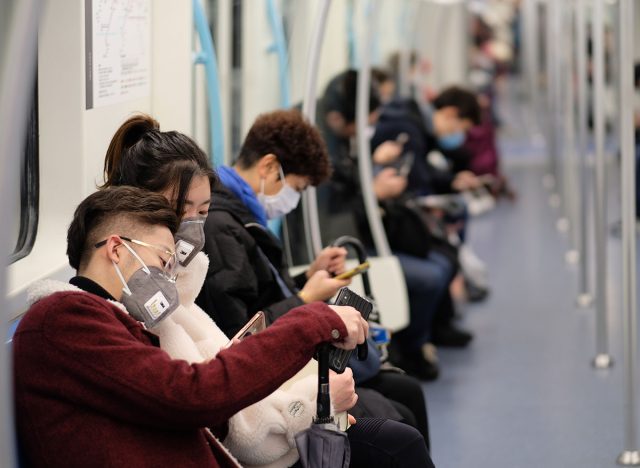 "It won't go on forever," said Osterholm. "I know most people are beginning to think that that's not true. And I think it's particularly acute during the holidays, because remember we missed last year's holiday. And a lot of people in their minds just said, well, we'll make it up next year. And now here we are coming into next year. And here we're still sitting in the middle of this situation. I mean, Minnesota hospitals right now are incredibly stretched. That's because so many people are getting infected. You know, we're still reporting out 5,000 to 7,000 cases a day. We're still reporting out a hundred or more deaths a day, and people don't want to deal with that with the holidays. Unfortunately, I think far too many many people have given up on the pandemic saying they're done with it. I understand that from a human psychology standpoint, but the virus doesn't understand that; it still is going for you. And so again, the best thing you can do is be fully vaccinated. I think a family event where everyone is fully vaccinated and to add an additional layer of protection using the rapid test in the morning before that family event, to make sure everybody's negative, then celebrate the holidays and have just a great time. But if you don't do that, just know you may be the one individual who creates an outbreak that ends up killing" people. So get vaccinated and boosted and to protect your life and the lives of others, don't visit any of these 35 Places You're Most Likely to Catch COVID.
Alek Korab
Alek Korab is a Co-Founder and Managing Editor of the ETNT Health channel on Eat This, Not That!
Read more about Alek