This Popular Cheese Is About to Surge in Price, Experts Say
The cost increase could last for over six months.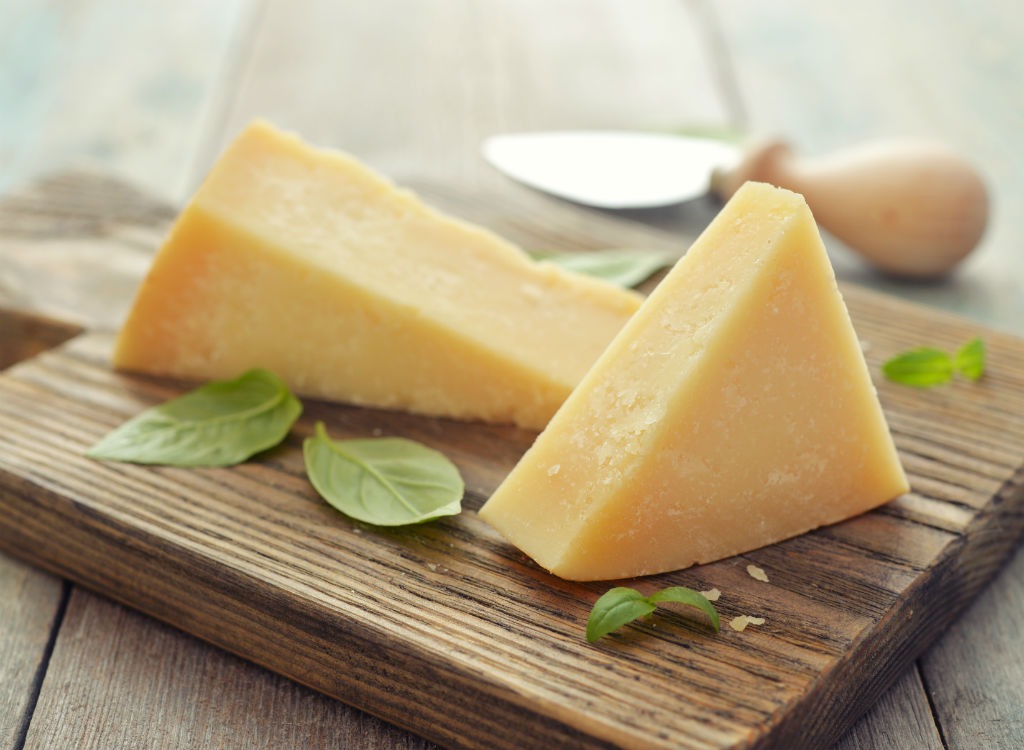 Thanks to fluctuating food costs in 2020 due to the coronavirus pandemic—and more specifically, the cost of milk, which experienced major price highs and lows last year when schools and restaurants closed and stockpiling at grocery stores began—the price of parmesan is expected to increase considerably this year, experts say.
"Back in April 2020, cheesemakers were feeling the enormous loss of retail and foodservice business due to COVID," explains Liz Thorpe, international cheese expert and author of The Book of Cheese. Then, add the milk shortage that started happening in June, and the cost of making milk-based cheeses skyrocketed. (Related: Grocery Shortages To Expect in 2021, According to Experts.)
Of course, you may have already experienced the effects of this while shopping at the grocery store. As Schuman Cheese Chief Customer Officer Neil Cox explains: "Younger, fresh, cheeses like mozzarella, cream cheeses, and things like that would have gone up in price pretty much in tandem with these increases nine to 12 months ago."6254a4d1642c605c54bf1cab17d50f1e
But considering it takes cheeses like parmesan at least 10 months to age before they're available for purchase, the price hikes will only start to be felt now.
The cost of producing parmesan at the Schuman Cheese plant in Turtle Lake, Wisc. went up 40-60% last year, says Cox. So parmesan that was produced in March, April, and May 2020—which is now being shipped to distributors and being added to grocery store shelves—will carry a heftier price tag.
Specifically, Cox believes that, starting in April 2021, the price of parmesan will go up by $1.50-$2 for a pound and about $0.70-$0.75 for a wedge—and the surge will last for six months or longer.
While it's certainly not ideal, Cox believes people will still pay for these milk-based, aged cheeses. "I would guess it may slow down consumers' purchase patterns," he says. "But people will, in all likelihood, pay the increase because, ultimately, it's still delivering an experience and flavor."
Plus, there really isn't a great alternative. "Parmesan is typically used for grating, and in order to get a hard texture for grating, a cheese has to be aged," says Thorpe. "Comparable or alternative cheeses are going to face a similar problem. It becomes an issue of, 'If you want this, you're going to have to pay more for it.'"
If all this cheese talk has made you hungry, check out the 13 Best Recipes for Cheese Lovers. And for more grocery store news delivered right to your email inbox, sign up for our newsletter.
Amanda McDonald
Amanda has a master's degree in journalism from Northwestern University and a bachelor's degree in digital journalism from Loyola University Chicago.
Read more about Amanda