17 Places You Shouldn't Go Even If They're Open
Consider your COVID-19 risk before doing any of these activities.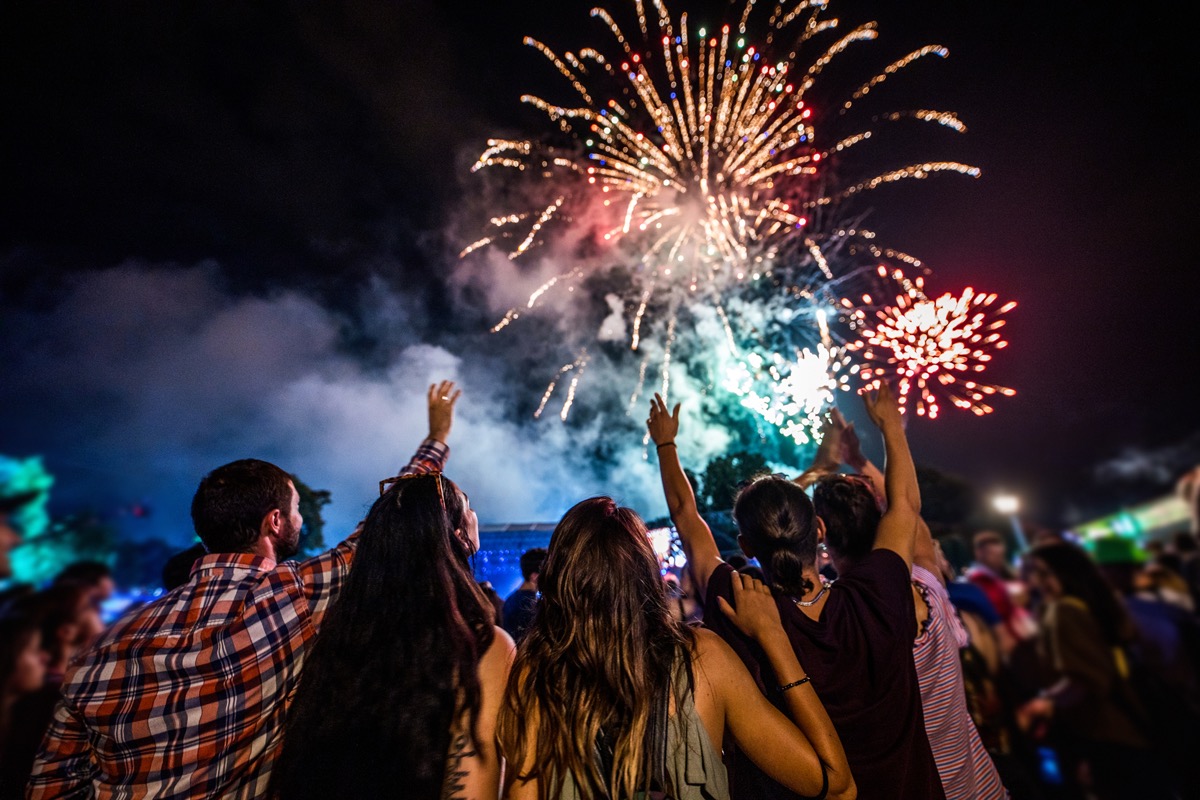 With coronavirus cases and deaths surging across the country, staying safe (and staying alive) is a public health priority. But where are you most at risk? Earlier this summer, the Texas Medical Association released a list of the 37 places you're most likely to catch coronavirus and now they're back with a new list tailored for the winter, ranked activities on a scale of 1 to 10, 1 being the least risky and 10 being the most risky. Read on to see the ranking—and to ensure your health and the health of others, don't miss these Sure Signs You've Already Had Coronavirus. 
17
Having a Playdate With Another Household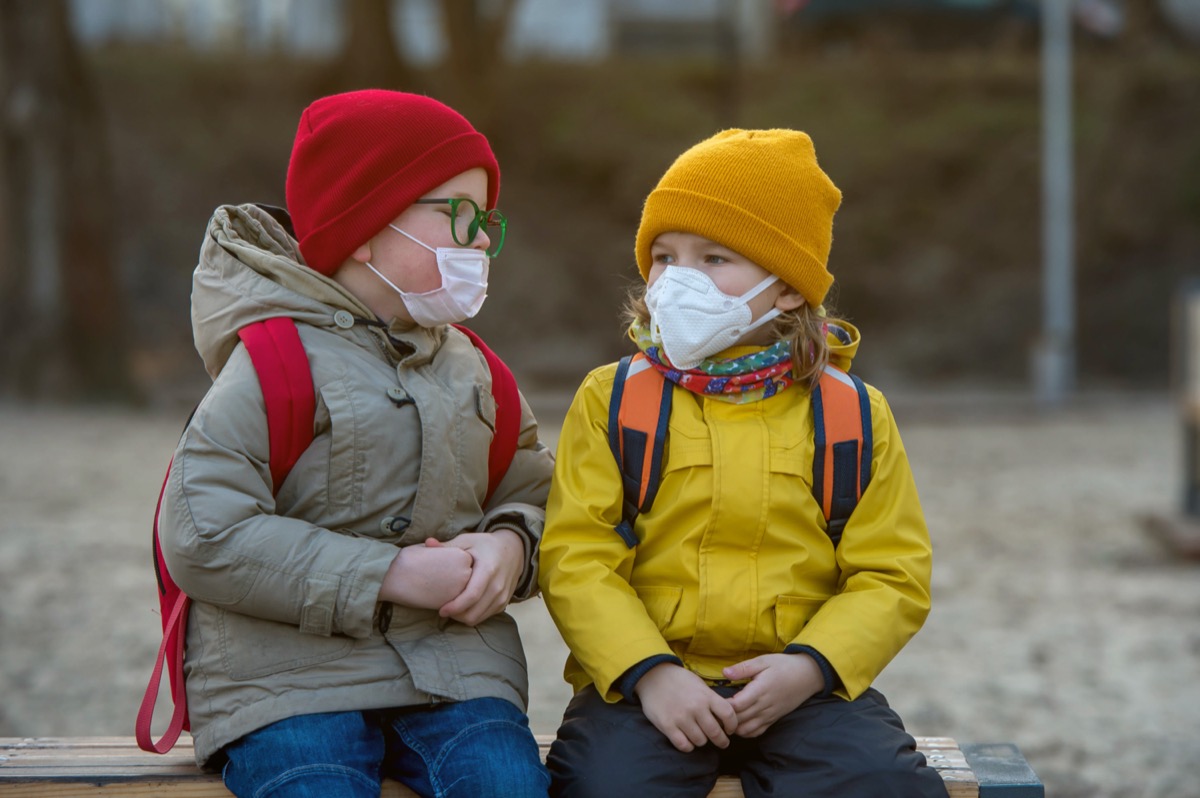 Risk Level: 4
By now, your kids must be starved to have little Jimmy from next door over, and you probably wouldn't mind sharing a glass of mulled wine with his parents, either. However, you don't know exactly where any of them have been, who they've been exposed to, or if they have the virus. Assume they're infected until you know they're not. "Get tested before seeing people, allowing enough time to get test results back before gathering," advises the University of California San Francisco. "Testing beforehand decreases the chance that anyone is bringing the virus into the group, and getting tested afterward is important so that, in the unfortunate circumstance that someone has tested positive for the virus, they can alert others." And importantly: "When together, avoid being indoors with people outside your household unless it's just not possible."
16
Ice Skating at an Outdoor Rink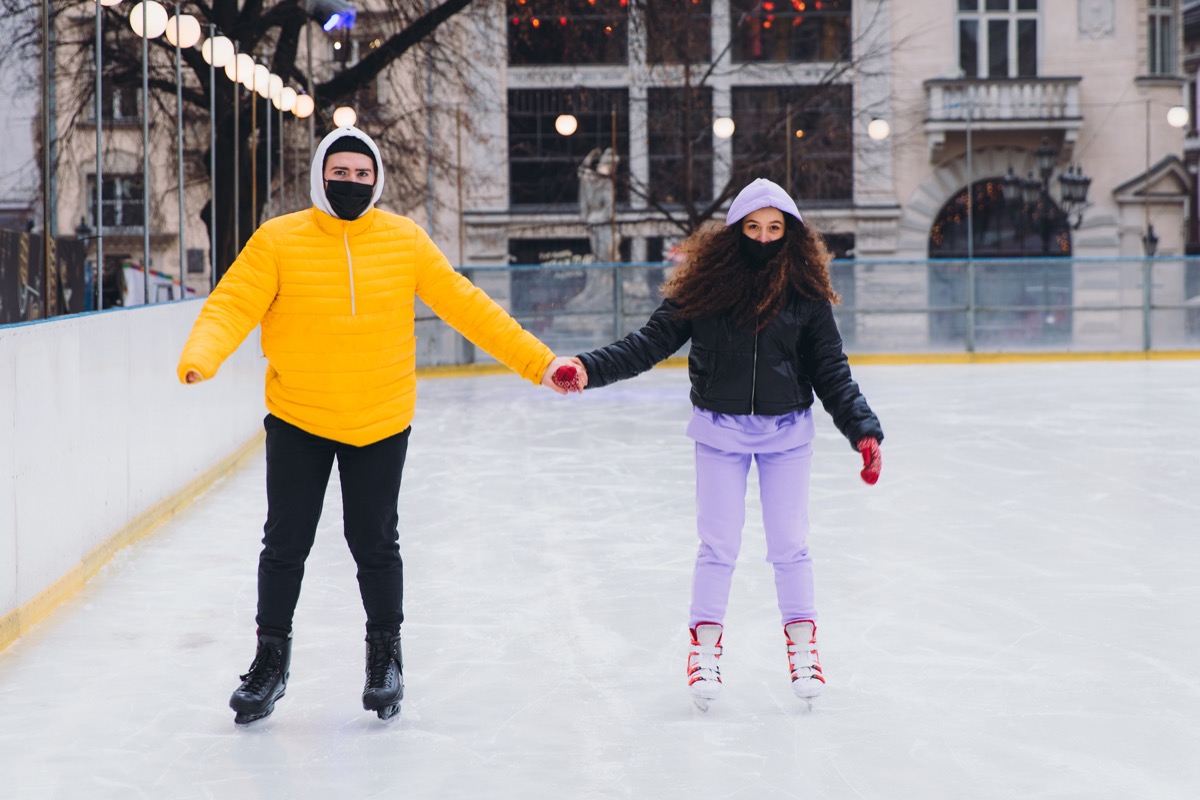 Risk Level: 4
Before lacing up, consider the COVID threat in your community. In a state like California, which has ICU beds filled beyond capacity, they have closed even outdoor rinks out of an abundance of precaution. "Alas, 2020's biggest holiday Scrooge — COVID-19 — has caused almost all of SoCal's outdoor and indoor ice rinks to close for public skating. Many indoor rinks have partially opening for specific limited uses, such as hockey team practices and figure-skating workouts, but all public skating opportunities are canceled because of coronavirus concerns," reports the Los Angeles Times.
15
Attending an Outdoor Sports Event
Risk Level: 5
In some places worldwide, limited crowds have been allowed back into stadiums, under strict precautions (social distancing, masks). You'll notice that isn't the case in a city like London, where the coronavirus is so bad, it's led to a lockdown. "Spectators at sporting events should consider the number of COVID-19 cases both where they live and where the sporting event is taking place before deciding to attend," advises the CDC. "The higher the transmission of COVID-19 in the community, the higher the risk of transmission of COVID-19 at sporting events."
14
Attending an Outdoor Cultural or Religious Celebration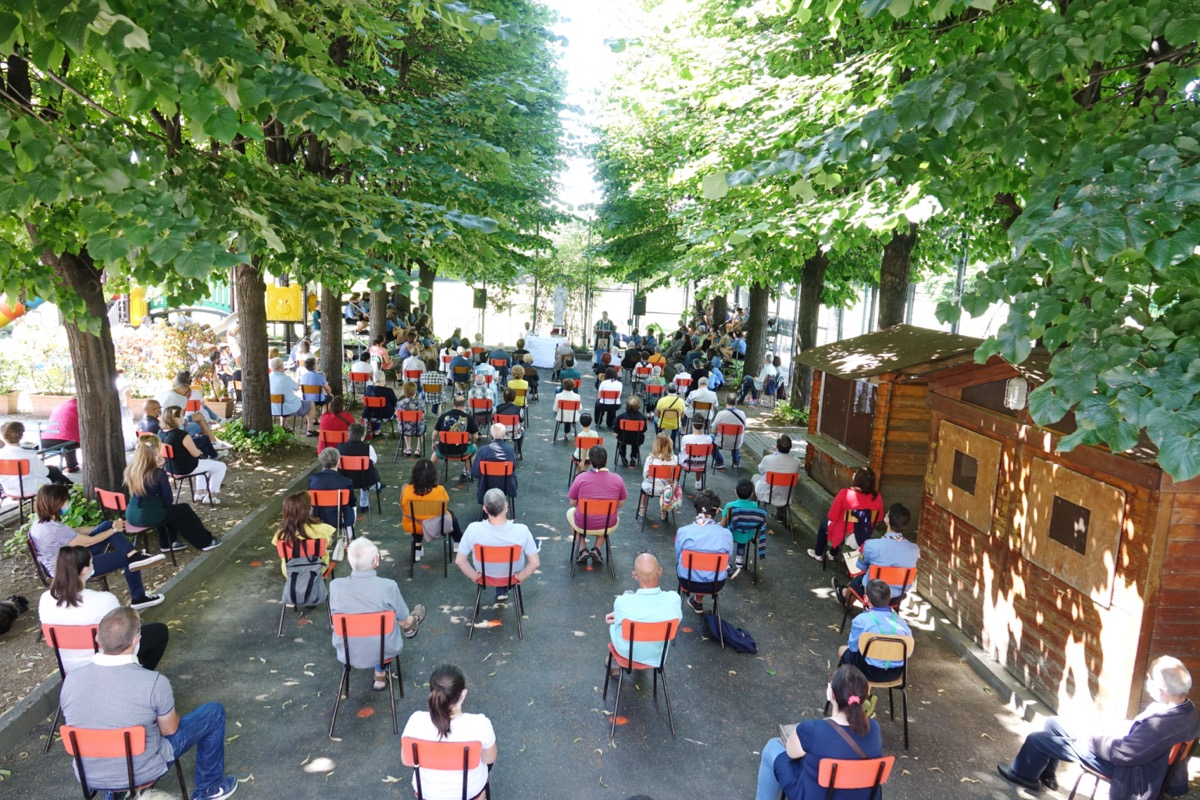 Risk Level: 5
No matter your purpose—to worship the Holy Spirit at church or to worship Kanye West at Coachella—"avoid congregate settings," advises Dr. Anthony Fauci, the nation's top infectious disease expert and the director of the National Institute of Allergy and Infectious Diseases. There is too much risk, as people may not commit to a uniform social distancing or wearing of masks.
13
Traveling by Plane to Visit Family or Friends
Risk Level: 5
Dr. Fauci was asked in August if he'd get on a plane. "Well, the answer is 'no' for the following reason: I am in a risk category. I don't like to admit it, but I'm 79 years old." He has since turned 80. "If you are someone who is in the highest risk category, as best as possible, don't travel anywhere," he told Kaiser Health News. "Or if you go someplace, you have a car, you're in your car by yourself, not getting on a crowded subway, not getting on a crowded bus or even flying in an airplane. If you're a 25-year-old who has no underlying conditions, that's much different." He has since advised you do a risk assessment: If, on your travels or at your destination, you're meeting anyone you don't know, be aware you may affect them or get infected yourself.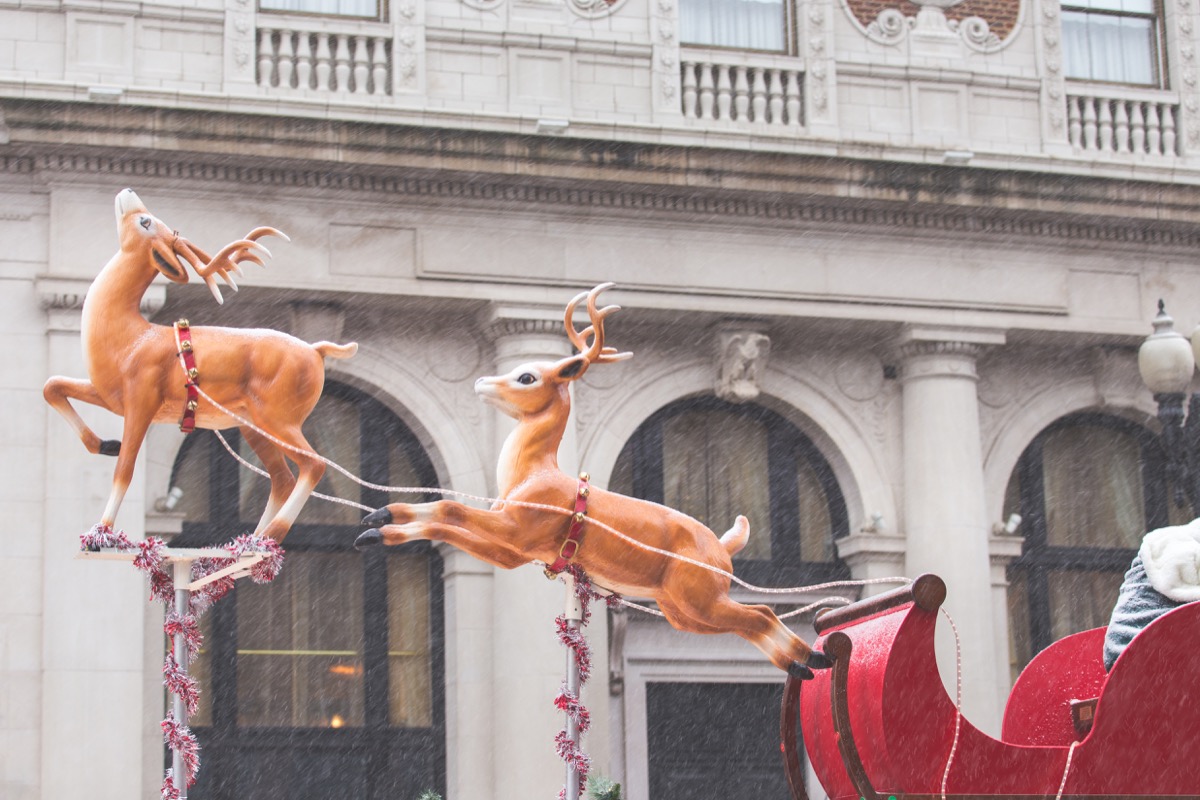 Risk Level: 6
The CDC puts it plainly: "The more people an individual interacts with at a gathering and the longer that interaction lasts, the higher the potential risk of becoming infected with COVID-19 and COVID-19 spreading," they say. "A gathering refers to a planned or spontaneous event, indoors or outdoors, with a small number of people participating or a large number of people in attendance such as a community event or gathering, concert, festival, conference, parade, wedding, or sporting event."
11
Ice Skating at a Public Rink Indoors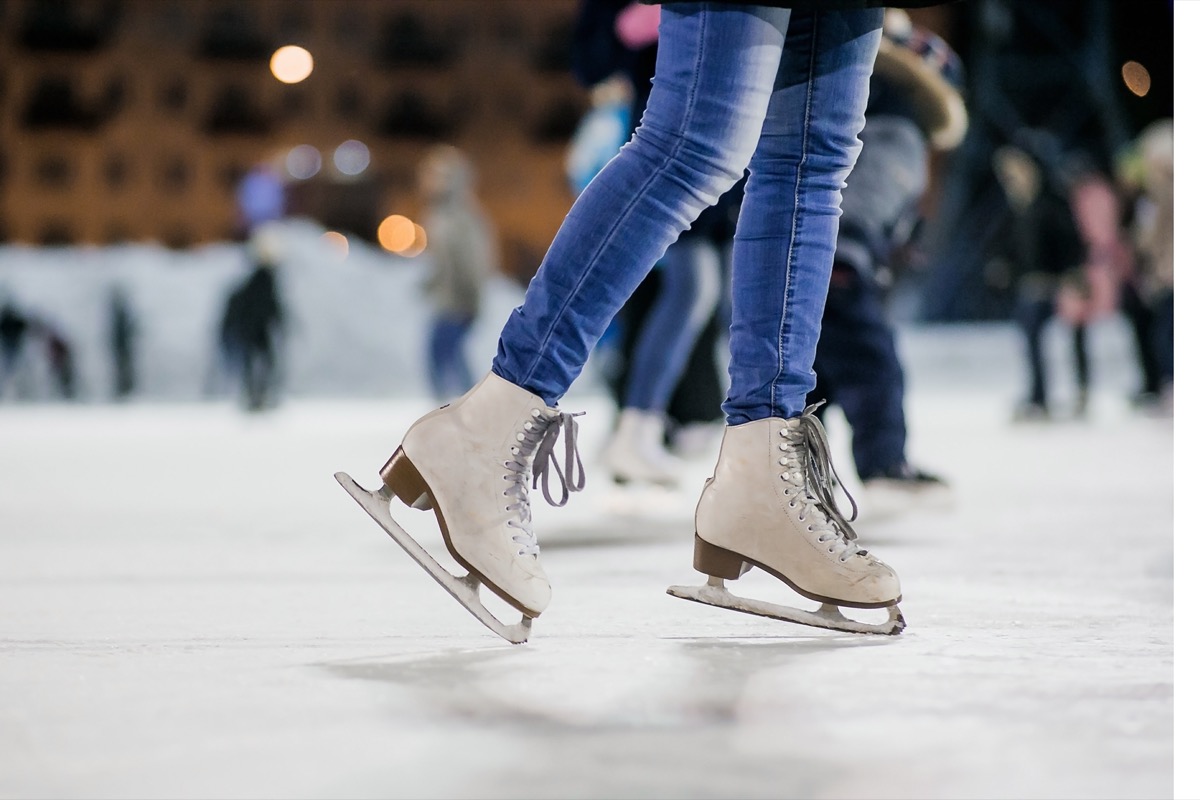 Risk Level: 66254a4d1642c605c54bf1cab17d50f1e
Dr. Fauci has often said: "Outdoors is better than indoors." That's true for any activity, but particularly ones that require you to expel large amounts of droplets. 
10
Watching a Public Fireworks Display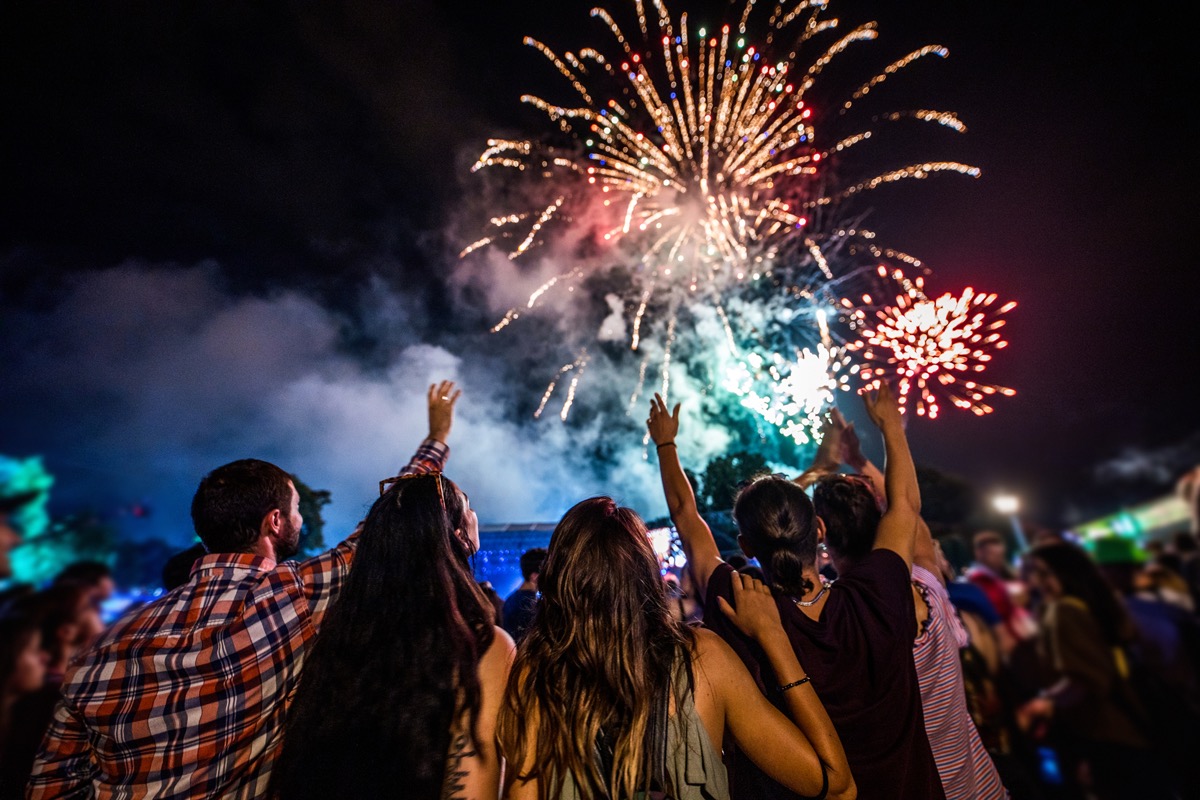 Risk Level: 6
The CDC advises you do not attend any live fireworks this New Year's Eve, or any time. Oohing and aahing, while bunched together with others, can lead to COVID spread. "Watch a livestreamed firework display, concert, First Night event, or other New Year's programming from your home, such as the Times Square New Year's Eve ball drop. Virtual events are happening across the United States," they say. Or: "Plan an outdoor activity with people you live with such as a hike or sledding. Pick up a special meal from a local restaurant to share with your household. Set new year resolutions. Find out if your hometown is sponsoring a special social media event and share your resolutions."
9
Visiting Someone in Assisted Living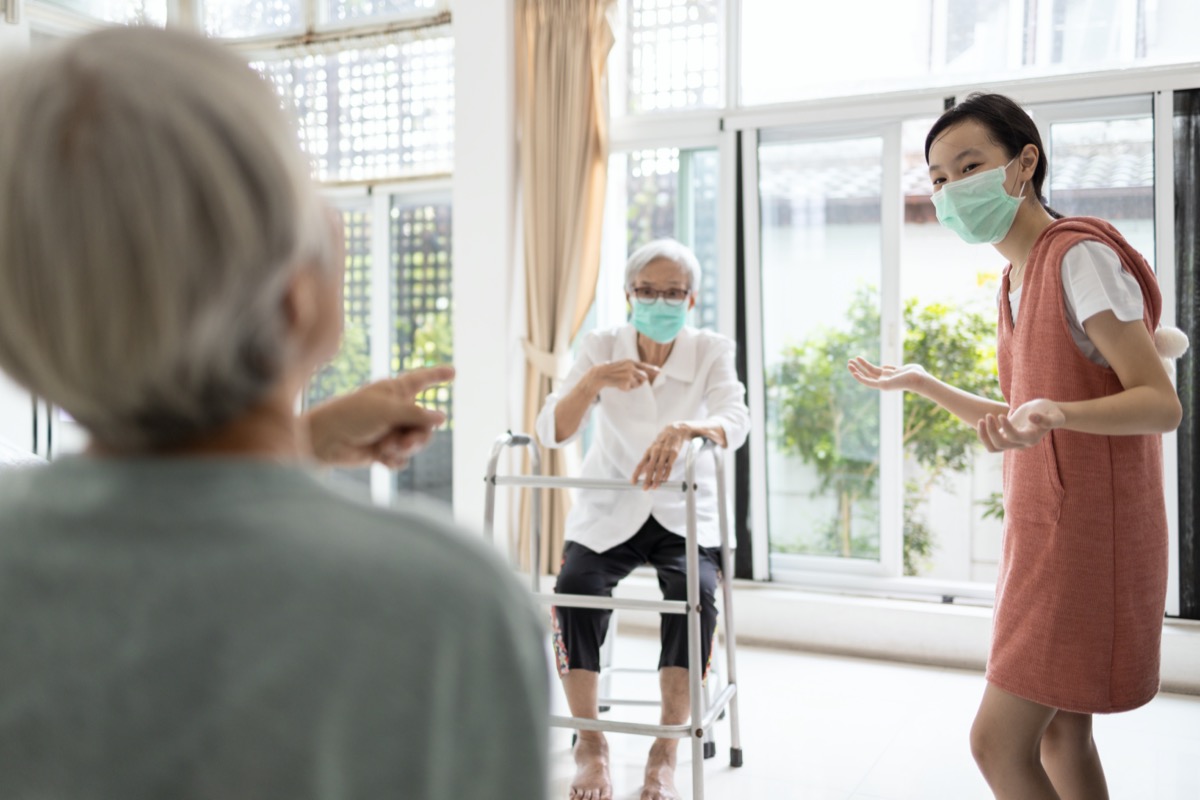 Risk Level: 6
Going to an assisted living facility can pose a threat to you and all the people inside. "Given their congregate nature and population served, assisted living facilities (ALFs) are at high risk for SARS-CoV-2 spreading among their residents," warns the CDC. "If infected with SARS-CoV-2, the virus that causes COVID-19, assisted living residents—often older adults with underlying medical conditions—are at increased risk for severe illness." Not to mention: "Experience with outbreaks in nursing homes has demonstrated that residents with COVID-19 may not report common symptoms such as fever or respiratory symptoms; some may not report any symptoms. Unrecognized asymptomatic and pre-symptomatic infections likely contribute to transmission in these settings."
8
Attending an Indoor Holiday Craft Fair or Market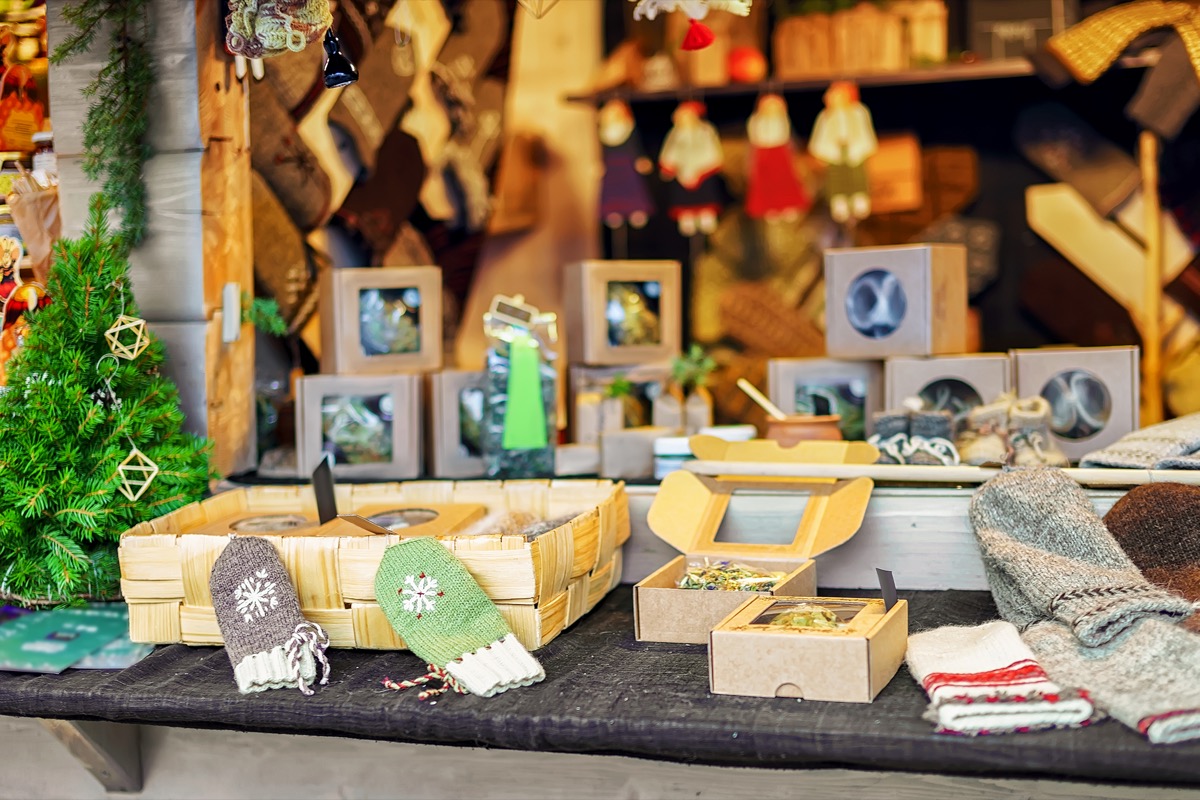 Rick Level: 7
Craft fairs have been hit hard by the pandemic, leading The American Craft Council to provide COVID resources and mitigation measures for its members. The fact is, any large gathering indoors, be it for crafts or comics or crochet, poses a high risk, as hundreds of people expel droplets into potentially poorly ventilated air.
7
Attending an Indoor Sports Event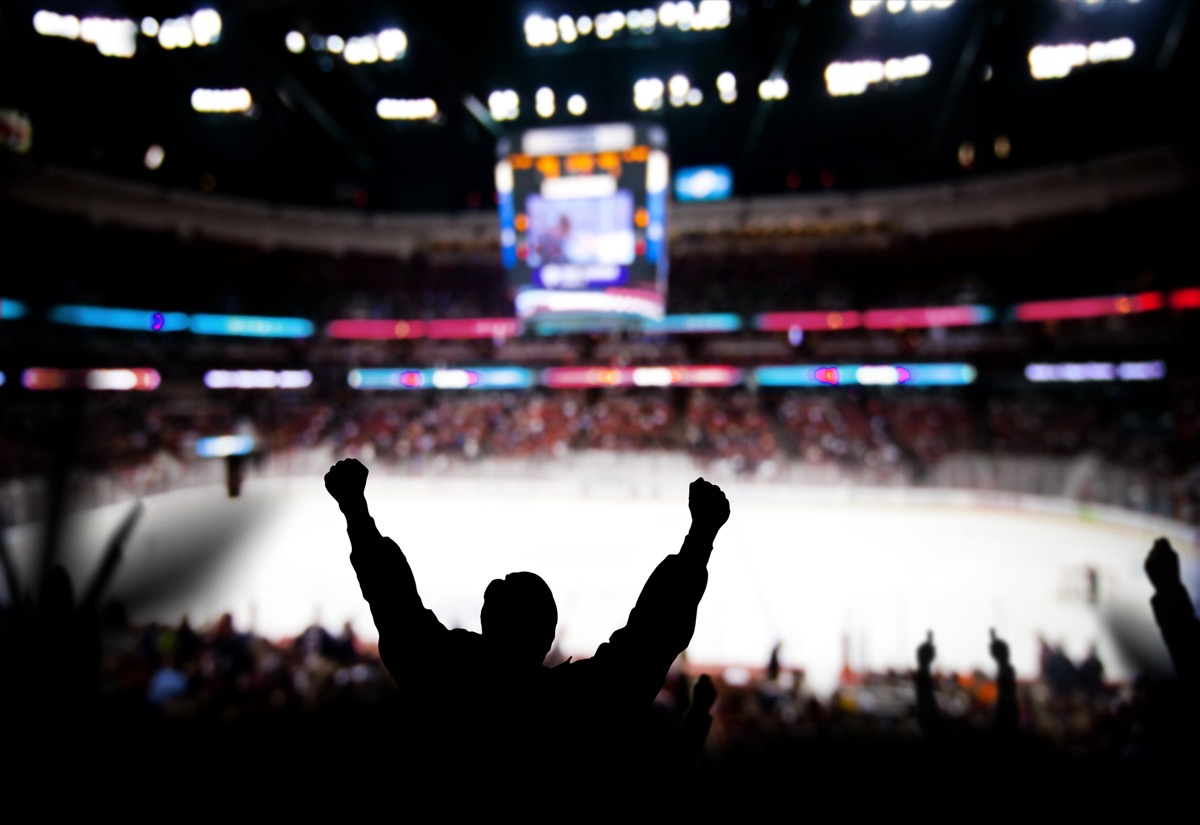 Rick Level: 7
"While guidelines from both the Centers for Disease Control and Prevention and the American Academy of Pediatrics say the risk of transmission is greater indoors, neither has taken a hard position on indoor sports," reports the New York Times. "Recent outbreaks linked to indoor hockey in New England could serve as a precautionary tale. In Massachusetts, all ice hockey and ice skating rinks were ordered to close in October, following an outbreak of nearly 110 coronavirus cases (they have since reopened with stricter rules). This came after a similar move by New Hampshire last month, after 158 positive cases over a two-month period were linked to the sport."
6
Attending a Super Bowl Party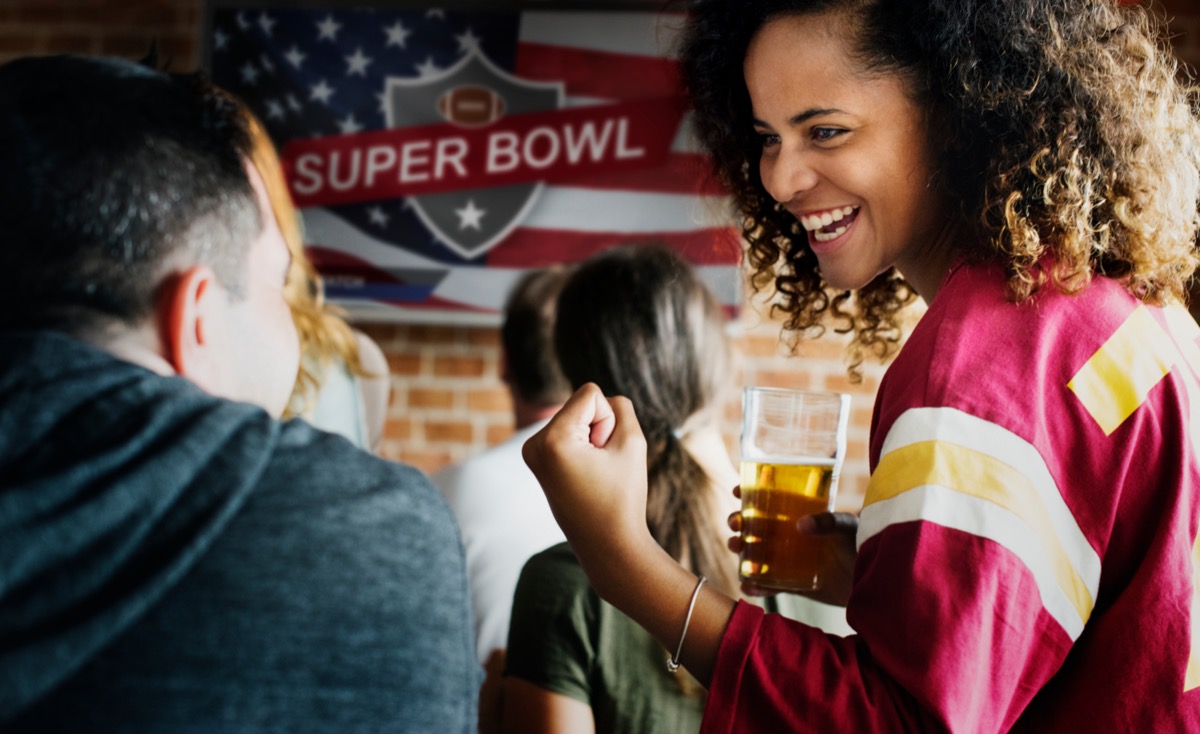 Risk Level: 8
A Super Bowl party sounds safe enough—grab a few beers and a few close friends, some who love the game, others just there for the commercials. But if those friends aren't in your bubble, they're not just bringing the six-pack; they're bringing risk of exposure. The risk increases greatly if your party is at a sports bar or restaurant. "If we're in the hot zone the way we are now, where there's so many infections around, I would feel quite uncomfortable even being in a restaurant. And particularly if it was at full capacity," Dr. Fauci told Kaiser Health News.
5
Hosting a Winter Party with Friends and Family
Risk Level: 8
This would, on the surface, seem way safer than going ice skating or into a big craft fair—what's a few drinks amongst friends in the comfort of your own home? Fauci explains why this is a bad scene: "Eight, 10 people get together at a dinner with friends and family. One of them is infected, but with no symptoms, They put their guard down. You're sitting, you're eating, you're drinking, you take your mask off. And that's how we're starting to see infections," he warned on CNN. "I get on the phone tonight and talk to all of my colleagues around the country—almost every one of them say that's becoming a very important source of infection, the innocent gathering," Fauci added.
4
Attending an Indoor Cultural or Religious Event
Risk Level: 8
Dr. Sanjay Gupta on CNN listed houses of worship as one of the main places where COVID spreads, along with restaurants, bars, cafes and hotels. "It's really these five primary locations where 80 percent of viral transmissions are happening in our society." They are allowed to happen in many places—the Supreme Court has sided with churches and synagogues over state-imposed restrictions—but that doesn't mean you're not at risk if you attend.
3
Attending a College House Party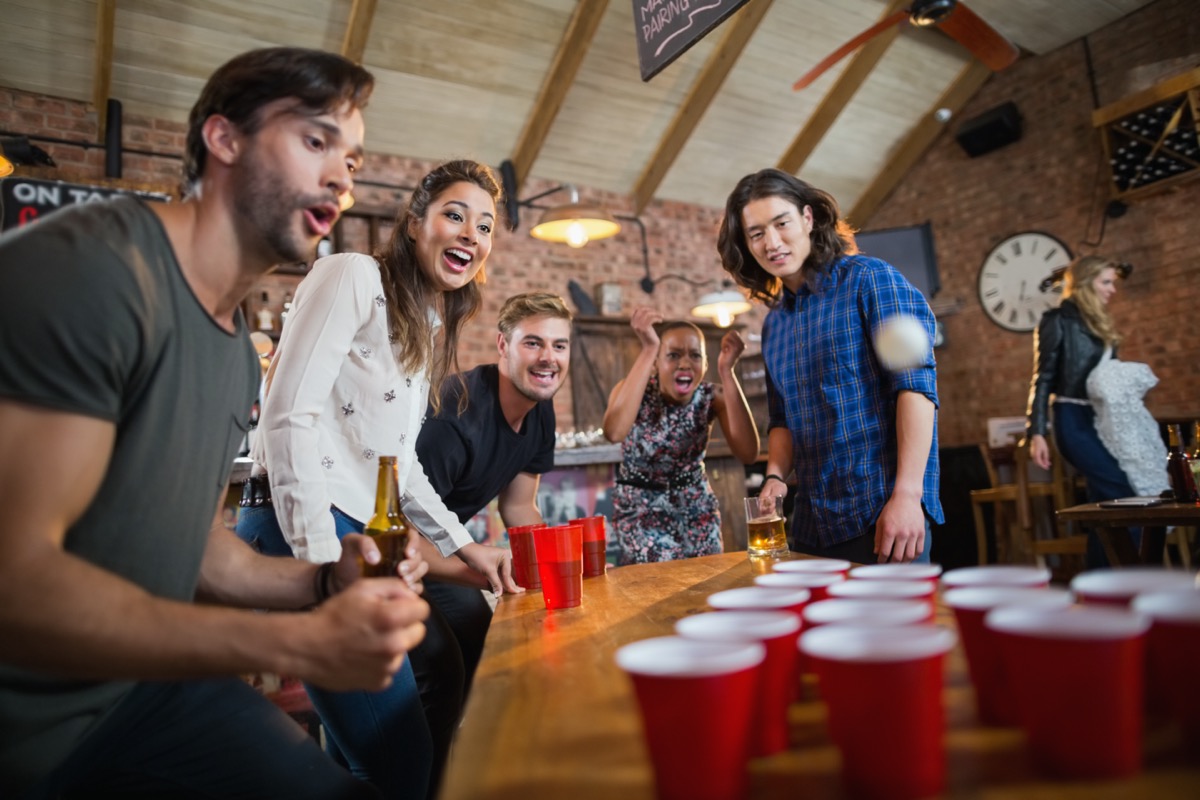 Risk Level: 10
Colleges and universities across the country had to put our fires, as kids partied on despite restrictions—some partying while knowingly infected with coronavirus. "It stands to reason you probably wouldn't throw a large house party if you tested positive for COVID-19. But that wasn't the case for some students at Miami University of Ohio," reports Chron. "When Oxford police arrived to break up a large house party hosted by students over Labor Day weekend, officers discovered one student had tested positive for COVID-19 and been ordered to quarantine a week prior. Bodycam video from the Oxford Police Department shows several students sitting on the porch, unmasked, drinking and listening to music, according to a report from WOIO."
2
Attending a Large Indoor Celebration With Singing
Risk Level: 10
The act of opening one's mouth and forcefully expelling air out of it to create melodic sounds has been found to spread COVID-19. Do this indoors and you increase the risk big-time. A CDC study earlier this year found a "high coronavirus attack rate following exposure at a choir practice," adding that "transmission was likely facilitated by close proximity (within 6 feet) during practice and augmented by the act of singing." 
RELATED: 7 Tips You Must Follow to Avoid COVID, Say Doctors
1
Celebrating New Year's Eve at a Bar or Nightclub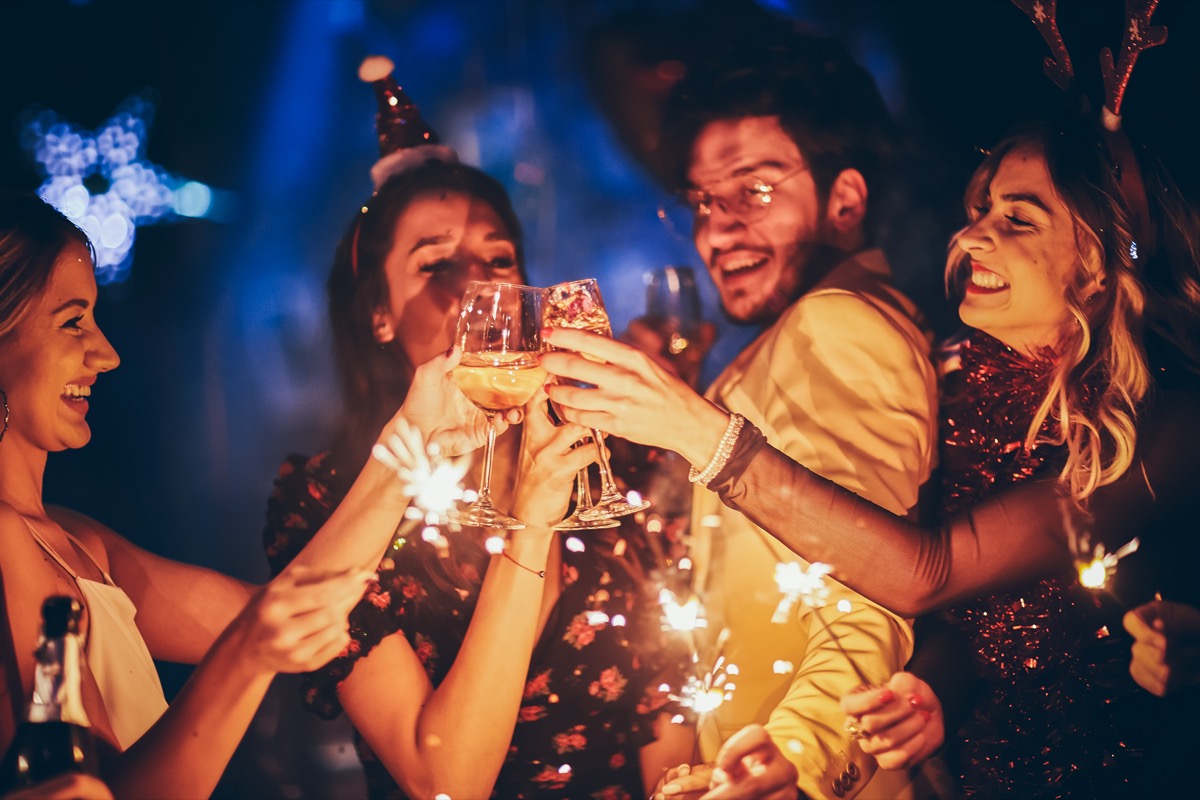 Risk Level: 10
Dr. Fauci has been advising against going to bars since the summer, and he'll likely say it again before the year is out. The mix of indoor activity, an inability to drink through a face mask and alcohol (which lowers your inhibitions, and thus desire to follow the basic public health measures) makes for a toxic cocktail. "You've gotta look very carefully at things like bars, [which] are a really important place of spreading of infection. There's no doubt about that," Fauci told Chris Hayes on All In. "And that becomes particularly important if you happen to be in an area where there's a high degree of community spread." Put another way: "Bars: really not good, really not good. Congregation at a bar, inside, is bad news. We really have got to stop that," Fauci told a Senate Health, Education, Labor and Pensions (HELP) Committee hearing.
18
Some Ideas for Low-Risk Activities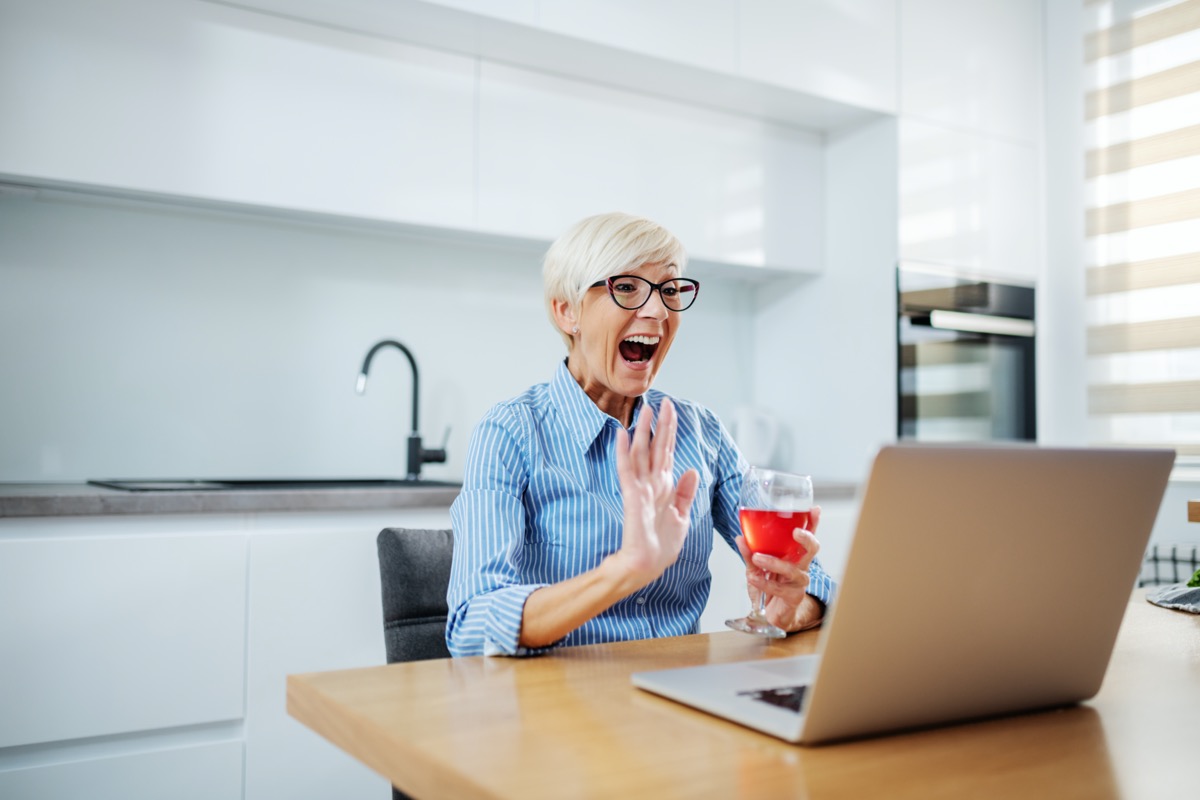 You can still have fun this season without risking exposure to COVID-19. Among the "low risk" activities mentioned by the Texas Medical Association:
Shopping for Gifts Online

Doing a Virtual Holiday Run

Watching Holiday Movies at Home With Your Household 

Viewing Holiday Lights With Your Family In Your Car

Building a Snowman With Your Household

Donating Canned Food
As for yourself, follow Fauci's fundamentals and help end this surge, no matter where you live—wear a face mask, social distance, avoid large crowds, don't go indoors with people you're not sheltering with (especially in bars), practice good hand hygiene, get vaccinated when it becomes available to you, and to protect your life and the lives of others, don't miss these Signs You Have (or Had) COVID, According to Dr. Fauci.
Alek Korab
Alek Korab is a Co-Founder and Managing Editor of the ETNT Health channel on Eat This, Not That!
Read more about Alek