Sam's Club Is Offering This Food Sample Perk for Summer
The first-ever sample event is going on now in a warehouse near you.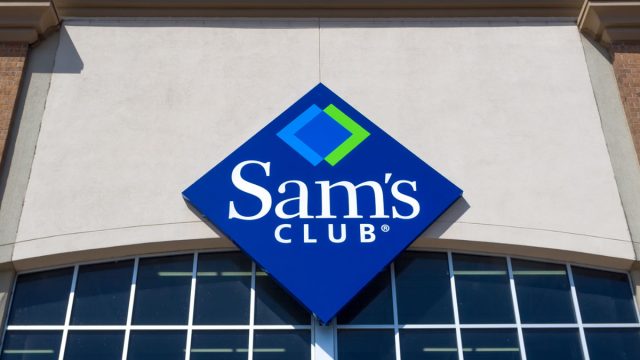 Taste & Tips has been around for 35 years at Sam's Club, but after pausing for the pandemic, it is officially back—with a twist. In addition to trying out products in-store, members will be able to select from an array of Sam's Club samples via a blue food truck that is making stops at various cities this summer.
Related: Grocery Shortages To Expect in 2021, According to Experts
The first-ever Member's Mark Summer Eats Food Truck is hitting the road soon.
"We've got our first-ever Member's Mark Summer Eats Food Truck on the road and stopping at select clubs now through Mid-July," says the senior vice president of private brands and sourcing, Prathibha Rajashekhar, in a post on the wholesale chain's website. "We're serving up delicious Member's Mark summer treats for members to sample going in or coming out of the club."
The free attraction started sampling in late May and runs through July 18.
Related: To get all the latest news about your favorite wholesale grocery store delivered right to your email inbox every day, sign up for our newsletter!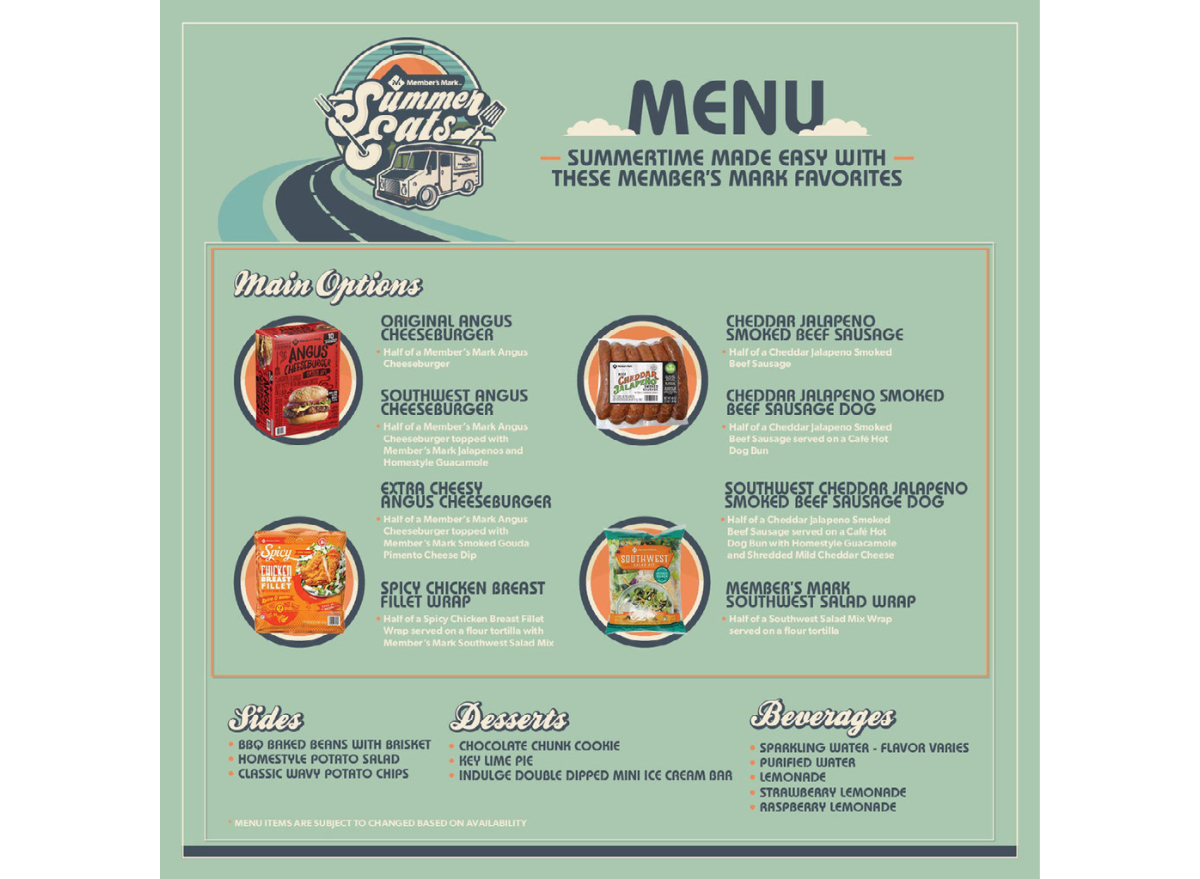 The food truck will showcase Sam's Club's line of products called Member's Mark. Summer staples like the Original, Southwest, and Extra Cheesy Angus Cheeseburgers, Spicy Chicken Breast Filet Wrap, the Cheddar Jalapeño Smoked Beef Sausage, the Cheddar Jalapeño Smoked Sausage Dog, the Southwest Cheddar Jalapeño Smoked Beef Sausage Dog, and the Southwest Salad Wrap will be available to try.
They're not just giving away bites, either. Members get half of a cheeseburger, half a sandwich, half of a sausage, or half the wrap.
Sides are also available and include BBQ beans with brisket, homestyle potato salad, and classic wavy potato chips. For dessert, there's a chocolate chunk cookie, key lime pie, or a double-dipped mini ice cream bar. To wash it all down, there are multiple flavors of sparkling water and lemonade.
"The good news is, once you try items on the menu, you can go right into the club and get the ingredients to make it for your entire family," Rajashekhar says.
Related: Meat Shortages and Price Hikes Expected After World's Largest Supplier Is Hacked
The first stop on the food truck's summer tour was Springfield Mo. from May 26-29, followed by Oklahoma City, Okla. from May 28-30, and June 2-6. It's also headed to Bentonville Ark. those four days in June, followed by Tulsa, Okla, and Little Rock, Ark. from June 9-12 or 13.
From the rest of June and into July until the 18th, Dallas and Fort Worth, Texas, along with Jefferson City, St. Louis, and Kansas City, Mo., and Wichita, Kan. will get a turn.
If your state isn't on the list…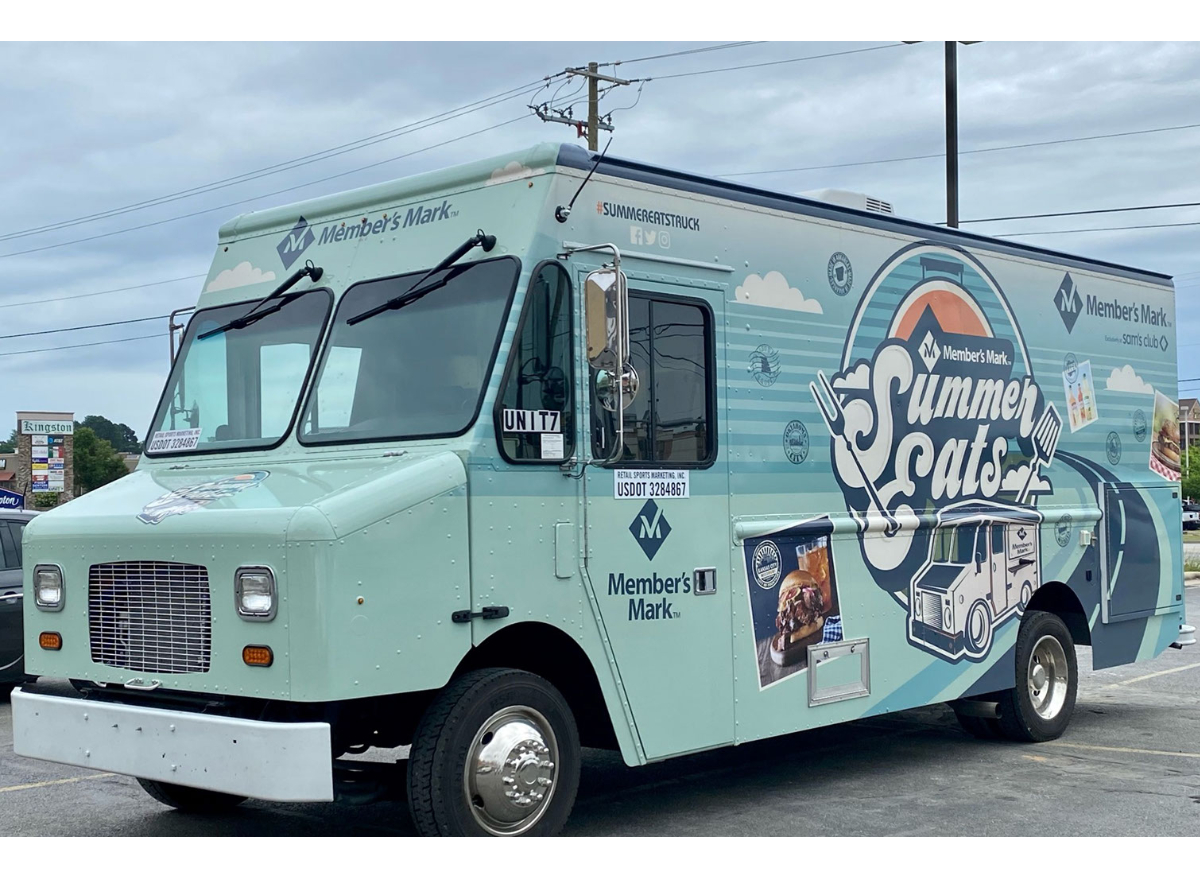 Sam's Club says not to worry—all the Member's Mark items are available at all 600 locations.
This isn't the only wholesale chain to bring samples back recently. Costco Is Officially Bringing Back These 4 Beloved Warehouse Perks.
Amanda is a staff writer for
Eat This, Not That!
.
Read more