This Beloved Candy Is Coming Back After a Severe Shortage
Production of seasonal candies was impacted by the COVID-19 pandemic.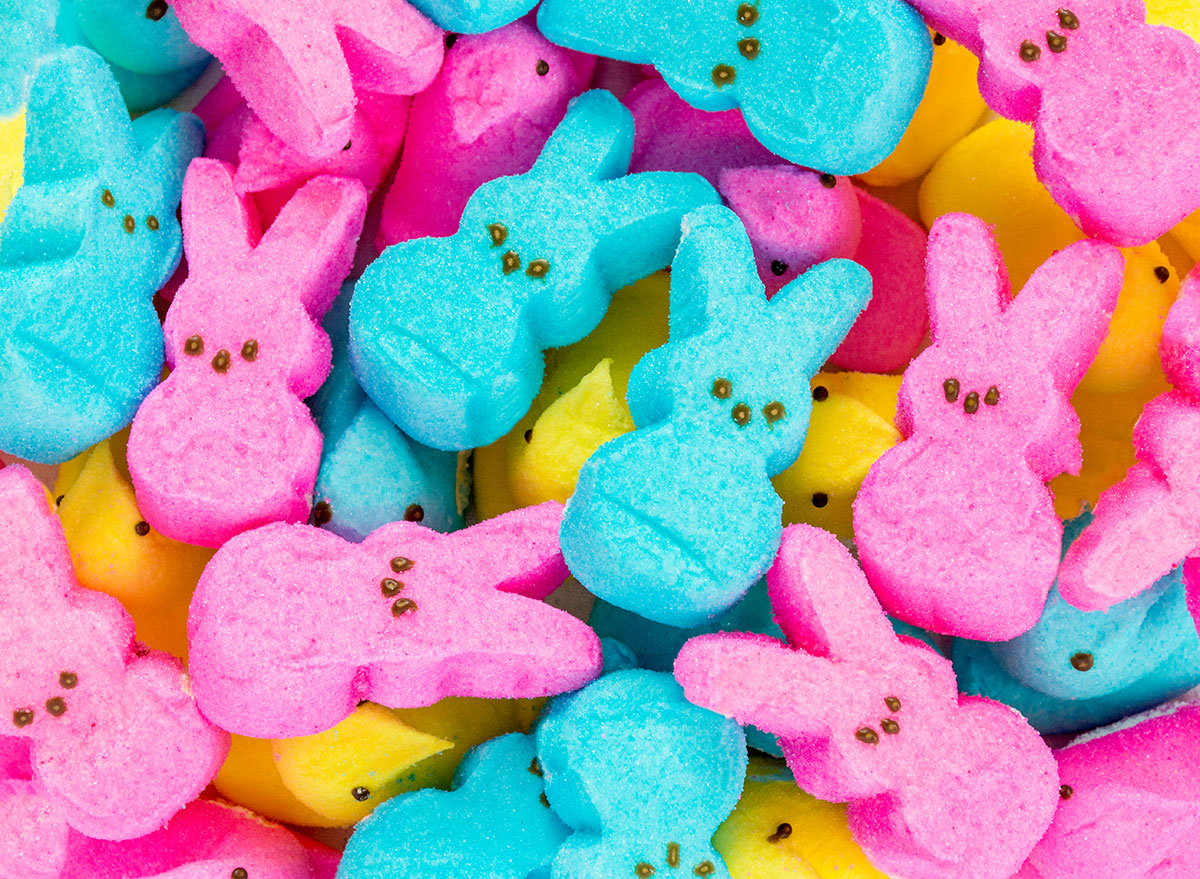 After the production of seasonal candies was suspended last year because of the COVID-19 pandemic, new Peeps in fun holiday shapes are returning to grocery store shelves in time for Easter on April 4.
Just Born Quality Confections, the iconic candy's parent company, shut down two factories in Pennsylvania last March due to concerns over worker safety. Luckily for Peeps connoisseurs, the manufacturer revealed that all of its Easter marshmallow treats had already been "produced and shipped to retailers" at the time of the closure. (Related: Grocery Shortages To Expect in 2021, According to Experts.)
Though limited production resumed in May, the company announced in September that it had made "the difficult decision" to forego production of its seasonal candies in order to meet "the expected overwhelming demand" for the Easter season in addition to everyday candies.
Now, we're getting an official peep into the factory for confirmation that new yellow chicks are on their way to store shelves. And aren't they a sight for sore eyes?
But there's more: The brand's Twitter account also posted videos of pink bunnies on the factory conveyor belt, meaning grocers are likely to have multiple shapes and colors to celebrate the upcoming spring and holiday seasons. Whether there will be as many new flavors as last year to jazz up our Easter baskets remains to be seen. Eat This, Not That! has reached out to Just Born for comment.
In its September statement about what's next for Peeps, Just Born said to expect its other fluffy treats, including pumpkins and Christmas trees, to make a comeback in 2021. To get the latest grocery store news delivered right to your email inbox every day, sign up for our newsletter!
Amanda McDonald
Amanda has a master's degree in journalism from Northwestern University and a bachelor's degree in digital journalism from Loyola University Chicago.
Read more about Amanda