One Major Side Effect of Working From Home, Says Science
Not everyone is better off working from the couch.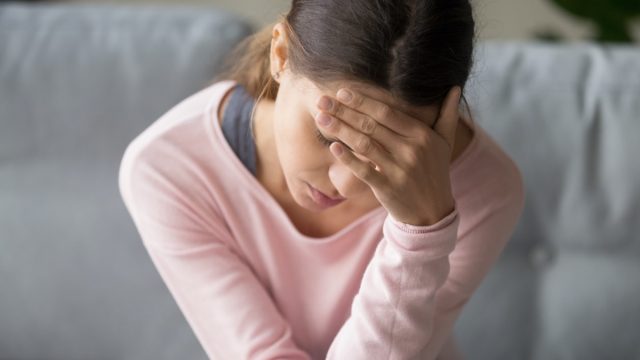 The COVID-19 pandemic has altered the way people work for the foreseeable future. While many people are returning to the office now that vaccination rates are increasing, many companies have opted to allow their employees to continue working at home. Some have even gotten rid of physical offices altogether. While some people are more than happy to turn in their office building key for a home office setup, there is one side effect of working from home to look out for, according to science. Read on to find out what it is. 
RELATED: 19 Ways You're Ruining Your Body.
Working From Home Can Have a Negative Impact On Your Mental Health
According to a 2020 Emotional Intelligence study from The Martec Group, the majority of employees didn't actually like working from home, with many reporting that it had a negative impact on their mental health. 
84% of employees said that working from home was not for them and that it's negatively impacting their mental health and their productivity. Prior to the pandemic, 62% of employees reported positive mental health, 57% had job satisfaction and 56% had good job motivation. However, during the pandemic mental health plummeted to 28%, job satisfaction to 32% and job motivation to 36%. Stress also increased when employees had to start working from home. 42% reported increased stress levels and worsened focus.
Another study, courtesy Stephanie Andel, an assistant professor of psychology in the School of Science at IUPUI, along with collaborators at York University and the University of North Carolina at Charlotte, also published a study finding that feelings of work loneliness during the pandemic were associated higher depression and fewer voluntary work behaviors. The study was published in the Journal of Occupational Health Psychology.
"We wanted to understand what factors are driving feelings of work loneliness and to understand how this work loneliness influenced employees' psychological health and work behaviors. We looked at three different factors that we thought might drive work loneliness: perceptions of job insecurity, telecommuting frequency and insufficient communication from their companies about how they were responding to the pandemic," she said in a press release. 
"We found each of those factors contributed to feelings of work loneliness, and we also found that work loneliness was associated with depression and fewer voluntary helping behaviors at work."
RELATED: 9 Everyday Habits That Might Lead to Dementia, Say Experts
"Self Compassion" is Crucial, Say the Authors
The study authors suggest that "self compassion" is crucial in maintaining mental health when working from home. "We originally thought if you were more self-compassionate, you might have the energy and mental resources to engage in more helping behaviors at work," Andel said. "However, it turns out that the pattern is opposite of what we expected. Instead, those who were higher in self-compassion were more likely to give themselves a necessary break. We suspect that this may ultimately help them to feel better and help more in the future." And to get through life at your healthiest, Don't Take This Supplement, Which Can Raise Your Cancer Risk.