America's Largest Drive-In Restaurant Just Added an Epic New Cheeseburger to Its Menu
It's a serious upgrade to the chain's beloved grilled cheese sandwich.
America's largest drive-in restaurant is offering a beefed-up take on its classic grilled cheese sandwich.
Sonic Drive-In is adored for its wide variety of food and beverage options. In fact, the chain claims that customers can create no fewer than 1.3 million different distinct orders based on all of the potential customizations to its menu—especially the Slushes, the flavors of which can easily be blended together. (Related: 100 Unhealthiest Foods on the Planet)
And while the restaurant is thought of as a burger chain, it's equally well known for sandwiches—particularly its beloved take on the grilled cheese, which consists of cheese sandwiched between thick slices of Texas toast. Now, for a limited time, Sonic customers have best of both worlds, thanks to the new Grilled Cheese Burger.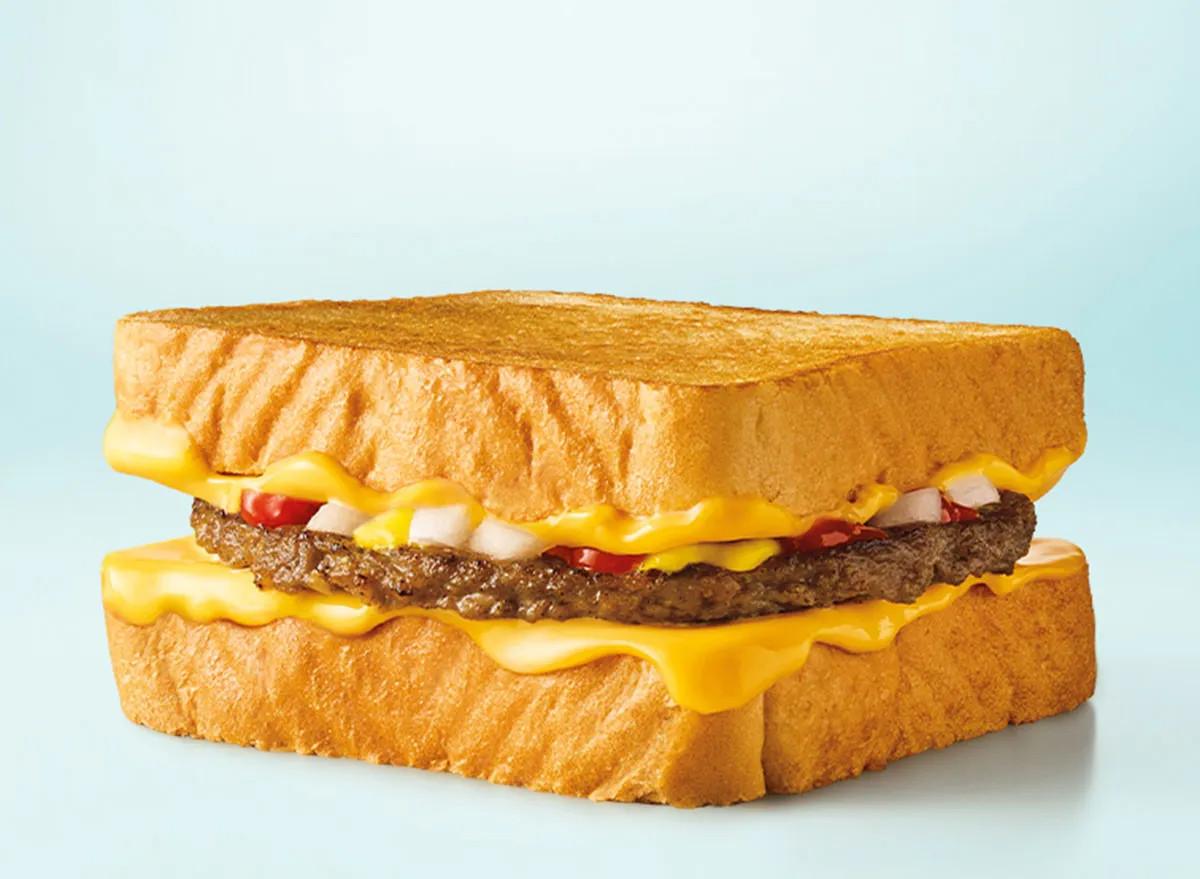 The Grilled Cheese Burger consists of the chain's "famous grilled cheese sandwich on buttery Texas Toast, layered with a perfectly seasoned 100% pure beef patty, mustard, ketchup, and diced onions," according to Sonic's website. Optional additional toppings include bacon, jalapeños, pickles, and sliced tomatoes. There's also a Grilled Cheese Double Burger on the menu, which features two beef patties and three slices of cheese.
Related: 5 Once-Struggling Chains That Have Made a Major Comeback
While a new menu item for Sonic—and surely one that will be popular with many customers—the Grilled Cheese Burger is hardly a radical new innovation. It's more or less a patty melt, albeit one served on interesting bread with a good blend of condiments pre-applied.
The Grilled Cheese Burgers are currently available at Sonic locations for the suggested price of $2.49, according to Chew Boom. The chain has announced that its new burger-sandwich hybrid will remain for sale through Sunday, Sept. 26.  There's also an option to get a Grilled Cheese Burger for half off the menu price when you place your order via the Sonic app, users of which can enjoy other rewards, such as occasional free beverages and other discounts.
For more news about Sonic, check out:
To get all of the latest fast-food news delivered right to your email inbox every day, sign up for our newsletter!
Steven John is a freelancer writer for
Eat This, Not That!
based just outside New York City.
Read more