Your Risk of These "Deadly" Cancers Just Increased, Says New Study
These will be the deadliest cancers in the next 20 years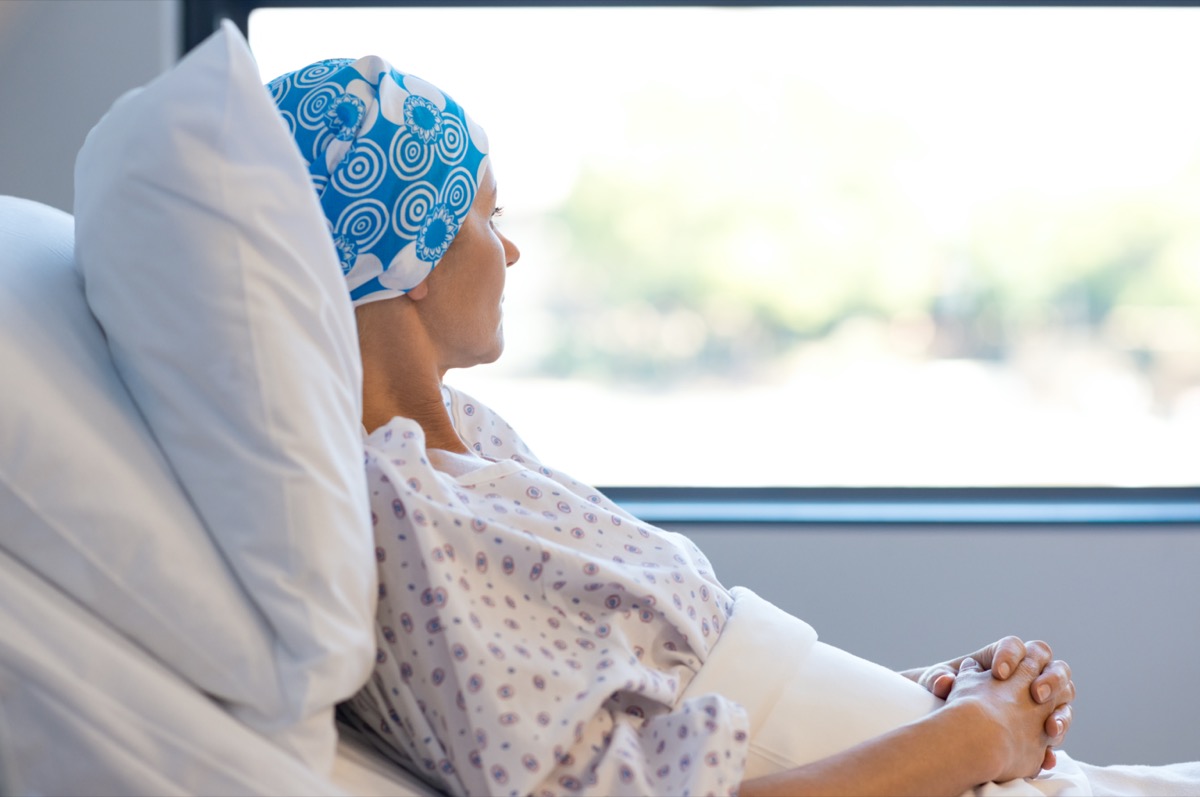 What types of cancer will be the most prevalent—and the most deadly—in the next two decades? And what puts you at risk? A new study published this week in JAMA Network Open predicts how the landscape of cancer will shift between now and 2040. According to the authors of the study, leading cancer incidents and deaths will be "notably different" in the year 2040 compared to the present day. Read on to find out what cancers will be the most deadly in the next twenty years, and why you might be in danger—and to ensure your health and the health of others, don't miss these Signs Your Illness is Actually Coronavirus in Disguise.
These Will Be the Most Common Cancers of the Future, Predict Experts
According to their findings, the most common cancers in 2040 will be breast (364,000 cases) followed by melanoma (219, 000 cases), lung (208,000 cases), and then colorectal (147,000 cases).
Researchers determined that in 2040, lung cancer will remain the deadliest cancer with an estimated 63,000 deaths, followed by pancreatic cancer (46,000 deaths) and liver and intrahepatic bile duct cancer (41,000 deaths), colorectal cancer (34 000 deaths) and then breast cancer, decreasing to the fifth most common cause of cancer death with 30,000 deaths estimated.
The biggest overall changes predicted by researchers are increases in melanoma incidence, pancreatic cancer deaths, and liver cancer deaths, and decreases in prostate cancer incidence and breast cancer deaths.
Senior researcher Dr. Kevin Nead, assistant professor of epidemiology with the University of Texas MD Anderson Cancer Center and one of the authors of the study, told HealthDay that in general, researchers expect that cancer cases will continue to increase overall in the United States as the population becomes "larger and grayer."6254a4d1642c605c54bf1cab17d50f1e
"Our population is going to get bigger, and we're going to see more and more cancers. I think no matter what happens in the future, we're going to see more cancers," Nead said.
Get Screened for Cancer if You Feel You May be at Risk
Researchers hope their findings can help shape the future of cancer research and prevention. 
"The estimated absolute number of cancer diagnoses and deaths will be important to inform the need for professionals trained to recognize and care for individuals with the disease, the burden on insurance companies and government programs, and the allocation of research funding to support future prevention and treatments," the researchers concluded. 
"Our analysis suggests association between cancer screening programs and both the number of cancer diagnoses and the number of deaths in future years. The influence of screening guidelines can be tracked back to changes in incidence and death rates over time for the cancers that do or will represent the most diagnosed and those that cause the most deaths. These findings provide insight to approach cancer types for which awareness is raised, specifically melanoma, pancreatic cancer, liver and intrahepatic bile duct cancers, and colorectal cancer in the group aged 20 to 49 years. Further research investment into effective screening and, where possible, elimination of premalignant lesions, will substantially alter the future burden of cancer on the US population." And to get through this pandemic at your healthiest, don't miss these 35 Places You're Most Likely to Catch COVID.
Leah Groth
Leah Groth has decades of experience covering all things health, wellness and fitness related.
Read more about Leah