Sure Signs You're Getting Omicron Now, Say Doctors
What to know about the COVID strain.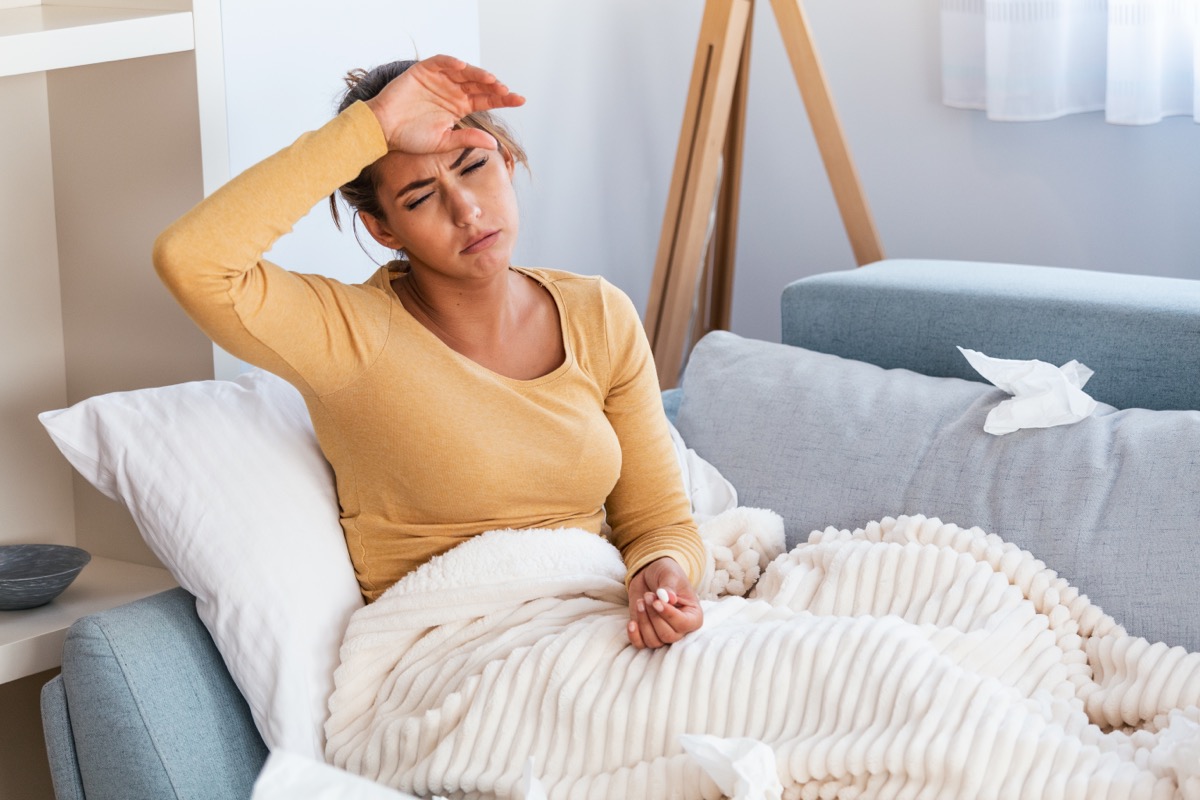 While COVID cases are dropping in certain areas, the pandemic isn't over and Omicron is still infecting thousands of people daily. The highly contagious variant continues to spread across the U.S. and many hospitals remain overcrowded with COVID patients. People have reported symptoms that vary, but are similar to signs of a common cold or flu. If you've been exposed to Omicron or think you have the virus, Eat This, Not That! Health spoke with Julia Walker, a registered nurse with Paloma Health who explained symptoms to watch out for. Read on—and to ensure your health and the health of others, don't miss these Sure Signs You've Already Had COVID.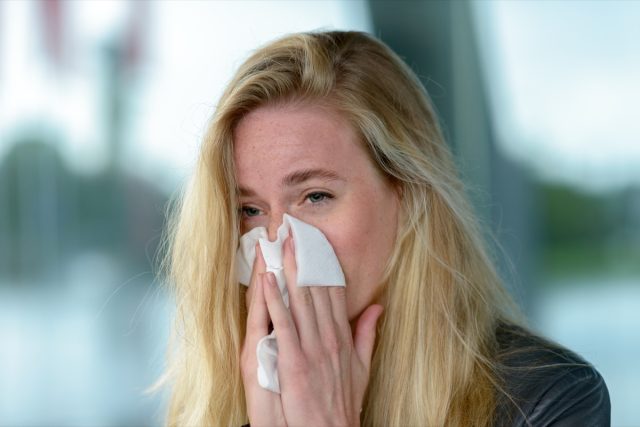 Walker says, "Omicron symptoms tend to be more concentrated on the upper respiratory tract. Many people liken it to a bad cold or sinus infection. Some of the most common symptoms include a sinus headache, runny nose, nasal congestion, sore throat, fatigue, and sneezing. Many people report that one of the first symptoms of Omicron is a sore throat."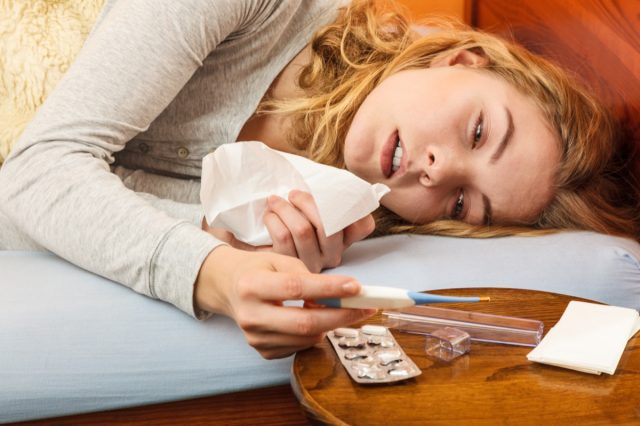 Walker explains, "When news suggested that the Omicron variant was less severe than the Delta variant, people became increasingly lax about getting COVID. And after COVID being around for almost 2 years now, it's no surprise that people are starting to become less reactive to it. With information suggesting that symptoms are mild, hospitalizations are low despite some of the highest rates of infection to date, and reports that it isn't infecting the lungs as much as other strains — it's no surprise that the general feeling with this variant is more relaxed than with others. However, Omicron should not be blown off or not taken seriously. Certainly, while most healthy people will only have mild symptoms, this virus still can cause severe illness in people who are immunosuppressed, including the elderly."6254a4d1642c605c54bf1cab17d50f1e
And according to the
CDC
: "People with COVID-19 have had a wide range of symptoms reported – ranging from mild symptoms to severe illness. Symptoms may appear 2-14 days after exposure to the virus. Anyone can have mild to severe symptoms. People with these symptoms may have COVID-19:
Fever or chills
Cough
Shortness of breath or difficulty breathing
Fatigue
Muscle or body aches
Headache
New loss of taste or smell
Sore throat
Congestion or runny nose
Nausea or vomiting
Diarrhea"
3
How Stress Increases the Risk of Getting COVID
"Stress compromises the immune system, throwing off its ability to fight illness," Walker states. "Stress not only changes our ability to ward off illness but also decreases our ability to do things that keep us healthy, including getting plenty of sleep, eating well, and exercising. Therefore, if you are stressed, you may be at greater risk for contracting Omicron, as the body's defense system is not as robust. Also, the more stressed you are, the more likely you may experience more severe symptoms or a longer duration of illness."
4
How to Treat a Mild Case of Omicron at Home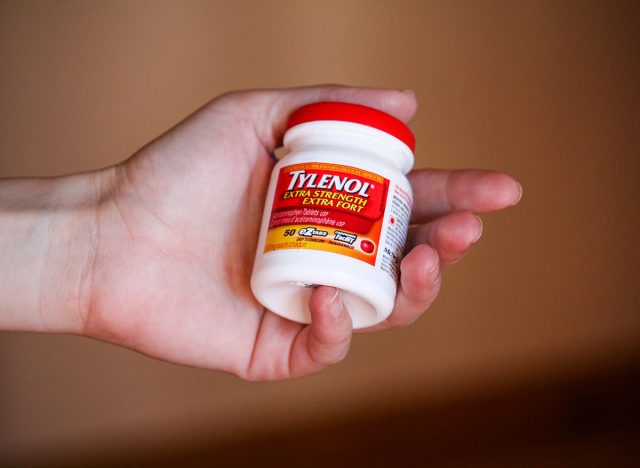 Walker says, "Most people will liken their Omicron symptoms to a head cold. Therefore, treatment is much the same, where you can use over-the-counter nasal decongestants, lozenges for a sore throat, and acetaminophen to treat fever, headaches, and body aches. Aside from OTC medications, you will want to get plenty of rest and fluids, eat nutrient-rich foods, and keep yourself away from other people until your symptoms have subsided."
5
Why Hospitals are Overcrowded with Omicron Patients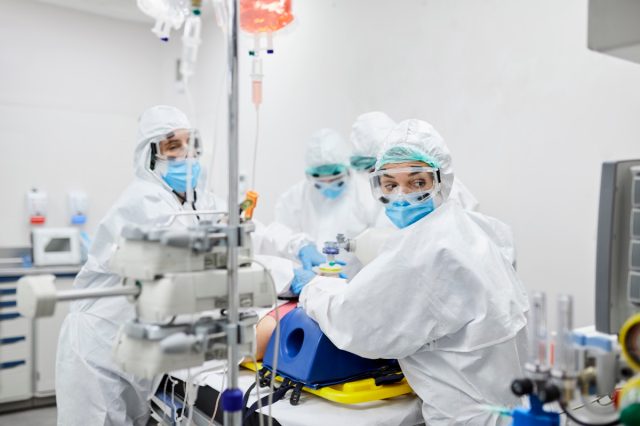 "While the variant is considered less severe, more people have it than ever before and people are not isolated like in the early phases of the pandemic," says Walker. "Therefore, people who are chronically ill, immunocompromised, or older adults are at greater risk of getting infected. We are also seeing a higher number of unvaccinated and unboosted people getting hospitalized." 
6
How to Stay Safe Out There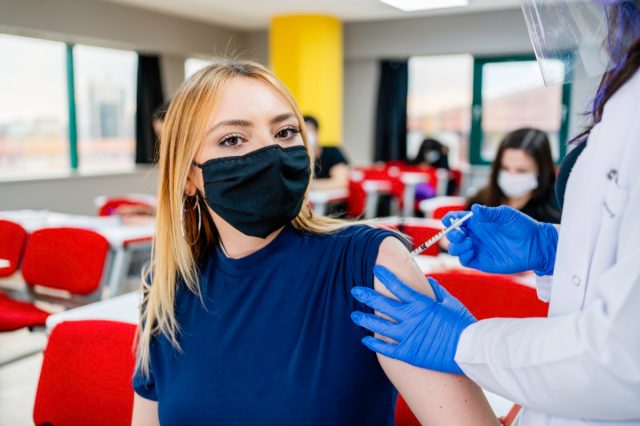 If you suspect you have any of the symptoms mentioned here, get tested ASAP. And follow the public health fundamentals and help end this pandemic, no matter where you live—get vaccinated or boosted ASAP; if you live in an area with low vaccination rates, wear an N95 face mask, don't travel, social distance, avoid large crowds, don't go indoors with people you're not sheltering with (especially in bars), practice good hand hygiene, and to ensure your health don't miss these 101 Health Habits You Didn't Know Were Deadly.
Heather Newgen
Heather Newgen has two decades of experience reporting and writing about health, fitness, entertainment and travel. Heather currently freelances for several publications.
Read more about Heather