Sure Signs You Have an Omicron Infection
How to get tested for Omicron and stay safe, according to experts.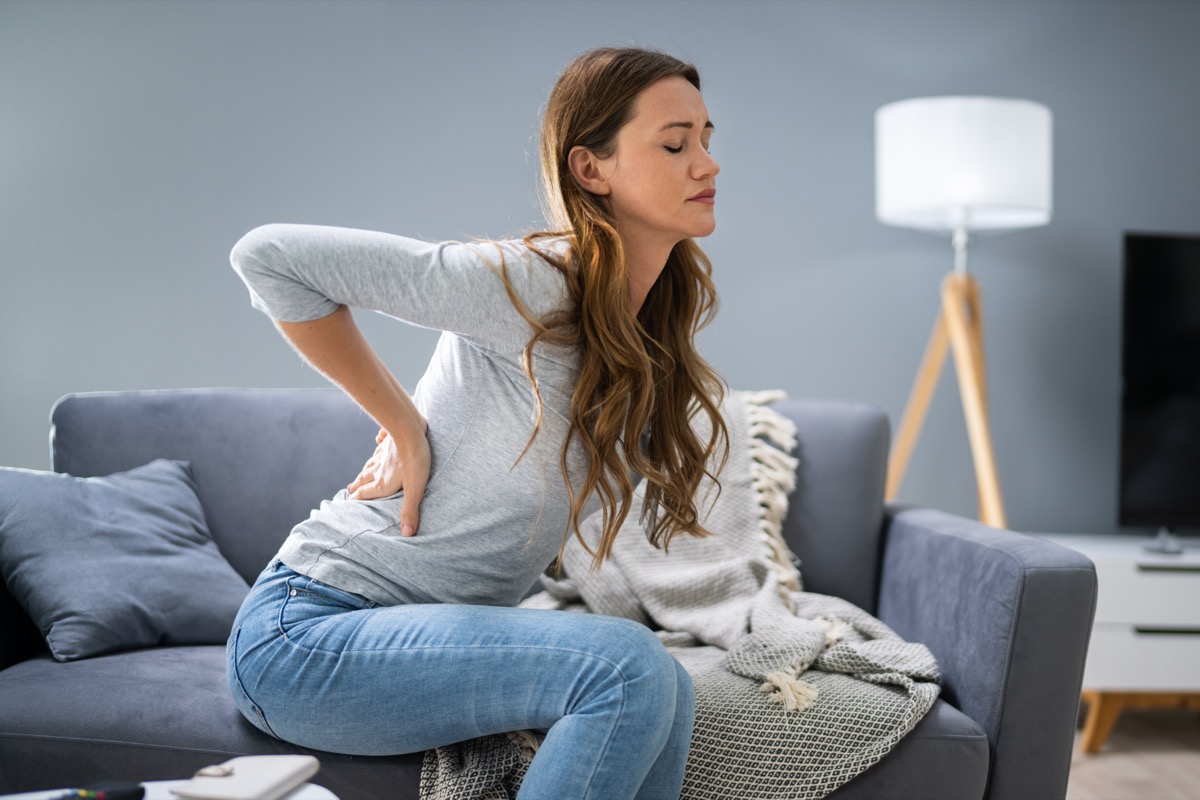 Between the COVID surge and flu season, it seems like we can't escape sickness. Omicron, the latest variant, is spreading like wildfire across the globe, leading Dr. Anthony Fauci, the chief medical advisor to the President and the director of the National Institute of Allergy and Infectious Diseases to predict almost everyone will catch it at some point. "I think, in many respects, omicron, with its extraordinary, unprecedented degree of efficiency of transmissibility, will, ultimately, find just about everybody," Fauci told the Center for Strategic & International Studies. He added that people who are vaccinated will fare much better.  "Those who have been vaccinated and vaccinated and boosted would get exposed. Some, maybe a lot of them, will get infected but will very likely, with some exceptions, do reasonably well in the sense of not having hospitalization and death." People who are not vaxxed, Dr. Fauci said, would experience a more severe case. "Unfortunately, those who are still unvaccinated are going to get the brunt of the severe aspect of this, and although it is less severe on a case by case basis, when you quantitatively have so many people who are infected, a fraction of them, even if it's a small fraction, are going to get seriously ill and are going to die, and that's the reason why it will challenge our health system." With Omicron affecting so many people, it's important to stay informed and take precautions. Eat This, Not That! Health spoke with  Dr. Teresa Bartlett, senior medical officer at Sedgwick who explained the Omicron signs to be aware of and when to see your doctor. Read on—and to ensure your health and the health of others, don't miss these Sure Signs You've Already Had COVID.
1
Omicron Signs to Watch Out For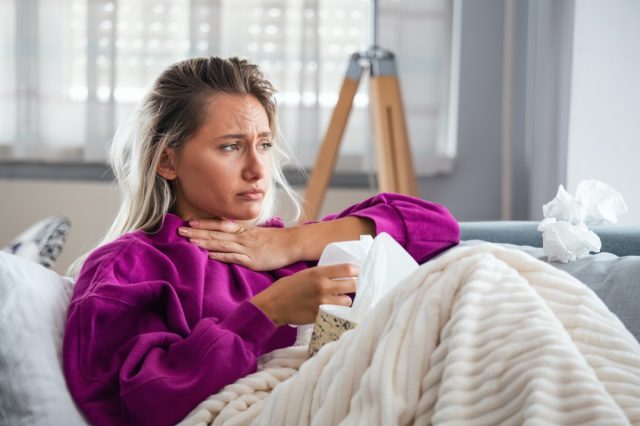 Dr. Bartlett, says, "The majority of people are exhibiting a severe sore throat and describe it like swallowing razor blades, stuffy nose, fever, body aches and a cough. Often the virus starts with a headache and many think they have a sinus infection. Be on the lookout for these symptoms. I have spoken to so many patients who think if they did not lose taste or smell they can't possibly have COVID but that simply is not true."6254a4d1642c605c54bf1cab17d50f1e
Of course, you may experience more severe symptoms, particularly if you are unvaccinated. "People with COVID-19 have had a wide range of symptoms reported – ranging from mild symptoms to severe illness. Symptoms may appear 2-14 days after exposure to the virus. Anyone can have mild to severe symptoms. People with these symptoms may have COVID-19," says the CDC:
Fever or chills
Cough
Shortness of breath or difficulty breathing
Fatigue
Muscle or body aches
Headache
New loss of taste or smell
Sore throat
Congestion or runny nose
Nausea or vomiting
Diarrhea
2
When to Seek Medical Treatment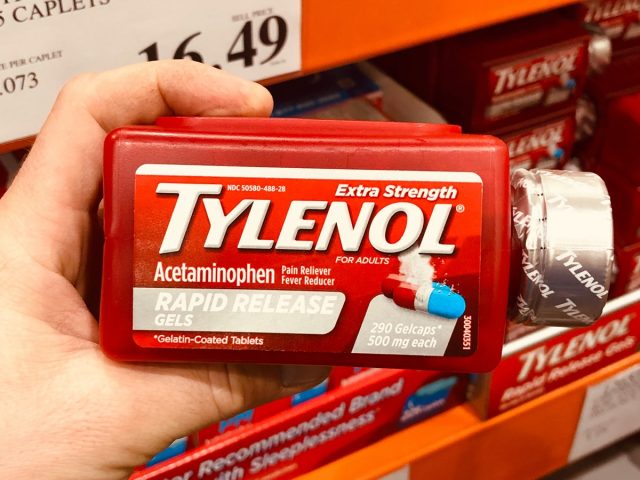 Dr. Bartlett explains, "When you are unable to manage your symptoms at home with over the counter medications such as ibuprofen, Tylenol, Mucinex, cough syrup and lots of liquids to stay hydrated. If you are having difficulty breathing or experiencing chest pain seek medical care immediately."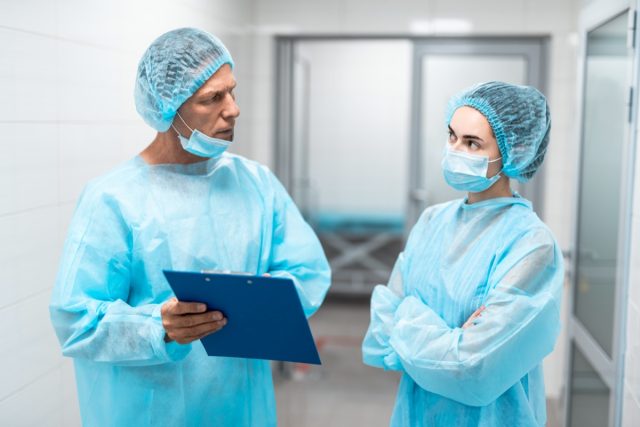 The U.S. is still weeks away from hitting the peak-a time when it's expected COVID cases will decline. Some states in the Northeast and maybe Florida have reached their peak but other states are just getting started with rising cases and hospitalizations. What exactly is a surge?  Dr. Bartlett explains, "A COVID surge is a huge increase in COVID cases that causes concern for public health and hospitals. There are tools when cases begin to spike that enable us to estimate the number of health services that will be needed in a certain population."
4
Why are COVID Cases on the Rise?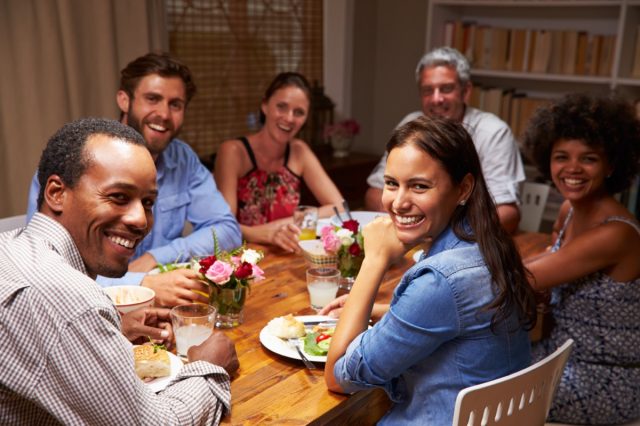 Dr. Bartlett states, "The Omicron variant is spreading quickly across the world. It is a more transmissible variant than those that came before it and for most people the symptoms are more minor. This variant hit at the holiday time when families and friends gathered together. Those that may have had a minor symptom ignored it and then spread it to many others."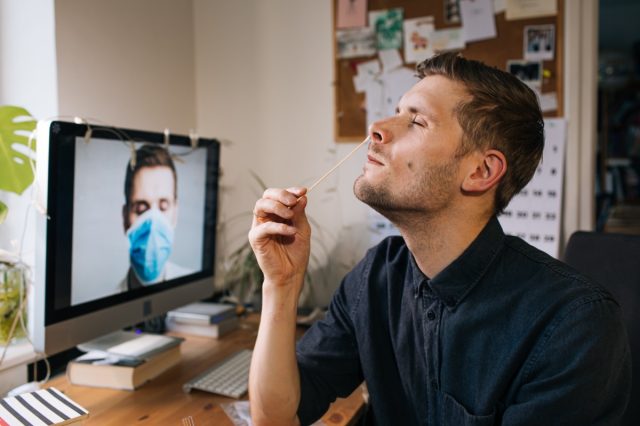 According to Dr. Bartlett, "Omicron uses the same test as COVID 19. Either a rapid or PCR test can be used to detect the virus. Omnicron is one of many variants that have emerged since the pandemic began. These tests will not tell you if you have Omicron, they will tell you if you have COVID. When an individual takes a PCR test and it goes to a lab for analysis, viral samples are then in some circumstances sent to public health for genomic testing. In addition wastewater treatment plants have the ability to test for the virus and know if there is local community spread."
6
How to Help Prevent Getting COVID?
Besides getting vaccinated and boosted, there's other ways to help prevent catching a severe case of COVID. Dr. Bartlett says, "Wear a well-fitting mask, wash your hands frequently and avoid touching your face. Avoid large crowds and places or situations where you may remove your mask even for a short while."
7
How to Stay Safe Out There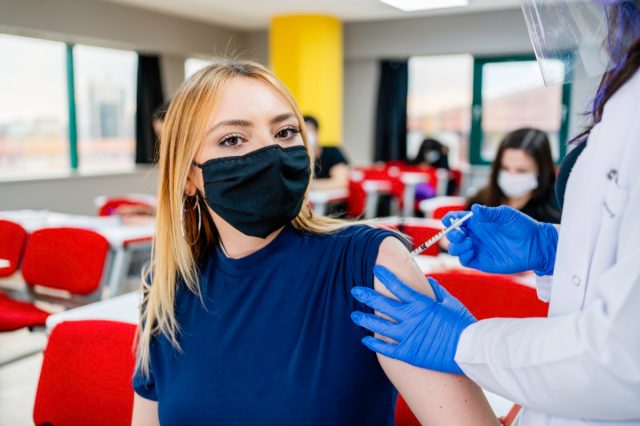 Follow the public health fundamentals and help end this pandemic, no matter where you live—get vaccinated or boosted ASAP; if you live in an area with low vaccination rates, wear an N95 face mask, don't travel, social distance, avoid large crowds, don't go indoors with people you're not sheltering with (especially in bars), practice good hand hygiene, and to protect your life and the lives of others, don't visit any of these 35 Places You're Most Likely to Catch COVID.
Heather Newgen
Heather Newgen has two decades of experience reporting and writing about health, fitness, entertainment and travel. Heather currently freelances for several publications.
Read more about Heather