Surgeon General Just Issued This "Tough" Warning
"We are certainly in a tough part of the wave right now," said Dr. Murthy. 
The U.S. has passed 800,000 COVID cases per day with more than 158,000 hospitalized COVID patients, fueled by the "more transmissible" Omicron variant. "Hospitals are overwhelmed. ICUs are jammed," This Week host Martha Raddatz said this morning. Meanwhile, although the Biden administration says Americans will soon get free at-home COVID tests, senators from both sides of the aisle are vocally concerned why they are coming so late. (In a few states, the Omicron wave is already peaking.) How can you stay safe? Raddatz spoke with the U.S. Surgeon General Vivek Murthy to find out. Read on for 5 life-saving pieces of advice—and to ensure your health and the health of others, don't miss these Sure Signs You've Already Had COVID.
1
Surgeon General Warned "We Are in a Tough Part of the Wave Right Now"
"We are certainly in a tough part of the wave right now," said Dr. Murthy. "Case numbers are high and hospitalists are struggling. It's one of the reasons why we have urged so many people from the federal government to support hospital systems and why we've sent millions of pieces of equipment to them with regard to testing." Speaking of testing, he said of the government's response: "We have more to do. And, you know, the investments that were made, the billions of dollars, the use of the DPA, the approval of nine more tests by the FDA, those actually helped us to dramatically increase our testing in 2021, a quadrupling in fact of supply of testing in the last few months of the year. But when Omicron came and created an extraordinary demand, it's why the US, the UK and other countries found themselves without as much testing as they needed, but we are pulling out the stops on testing right now," he promised, "It's why, in addition to the 50 million tests we sent to community health centers, in addition to the 20,000 locations where people can get free tests—" the US has ordered a billion rapid tests.
2
Surgeon General Said "It's Going to be a Tough Few Weeks" so Get Boosted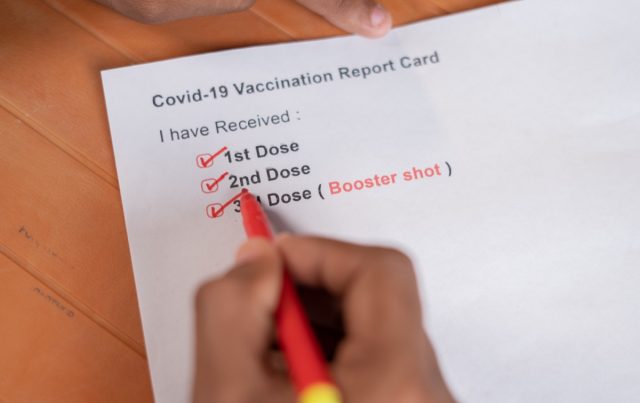 "This is about testing," he added, "but our response is bigger than that as well. It's also about ensuring that we get more people vaccinated and boosted. It's one of the lessons of Omicron that the vaccines are working to keep people safe to keep them out of the hospital, to save their lives. We just need to get millions and more people boosted, work on expanding our testing supply. And there's an untold story here about our therapeutics. We have more medications, oral and IV medications to treat COVID-19 this month in January than we've had it any other month during this pandemic." He added: "This is a tough time. It's gonna be a tough few weeks, but we will get through it."6254a4d1642c605c54bf1cab17d50f1e
3
Surgeon General Said Here's the Latest on Getting Vaccinated for Work
The Supreme Court just blocked Biden's vaccine mandate for large companies, but kept it in place for certain healthcare workplaces. "The workplace requirement being blocked was very disappointing," said Dr. Murthy. "It was a setback for public health because what these requirements ultimately are helpful for is not just protecting the community at large, but making our workplaces safer for workers as well as for customers. So the good news though, is that there is nothing that stops workplaces from voluntarily putting these requirements in place. In fact, many have done so already—a third of the Fortune 100 companies have put these in place and many more outside have, so we are certainly encouraging companies to put requirements in place voluntarily and in the healthcare setting, that ruling was upheld. And so 17 million healthcare workers and settings across the country are still required now to get vaccinated. That will help create a safer environment for healthcare workers, as well as for patients."
4
Surgeon General Here's Why You're Seeing Breakthrough Infections
It's "critically important that the purpose of vaccines, an important job of vaccines is to save your life and keep you outta the hospital. And by that measure, these vaccines and boosters are working and working well. Now you will hear as many people have already heard about people who have, uh, cases that are mild or asymptomatic people who test positive despite being vaccinated or boosted, but keep in mind what is often being prevented. There is a more severe infection as the percentage of people who are vaccinated, boosted increases in a population, you will hear of more breakthrough cases in part because that pool of individuals is greater."
He added: "So what we've seen from our data from United States and from other countries is that if you are vaccinated and boosted your level of protection against symptomatic infection, is in the around 75 to 80% range. Okay? So that's not a hundred percent. It still means that there are about there's about 20% possibility there in terms of positive cases, despite being vaccinated,  compared to an unvaccinated population. But keep in mind that still shows a very strong efficacy overall against preventing symptomatic disease."
5
How to Stay Safe Out There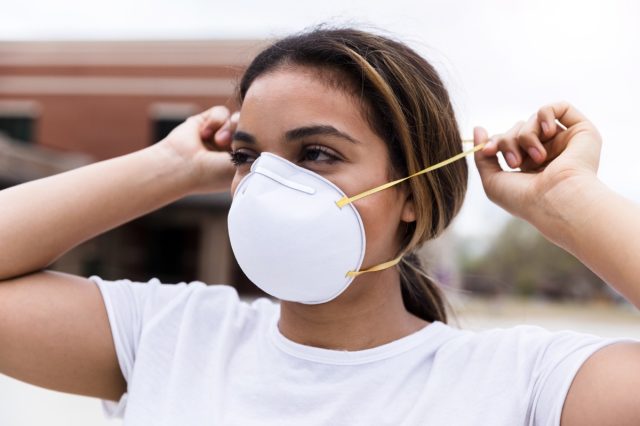 Follow the public health fundamentals and help end this pandemic, no matter where you live—get vaccinated or boosted ASAP; if you live in an area with low vaccination rates, wear an N95 face mask, don't travel, social distance, avoid large crowds, don't go indoors with people you're not sheltering with (especially in bars), practice good hand hygiene, and to protect your life and the lives of others, don't visit any of these 35 Places You're Most Likely to Catch COVID.
Alek Korab
Alek Korab is a Co-Founder and Managing Editor of the ETNT Health channel on Eat This, Not That!
Read more about Alek