"Younger" Star Sutton Foster Reveals the Exact Workout That Keeps Her Fit
The star's intense workout routine has a surprising philanthropic twist.
There's a reason multi-hyphenate actor Sutton Foster has managed to convincingly portray a 20-something on Younger: the star's incredible energy makes her seem effortlessly ageless. It's not just the joy she takes in her work that fuels Foster's lively on-screen and stage performances, though—the actor's high-intensity fitness routine provides her the energy and strength she needs to tackle those long hours on set.
In a new post to her Instagram stories, Foster reveals the workout routine that's kept her fit during the pandemic.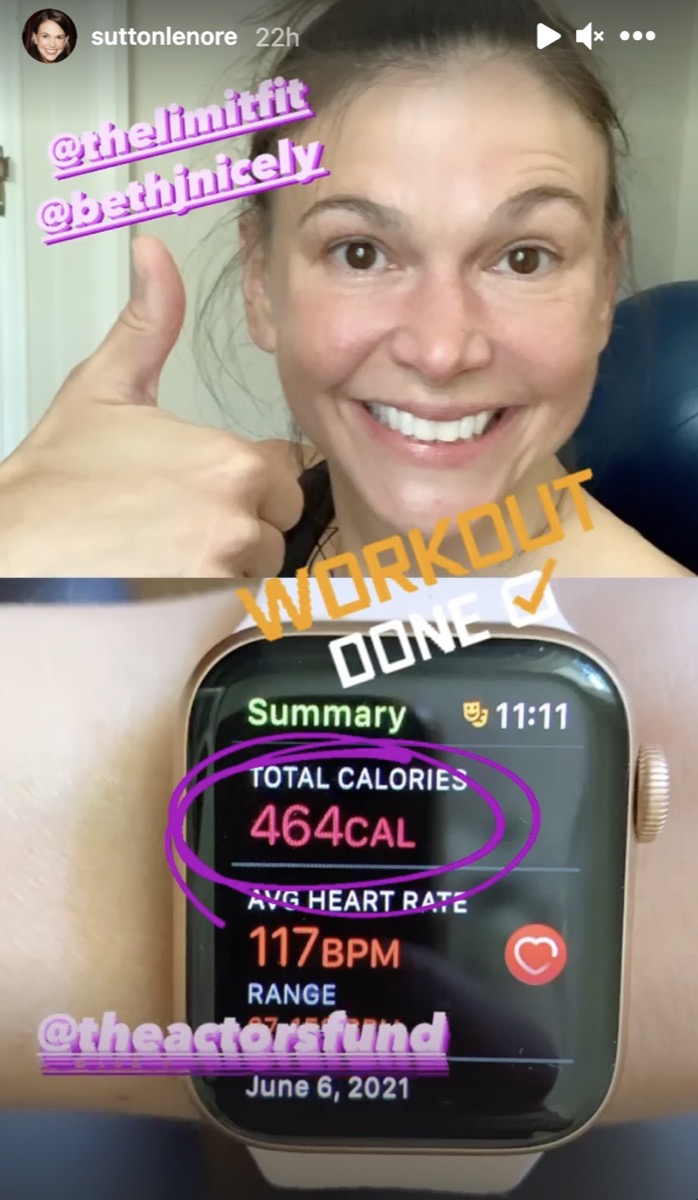 Over the past year, Foster and trainer Beth Nicely have been teaming up for a free weekly HIIT cardio class, distributed through Nicely's fitness company, The Limit, via Instagram. The intense workout—dubbed "Death by Beth" by many of Nicely's clients—keeps fans coming back week after week.
RELATED: For the latest celebrity health and fitness news delivered to your inbox, sign up for our newsletter!
Plus, in an August 2020 Instagram post, Foster revealed that she would be donating a dollar for every calorie she burned during Nicely's Sunday morning workouts to The Actors Fund, a nonprofit organization that helps provide financial assistance and services to entertainment professionals. Considering how intense Nicely's workouts are, Foster's donations have been significant—based on her most recent workout snap, the actor donated $465 this past week alone.
Foster is just one of several stars who've become enamored with Nicely's exercise plan. The workout has drawn the attention of stars like Jennifer Garner, who has tackled the tough workouts from home amid the pandemic as well.
"Every morning of quarantine I have subjected myself to the evil, wonderful ways of @thelimitfit. @bethjnicely is sweet but, as they say, a psycho. ?♥️? We have done mostly HIIT workouts (????), but occasionally, I get invited to the cool kids' club and join Beth and @suttonlenore's hour of dance cardio craziness," Garner said of the workouts in a 2020 Instagram post.
The Limit has been quite involved in philanthropic efforts during the pandemic. In 2020, Foster revealed on social media that The Limit's Saturday morning donation-only cardio dance classes had raised over $22,000 for Save the Children, Color of Change, and Grassroots Law.
While her exercise routine may be intense, Foster admits her diet is anything but. "My food philosophy is everything in moderation; I have found that restriction doesn't work for me," she told Women's Health in 2020. "As soon as I tell myself that I can't eat something, I just want it more."
And for more on how your favorite celebrities stay fit, check out Nicole Scherzinger Reveals the Exact Workout That Gave Her Six-Pack Abs.
Sarah Crow is a senior editor at
Eat This, Not That!
, where she focuses on celebrity news and health coverage.
Read more