Telltale Signs You Had COVID Already, Say Experts
What we know about Long COVID so far, according to doctors.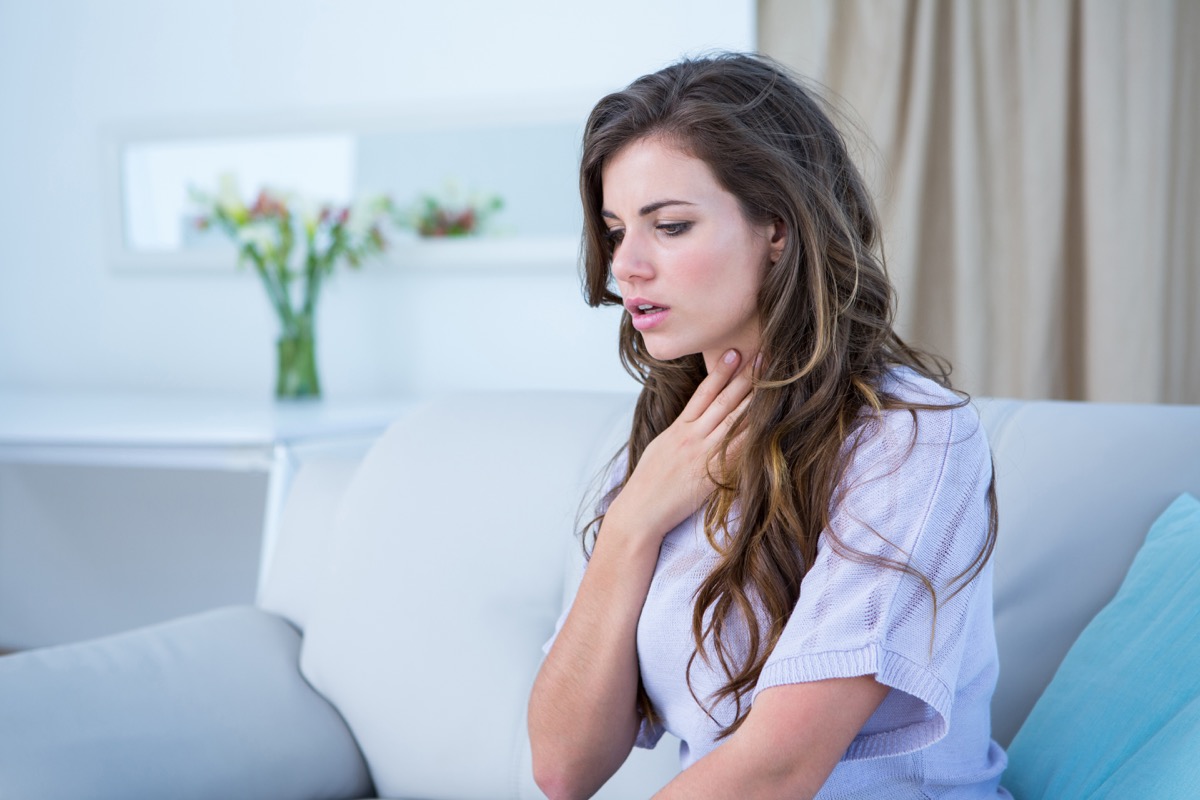 1
Common Long COVID Symptoms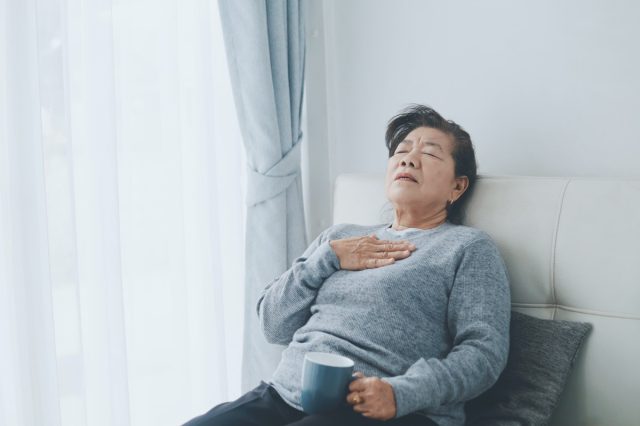 Dr. Tom Yadegar, pulmonologist and medical director of the intensive care unit at Providence Cedars-Sinai Tarzana Medical Center explains, "A common long COVID-19 presentation that is seen mostly in young to middle-aged otherwise healthy women is persistent shortness of breath, palpitations, and dizziness, a condition known as POTS (Postural Orthostatic Tachycardia Syndrome). Similar to the various immune system complications observed in acute COVID-19, POTS presentations can slightly vary between patients. Unfortunately, many of these symptoms mimic generalized anxiety, and patients, particularly females, suffering from these symptoms are tasked with self-advocacy to elucidate the true etiology behind their condition." Adds the CDC: "People commonly report experiencing different combinations of the following symptoms:
Difficulty breathing or shortness of breath
Tiredness or fatigue
Symptoms that get worse after physical or mental activities (also known as post-exertional malaise)
Difficulty thinking or concentrating (sometimes referred to as "brain fog")
Cough
Chest or stomach pain
Headache
Fast-beating or pounding heart (also known as heart palpitations)
Joint or muscle pain
Pins-and-needles feeling
Diarrhea
Sleep problems
Fever
Dizziness on standing (lightheadedness)
Rash
Mood changes
Change in smell or taste
Changes in menstrual period cycles"
2
When You Got COVID Matters
Dr. Millie Lytle ND, MPH – Head of Coaching for Mymee says, "This question may be easier said than done. Many people think they got COVID between December 2019 and February 2020 when a weird flu was going around, and yet evidence points to the contrary — they have no antibodies, and the authorities say it wasn't here yet. On the other hand, even more people ended up with Long COVID who were exposed to and suffered from the acute illness prior to the development of reliable testing, and have been suffering since the spring and summer of 2020 from a series of symptoms we consider classic to COVID. If you're suffering with a loss of taste and smell, persistent fatigue, heart pounding, shortness of breath, dizziness, buzzing, headaches, inability to exercise and a low grade fever for at least a month or two since having had a virus, even a mild one, you likely had COVID even if you didn't test positive for it."6254a4d1642c605c54bf1cab17d50f1e
Dr. Jagdish Khubchandani, MBBS, Ph.D. Professor of Public Health New Mexico State University explains, "The symptoms differ based on various studies. No set number or types of symptoms are required for diagnosis. Also, no persistence of original symptoms of COVID-19 infection are a prerequisite for having long COVID- symptoms can be entirely new. What is known from studies is that there is never a single symptom, but a cluster of symptoms. Also, broadly, it can be said that long COVID has three symptom categories — respiratory symptoms, symptoms from other body organs (e.g. metabolic, gastrointestinal, nervous system, and others), and general worsening of quality of life as an indicator."
4
Long Haul COVID is a Mystery
"The risk of long COVID is not well predicted," Dr. Khubchandani states. "For example, while we know that obesity, diabetes, smoking, and chronic diseases can cause severe outcomes in people who get the COVID-19 infection, these risk factors have not been well linked with long COVID and even those with no symptoms during infection can have long COVID, making it a mystery."
According to Dr. Khubchandani, "Psychiatric problems are also being discussed as one of the most common sequelae of COVID infections, with depression and anxiety being the most common psychiatric issues in the infection survivors. 1-30 percent of individuals report having anxiety and depression symptoms as a part of long COVID." 
6
How to Stay Safe Out There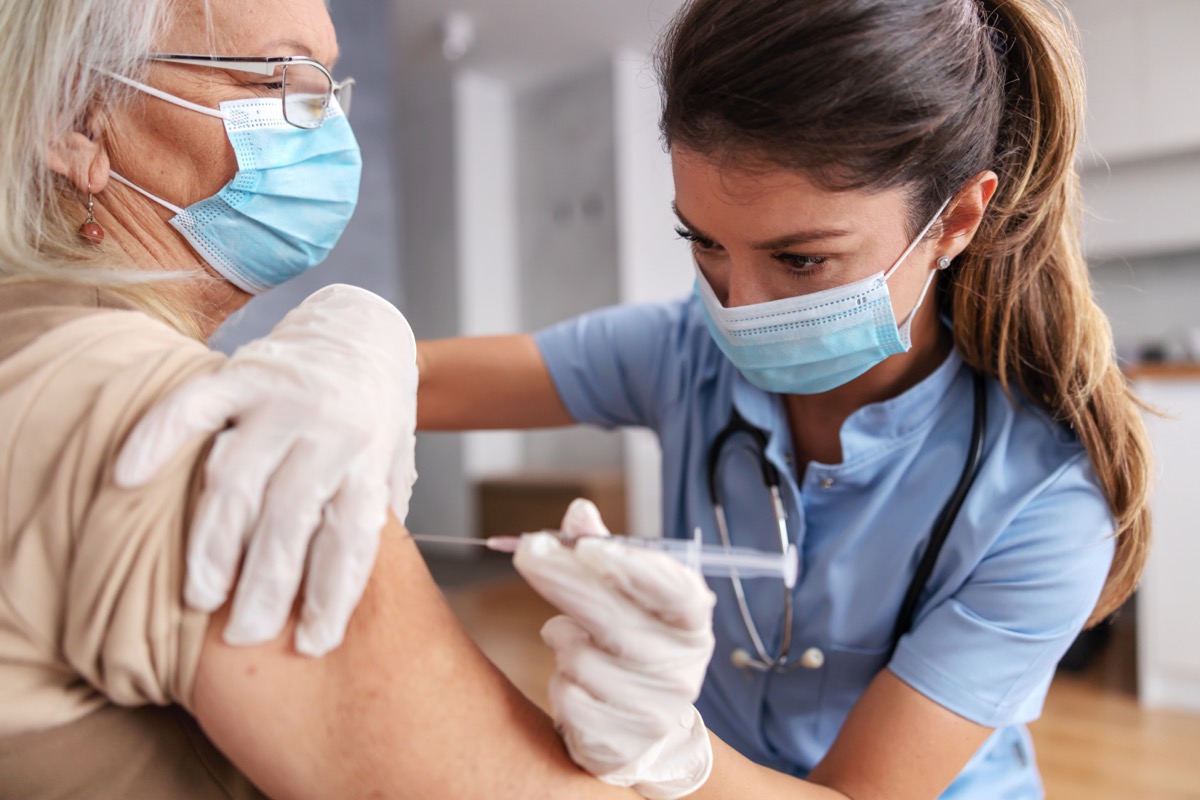 Follow the public health fundamentals and help end this pandemic, no matter where you live—get vaccinated or boosted ASAP; if you live in an area with low vaccination rates, wear an N95 face mask, don't travel, social distance, avoid large crowds, don't go indoors with people you're not sheltering with (especially in bars), practice good hand hygiene, and to protect your life and the lives of others, don't visit any of these 35 Places You're Most Likely to Catch COVID.
Heather Newgen
Heather Newgen has two decades of experience reporting and writing about health, fitness, entertainment and travel. Heather currently freelances for several publications.
Read more about Heather