This Was the Best Food-Related Super Bowl Commercial Last Night
This one undoubtedly reigns supreme.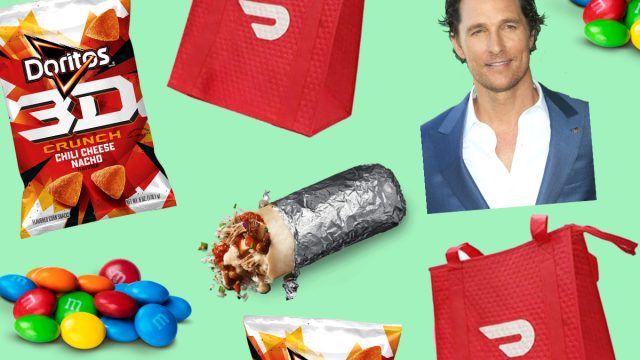 Last night the game of the year aired—and so did the year's best and worst food-related Super Bowl commercials.
On Sunday, millions of Americans watched the Tampa Bay Buccaneers defeat the Kansas City Chiefs. They also watched The Weeknd perform some of his best hits alongside his "bandaged army" during the halftime show as well as dozens of memorable (and forgettable) commercials from some of your favorite brands. (Related: 100 Easiest Recipes You Can Make).
Despite notable brands opting out of securing a slot this year, many brands such as Hellmann's and Oatly were able to score game day commercials for the very first time. Budweiser, for example, didn't run a commercial for the first time in 37 years in order to help "raise awareness and improve education around COVID-19 vaccines," as Adweek reports.
Still, many beloved brands continue to secure airtime during the Super Bowl year after year, many of which were among the best commercials of the evening during this year's event. Before we reveal our top pick of the night, we wanted to share what we believe earns the rightful spot as the runner-up.
The second best food-related commercial of the night was…
M&M's 'Come Together'
The 30-second commercial showcased a series of relatable, yet very different scenarios that capture that moment of "wow, I really shouldn't have said that." Featuring "Schitt's Creek" star Dan Levy, the camera pans to the actor as he slides a pack of M&M's to two life-size M&M's (both of which are shown standing in their chairs while wearing heels) and says, "I promise I will not eat any more of your friends." Meanwhile, another life-size M&M is held captive in his car, pounding on the windows.
Overall, the commercial scored big points for being whimsical and concise.
And now, the very best food-related commercial of the night was…
DoorDash's 'The Neighborhood'
How could this not be one of your favorite commercials from the whole night? The minute-long narrative offers nostalgia with familiar faces from "Sesame Street" dancing and singing along to a tune that's reminiscent of the show, but with a modern twist. DoorDash's commercial features Hamilton's own Daveed Diggs as he strolls through the neighborhood, highlighting all of the local businesses that are available on the app, offering anything from cuisine to wellness items such as shampoo and even toilet paper. The commercial ends with Diggs saying, "Get more from your neighborhood, from convenience to corner stores."
We appreciated how this commercial cleverly married elements from the most successful Broadway show of our time with one of the most cherished childhood shows in the history of television.
For more, be sure to sign up for our newsletter.
Cheyenne Buckingham is the news editor of
Read more