Doctor Warns "Do Not" Do This Before Your Vaccine
Ensure your vaccination is safe and efficient with these expert tips.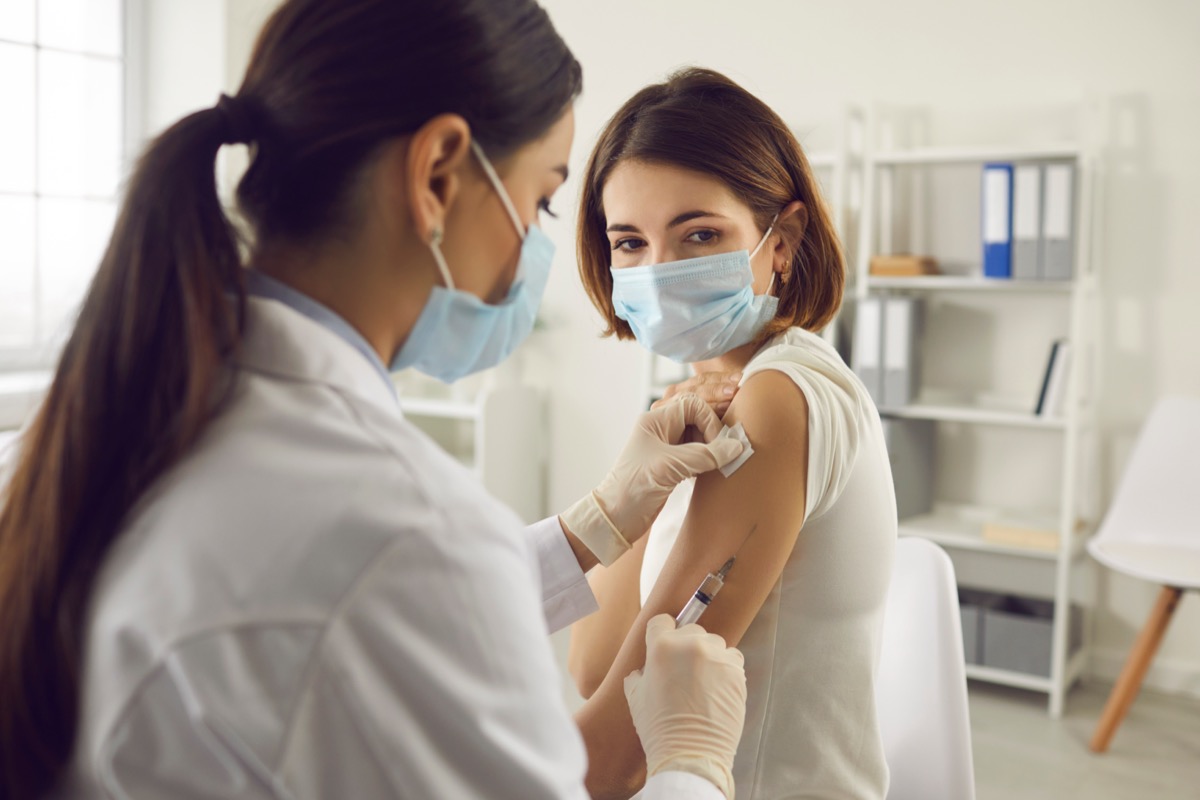 Millions of Americans are patiently waiting for their turn to get one of the three COVID-19 vaccines currently approved by the FDA. However, before you receive notice that you are eligible, there are a few things you should know prior to showing up at your vaccination appointment. More importantly, there are a handful of things you shouldn't do during the 24 hours prior. Here are six things you should avoid doing before you vaccine, according to Baltimore based Internal Medicine Physician Vivek Cherian, MD. Read on to find out what not to do prior to your vaccine appointment—and to ensure your health and the health of others, don't miss these Sure Signs You've Already Had Coronavirus. 
1
Don't Take OTC Pain Medicine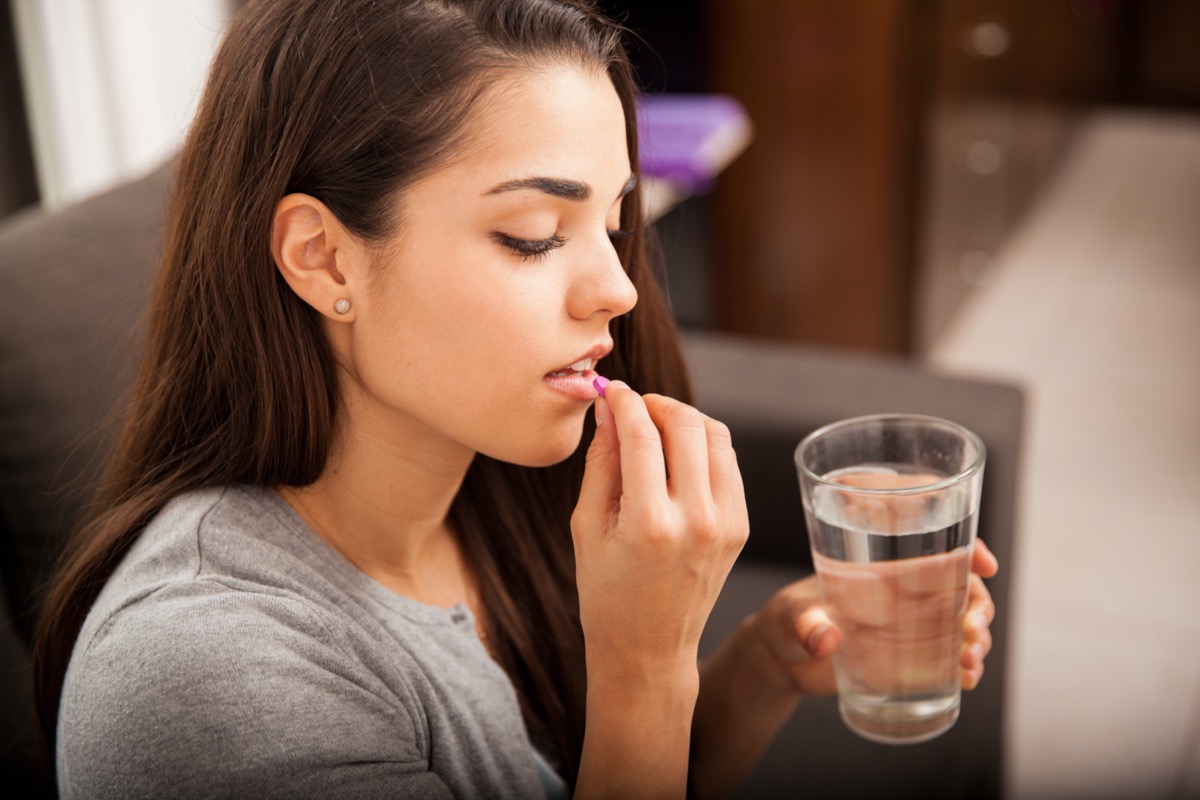 Whether you are experiencing some pain prior to getting the vaccine, or simply want to prevent any during the process, it might be tempting to pop a pill. However, Dr. Cherian strongly suggests resisting the urge. "Because there's a possibility that over the counter pain relievers, such as Tylenol or Advil, might weaken your immune system's response to vaccines, it's best not to take them before you get your shot," he tells Eat This, Not That! Health. "But once you've received the vaccine, feel free to take these medications if you feel you need them."
Don't drink alcohol the day before your vaccine, advises Dr. Cherian. "Drinking too much alcohol can lead to dehydration or even result in a hangover," he points out. "Instead, stay hydrated and drink lots of water before your vaccine!"
3
Don't Pull an All-Nighter
Dr. Cherian strongly urges against staying up the night before you get your vaccine. "Getting high-quality sleep can support your immune system to help your body mount an efficient response to the vaccine," he explains. "This is important not only the night before you get your vaccine, but also the night of the day you receive your vaccine as well!"
4
Don't Plan On Immediately Leaving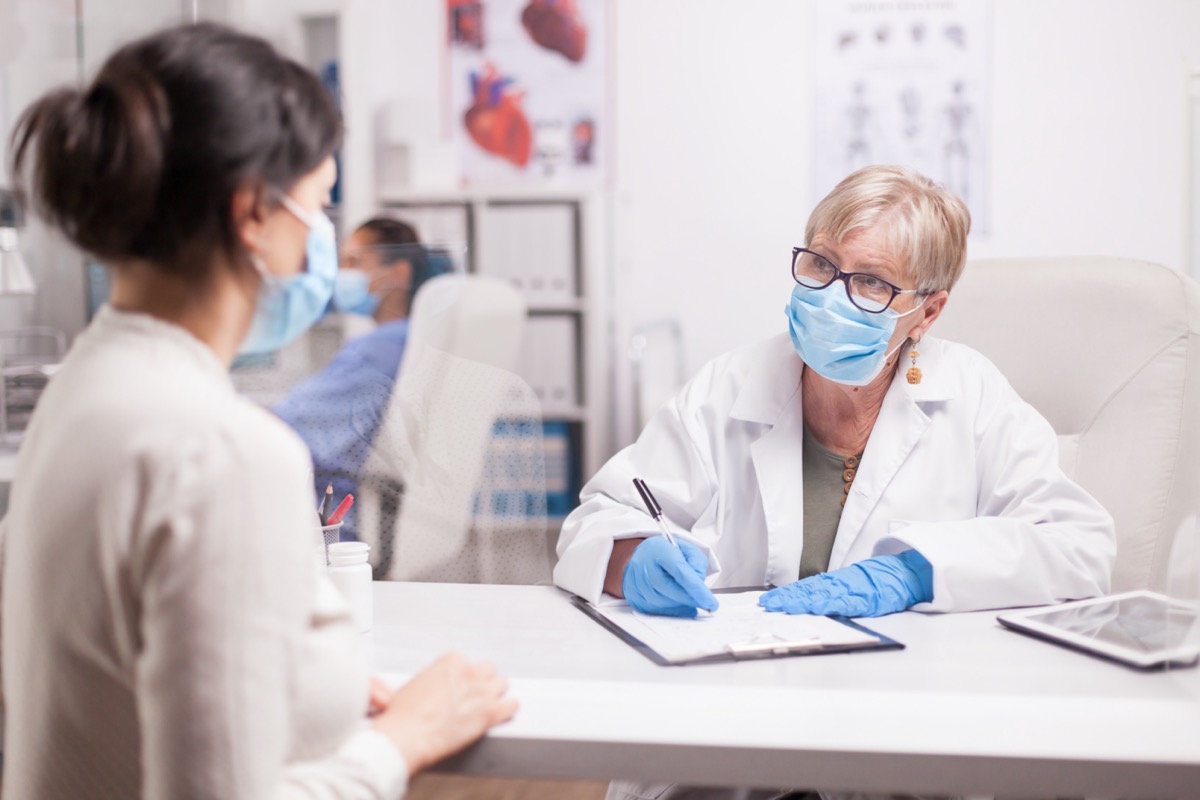 Try not to squeeze your vaccine appointment in before another obligation. "Don't leave right after you get your vaccine," instructs Dr. Cherian. "It's important to wait 15 minutes after receiving your vaccine to watch for signs of anaphylaxis, a medical emergency that requires immediate attention by a medical provider."
5
Don't Schedule Other Vaccines the Same Day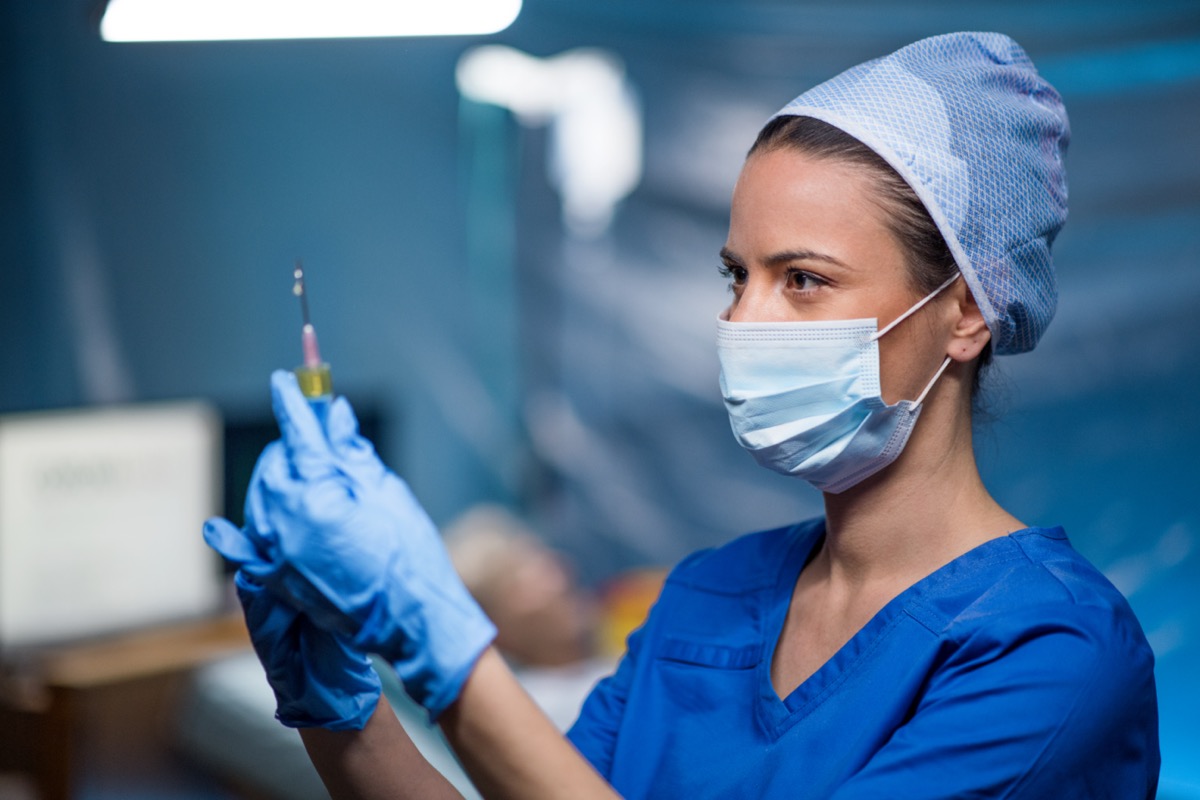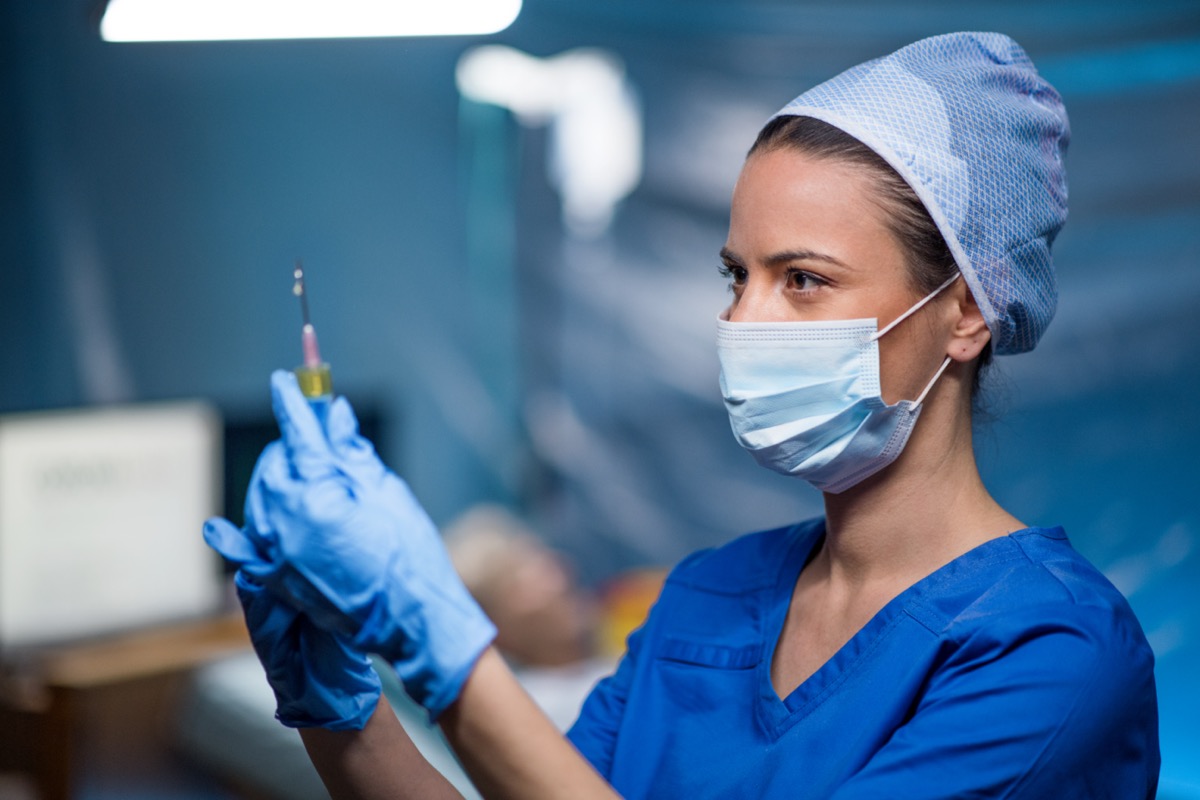 While many vaccines can be injected on the same day, Dr. Cherian strongly urges against getting the COVID-19 vaccine at the same time as other vaccines. "If you've already received another vaccine (the flu shot for example) you should wait at least 14 days before getting your COVID-19 vaccine," he instructs. "Conversely, you should wait at least 14 days before getting any other vaccine after your COVID-19 vaccine." 
6
Don't Forget to Read the Vaccine Fact Sheet
There is a reason the FDA requires a brand-specific fact sheet to be given to everyone who gets injected. "Reading the vaccine fact sheet can serve to be educational and reassuring," explains Dr. Cherian. "There has been a lot of misinformation out there particularly around the safety of the available COVID-19 vaccines, if they have been properly tested, and possible side effects. Reading the vaccine fact sheet can help reassure people that all the current FDA approved vaccines for COVID-19 (currently 3) have not only been approved after reviewing hard data and facts by a data and safety monitoring board that is independent of politics, but also that all 3 of these vaccines are highly effective." If you are curious what a vaccine looks like, here is the one for Moderna's. 6254a4d1642c605c54bf1cab17d50f1e
7
And, Don't Forget to Do Your Part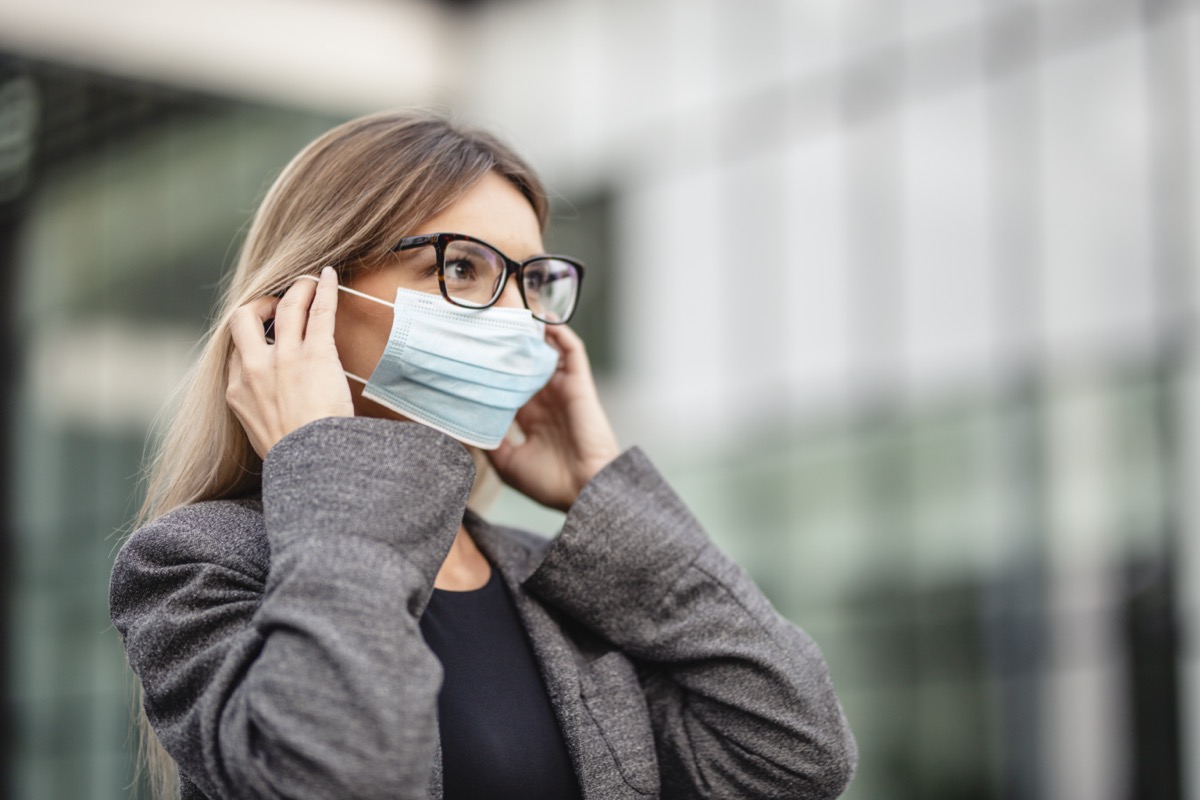 Don't forget that it takes time for immunity to build up. So keep following Dr. Anthony Fauci's fundamentals and help end this pandemic, no matter where you live—wear a face mask that fits snugly and is double layered, don't travel, social distance, avoid large crowds, don't go indoors with people you're not sheltering with (especially in bars), practice good hand hygiene, get vaccinated when it becomes available to you, and don't forget to get your second shot if you are receiving the Pfizer or Moderna vaccine. And to protect your life and the lives of others, don't visit any of these 35 Places You're Most Likely to Catch COVID.
Leah Groth
Leah Groth has decades of experience covering all things health, wellness and fitness related.
Read more about Leah