This Beloved Frozen Food Is Back on Shelves After 30 Years
One of America's largest ice cream company's just revived this cherished dessert.
When the New Year hits, it's natural to expect glossy new food products to emerge onto grocery shelves everywhere. However, one major ice cream company decided to revive an old favorite. More specifically, one that hasn't been seen in U.S. grocery stores for nearly three decades. 
Unilever recently announced 25 new innovations across six of its ice cream brands: Breyers, Good Humor, Klondike, Magnum ice cream, Popsicle, and Talenti Gelato & Sorbetto. Breyers, for example, is launching 10 new ice cream treats this year, including two new flavors—Chocolate Pretzel Swirl and Double Chocolate Brownie Batter. (Related: 8 Grocery Items That May Soon Be in Short Supply.)
Good Humor, on the other hand, decided to bring back its Viennetta ice cream cake, which originally snagged the spotlight in the '80s and '90s but was phased out due to a shift in consumer interest.
"Our revival of the iconic Viennetta cake is all thanks to our fans who have been asking for its return for almost 30 years! We're always looking for ways to share joy and bring back a nostalgic fan favorite. This year, we're thrilled to be able to grant their wish," Russel Lilly, vice president of Unilever Ice Cream North America, tells Eat This, Not That!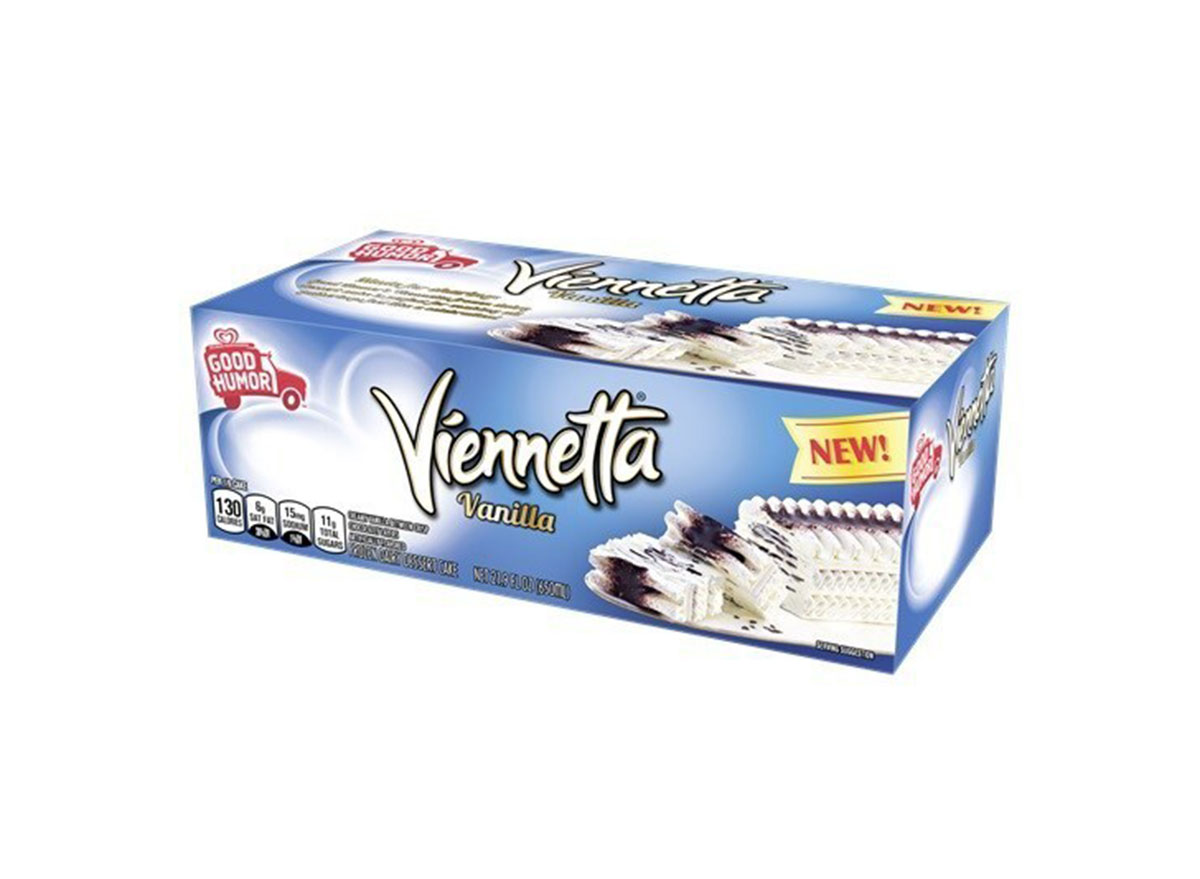 Per 1/6 cake
: 130 calories, 7 g fat (6 g saturated fat, 0 g trans fat), 15 mg sodium, 15 g carbs (0 g fiber, 11 g sugar), 1 g protein
The Viennetta is made with layers of wavy frozen vanilla ice cream and crispy decadent chocolate. One cake is enough for a family of six to chow down on, with each serving containing under 150 calories and only 11 grams of total sugar—not bad for a frozen dessert.
For more, be sure to check out the 14 Best Diets For Weight Loss in 2021, According to Experts.
Cheyenne Buckingham is the news editor of
Read more