I'm a Virus Expert and Warn You Don't Go Here Even if It's Open
"We need to weigh out the risks to others as responsible adults."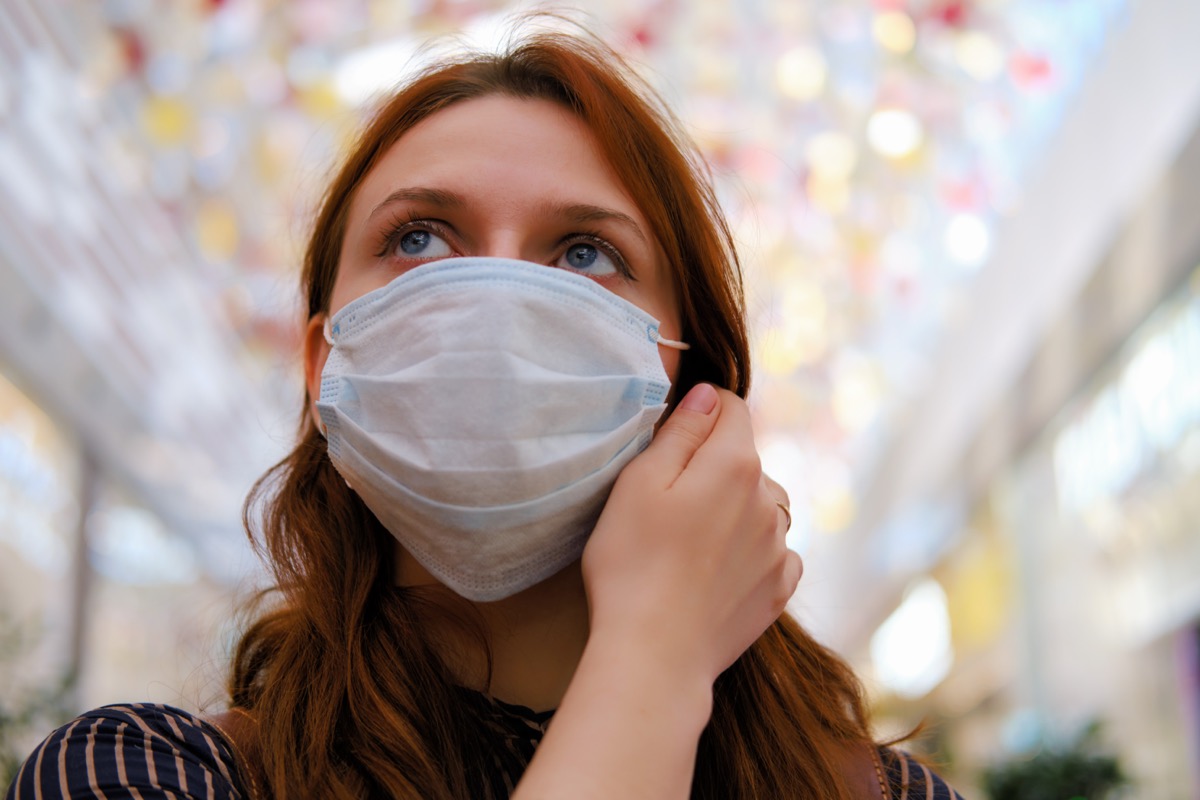 As life slowly returns to what it was before COVID, experts warn we should still take precautions. While concerts, sporting events and indoor dining are making a comeback, everyone should consider the risks beforehand says, Dr. Luke Palmisano MD, FACEP, CFL1 Associate Medical Director: Emergency Department Dignity Health California Hospital and CrossFit Health Physician. "In general the same set of guidelines should apply to each venue. There are high/low risk things about each venue and there are high/low risk things about us as individuals. We need to weigh each decision when/where to go somewhere." He adds, "We need to weigh out the risks to others as responsible adults. If we are spearheading a closed in person meeting at work, it is best to avoid the indoor bar the few nights before. Similarly, if we are visiting our elderly family for the holiday, it would be best to avoid an indoor concert a few days before. If you live alone and work remotely, the risk is a bit lower that you will infect others. While we need to be concerned with our personal safety, we also should not ignore the safety of those in our sphere. Simply, use the golden rule: treat others as you would like them to treat you." Read these 7 tips for advice on which communities are at high risk for contracting COVID-19 and which activities to avoid—and to ensure your health and the health of others, don't miss these Sure Signs You've Already Had COVID.
To make an informed decision about whether or not you attend an event or visit a certain venue, here are the risks Dr. Palmisano says to watch out for. 6254a4d1642c605c54bf1cab17d50f1e
High Risk for Venues:
Small spaces

Places where there's loud yelling, singing or cheering

Alcohol use

Poor air circulation 

Lots of people
Low Risk for Venues:
Outdoors

Masks are being worn at all times

Large spaces/distancing 

Good ventilation
People at High Risk: 
Anyone with a chronic illness

Anyone with lung illness

Obesity

People with a sedentary lifestyle

People with a poor diet

***A caregiver of someone at high risk

Communal living
People at Low Risk:
Anyone who maintains a good fitness routine

People in good health

People who maintain a good diet 

Anyone vaccinated 

People who have received a booster

Anyone who has recovered from a COVID-19 infection
Read on to see where you should proceed with caution, or not go at all.
RELATED: Virus Expert Just Issued This Worldwide Warning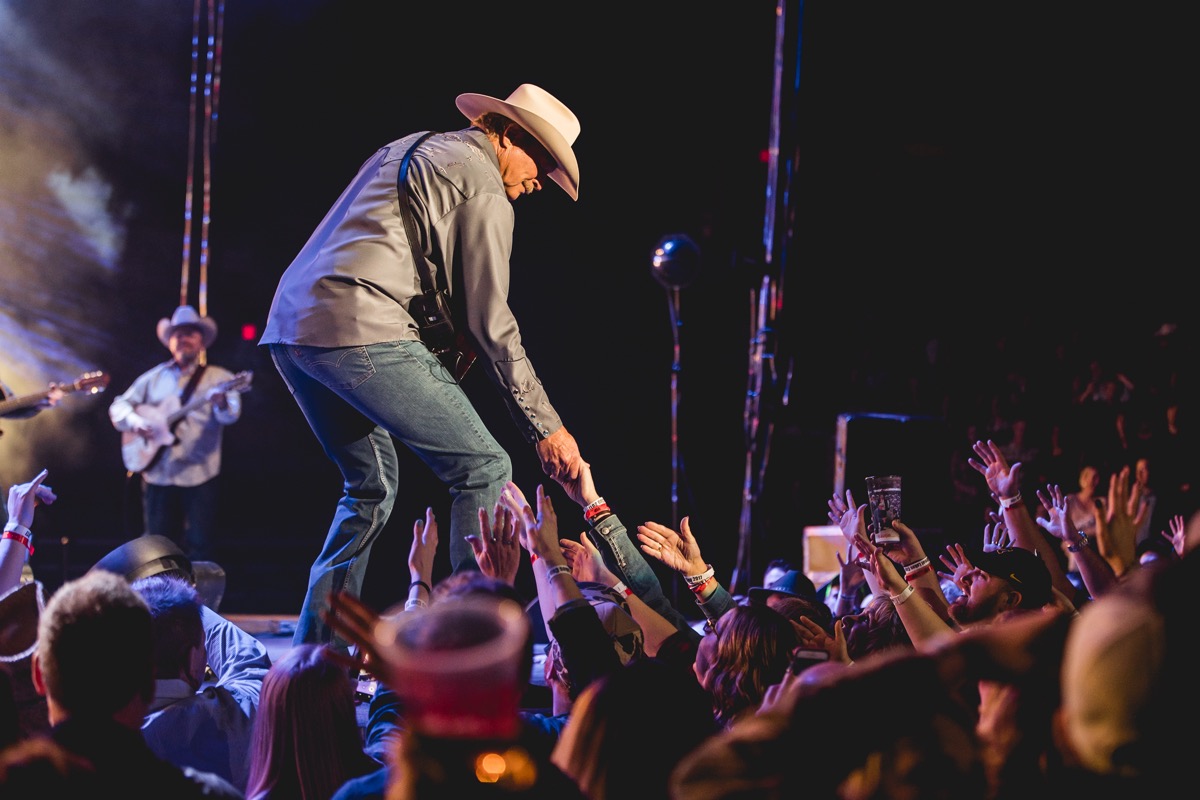 Live music is back, but if a show is inside, Dr. Palmisano recommends not going. "Alcohol, loud singing, maskless people clumped together. This is a super-spreader if a COVID positive person steps in."
RELATED: Dr. Fauci Just Said 5 Things Every Parent Should Hear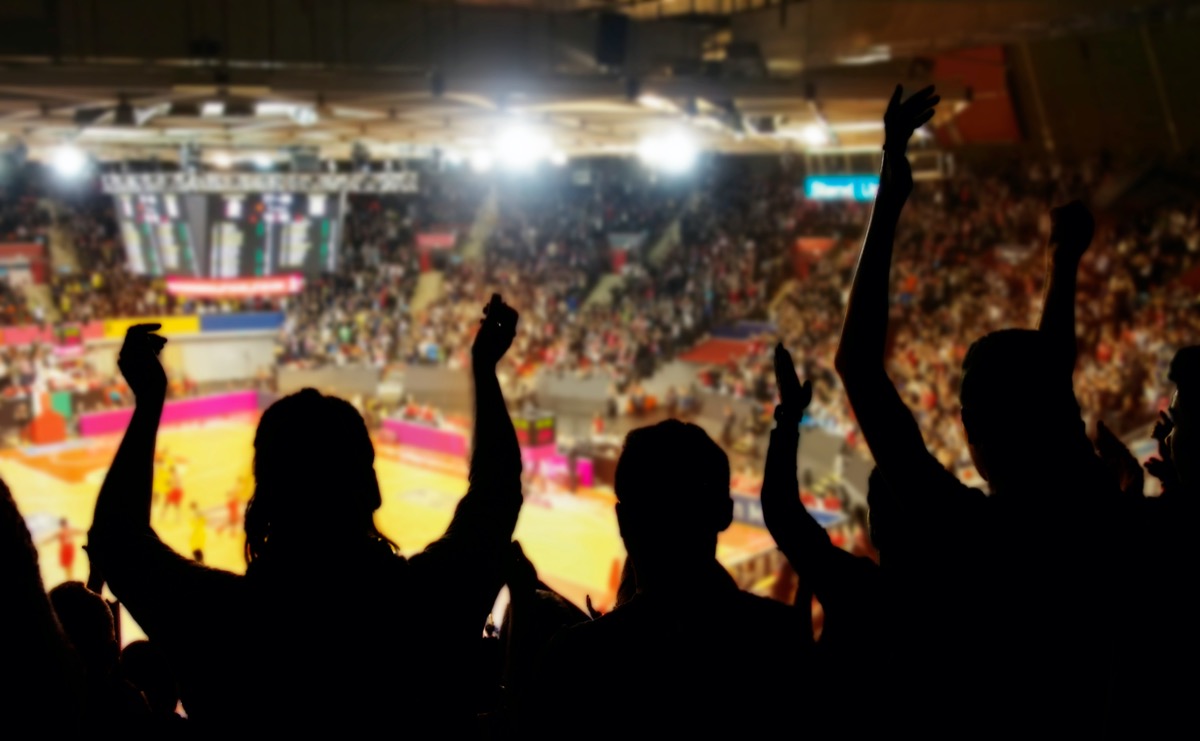 Indoor sporting events are taking place again and Dr. Palmisano gives this advice if you attend. "There will be alcohol use with loud cheering. If you go, consider sitting in the nosebleeds since everyone is yelling in the downward inward direction towards the stage/field."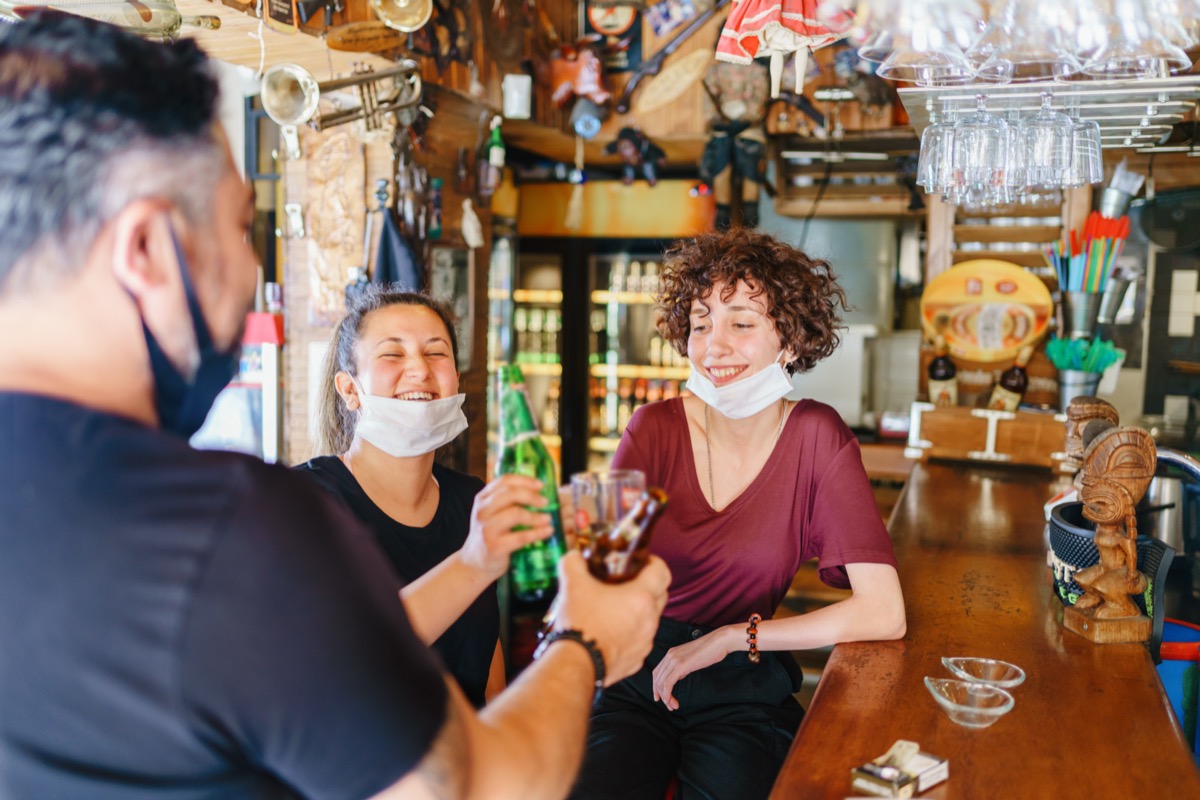 Happy hour is starting to return to normal, but that doesn't mean you should be so quick to meet up with friends or co-workers just yet. According to Dr. Palmisano this is one of the places you'll be at the "highest risk" because bars are noisy and people will lean in at a "close distance" to talk and with "alcohol use," people are more likely to let their guard down and not social distance. 
RELATED: The #1 Cause of Memory Loss, Says Science
While we're all ready for this pandemic to be over, it's not. Instead we're learning to live with COVID-19 and Dr. Micah Dickey Medical Director Dignity Health Medical Group – Ventura advises, "even though viral transmission is on the decline across the country, some regions are still experiencing high rates of new Covid cases.  To minimize your risk of viral exposure it remains prudent to wear a mask and social distance from persons outside of your household.  I would continue to avoid crowded, indoor spaces with poor circulation like dive bars and small concert halls and instead recommend for people to spend time outdoors or in large spaces with good ventilation to the outdoors."
RELATED: Sure Signs You Smoke Too Much Marijuana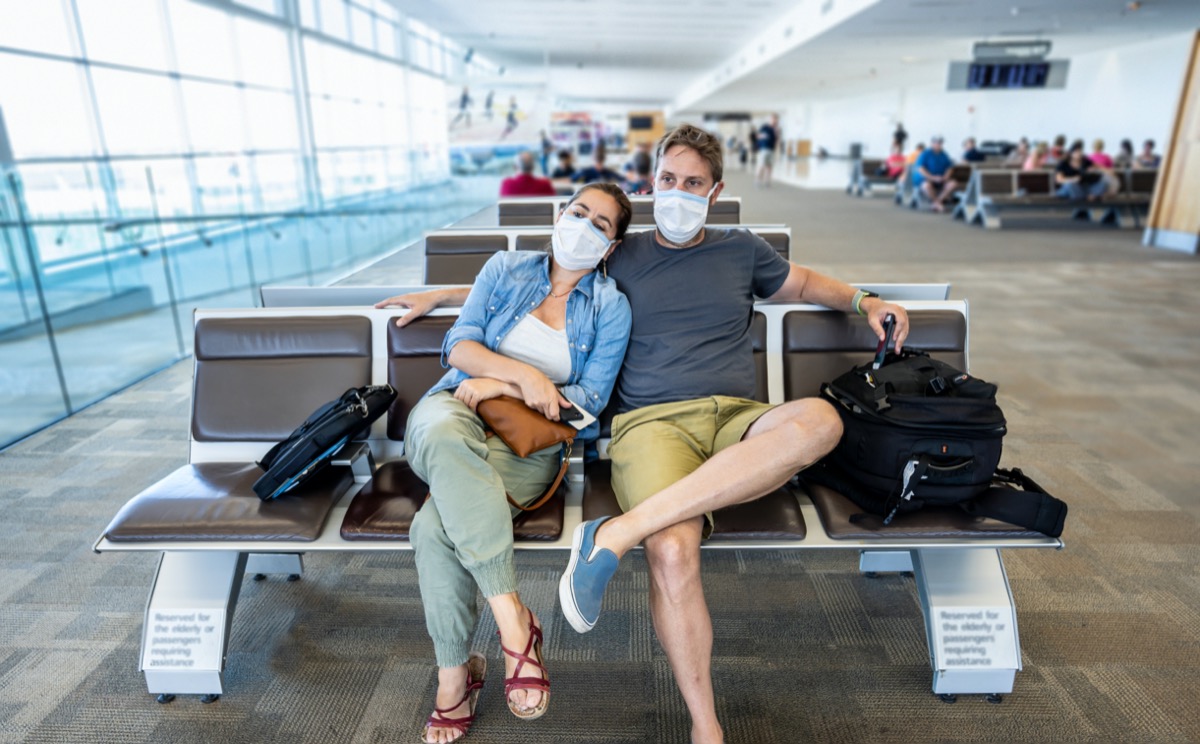 With air travel in full swing again, everyone should still take precautions according to infectious disease expert and MD Dr. Sandra Kesh. She told CNET in July to be wary of airports. "Airports tend to be high-stress places. People are always worried about making their flight, going to the security checks — there's a lot of distraction," Kesh said. "So the kind of focus that we are able to maintain with social distancing, the masks and hand hygiene, it sometimes goes out the window because your attention is scattered, it's noisy and you're trying to figure out where to go. So even people who are well meaning, the rules tend to go by the wayside." She added, "When you're sitting on a plane waiting for it to take off, there is no air movement. If you turn on the fan above your head, that's the only air moving. It's a really terrific environment for one person to potentially infect the whole plane."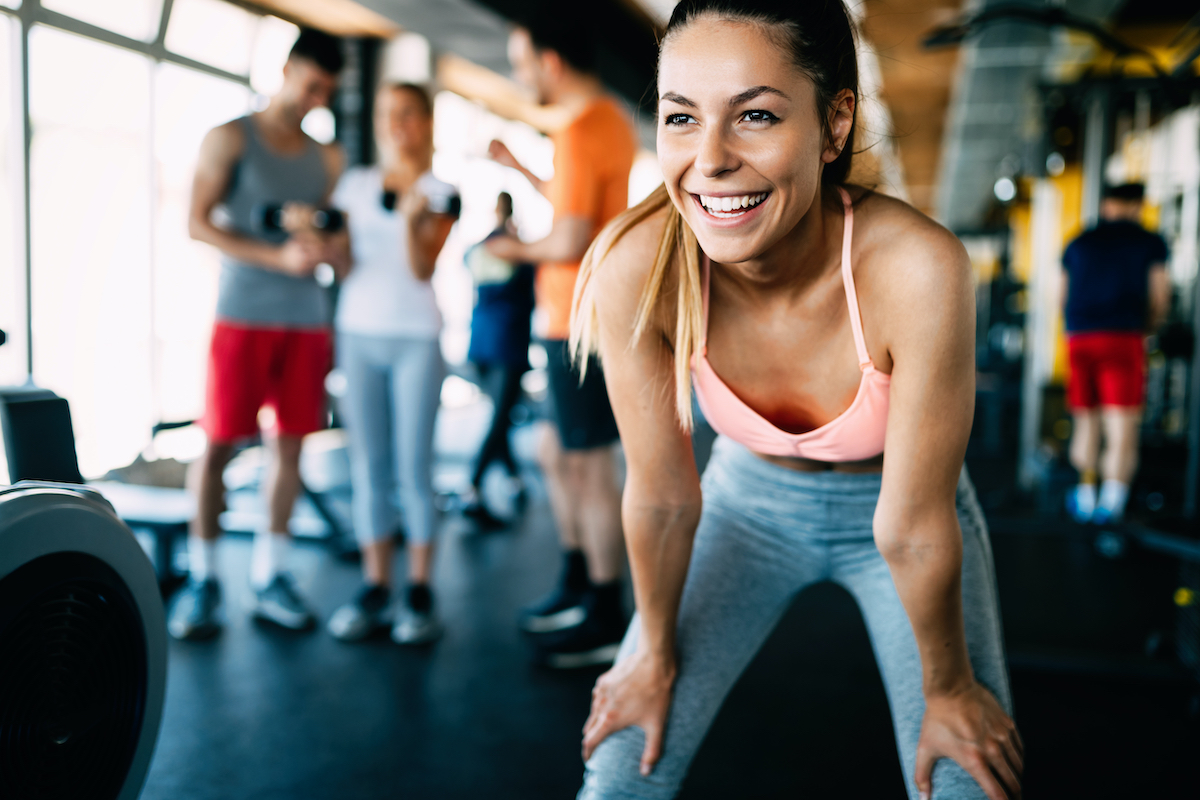 Hitting to the gym is a daily routine for many people and a place to socialize, but it might not be the best place to avoid contracting COVID-19 unless you take a few safety measures according to Dr. Kesh. She told CNET, "The thing that makes the gym different from other places is you have a lot of people panting and we know that the more you exhale with force the farther those viral particles will go," Kesh said. "And the thing that's harder to control is most people will not be wearing a mask when they're trying to work out, so then you're going to have a lot of forced exhaled air." She suggested going to the gym when it's not as crowded and following these guidelines: "People need to be much more spaced out and there needs to be good air ventilation and good air conditioning. All of these places that are indoors need to stay on top of changing their AC filters, make sure they have a good HVAC system, have good exhaust fans in the bathrooms and the other places where we've seen the potential for transmission. So if we do all of those things the right way, the gym can be a low to medium risk area." So get vaccinated, be careful out there, and to protect your life and the lives of others, don't visit any of these 35 Places You're Most Likely to Catch COVID.
Alek Korab
Alek Korab is a Co-Founder and Managing Editor of the ETNT Health channel on Eat This, Not That!
Read more about Alek