Virus Experts Say "Do This Now" to Avoid COVID, as Dr. Fauci Holds Final Press Conference
Experts explain why COVID reinfections are potentially dangerous and share the best ways to help avoid the virus.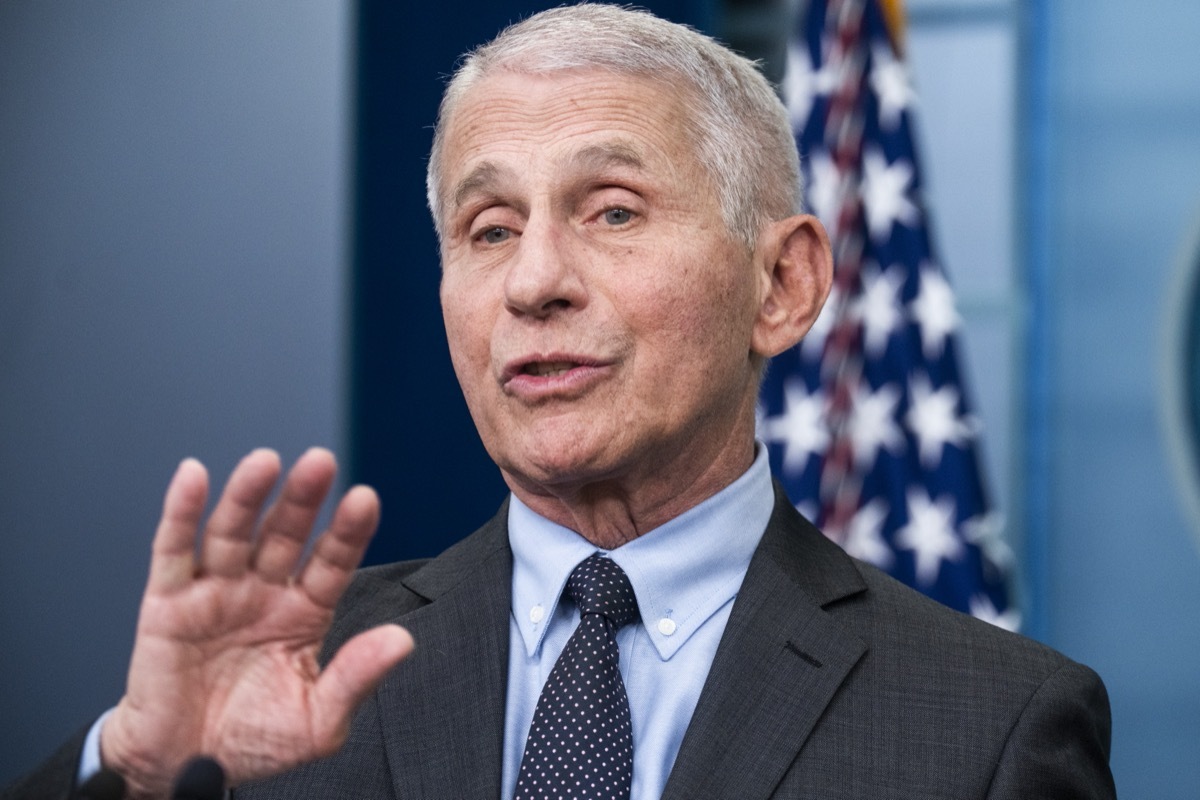 With COVID-19 cases rising again this winter, doctors are concerned about long-term complications from infections and reinfections. Dr. Anthony Fauci, the nation's top infectious disease expert, gave one last appearance before retirement in front of the press at a White House press conference just yesterday. "My message — and my final message, maybe the final message I give you from this podium — is that please for your own safety, for that of your family, get your updated COVID-19 shot as soon as you're eligible to protect yourself, your family and your community," he said.
Most of you have already had COVID, but that doesn't mean a reinfection isn't dangerous.  Bernadette Boden-Albala, MPH, DrPH Director & Founding Dean Professor of Health, Society, & Behavior, UCI Program in Public Health, Professor of Neurology, School of Medicine tells us, "Research shows that COVID reinfection further increases risks of death, hospitalization, and disease in multiple organ systems in the short and long term phase of the illness." The Washington University School of Medicine in St. Louis did a study on the COVID reinfections and "found that repeat SARS-CoV-2 infections contribute significant additional risk of adverse health conditions in multiple organ systems. Such outcomes include hospitalization; disorders affecting the lungs, heart, brain, and the body's blood, musculoskeletal and gastrointestinal systems; and even death. Reinfection also contributes to diabetes, kidney disease and mental health issues."
Jagdish Khubchandani, Professor of Public Health at New Mexico State University tells us, "Getting reinfected with COVID-19 is not unusual and more people are reporting reinfections. Studies estimate that 5-15% people have been reinfected or will be reinfected. However, there are risk factors for getting reinfected. Unfortunately, reinfection may not be a guarantee against hospitalization, serious health outcomes, or death (even if the primary infection was very severe or mild)."
With every surge, the chance of reinfection increases and experts warn avoiding the virus is the best way to stay healthy. "COVID is still a major healthcare problem across the United States," Thomas Gut, D.O., Associate Chair of Medicine at Staten Island University Hospital emphasizes. "Although the COVID strains have become much milder, COVID infections are still being seen in hospitals and are making people very sick." Read on—and to ensure your health and the health of others, don't miss these Sure Signs You've Already Had COVID.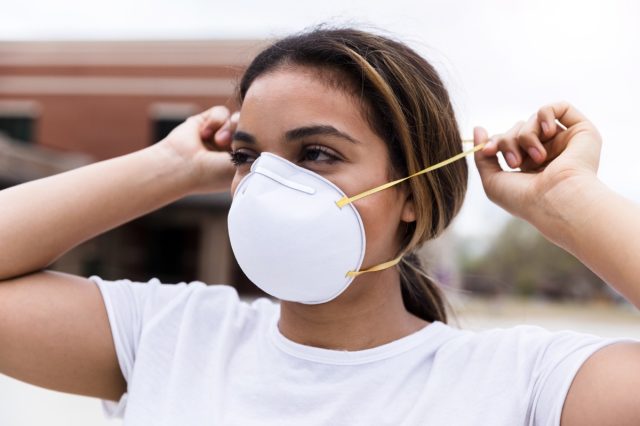 Dr. Javeed Siddiqui MD/MPH, Co-Founder and Chief Medical Officer at TeleMed2U, a telemedicine practice in infectious diseases  tells us  "If we have learned anything from the pandemic is that masking works to decrease the spread of respiratory viruses. All I can ask you to do is, please wear a mask, and please wash your work. In addition, don't forget the importance of both influenza vaccination as well as the omicron COVID-19 booster. The two most important things you can do are to vaccinate and wear a mask."
Dr. Khubchandani says, "Repeated infections with COVID-19 increase the risk of multiple body organ failure, hospitalization, and death. If you have been infected already and continue to engage in high risk activities or are not vaccinated yet, it is time to bring the mask back on. High quality mask selection and how to wear them related advice is provided by the CDC. Wearing a mask inappropriately or using flimsy cloth based masks may not help prevent." reinfections.
2
Lifestyle Behaviors and Good Hygiene Make a Difference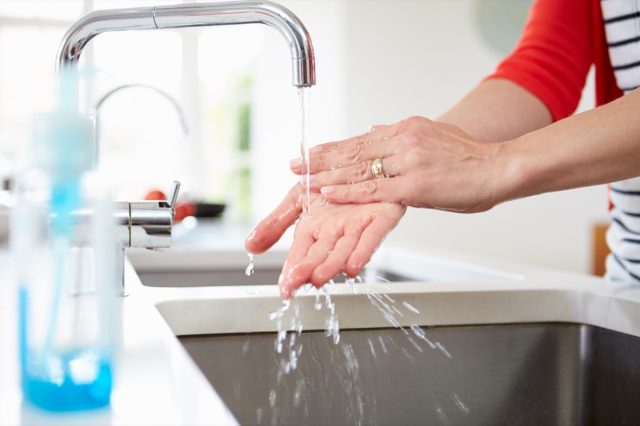 According to Dr. Khubchandani, "COVID-19 reinfections can also increase the risk of long COVID. Similarly, many lifestyle behaviors are linked to long COVID and serious infections (e.g. hospitalization and death). These behaviors include smoking, excess body weight, unhealthy diets, among others. To avoid reinfections that can lead to serious health problems and adverse outcomes, stop smoking, don't drink in excess, maintain healthy body weight, and consume a diet full of fruits, vegetables, and proteins.6254a4d1642c605c54bf1cab17d50f1e
Dr. Siddiqui says, "In addition, we need to not forget the importance of good hand hygiene. Making sure we wash our hands and make sure that we don't constantly touch our faces is really important. All of the strategies that we used during the COVID surges we need to remember to utilize during this respiratory season and the winter surge of three different viruses."
3
Limit Holiday Gatherings and Parties
Dr. Khubchandani says, "As we approach the holiday season, people will have indoor gatherings where friends and family members from different households will meet up increasing the risk of reinfection for all. Especially for persons not yet vaccinated, have weaker immune systems, or chronic diseases. Consider hosting limited gatherings and outdoor celebrations. Request that people who attend are vaccinated or have a recent negative COVID-19 test. For those who have any symptoms of COVID-19 or flu like illness, request them to avoid attending. Keep your home sinks supplied with soap and water for handwashing and provide hand sanitizers to all."
Dr. Gut explains, "Like other coronaviruses, COVID tends to spread easier when people are closer to each other. This happens especially while indoors. This effect can be minimized by avoiding large gatherings and by staying in well ventilated areas, weather permitting." 
4
Take Care of Chronic Disease and Immune Disorders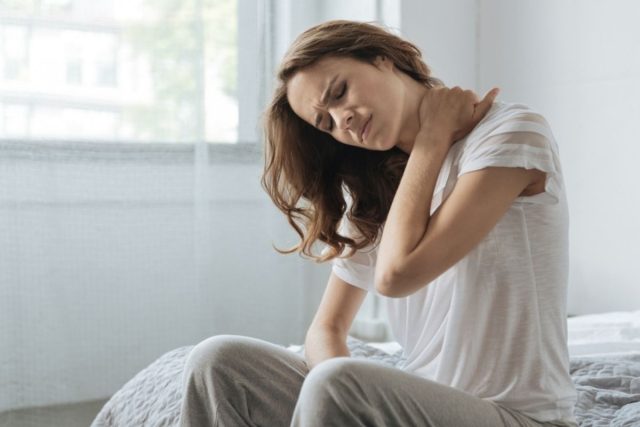 Dr. Khubchandani tells us, "While some studies provide evidence that prior vaccination or infection may provide protection against subsequent infection with similar variants for a few months, this may not be true for all. Especially those with chronic diseases, immune system disorders, or weaker body composition and immunity. Given that people are still vulnerable to newer variants and immunity is not long lasting, those with chronic diseases should consider boosters, continue to manage chronic diseases well, keep up with treatment of immune function disorders, and avoid high-risk activities.
The Centers for Disease Control and Prevention says, "Some people are immunocompromised or have a weakened immune system because of a medical condition or a treatment for a condition. This includes people who have cancer and are on chemotherapy, or who have had a solid organ transplant, like a kidney transplant or heart transplant, and are taking medication to keep their transplant. Other people have to use certain types of medicines for a long time, like corticosteroids, that weaken their immune system. Such long-term uses can lead to secondary or acquired immunodeficiency. Other people have a weakened immune system because of a life-long condition. For example, some people inherit problems with their immune system. 
One example is called Primary immunodeficiency. Being immunocompromised can make you more likely to get very sick from COVID-19 or be sick for a longer period of time. People who are immunocompromised or are taking medicines that weaken their immune system may not be protected even if they are up to date on their vaccines. Talk with your healthcare provider about wearing a mask in a medium COVID-19 Community Level and what additional precautions may be necessary in medium or high COVID-19 Community Levels."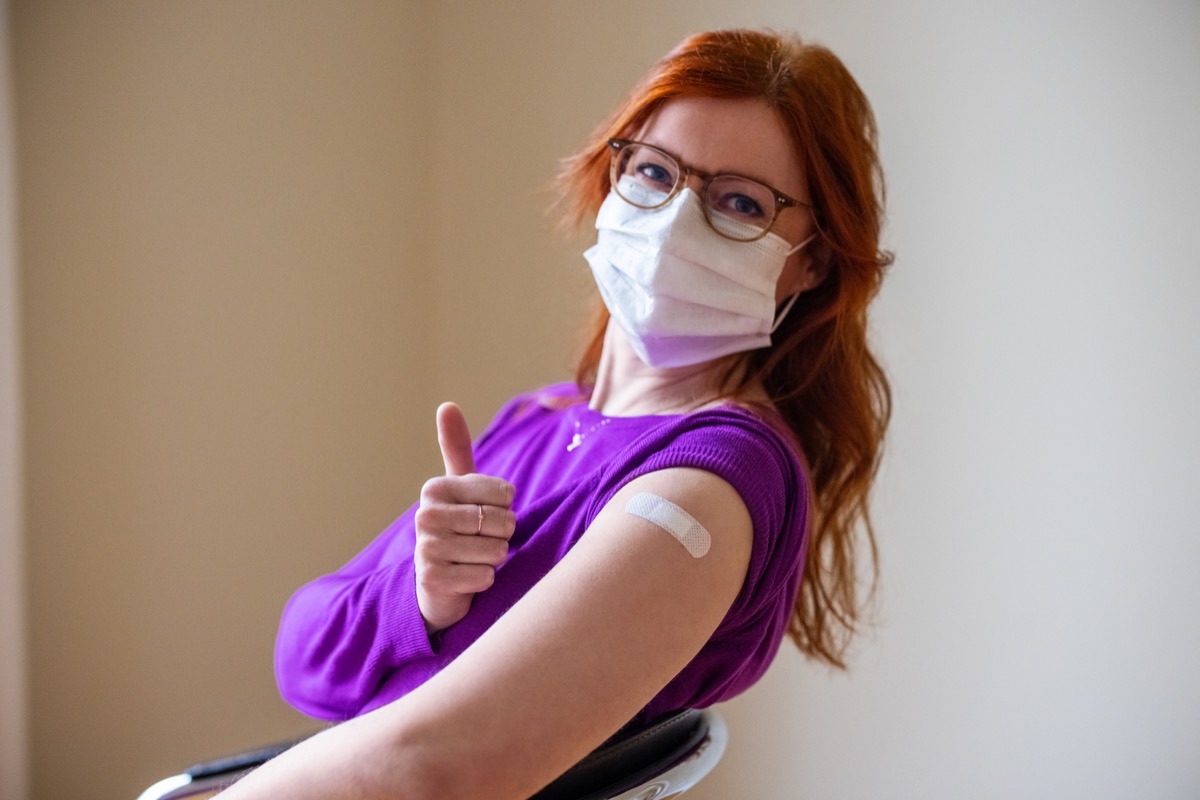 Dr. Khubchandani states, "Many studies have reported on vaccination status and reinfection. A study of more than 15,000 healthcare workers found that among the fully vaccinated, the chances are cut into half or more for reinfection, symptomatic reinfection, and asymptomatic reinfection (compared to unvaccinated or partially vaccinated). Another study of more than a million individuals found that even after 1 year of infection, the unvaccinated have 10% or higher chances to get reinfected. In the latest CDC estimates from March-September 2022 for vaccine effectiveness, COVID-19 vaccination has the potential to exponentially reduce hospitalization, death, mechanical ventilation, and infections."
Dr. Boden-Albala says, "As individuals, every time we get a booster it boosts our immunity and strengthens the community protection against COVID-19. Keeping our defenses up against severe disease will always protect us against worse outcomes. While vaccines have proven very effective at reducing the severity of symptoms as well as the likelihood of hospitalization and death, those who are vaccinated may still become infected and so should follow the same guidelines for testing when they have symptoms and before and after travel, gatherings, and events. The good news today is that in addition to the benefits of vaccines at reducing the severity of illness, there are also treatments available that can further reduce the risk of hospitalization and death, so knowing if you have COVID-19 is important so you can access treatments that are appropriate for you." And to protect your life and the lives of others, don't visit any of these 35 Places You're Most Likely to Catch COVID.
Heather Newgen
Heather Newgen has two decades of experience reporting and writing about health, fitness, entertainment and travel. Heather currently freelances for several publications.
Read more about Heather