Walmart Saw Sales Skyrocket in 2021 Thanks to This Perk
This popular shopping option has driven major sales for pandemic-era retailers.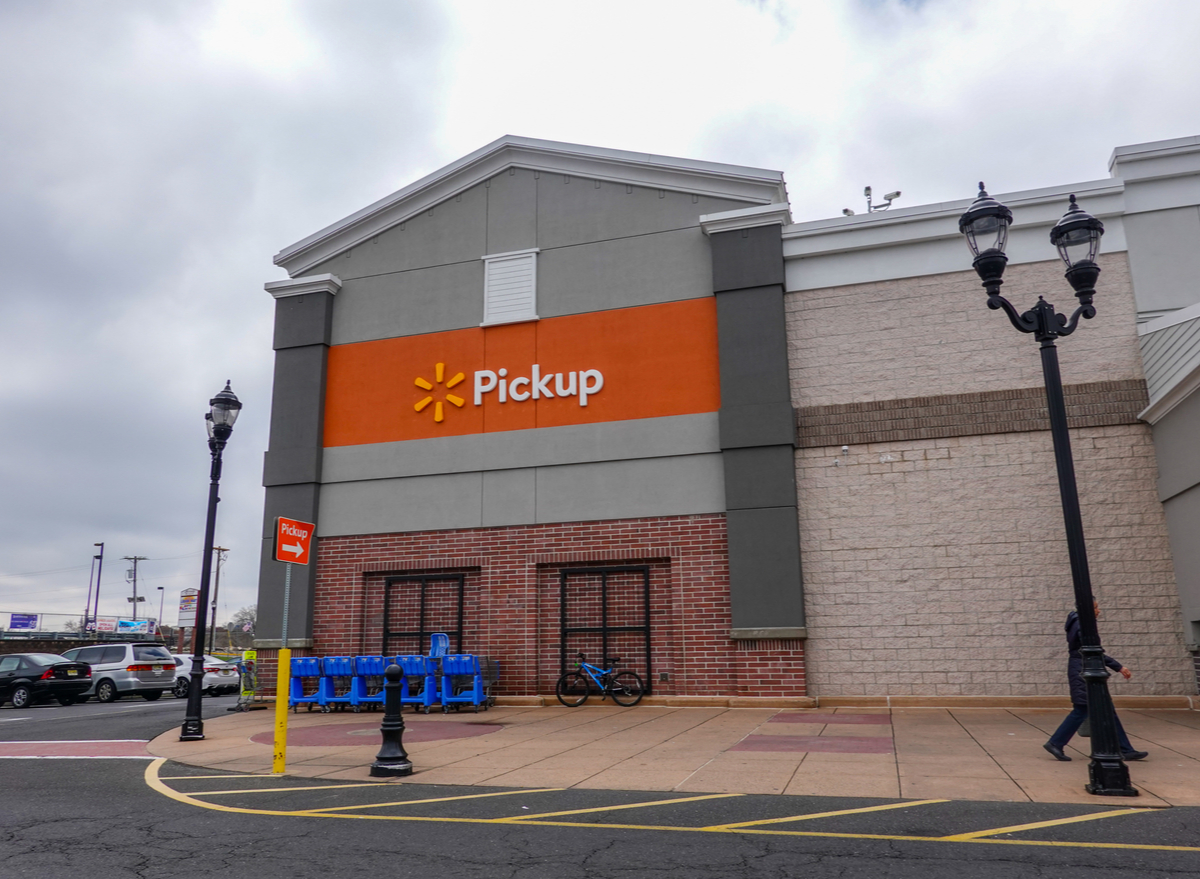 With COVID-19 pushing customers out of the stores and into their homes, buying online and picking up at stores—also known as "click-and-collect"—has become a new normal. And America's largest retail chain has dominated online sales this past year, thanks to this hybrid e-commerce system.
According to Insider Intelligence, Walmart led 25.4% of all click-and-collect orders in 2021—the largest market share of any retailer in the country. While online pickup isn't anything new for the chain, its click-and-collect sales have almost tripled over the past two years, jumping from an estimated $7.21 billion in 2019 to $20.4 billion in 2021. In 2022, it's predicted that Walmart's click-and-collect sales will grow by 21% to an estimated $101 billion.
Related: To get all of the latest grocery store news delivered right to your email inbox every day, sign up for our newsletter!
Walmart first piloted its online pickup system in Denver back in 2013, and it now has curbside pickup at more than 3,700 locations. Not only is click-and-collect a pandemic-friendly shopping method, but it's also financially beneficial for retailers, as online sales eliminate the costs associated with delivering packages to customers' homes.
Suzy Davidkhanian, principal analyst for retail and e-commerce at Insider Intelligence, told CNBC that she thinks Walmart will continue to reign as the click-and-collect leader. She said the superstore is "leaps and bounds ahead of everybody else," due to its early adoption of the omnichannel retail strategy, as well as the frequent and immediate nature of grocery shopping.
Although delivery is still the more popular e-commerce option in the U.S., click-and-collect is expected to contribute to approximately 11% of all online sales for retailers next year, according to Insider Intelligence.
For more grocery store news, check out:
Brianna Ruback
Brianna is the Editorial Assistant at Eat This, Not That! She attended Ithaca College, where she graduated with a degree in Journalism and a minor in Communication Studies.
Read more
More content from
Groceries